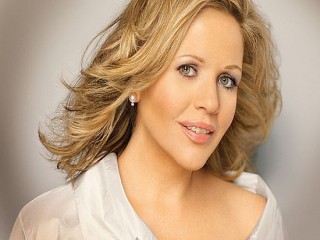 Renee Fleming biography
Date of birth : 1959-02-14
Date of death : -
Birthplace : Indiana, Pennsylvania,US
Nationality : American
Category : Arts and Entertainment
Last modified : 2011-11-14
Credited as : opera soprano, Visions of Love, Placido Domingo
Renée Fleming is an American soprano specializing in opera and lieder. Fleming has a full lyric soprano voice. Fleming has performed coloratura, lyric, and lighter spinto soprano repertoires. She has sung roles in Italian, German, French, Czech, and Russian, aside from her native English. Her signature roles include Countess Almaviva in Mozart's Le nozze di Figaro, Desdemona in Verdi's Otello, Violetta in Verdi's La traviata, the title role in Dvořák's Rusalka, the title role in Massenet's Manon, the title role in Massenet's Thaïs, the Marschallin in Richard Strauss's Der Rosenkavalier, and the title role in Arabella.
Perhaps the preeminent American lyric soprano, Renee Fleming has become one of the greatest female figures on the opera stage. She is frequently praised for her beautiful voice, which falls into the relatively rare "lyric" category, and for a charm and vivacity that make her an exceptional performer. Fleming has become most famous for singing Mozart and Strauss, but has also appeared in the premieres of several new operas, including the role of Blanch Dubois in Andre Previn's 1998 adaptation of A Streetcar Named Desire. Another famous professional friend was conductor Sir Georg Solti, who played a key role in starting the singer's recording career. Having now been cast in many of opera's greatest female roles in the world's most important opera houses, Fleming easily fills the traditional role of diva on stage but is otherwise a rather unconventional opera celebrity. Far from being the temperamental, ego-driven starlet of opera myth, she is known for her pleasant demeanor and her ability to juggle being a mom and wife with her booming career.
Fleming had to win several hard-fought battles before earning attention of opera house managers and kudos from critics. The soprano told the Chicago Tribune , "Seeing me today, everybody finds it hard to believe that I wasn't a natural, extrovert performer.... That's one of the things I had to work at very hard." As a child, Fleming was a reluctant singer. The daughter of two high school vocal-music teachers, Fleming grew up in Rochester, New York with constant reminders that she was expected to be a singer. She explained in the New York Times , "When I got older, we discussed singing every night at dinner. So I felt a lot of pressure. My mother was the worst kind of stage mother. She would make me and my younger sister and brother little duckling costumes and put us in kiddie shows." She continued to perform, but as Fleming recalled, "I was stolid and stone-faced.... I did everything grudgingly and became painfully shy."
At one time, Fleming fantasized about becoming a horse trainer, but she went on to study voice with Patricia Misslin as an undergraduate, and earned a bachelor's degree in music education from State University of New York (SUNY) Potsdam in 1981. Subsequently, she attended the Eastman School of Music and then the American Opera Center at Julliard, where she met her husband Rick Ross and the woman who would remain her vocal instructor for many years, Beverly Johnson. While at SUNY Potsdam, Fleming worked as a jazz singer and so impressed the famous tenor saxophone player Illinois Jacquet that he offered her a job. Fleming remarked in Opera News , "It's tempting to say I worked my way through college as a jazz singer ... but the truth is I didn't make much money doing it." These performances required her to tell jokes and chat with the audience, which was important in helping the singer begin to deal with her stage fright.
Fleming was granted a Fulbright Scholarship to study in Germany during 1984-85, which gave her the opportunity to take a master class with soprano Elisabeth Schwarzkopf. In 1986 she made her professional opera debut in Salzburg in the Mozart opera Die Entufhrung aus dem Serail. Both of these events, which had the appearance of being great opportunities, only served to shake Fleming's confidence and left her doubting if she knew how to sing. Regarding the debut performance, Fleming told Opera News , "I just wasn't ready for it. In retrospect I'm so grateful that it happened then, when nobody cared."
Perseverance and further training with Johnson eventually ironed out problems of vocal technique. Moreover, upon returning to the United States, Fleming got professional help with her stage fright. She remembered in Opera News , "for six months I went and saw a lady and we just dealt with my self-esteem issues." Fleming's new self-assurance and improved singing were confirmed by a series of awards received in the following years: a first place in the Metropolitan Opera National Auditions and the George London Prize in 1988, and the Richard Tucker Award in 1990. These honors earned her the attention of opera management and, finally, numerous of job offers.
In 1989, Fleming made her New York City Opera debut as Mimi in Puccini's La Bohème and her Royal Opera debut at London's Covent Garden in Cherubini's Médée. Her Metropolitan Opera debut came somewhat unexpectedly in 1991 when she replaced the flu-stricken Felicity Lott as the Countess Almaviva in Le Nozze di Figaro. This would emerge as one of Fleming's signature parts, as she noted in Opera News : "I was emerging in the role just as the Mozart bicentennial was about to hit, so I ended up singing a lot of Countesses." Even so, she managed to accept parts in a wide range of operas, including the premieres of John Corigliano's The Ghosts of Versailles in 1991 and Conrad Susa's The Dangerous Liaisons in 1994.
Having had this kind of exposure, it is something of a surprise that Sir Georg Solti had not yet heard of Fleming in 1994 when she was recommended as a replacement for the part of Fiordiligi in his production of Mozart's Cosi fan tutti. Solti was wowed by her voice and, after offering her the role, became an important advocate for the soprano. In 1996, Solti honored Fleming with the first Solti Prize, awarded by the French Academy du Disque Lyrique. The conductor was also largely responsible for the shape of Fleming's recording career, having recommended her to London/Decca. The recording company signed her to an exclusive solo contract, the first such agreement it had made with an American singer since signing Marilyn Horne in 1965. Commenting on her relationship with Solti, who died in September of 1997, Fleming told the Chicago Sun-Times , "I had three fantastic years with him.... The great conductors are larger than life. They have the ability, like any great leader, to inspire. What that does for me as an artist is take me beyond my own expectations, beyond what I think I can do. Solti was tough, demanding, loving. We outperform ourselves for somebody like that."
Many critics have perceived something rare and special in Fleming's particular soprano sound. In 1998, John von Rhein marveled in Chicago Tribune , "The voice, a peaches-and-cream soprano with both agility and carrying power, is in full bloom. Rarely since Eleanor Steber has America produced a full lyric soprano voice of this quality--a natural for the Mozart and Richard Strauss roles and the French repertoire that make up her Fach (vocal specialty)." In Opera News , James M. Keller said, "Fleming's voice seems custom-made for Mozart's heroines, displaying refined technique, warm timbre, authoritative articulation, lyric agility combined with requisite heft, and an expressive, malleable vibrato." Fleming herself commented on her own perception of her vocal quality in the New York Times when she said, "I enjoy the more floaty, exposed, elegant singing.... I don't like to sing loud. People seem to understand this about my voice, so I don't get too many ridiculous offers."
This last comment refers to an important issue for the soprano: keeping her voice fit for the kind of singing at which she excels. One such offer that Fleming regrettably accepted was the 1996 role of Eva in Wagner's Die Meistersinger in a Bayreuth, Germany production. The part was too low for her voice and affected her vocal placement for weeks afterwards. Fleming was forced to cancel engagements while she worked to return to a more natural mode of singing. Solti had advised her against this role and was quoted in the New York Times , "What I told her, speaking like a father, which I could easily be to her, is that she must not sing parts that are too heavy too soon.... Or sing too much. She has listened more or less, but it is hard to resist temptation when the whole world is coming to you."
By early 1998, Fleming was booked four years in advance. At that time, Rhein described her in the Chicago Tribune as "the most sought-after lyric soprano of her generation, the toast of opera houses from New York to Milan, the American singer every impresario and concert manager in the world wants to engage." Just a few months later, in a review of A Streetcar Named Desire for the Los Angeles Times , Mark Swed commented, "This is to be Fleming's year. The Metropolitan Opera is staging three new productions for her, and Previn not only created Blanche for her, but might well have titled the opera "Blanche," so musically centered around her in the score." As she neared the age of 40, Fleming enjoyed a sense of maturity as a performer. In 1998, regarding her frequent role as the Countess Almaviva, Fleming told the Chicago Sun-Times : "[My interpretation] has changed a lot in the past 10 years.... And right here, now, I feel like I've had a breakthrough. Dramatically, I have more experience of life.... I don't feel like I'm trying to act like a countess.... It feels much more natural."
Fleming has been given ample opportunity to showcase her growing talent in her recordings. Hugh Canning, writing for Gramophone in 1997, opined that the soprano "has a virtual carte blanche to record what she wants." Fleming's recordings include full opera performances of Rusalka , Cosi fan tutte , and Don Giovanni ; solo projects including Visions of Love (Mozart arias), Shubert Album (songs with pianist Chistoph Eshenbach), Signatures (opera scenes), The Beautiful Voice (songs and arias), and I Want Magic (American arias); and duets with Placido Domingo on Star-Crossed Lovers . In addition to these traditional classical cds, Fleming sang with pop singer Michael Bolton on his 1998 album called My Secret Passion: The Arias . She was also making plans for a jazz album featuring Duke Ellington tunes, an old musical love from her college days.
Clearly, Fleming has managed to be selective about her projects and to put her own stamp on nearly everything she does. As Time reporter Terry Teachout concluded, "This thoroughly modern diva does everything her own way, from wrapping up her recitals with a group of songs by Duke Ellington to scrupulously avoiding the knife-in-the-back behavior that has given so many top singers a bad name." He further noted that she was "happily aware that in her case, the nice girl finished first."
In 2000, Fleming appeared at the Metropolitan Opera, San Francisco Opera and at Covent Garden as the Marschallin in Der Rosenkavalier and sang the title role in Donizetti's Lucrezia Borgia with the Opera Orchestra of New York.She also appeared as Donna Anna in Mozart's Don Giovanni at the Salzburg Festival and the Met. She performed with the Orchestra of St. Luke's, under Mark Elder as part of the PBS series Live From Lincoln Center and with the Boston Symphony Orchestra in Haydn's Creation under James Levine.
In 2002, Fleming provided the vocals for Howard Shore's soundtrack for The Lord of the Rings: The Return of the King soundtrack. Her singing can be found in the songs "The End of All Things", "Twilight and Shadow" and "The Return of the King" (Original Soundtrack) and "The Grace Of Undómiel", "Mount Doom", "The Eagles" and "The Fellowship Reunited" (The Complete Recordings).
In 2004, Fleming portrayed the title role in Handel's Rodelinda, and reprised the roles of Rusalka and Violetta at the Met. She also sang her first Gräfin (Countess) in Capriccio at the Palais Garnier and performed in concerts with the Chicago Symphony Orchestra, the Philadelphia Orchestra, the Boston Symphony Orchestra, the Los Angeles Philharmonic, and the Toronto Symphony Orchestra among others. She also gave recitals in Spain, Switzerland, Germany, Canada, and the United States and performed in several concerts with Elton John at Radio City Music Hall.
In 2006, Fleming performed a solo concert at the Lyric Opera of Chicago with Sir Andrew Davis, sang Violetta in Verdi's La traviata with Los Angeles Opera, and returned to the Met to sing Manon and Rodelinda. She also sang Violetta again in the Metropolitan Opera's touring production to Japan and gave several recitals and concerts throughout the United States, Italy, Russia, and Sweden. She also sang in the Vienna Philharmonic's concert celebrating Mozart's 250th Birthday which was broadcast live internationally.
In 2007, Fleming sang Violetta with the Lyric Opera of Chicago, Tatyana in Eugene Onegin at the Metropolitan Opera, Arabella with Zurich Opera, and Thaïs at the Théâtre du Châtelet, Royal Opera, Vienna State Opera, and the Liceu. She also performed with over a dozen orchestras including the Monte-Carlo Philharmonic Orchestra,the National Symphony Orchestra, the Vancouver Symphony, the Boston Symphony, the San Francisco Symphony, the China Philharmonic Orchestra, and the Los Angeles Philharmonic among others, and performed at numerous music festivals including the Salzburg Festival and the Lincoln Center Festival. She also gave recitals throughout Southeast Asia, Germany, and Switzerland.
In 2009, Fleming created the complete version of Le temps l'horloge, the latest work of famous French composer Henri Dutilleux. She sang Violetta at Covent Garden and Thaïs and Rusalka at the Metropolitan Opera, the Marschallin at the Baden-Baden Festival, the Théâtre des Champs-Élysées and the Metropolitan Opera. She sang a variety of short pieces at Napa Valley's Festival del Sole in California.
Selected discography:
-Der Rosenkavalier: Final Trio , Sony, 1993.
-Armida , Sony, 1994.
-Cosi fan tutte , London/Decca, 1994.
-Hérodiade , Sony, 1995.
-Bells , Telarc, 1996.
-Chansons de Jadis , Centaur, 1996.
-Lulu/Wozzeck Suites , Sony, 1996.
-Don Giovanni , London/Decca, 1996.
-Alma Brasileira , RCA, 1997.
-Elijah , London/Decca, 1997.
-Four Last Songs , RCA, 1997.
-Schubert Album , London/Decca, 1997.
-Signatures , London/Decca, 1997.
-Rosmonda D'Inghilterra , Opera Rara, 1998.
-Rusalka , London/Decca, 1998.
-Star-Crossed Lovers , London/Decca, 1999.
-Requiem (Verdi) with Andrea Bocelli, Olga Borodina and Ildebrando D'Arcangelo, conducted by Valery Gergiev, Philips 2001
-Renée Fleming Decca 2001
-Night Songs Lieder by Debussy, Fauré, Marx, Strauss, Rachmaninov, Decca 2001
-Thaïs (2001)
-Manon (2001)
-Bel Canto Arias by Donizetti, Bellini, Rossini, Decca 2002
-Under the Stars Broadway Duets with Bryn Terfel, Decca 2003
-By Request Decca 2003
-Mozart: Così fan tutte Decca
-Handel: Alcina Erato
-Rossini: Armida Sony (live)
-Mozart: Don Giovanni Decca
-Massenet: Hérodiade Sont (live)
-Handel Arias Decca 2003/2004
-Requiem (Verdi) Philips 2004
-Haunted Heart Decca 2005
-Sacred Songs Decca 2005
-Homage – The Age of the Diva Decca 2006
-Strauss: Daphne Decca
-Four Last Songs by Richard Strauss Decca 2008
-Verismo – Arias of Puccini, Mascagni, Cilea, Giordano, Leoncavallo Decca 2009
-Dark Hope Decca Records 2010
DVD:
-Tchaikovsky: Eugene Onegin Decca 2007
-Strauss, R: Arabella Decca 2008
-Verdi: La traviata Decca
-Mozart: Don Giovanni
-Mozart: The Marriage of Figaro
-Massenet: Manon
-Rossini: Armida Decca
-Strauss, R: Arabella Decca
-Strauss, R: Der Rosenkavalier Decca
-Strauss, R: Capriccio Decca
-Verdi: Otello
-Dvořák: Rusalka Decca
-Massenet: Thaïs Decca
-Metropolitan Opera: The Audition (documentary)
Read more
Latest headlines