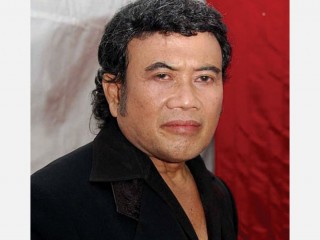 Rhoma Irama biography
Date of birth : 1946-12-11
Date of death : -
Birthplace : Tasikmalaya, West Java, Indonesia
Nationality : Indonesian
Category : Arts and Entertainment
Last modified : 2011-01-04
Credited as : Actor and musician, King of Dangdut, Curious Oma Irama (1976)
Raden Haji Oma Irama or
Rhoma Irama
or shortened by the epithet
King of Dangdut
, born on December 11, 1946 in Tasikmalaya, West Java. Raden because he holds at his parents' blood flowing royal / aristocratic. He is the second son of twelve children, namely eight brothers and four sisters (eight siblings, two brothers sons of my mother and two brothers congenital stepfather).
His father, Raden Burdah Anggawirya is a former guerrilla commander at the time of independence Garuda White. He gave the name 'Rhythm' because of sympathy for the home theater group called the Rhythm of New Jakarta who had been invited to entertain troops in Tasikmalaya. He is very good at playing musical instruments and sing songs Cianjuran. While his mother named Tuti this she was, she too is a clever gentility and also in singing, like the song No Other Love Rhoma often heard as a child.
Before living in Tasikmalaya, his family lived in Jakarta and in this city, his brother Benny was born Muharram. While Rhoma born in Tasikmalaya some time after moving to the city. After birth Rhoma, also born younger siblings, like Handi and Ance. After that, they moved back to Jakarta and stayed at Cicarawa Road, Bukit Duri, then moved to Bukit Duri ascent. In the city where they spent their teenage years until 1971, then moved to Tebet.
Rhoma've seen little since his artistic talent. Stop crying every time his mother, Tuti this she was humming the songs. Sign in zero grade he had begun to love the song. Her interest in the bigger song when he attended elementary school. Stepped on second grade elementary school he was able to bring the songs with a good western and Indian. He likes to sing the song No Other Love, and her mother's favorite song felt Bilye Buchariajaya Mangeshkar sung by Latta. He also enjoyed the Middle Eastern songs sung by Umm Kaltsum.
Musical talent probably came from his father's eloquent playing flute and singing songs Cianjuran, a typical Sundanese arts. In addition, his uncle, Arifin Double often taught Japanese songs when Rhoma still small.
Because age is not much different Rhoma with her sister, they always go together-compact and a pair. Unlike his brother who are lazy to follow instruction in the mosque or at home kyai, Rhoma always follow the recitation with diligence. Every time a father and his mother asked if her sister go assesses, Rhoma always answer 'yes. Went to school, they always go together with the tandem bicycle. Both elementary school in Kibono, Manggarai.
When the elementary school, singing talent Rhoma increasingly visible. Rhoma is the most diligent students when asked to come forward to singing class. Uniquely, Rhoma not the same as other students who are often embarrassed in front of the class. Rhoma sing loudly to be heard in other classes. Attention students greater because Rhoma not singing children's songs as well as the national anthem, but the songs of India.
His talent as a singer get attention from senior singers, Bing Slamet Rhoma impressed by her appearance when the show singing western songs at her school party. One day, while sitting in class Rhoma 4, Bing Slamet him perform in a show at the House SBKA (Railway Workers' Union) in Manggarai. This is a valuable experience for Rhoma.
Since then, although not thought to be a singer Rhoma no longer an integral part of the music. On one's own account he was learning to play guitar to advanced. Because so fond of crazy with the guitar, Rhoma often made her mother furious. Every time he came home from school the first one is looking for a guitar. Similarly, when every time he left the house almost always bring a guitar. Once her mother told Rhoma keep his younger brother, but Rhoma prefer to play the guitar. Effect of act, the mother snatched his guitar and threw him to the guava tree to burst. Rhoma sad incident because it makes the guitar is number one for her friend.
Subsequent developments in the study of music he began to realize that although his father and mother pairs blooded aristocrat who likes music, but they still think that the world of music is not something to be proud of or used as a profession. His mother often shouted 'noisy' every time he sings and thinks, that will hamper their school musical. This fact makes musical talent Rhoma growing outside the house because if at home he gets less support.
Rhoma At grade 5 elementary school in 1958 his father died. The father left eight children, namely: Benny, Rhoma, Handi, Ance, Dedi, Eni, Herry and Yayang. Then, her mother married a military officer, Raden Wijaya Soma surviving family relationships and also bloody aristocrat. Her stepfather was carrying two children from his wife who had married the mother and after Rhoma had two more children.
When his biological father is still living at home feudal atmosphere. Everyday language is the language of his father and his mother Dutch. Everything must be completely organized and use certain manners. The maid had to call the children as 'Den' (raden). Children must sleep and eat lunch together. His father also did not hesitate to punish them with beatings if deemed made mistakes, such as rain or skipped school to play.
Rhoma family circumstances at the time it was Tevet is quite rich when compared to the surrounding community. Her house is dressed up and has some cars, like, a car brand of Impala, a car belonging to a luxury at that time. Rhoma also always dressed nice and expensive.
However, feudal atmosphere does not exist anymore after her stepfather's presence in the midst of their families. In fact, thanks to his stepfather and his uncle is Rhoma getting 'wind' to distribute his music talent. Gradually, his stepfather bought musical instruments such as acoustic, guitar, bongo, and so forth.
Rhoma world in childhood apparently not just in the music world. Rhoma also frequent fist fights with other children. Circle when it was classified as hard. The children then tend to cluster in a gang and one gang to another gang or at least not hostile to each other in competition with each other. Thus, inter-gang fights are often unavoidable.
Bukitduri, place of residence almost every village in the area there are gangs (youth group). In there Bukitduri BBC (Bukitduri Boys Club), at no Kenari Kenari Boys, Cobra Boys, and so forth. Many young people from Bukitduri Puteran and from Manggarai who joined the Gang of Cobra. The gangs are hostile to each other so that the noise always occurs almost every one of them met.
One thing is quite prominent in the self Rhoma is, that his friends were almost always make it as a leader. Of course, when his gang clashed with another gang, Rhoma is expected to appear in front to fight. Although never winning a few times too often experienced Rhoma battered quite badly because of cuts even 15 children in the area mobbed Megaria.
When she entered junior high places increasingly prevalent practice martial arts. But, for Rhoma martial arts is not a foreign national because since childhood he has been able to practice from his father and several other teachers. Rhoma Cingkrik never learn martial arts (silat Betawi and Cimande alloy) to Pak Rohimin in Kebon Jeruk, West Jakarta. Rhoma also studied martial arts in the street Sigundel Gutters, besides several other martial arts. When a fight broke out between gang members trying on each other martial arts that they have learned.
Because of that, then Rhoma several times had to live with embarrassment class so he will often switch schools. Class 3 Junior High had fro in Medan, North Sumatra when he deposited in his uncle's house. But, not long later, he moved back to Junior High School Jakarta XV.
Rhoma delinquency continues until high school. At school in SMA VIII Jakarta, he never ran away from the classroom through the window because he wanted to play music with his friends who was waiting outside. Kegandrungannya on music and fights in and outside of school makes it often in and out of high school. In addition to SMA VIII Jakarta, he also never registered as a student in high school PSKD Jakarta, SMA St. Joseph Solo and he finally settled in the High School August 17 Tebet, Jakarta, not far from his home.
During high school in Solo Rhoma been through periods of very bitter. He was forced into a busker on the streets of Solo. There, he was accommodated in the house of a busker named Mas Gito. Actually, before being dumped in Solo, he intends to study in boarding schools Ireng Cane, Jombang, East Java. However, because they do not buy a ticket Rhoma, Benny (her sister) and three of her friends, Daeng, Umar and Haris have to play cat and mouse with the conductor during the journey. Rather than continue to anxiously for fear of discovery and revealed a quiet place, they finally picked off at Tugu Station, Yogyakarta. From Yogya they boarded the train back to Solo.
When the Solo Rhoma continue their education in high school St. Joseph. School fees obtained from ngamen and sell a few pieces of clothing brought from Jakarta. But because the school did not pass in Solo, Rhoma must go home to Jakarta and continue their education in high school graduation until August 17 1964. Later, he studied at the Faculty of Social and Political Science, University of August 17. But, it only lasted one year because of her interest in world music so great.
Pop and rock music is the first step as a musician and singer Rhoma. As narrated brother, Benny Muharram, that could Rhoma Malays are reluctant to record a song offered by Dick Tamimi from the record company Dimita Moulding Company in 1967, although earlier he had often sing along with a number of orchestras wither.
Besides being a singer and Indraprasta Candraleka Melayu Orchestra, sang a voice with the Rhoma Tornado Band Rhythm and Melody Varia. Together with the Rhoma bands brought western pop songs and singing while imitating exactly the sound through a Paul Anka song called Diana or the Put Your Head On My Shoulder, and songs such as Andy Williams, Butterfly, Moon River, as well as Tom Jones, Green- Green Grass of Home, Dellilah.
Are already struggling with the Rhoma pop music since I was in high school. Together with his school friends he had time to form a band Gayhand. When the music Rock n 'Roll hit Indonesia, it turns out it makes Rhoma awe in his heart he was determined to "Elvis just might become a king with his guitar, I also can".
But once inside the world of music, carried on the current Rhoma. By imitating singing style Benyamis S. and Ida Royani, Muchsin Alatas and Titiek Shandora that are popular, with the Rhoma not mind diduetkan Inneke Kusumawati by Amin Metropolitan Widjaya from record companies and the Canary Records. With a band led Zaenal Combo Zaenal Arifin, Rhoma and Inneke recordings in a number of songs like, beloved hearts, In House Only, Flowers and Butterflies, Please Yourself, lovelorn, Do the Near-close, son of Five, The Oteh, Bell Rings, Jasmine at the Dry Season and Blind Love. According to Zakaria, the head of the Youth Orchestra Transmit one of his songs, his son Lima, sung this duet. The emergence of pair-Inneke Rhoma managed to shake the popularity Muchsin Alatas and Titiek Sandora.
Seeing his success with Inneke duet, then a duet with the Rhoma Zakaria suggests Wiwiek Abidin to follow the singing competition in Singapore in 1971, and duo-Wiwiek Rhoma succeeded in becoming the champion.
On Stage Fun Day Radio show to the RRI building on page 26 Jln. Merdeka Barat, January 19, 1971, even including the recent, duet-Inneke Rhoma the center of attention among other duet singers, such as, Elly Kasim-Tiar Ramon, Vivi-Frans Sumanti Doromez-Benjamin and Ida Royani Sueb. Rhoma-Inneke duet is also accompanied by the band leader Jopie Item Galaxi when recording. With the grip of rock music, Jopie accompany accompany herself with the Rhoma shriek and scream and then abandoned it after establishing Soneta Group on October 13, 1970.
Rhoma association with rock and pop music also bringing with leaders of the band Girls Beach woman named Veronica Agustina Timbuleng and then married her in 1972. The couple has three children, namely Debbie Veramasari, Fikri Zulfikar and Romy Syahrial.
As the discussion, a show at Istora also do not provide a concrete solution. Rock band still running as usual, while it continued to waver with the Rhoma dangdut rocknya increasingly grounded until sampi community-dubbed 'King of Dangdut'. Album recording the increasingly 'ngerock' flow without irresistible, even though the New Order government to forbid political reasons appear in the only television station at that time, TVRI. It is an impact on the satirical songs of government, as in the song Rights. On the song with the Rhoma brave talk about human rights, freedom of speech, religion, work and so forth. Current record albums into the music industry to turn the wheel faster and faster. After the album became very popular late night, following the subsequent albums, such as
Curious (1976), Indonesia Rupiah (1976), Young Blood (1977), Music (1977), 135 Million (1978), Relax (1979), Rights ( 1980), staying II (1981), Friend (1982), to Indonesia (1983)
, which are all produced by Yukawi Corporation. The label is then transformed into Soneta Records, owned by Rhoma.
Step strapping more stable with the Rhoma starred in several films, such as
Curious Oma Irama (1976), The Old Guitar Oma Irama (1977), Oma Irama Wandering I (1978), Oma Irama Wandering II (1978), stay up (1978), King of Dangdut (1978), Love Triangle (1979), Camelia (1979), Struggle and Prayer (1980), Melody Love Rhoma Irama (1980), Storm in the Beginning of Joy (1981), Satria Bergitar (1984), Love Twins (1984), Devotion (1985), Love in the sky glow orange (1985), Reaching the Sun I (1986), Reaching the Sun II (1986), Nada-nada Rindu (1987), Flower Village (1988), Jaka Swara (1990), and Tone Dawah (1991)
, and
The Blue Veil (1994)
, to continue with the publication of a best-selling soundtrack. In the movie Young Blood, Rhoma even took Ucok Aka Harahap of the rock group ever to fight with Soneta Group on stage. Dangdut rock music and the fight is also a core story of this film.
Based on sales data tapes and the number of spectators who starred in the films, fans Rhoma no less than 15 million or 10% of Indonesian population. It records up to mid 1984. "There are no recent art that has such a broad scope," wrote the magazine Tempo on June 30, 1984. Rhoma own meanwhile said, "I fear the publication, it turns out, I was dragged away."
Data PT Perfin mention, almost all movies Rhoma behavior. In fact, before a film has been processed people already bought it, like a movie called Satria Bergitar example. The film that was made at a cost of USD 750 million, while not yet finalized already obtained a USD 400 million brokers. According to his brother, Benny, who is also the producer PT Rhoma Film, Rhoma never eats money from the film, but from the sale of cassettes. Money donated to the film, among others, mosques, orphanages, youth activities and improvement of the village. In fact, in 1983 Rhoma pay zakat amounted to USD 6 million.
However, if it is associated with the acquisition of material, it can be said as a musician Rhoma richest in the country. Imagine, before other musicians Mercy drive, he already enjoyed the comfort of a luxury car since the 70s. This is indicated when reading this interview with The Jakarta Post, Rhoma be humble when states have enough money but not much. It makes sense, considering sejeblok-jebloknya Rhoma Irama cassette on the market, will be sold until at least 400 thousand copies per album. This is getting ridiculous when compared with dangdut musicians outside the excessive pride that often even though the tape is only sold no more than one hundred thousand copies.
Perhaps until now has not been replaced Rhoma triumph. If there used to be called The Big Five for the 'Star Mahal', like, Roby Sugara, Roy Marten and Yati Ocktavia, then at the same time the actual value of the contract Rhoma remain far above them. In fact, many filmmakers are willing to wait their turn until three years only to be contracted Rhoma.
In addition, Rhoma also counted as one of the most successful entertainers in the mass gathering. Rhoma not just appear in the country, but he has also appeared in Kuala Lumpur, Singapore and Brunei Darussalam with nearly the same number of viewers when he performed in Indonesia. Some Indonesian media reported that, spectators Rhoma in many regions there is an accident due to faint or too crowded. It is very regrettable Rhoma own. "To get entertainment, why should not fall victim of that?" He said.
Rhoma states, that he made many reference materials research. There are about seven theses about himself and his music have been produced. In addition, foreign researchers are also often makes it an object of research, one of whom was William H. Frederick, Doctor of Sociology, University of Ohio, the United States in 1985 with the title; Rhoma Irama and the Dangdut Style: Aspect of Contemporary Indonesian Popular Culture, which examines the strength of the popularity and influence on society Rhoma Irama. He mentions in his thesis, that: "Rhoma Irama is revolutionary in the world of Indonesian music. Almost certainly, in Indonesia, Rhoma Irama is the most topnotch entertainer. Since the giant meetings during the Guided Democracy, the event stage most of the masses is a stage flooded with Rhoma Irama. " Furthermore, he says, "When in the world of American music is very influential figure of Mick Jagger, in Indonesia, the comparative figures are commensurate with the Rhoma Irama figures. These two are both geniuses and a self-taught. Both are capable of performing to the top musical talents for the strength of great natural wonders. "
In late April 1994 Rhoma Irama signed a Memorandum of Understanding (MoU) with Life Record Tanaka of Japan in Tokyo. A total of 200 units will be recorded into the song titles in English and Japanese, for release in the International market. The plan of the songs created in the form of laser discs (LD) and a compact disc (CD).
They are described as kings and queens who are both having the kingdom. The atmosphere is getting thicker and legitimately with the presence of MURI (Indonesian Record Museum-ed.) That enter and Elvy Rhoma as king and queen of dangdut Indonesia. Though late, certainly quite entertaining. You see, long before that, in the year 1985, Asia Week magazine has put Rhoma Irama as the king of Southeast Asian music.
Read more
Latest headlines