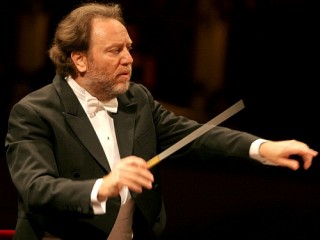 Riccardo Chailly biography
Date of birth : 1953-02-20
Date of death : -
Birthplace : Milan, Italy
Nationality : Italian
Category : Arts and Entertainment
Last modified : 2011-11-02
Credited as : chief conductor, Royal Concertgebouw Orchestra, Decca Records
Riccardo Chailly has combined a prominent position as the chief conductor of Amsterdam's Royal Concertgebouw Orchestra, an extensive touring schedule, and an exclusive--and productive--recording contract with Decca Records to become one of the brightest stars among contemporary orchestra leaders. His reinterpretation of classic Romantic works and popularization of the lesser-known pieces of major composers have won plaudits for his risk-taking in the sometimes stodgy world of classical music. A dedicated modernist, Chailly's broadening of the usual orchestral repertoire to include more twentieth-century works has also earned him a reputation as a conductor who takes chances. As Chailly said in an interview with Joseph E. Romero of the Culturekiosque website, "It is important that an orchestra be a living element of culture with the knowledge and confidence to explore new languages."
As the site of the most famous opera house in the world, La Scala, Milan was an excellent place for a prospective conductor to grow up. Chailly was also fortunate to have a family that nurtured his interest in music. His father, composer Luciano Chailly, provided much of his son's early musical training. Chailly's talent was recognized immediately, and he made his debut as a conductor at the age of 14 in Padua, Italy. For his first early career triumph, Chailly did not have to look far from home; at the age of 19, he secured an appointment as assistant conductor at La Scala, where his father served as artistic director from 1968 to 1971. Over the next several years, Chailly built his resume with a series of international performances, including spots as guest conductor with the Chicago Lyric Opera, New York City Metropolitan Opera, Vienna State Opera, Bavarian State Opera, and Royal Opera House Covent Garden in England. In 1978, Chailly finally made his debut as conductor at La Scala, conducting a program by Giuseppe Verdi.
Eager to prove he could handle more than just operatic pieces, Chailly won the position of chief conductor of the Berlin Radio Symphony Orchestra (BRSO) in 1982. With the BRSO, Chailly recorded a number of works for Philips, one of the leading classical music record companies. Later, Chailly would sign an exclusive recording contract with the Decca label, a subsidiary of Philips. Chailly's reputation was also enhanced with his appointment as principal guest conductor of the London Philharmonic Orchestra, a three-year term that began in 1982.
Chailly continued his string of prestigious guest conducting dates throughout the decade, with performances at the Salzburg Festival in Austria and with the Berlin Philharmonic among many other orchestras. Not every engagement went smoothly, however, and Chailly soon earned a reputation as a conductor who would speak his mind in order to get the best possible performance from his musicians. One controversy occurred at the Salzburg Festival in 1988, when Chailly ruffled feathers with his contentious relationship with the Vienna Philharmonic Orchestra, which he was guest conducting. Chailly later insisted that the encounter was a matter of personnel problems, and not of any great differences over musical philosophies. "I had a problem with the Vienna Philharmonic not because of the mentality, but because of the rotation system and constant changes of musicians in the opera pit," he told Romero. "That was the reason for my clash with them. It had nothing to do with artistic issues."
In 1988, Chailly was named the chief conductor of the Concertgebouw Orchestra of Amsterdam, the leading orchestra in the Netherlands. With Chailly's reputation as a forward-thinking conductor, some observers expected that he would encounter serious opposition in the sometimes conservative world of classical musicians and audiences; that attitude also characterized the climate of the Concertgebouw Orchestra. Adding to the drama of Chailly's appointment, the orchestra was celebrating its centennial in 1988; the anniversary even led to the renaming of the orchestra as the Royal Concertgebouw Orchestra. Clearly, the stakes were high for Chailly as he took the appointment.
The new conductor worked hard to educate his audience in appreciating the modern works that he favored. First, however, he had to convince the musicians themselves that the new direction was artistically valid, an effort that Chailly eventually found rewarding. "You always have to qualify your artistic reasons, your intellectual orientation," he told Romero. "That does not mean that they are not ready to accept it. On the contrary, [the musicians of the Royal Concertgebouw Orchestra] are very open-minded." He also admitted, "Had I been fully conscious of the circumstances and what would follow upon my first appearance in Amsterdam, I probably would not be here [as chief conductor] today."
Once he had made his case with the orchestra, Chailly then faced the same battle with Dutch concertgoers. "The Concertgebouw audience has always been very cultivated and very faithful, but also conservative," he told Billboard in 1999. "And I could not bear the suspicion of new music. It took a lot of explanation and encouragement, with open rehearsals and much discussion with the audience. But now we have sold-out concerts for even our most challenging programs." Although initially viewed as a renegade, Chailly eventually earned the respect of both critics and audiences. As a Stereo Review profile summarized his career in Amsterdam, Chailly "put his own stamp on the orchestra without altering its essential character." After a decade with the Royal Concertgebouw Orchestra, Chailly earned a distinction that demonstrated just how appreciative Dutch audiences had become of their conductor when he was inducted into the Knight of the Order of the Netherlands Lion in November of 1998.
Although Chailly continued to make numerous appearances abroad, including regular conducting guest spots with the Chicago Symphony Orchestra and Philadelphia Symphony Orchestra, his profile as one of the world's best-known conductors relied greatly on his prolific series of recordings on Decca Records. His output in the 20 years after 1978 included over 80 recordings, highlighting some of the major works of Gustav Mahler, Gioacchino Rossini, Joseph Anton Bruckner, and Dmitri Shostakovich, but including lesser-known pieces from the composers as well. Typically, his releases earned excellent reviews; one such rave in a 1996 Stereo Review article called Chailly's interpretation of a Claude Debussy work as "unprecedentedly convincing" and a "revelation," while his presentation of a standard Richard Wagner work contained "an exciting freshness almost beyond imagining."
Chailly's live performances were similarly well regarded. As the Times of London summarized one appearance in 2001, the concert "unfolded in a performance of mysterious beauty that disclosed much about the orchestra's mature, yet fresh sound.... Riccardo Chailly, Concertgebouw's chief conductor, allowed no detail to escape, but this was a deeply felt performance." Elsewhere, Chailly agreed that the emotional aspect of the concert performance could never take a backseat to purely academic interests. "You have to have reasons and a certain way of dealing with [musicians] and the music which convinces epidermically. I don't think an intellectual relationship is enough. It should be an instinctive, emotional, epidermic contact," he told Romero.
In August 2005, he officially became the chief conductor of the Gewandhausorchester Leipzig and general music director (GMD) of Oper Leipzig. His initial Leipzig contract was through 2010. In May 2008, he extended his contract with the Gewandhausorchester to 2015. However, he concurrently resigned as GMD of the Oper Leipzig, reportedly after conflict over the hiring of personnel without his consultation.
In May 2011, Chailly organised an international Mahler festival in Leipzig, adding one more great composer to the city's pantheon of Bach, Wagner and Mendelssohn. Mahler had been junior conductor at the Leipzig Oper 1886-88 and had composed his first symphony there. Chailly invited ten different orchestras to participate in an event that was telecast worldwide, bookending the series himself with epic performances of the second and eighth symphonies - 'one of the great Mahler 8s', in the words of the Mahler biographer, Norman Lebrecht.
Chailly became the first music director of the Orchestra Sinfonica di Milano Giuseppe Verdi (La Verdi) in 1999, and held the post until 2005. He now has the title of Conductor Laureate with La Verdi.
Although just hitting his stride, Chailly was already collecting numerous awards in light of his impressive achievements. In 1994, he was named a Grand Official of his native country; two years later, he was asked to be an honorary member of London's Royal Academy of Music. And in 1998, Chailly was named the Artist of the Year by Gramophone, a leading classical-music publication. Not content to rest on his laurels, however, Chailly was determined to foster a sense of artistic ambition among his contemporaries. As the conductor told Billboard in 1999, "You cannot only indulge in the great standard repertoire; that doesn't work any longer for anyone--and thank God. You must live not on formula, but on challenge."
Selected discography
As conductor:
-William Tell , Decca Classics, 1986.
-Manon Lescaut , Decca Classics, 1988.
-Formazioni/Folk Songs/Sinfonia , Decca Classics, 1990.
-La Cenerentola , Decca Classics, 1993.
-Symphony No. 5 , Decca Classics, 1993.
-Capriccio Sinfonico/"Le Villi" Prelude/Crisantemi , Decca Classics, 1994.
-Ten Overtures , Decca Classics, 1995.
-Overtures and Ballet Music--La Forza del Destino , Decca Classics, 1995.
-Fourteen Overtures , Decca Classics, 1995.
-Symphony No. 7 , Decca Classics, 1995.
-The Jazz Album , Decca Classics, 1995.
-Sonata Op. 1/Symphony No. 1 , Decca Classics, 1996.
-The Dance Album--The Bolt/The Gadfly/Cheryomushki , Decca Classics, 1996.
-A Florentine Tragedy/Lieder , Decca Classics, 1997.
-Apollon Musagete/Scherzo Fantastique/The Firebird Suite , Decca Classics, 1997.
-Symphony No. 5 , Decca Classics, 1998.
-The Complete Works , Decca Classics, 1998.
-La Boheme , Decca Classics, 1999.
-Symphony No. 7 , Decca Classics, 1999.
-The Film Album--Excerpts from Hamlet/The Counterplan , Decca Classics, 1999.
-I Pagliacci , Decca Classics, 2000.
-Symphony No. 10 , Decca Classics, 2000.
-Symphony No. 8 , Decca Classics, 2001.
Read more
Latest headlines