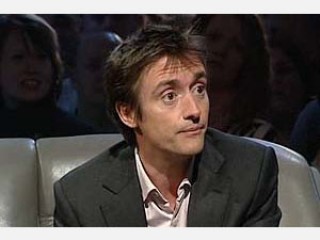 Richard Hammond biography
Date of birth : 1969-12-19
Date of death : -
Birthplace : Birmingham, England
Nationality : British
Category : Arts and Entertainment
Last modified : 2011-01-13
Credited as : Tv personalisty , show host of Top Gear,
Richard Mark Hammond, nicknamed
Hamster
, is an English television and radio presenter best known for co-presenting the television programme Top Gear along with James May and Jeremy Clarkson from 2002 onwards, and co-hosting the live annual motoring show, MPH, in Earls Court and Birmingham NEC, alongside Tiff Needell and Jeremy Clarkson.
He also presented
Brainiac: Science Abuse
and writes a weekly column, which can be read in the motoring section of The Daily Mirror each Friday.
He has recently recovered from a serious brain injury sustained in a high-speed (288.3 mph, 464.0 km/h) crash during filming for Top Gear in September 2006. At the end of January 2007, Top Gear was back on screen in the United Kingdom and showed the footage of the crash.
Early in his career, Hammond worked at many radio stations, including Radio York, Radio Cumbria, Radio Leeds, and Radio Lancashire, before going on to present a number of daytime lifestyle shows and motoring programmers on Men & Motors.
He presented the Crufts dog show in 2005, the 2004 and 2005 British Parking Awards, and has appeared on School's Out, a quiz show on BBC One where celebrities answer questions about things they learnt at school when they were younger. He has also presented The Gunpowder Plot: Exploding The Legend. Along with his work on Top Gear, he currently presents Should I Worry About...? on BBC One and Time Commanders on BBC2, and presented the first four series of Brainiac: Science Abuse on Sky One. He is also a team captain on the BBC2 quiz show, Petrolheads, in which a memorable part was one where Hammond was tricked into smashing his classic Ferrari while trying to parallel park blindfolded in another car.
From January 3 2006 until February 10 2006, Hammond was the eponymous star of Richard Hammond's 5 O'Clock Show with his co-star Mel Giedroyc of Light Lunch fame. The programme, which discussed a wide range of topics, was shown every weekday on ITV1 between 5:00 and 6:00.
In July 2005 Hammond won the dubious accolade of being voted number one in a heat magazine poll of top "weird celebrity crushes." Also in 2005 he was voted one of the top 10 British TV talents.
As part of Red Nose Day 2007, Hammond stood for nomination via a public telephone vote, along with Andy Hamilton and Kelvin MacKenzie, to be a one-off co-presenter of BBC Radio 4's Woman's Hour on March 16th 2007 http://www.bbc.co.uk/radio4/womanshour/comicrelief2007.shtml. However, he was defeated by Andy Hamilton.
In April 2007, Hammond presented a one off special on BBC Radio 2 for Good Friday followed by another in August 2007 for the Bank Holiday. He is scheduled to present more Bank Holiday specials for the station.
Top Gear
Hammond became a presenter on Top Gear in 2002, when the show began its present format. He is sometimes referred to as "Hamster" by fans and his co-presenters on Top Gear. His nickname was further reinforced when on three separate occasions in Series 7, Hammond ate cardboard, mimicking hamster-like behaviour. Another running gag by co-host Jeremy Clarkson is Hammond's supposed use of teeth whitener, and it was staged to appear that he was caught looking at a website on teeth whiteners on Richard Hammond's 5 O'Clock Show.
In the first episode of the new series on 28 January 2007, Hammond returned to a hero's welcome, complete with dancing girls and fireworks. The show also contained images of his high speed crash, for which he made national headlines, with Hammond talking through the events of the day, after which the audience broke into spontaneous applause. Hammond then requested that the crash never be mentioned on Top Gear again, though both May and Clarkson have since referenced it in jokes during the news segment of the programme.
In 2003, Hammond became the first presenter of Brainiac: Science Abuse; he was joined by Jon Tickle with Charlotte Hudson joining in series 2. After the fourth series it was announced that Richard Hammond was no longer going to present the show due to his signing an exclusive deal with the BBC. Vic Reeves took his place as main presenter.
On September 20 2006, Hammond was seriously injured in a car crash while filming for Top Gear at the former RAF Elvington airfield near York. He was driving a jet-powered car, the Vampire dragster, which is theoretically capable of travelling at speeds of up to 370mph. Sky News and BBC News reported that he was driving a Vampire jet car powered by a Bristol-Siddeley Orpheus turbojet engine, one of a pair built by then driver, Keiran Westman; the same car that currently holds the British land speed record at 300.3 mph. Primetime Land Speed Engineering have denied reports that Hammond was making an attempt to break the land speed record, although telemetry on one of the runs did suggest that he had reached 314.4mph (506 km/h), an unofficial British record.
The run was not a land speed record attempt; this is consistent with there being no official present, and no attempt at a second run in the opposite direction, as is required for a land speed record to be officially recognized. In the first episode of the new series, Clarkson jokingly said "He would have held the record for fastest crash, but he'd have to crash in the other direction for it to be official." However this contradicts some sources, including a statement given by the owner of 'Event Fire Services' which was hired to provide safety cover. He was travelling at 288.3mph (464 km/h) at the time of the crash, but when the jet car overturned and the roll cage dug into the ground he was still going at 232mph (373.4 km/h), with the top of his helmet dragging along the ground; it has been speculated that if he were any taller, he would have been decapitated. He was then taken to the specialist neurological unit of the Leeds General Infirmary.
According to witnesses, Hammond was completing a final run to collect extra footage for the programme when "one of the parachutes had deployed but it went on to the grass and spun over and over before coming to a rest about 100 yards from us." When rescuers arrived at the car it was upside down and "dug in" to the grass. Rescuers felt a pulse and heard Hammond, who was unconscious, breathing before the car was turned right way up. Hammond was cut free, put in a neck brace and placed on a stretcher before the air ambulance arrived. "He was regaining consciousness at that point and said he had some lower back pain".
ITV News reported that Hammond had broken the British land speed record and was on a last run filming extra scenes for Top Gear when the accident happened. Hammond's family stayed with him at the hospital along with Top Gear representatives who were present at the accident site, as well as Top Gear co-presenters James May and Jeremy Clarkson who had also rushed to his bedside. Jeremy Clarkson was quoted by the BBC as saying "Both James and I are looking forward to getting our 'Hamster' back", referring to Hammond by his nickname.
Dave Ogden from Event Fire Services, present at the scene of the accident, said on Sky News that evening: "He was just doing the final run of the day — I don't know quite what happened — but the parachute deployed. There was quite a lot of smoke and the car veered off to the right and on to the grass, and it overturned several times and it came to a halt a couple of hundred yards in front of us."
The cause of the crash was later determined to be a blowout of the front right tyre.
The crash was shown on an episode of Top Gear on the 28 January 2007; this was the first episode of the new series, which had been postponed pending Hammond's recovery. Hammond requested at the end of the episode that his fellow presenters never mention the crash again.
BBC reports suggest that he was air-lifted from the crash scene while drifting in and out of consciousness. North Yorkshire Police said that they "received a report via the fire service of a male person trapped in an overturned jet car which had been driven on the airfield."
The doctor treating Hammond announced on September 21 2006 that he had a "significant brain injury" but he was reasonably optimistic he would make a good recovery.
Hammond was visited several times in hospital after the crash by co-presenter Jeremy Clarkson and responded well to conversations with him. He even managed a smile after Clarkson jokingly said the reason he crashed was because he was such a 'crap driver'. It also became clear that Hammond's co-presenter James May was originally supposed to be driving the car. May explained later that a leaked shooting schedule made weeks before the incident was changed due to scheduling conflicts. After visiting Hammond in the hospital, May remarked:
Hammond's condition was upgraded from "serious but stable" to "stable" on September 22 2006, when he was moved out of intensive care. On the same day ITV News reported that Hammond was conscious and was talking to friends and family. In the early hours of September 22 2006, Hammond took his first steps (he got up and went to the toilet), just 30 hours after the crash, according to Jeremy Clarkson, and was moved to a general ward on 23 September. His severe injury reduced him to a "child-like state" in which he became obsessed with LEGO bricks, and Top Trumps which he said helped him recover.
On September 26 2006 and September 27 2006 Hammond was reported to be improving so well he would be moved to a hospital nearer his home in Gloucestershire. On 28 September 2006 he was airlifted from Leeds General Infirmary to the BUPA hospital in Clifton, Bristol, to be closer to his home in Gloucestershire. His neurosurgeon, Stuart Ross, estimated a full-recovery time of 6 months.
It was reported that Hammond wanted the new series of Top Gear, as scheduled, to go ahead in October and also that he wished that the footage of the crash/race to be shown.
Rumours started to circulate after Hammond's crash that Top Gear was going to be axed, but this was denied by the BBC when they announced on October 6th 2006 that the show was still in full production for its new series, although it would only air when Hammond had fully recovered and able to participate in the program. The BBC also announced on October 6 2006 that they were producing a special programme on Hammond's crash that would show the footage filmed on the day.
A charity appeal in aid of the Yorkshire Air Ambulance was established shortly after the accident. Initially the money was to be used to fund day-to-day running costs of the helicopter. However on 24 September 2006, due to the generosity of the public, the chief executive of the air ambulance trust announced the money would be used to procure a second helicopter.
In a series of articles published in the Daily Mirror on 23 October 2006 Hammond described what he remembered of the accident, and his recovery so far. At the time, he was preparing to return home after five weeks, though he had been originally told that he would be hospitalised for fifteen months. His wife told her story in an article published on 24 October 2006.
On November 1 2006, Jeremy Clarkson and James May received the National Television Award for best factual programme on behalf of Top Gear and announced that Richard Hammond is 'back to normal' and made jokes about his bad driving. "I told you if one of us crashed we'd win this", Clarkson quipped.
On November 12 2006 he was back behind the wheel for the first time after the accident. He chose his Morgan, the classic British sports car, ahead of the other motors in his garage, which included a Porsche, vintage Ford Mustang and a Range Rover, and under doctors orders took things at a slow pace, not venturing above 50 mph. He has also since taken his first ride on a motorcycle since the crash, as publicised in MCN and in September 2007 Richard made a return to high-speed driving with a race between a Bugatti Veyron driven by Hammond and an RAF Eurofighter Typhoon filmed for the upcoming series of Top Gear.
On December 7 2006 he attended his first day filming for the new series at the annual Top Gear Awards. During the show, he was presented by Lego with a model of the Vampire jet-car which he crashed as well as a model of the Top Gear set, complete with the presenters as well as The Stig. It was during the same night that the show's presenters confirmed that the new series would premiere on 28 January 2007.
On December 22 2006 Hammond made his first television appearance since the crash on Friday Night with Jonathan Ross, in which he said that since the crash he has gained a better memory, particularly with regard to telephone numbers, and a new found liking for celery. He is, however, somewhat irritated by the fact that he has been forbidden to drink any serious quantity of alcohol for a period of two years, being restricted to, at most, two pints of weak lager. Hammond revealed that he has a pact with his co-presenters that, should one of them die in an accident, the following edition of Top Gear would open with the remaining two presenters solemnly mentioning the death and then remaining silent for a moment. They would then start a new sentence, in which the first word would be 'Anyway' and continue to happily report about cars. (This pact had previously been disclosed in Jeremy Clarkson's column in The Sun on September 23, 2006). He also described the first time his children came to see him in hospital where, in a confused state, he proceeded to take off his bandages and show his gruesome eye injury to his daughters.
On January 28 2007, Hammond made a return to Top Gear. He opened the show walking down a set of airline boarding-stairs complete with showgirls, because as Clarkson pointed out Hammond "didn't want any fuss whatsoever", and that "to build a proper set of Morecambe and Wise steps would have cost at least £300". Hammond thanked everyone involved with his accident and who wrote to him wishing him the best. Following the airing of the crash footage he asked that it never be mentioned on Top Gear again, which Clarkson and May agreed. On the same episode it was noted by Clarkson that Hammond would have set the fastest land crash in history but he "had to repeat it going the other way" (to make the findings official).
Footage of the crash, as shown in this episode, can be seen at the Top Gear website.
On July 22 2007, Hammond manifested a surprising recovery to his fitness by running 16 miles to his family home in Gloucester, for his daughter Willow's birthday. When his 911 got stuck on the way home in the traffic tie-up created by weekend flooding in Cheltenham, Gloucestershire, he abandoned the car in a nearby parking lot, put on his running gear and a waterproof jacket, then made the journey within 2 hours and 30 minutes.
TV shows
* Top Gear (2002-present) * Brainiac: Science Abuse (2003-2006) * Time Commanders (2005) * Crufts (2004-2005) * Should I Worry About...? (2004-2005) * The Gunpowder Plot: Exploding The Legend (2005) * Inside Britain's Fattest Man (2005) * Richard Hammond's 5 O'Clock Show (2006) * Petrolheads (2006) * School's Out (as a contestant, 2006) * Richard Hammond's Would you believe it? (2006) * Richard Hammond and The Holy Grail (2006) * Battle of the Geeks (2006) * Last Man Standing (2007) (Narrator) * Helicopter Heroes (2007)
Read more
Latest headlines