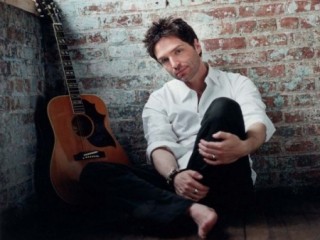 Richard Marx biography
Date of birth : 1963-09-16
Date of death : -
Birthplace : Chicago, Illinois,U.S.
Nationality : American
Category : Arts and Entertainment
Last modified : 2011-12-12
Credited as : singer-songwriter, record producer, "Right Here Waiting" hit single
Richard Noel Marx is an American adult contemporary and pop/rock singer, songwriter, musician, and record producer. He had a string of hit singles in the late 1980s and 1990s, including "Endless Summer Nights", "Right Here Waiting", "Now and Forever", and "Hazard". Although most of his major hit songs were slow ballads, many of his songs had a classic rock style, such as "Don't Mean Nothing", "Should've Known Better," "Satisfied," and "Too Late To Say Goodbye".
Marx placed himself in the record books by being the first solo artist to have his first seven singles hit the Top 5 on the Billboard Hot 100 singles chart . His record sales worldwide exceed 30 million. Aside from songs that he has sung himself, he has written, co-written, and produced successful tracks for other artists such as "This I Promise You" by NSYNC and "Dance With My Father" by Luther Vandross. The latter song won several Grammy Awards. His 14th and latest chart topper, "Long Hot Summer," performed by Keith Urban, gave Marx the distinction of having a song he wrote or co-write top the charts in four different decades.
Known for his good looks as well as his vocal abilities, Richard Marx was perhaps the prototypical flashy 1980s pop star, making a name for himself as a mainstay of top-40 radio stations and MTV. With the 1997 release of Flesh and Bone, his first album since 1994's Paid Vacation, Marx joined other stars of the 1980s whose popularity underwent a resurgence as the members of the MTV generation became nostalgic for the sounds of their youth. With the release of his fifth album, Marx, serving as the 1997 Grammy in the Schools spokesperson, aided the fundraising efforts of the National Academy of Recording Arts and Sciences (NARAS) Foundation's campaign to encourage the creative efforts of American students. Although critics have not assessed Marx as a serious artist in terms of his songs, which Billboard's Larry Flick characterized as "radio-friendly nuggets" and "engaging, rock-etched love poems," they have praised his ability to belt out powerful lyrics. Despite any reservations expressed in reviews of his works, Marx attained enormous popular success: his first four albums went multi- platinum, selling more than 20 million copies worldwide.
The son of a commercial jingle-writing father and a jingle-singing mother, Richard Noel Marx--born September 16, 1963 in Chicago, Illinois--spent the better part of his childhood inside recording studios. He began recording jingles himself at the age of five, and as a teenager Marx wrote his own songs. When he was 18, Marx managed, through a series of acquaintances in the music industry, to get a demo he had recorded to singer Lionel Richie, who was at the time still a member of the Commodores. At Richie's urging, Marx moved to Los Angeles, and beginning in 1980, he worked as a background vocalist for a variety of recording artists, including George Benson, Whitney Houston, Dolly Parton, Madonna, Barbra Streisand, Billy Joel, and Julio Iglesias. In addition, Marx provided background vocals for songs on Lionel Richie's solo albums, including the hits "All Night Long (All Night)" and "Running with the Night."
Marx supplemented his work as a background vocalist by writing songs, which were recorded by such artists as Kenny Rogers and the band Chicago. The songwriter also contributed to movie soundtracks, including those for the 1985 films St. Elmo's Fire and The Goonies. While working as a contributing songwriter for the 1983 John Travolta film Staying Alive, which was a sequel to the wildly popular Saturday Night Fever, Marx met Cynthia Rhodes, the movie's female lead. He and Rhodes dated for several years and eventually married in 1989. Despite his success as a songwriter and his frequent contributions as a background vocalist, success as a solo recording artist eluded Marx, until 1987, the year his first album, Richard Marx, was released by EMI.
Four singles from the Richard Marx album, which ended up at number eight on the album charts, made it to the top of the popular music charts in 1987; one of these singles, the ballad "Hold On to the Nights," was particularly well-liked among pop music fans, and spent several weeks as number one. Other chart-topping songs from Marx's debut album included "Don't Mean Nothing" and "Should Have Known Better," both of which reached the number three spot, and "Endless Summer Nights," which reached number two. The songs, all of which were composed by Marx, displayed his signature romantically raspy, forceful vocal style, and his trademark theme of love, unrequited and otherwise. The corresponding music videos for the songs depicted Marx as a soulful and often lovesick romantic figure, and with his youthful good looks--crowned by a flowing mane of black hair--and charm he was widely popular among MTV viewers, especially female viewers.
Marx's second album, Repeat Offender, was released in 1989 and quickly reached triple-platinum status, producing the two number one singles "Satisfied" and "Right Here Waiting." "Satisfied" was not only popular with fans, it was favored by music critics as well, which was an unusual achievement for a Marx song; the critics noted that the song departed from Marx's usual romantic-ballad formula and lauded the singer for his powerful, heartfelt vocal performance on the song. "Angelia," another song from Repeat Offender, reached number four on the charts in 1989, while "Too Late to Say Goodbye" topped out at number 12 in 1990. "Children of the Night" reached number 13 in 1990; the song commended the efforts of--and raised money for--the Los Angeles-based group called Children of the Night, which provides services for runaway children and teenage prostitutes. With the songs and videos from this second album, Marx established himself as a formidable player in the 1980s music scene.
In 1991 Marx released Rush Street, which, while not as popularly successful as its predecessors, produced three top-twenty singles, including "Take This Heart," which reached number 20, "Keep Coming Back," which reached number 12, and "Hazard," a song that Entertainment Weekly's Chuck Eddy dubbed "an oddly spooky flamenco- rock ballad about a riverside murder," which went to number nine. In order to boost the sales of his third album, Marx took part in a publicity stunt that had him play five concerts in a twenty-four hour period, going from one coast of the United States to the other. The mini-tour began at an airport in Baltimore and ended at a Los Angeles airport, with performances at New York, Cleveland, and Chicago airports sandwiched between.
Marx's 1994 effort, Paid Vacation, like his earlier albums, was not well-received by critics who deemed the collection simply more of the same rock ballads and top-40s sounds previously released by the singer. Again, however, critics acknowledged Marx's vocal talent, such as People's Peter Castro, who conceded that the album was "packed with well-sung songs" and Entertainment Weekly contributor Chuck Eddy, who offered a backhanded compliment to Marx with the assertion that Paid Vacation contained "some of the most skilled hackwork in the business." Nevertheless, the critics still maintained their dislike for Marx's lyrics and melodies; Castro remarked that the songs on the album were "painfully short on substance." Among the songs on Paid Vacation, "One More Try" and "Nothing Left Behind Us" could be heard most often on the radio, and the album was a moderate success.
After three years without releasing a single album, Marx released Flesh and Bone in 1997. With superstar guest vocalists such as Luther Vandross and Randy Jackson lending their talents to the mix of songs that were, as always, entirely written by Marx, the album was designed to appeal to the fans who had embraced Marx in the late 1980s and early 1990s. Although critical reception of the album was as always lukewarm, Marx's vocals were deemed somewhat more mature--and at the age of 34 his voice was most definitely more seasoned than it had been on his debut album ten years earlier--and richer than they had been previously. Entertainment Weekly's Jeremy Helligar, although faulting the album for containing what he referred to as "cheesy hallmarks" of the 1980s-- cliche-laden lyrics, overdone vocals, and hackneyedarrangements-- conceded that on songs such as "Touch of Heaven" Marx is "an occasionally convincing soul man."
A noteworthy fact concerning Marx's fifth album was its association with the NARAS Foundation; Marx requested photos, paintings, drawings, short stories, and poems from high school students around the United States, and the winning entries were featured in Flesh and Bone's CD booklet. In addition, Marx donated proceeds from the sales of the first single released from Flesh and Bone, "Until I Find You Again," to the NARAS Foundation, and produced five songs submitted by students on an album released with the support of the same organization. The singer was enthusiastic about the project, according to the Richard Marx website, which quoted him as saying: "The idea that I can expose a young short story writer, photographer, poet, painter or songwriter to a mass audience is really exciting. It'd be pretty cool if someone in a position to help even more then sees or hears their work and says, `This is great. Let's open the door for him or her.'" The successful singer and songwriter was also eager for the concept to become more widespread among celebrities, remarking: "I hope other artists will pick up the ball and do similar things. In fact, I hope everybody steals the idea. For once, I want to be plagiarized."
In 2000, Marx debuted his sixth studio album Days in Avalon. This disc was released on the Signal 21 Records label founded by Marx and former Blood, Sweat & Tears drummer and record producer Bobby Colomby. Its title track, "Days in Avalon", was picked up by Adult Contemporary radio and spent 12 weeks in the chart's Top 30. The album was also quite successful in other parts of the world, particularly Asia and Australia. The label became the vehicle for the release of this disc, and folded shortly thereafter.
After signing a new deal with his former label, Manhattan Records, Marx released the 2004 album My Own Best Enemy. It featured the two hit singles "When You're Gone" and "Ready to Fly."In 2008, Marx released Duo with Vertical Horizon's lead singer Matt Scannell. This album features select acoustic versions of Marx and Vertical Horizon's hits, plus one they co-wrote and recorded together, "Always on Your Mind."
In March 2010, Stories To Tell was released during Marx's solo acoustic concerts. It is his first acoustic album, which featured several songs from several of his previous albums. In November, 2010, "Stories to Tell" album was released in Europe supporting Richard Marx's European tour. The European release featured all the songs from the March release and new studio recordings of songs Richard has written with or for other artists, like Josh Groban and Keith Urban.
November 1, 2011 saw the release of The Christmas EP, a five song collection of Christmas tunes. "Christmas Spirit" was written by Marx and Fee Waybill and was the first song released for radio play. Marx intends to record an additional seven songs to this collection to have a full scale release for Christmas 2012.
Read more
Latest headlines