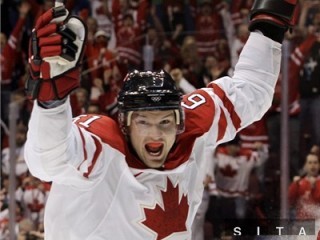 Rick Nash biography
Date of birth : 1984-06-16
Date of death : -
Birthplace : Brampton, Ontario, Canada
Nationality : Canadian
Category : Sports
Last modified : 2010-08-02
Credited as : NHL Ice hockey player, played for Columbus Blue Jackets,
The NHL may consider itself a "man's league," but with the likes of Rick Nash on the horizon, the kids may soon be running the show. After his #1 selection in the 2002 draft, the high-scoring winger spent a couple of months figuring out just how good he was—and ever since he's been unstoppable. His Columbus Blue Jackets, meanwhile, have been stockpiling young studs. That means Rick will one day be the elder statesman of a team with championship aspirations.
GROWING UP
Rick Nash
was born on June 16, 1984 in Brampton, Ontario, to Jamie and Liz Nash. Rick got the hockey bug in a big way around the age of three. His dad and uncle Al were big Toronto Maple Leaf fans and passionate players, and his older brother, James, was a good young skater. The four would play two-on-two on a frozen pond near their home well into the evening, the rink lit by car headlights. More than once they played until the battery died.
When Rick skated, he would imagine himself chugging down the ice before a packed NHL house, even supply his own cheering and voice-over. When he scored, he raised his arms to acknowledge the imaginary applause cascading down from the imaginary stands. In a sense he was starring in the NHL a decade before anyone had ever heard of him.
Rick was identified as a hockey prodigy early on. Even in pickup games, the other boys knew instinctively to get him the puck. Rick saw the ice exceptionally well, and had a sense of how to use his teammates—a skill that can't be taught. He worked his way up the vaunted Toronto Marlboro system with coach Keith Carrigan behind the bench most of the way.
Rick's favorite players were Mats Sundin, Joe Sakic, Mike Modano and Mario Lemieux (who was drafted by the Pittsburgh Penguins four days after Rick's arrival in the world). All were big, agile centers with a multitude of offensive weapons. He was also inspired by Andrew Cassels, a fellow Bramptonian, who played for the Montreal Canadiens and Hartford Whalers when Rick was a kid.
Rick, tall and lanky through most of preadolescence, benefitted from a trend that was developing in the upper echelons of youth hockey. As many NHL stars adopted serious in-season and off-season conditioning programs to lengthen their careers, there was a trickle-down effect to hockey-playing teens. Rick got into the habit of monster workouts, and even attended week-long strength and conditioning camps when he was 13 and 15. As he began to sprout, he maintained a well-chiseled physique.
Coach Carrigan had a great relationship with Rick. The teenager took to new ideas right away, and seemed able to put Carrigan's advice into action instantly.
During a Pee Wee tournament in Quebec, Rick, then 14, was the last man up in an overtime shootout for the Marlies. He asked Carrigan what he should do, and the coach responded that the Edmonton goalie left a sliver of daylight between his pads whenever shooters made sudden lateral movements. Rick nodded, picked up the puck, darted left and coolly wristed the puck through the five-hole opening that Carrigan said would be there. All this with 12,000 fan screaming at the top of their lungs.
Rick played one year of Bantam for Toronto, scoring 61 times and tallying 54 assists in 34 games. Following that performance he was selected fourth in the Ontario Hockey League draft by the London Knights.
His conditioning program, meanwhile, was becoming ever more sophisticated. His parents brought in Gord Kirke as an advisor when he was ready for the juniors. Kirke in turn sought out former NHL player Mike Marson to work with Rick. They routinely did 1,500 sit-ups and 500 pushups together.
For a player so dedicated to brute strength, Rick had a remarkable finesse game. Though his speed was only so-so, he always managed to find himself with a clear shot on goal. His shot was hard and accurate enough to be dangerous from the perimeter. But he was equally adept moving into the slot, where his soft hands enabled him to turn rebounds into goals in traffic.
The Knights were a mediocre junior club, despite Rick's presence. When he first joined the team, he was expecting to be overwhelmed by the older, stronger players. But coach Lindsay Hofford threw him right into the fire, and Rick's natural leadership abilities emerged immediately. He scored 31 goals in 58 games during the 2000-01 season, and added 35 assists to win OHL Rookie of the Year honors. The only blemish on his record was a physical run-in with a referee, which got him suspended for five games.
Another highlight of Rick's first junior campaign was the Six Nations Cup in the Czech Republic. He tied for the tournament scoring lead with five goals in five games, while racking up 35 penalty minutes. He scored twice and dished out three assists in 9-4 win over Russia in the final.
Sensing that he had a future in the NHL, Rick made his way down to Florida for the NHL draft that spring. He just wanted to soak up the atmosphere, but to his surprise, many of the league execs were already aware of him.
ON THE RISE
Rick's goal for the 2001-02 season was to work on his defense and improve his skating technique. He accomplished both of these tasks, and also became skilled at dealing with the media—a fact that did not go unnoticed by NHL general managers. His final numbers for London were 32 goals and 40 assists in 54 games.
That spring, the Knights upset the regular-season champion Plymouth Whalers—an OPHL powerhouse—in round one of the playoffs, then extended the eventual champion Erie Otters to six games in the conference semifinals. Rick scored 10 times in 12 post-season games.
As the 2002 NHL draft neared, Rick's stock was sky high. He had led a mediocre team into the post-season twice and raised the level of his play. Though 17, he had the bearing of a player five years older. His skating was a concern—he would never be a blazer—but his body was filling out nicely. He now stood 6-3 and weighed 188 pounds, with plenty of room to grow up and grow out.
The 2002 draft was the thinnest in memory, with a huge drop-off in quality after the first dozen or so picks. At the top of the ratings was Jay Bouwmeester, the most celebrated junior in the game. Kari Lehtonen, a Finnish goalie, and countryman Joni Pitkanen, a defensemen, also figured to go in the first few selections. The Philadelphia Flyers really wanted Rick, and traded up to fourth, figuring they would get him.
The day before the draft, Rick ran into Columbus GM Doug MacLean. He knew the Blue Jackets were building a nucleus of good young players, but also recognized that the team had holes to plug right away. This seemed like the perfect situation for Rick. When MacLean told him that Columbus would love to get him with the third pick, but wasn't sure if he'd still be on the board, Rick told him to do whatever was necessary to get him.
That's all MacLean needed to hear. Dale Hunter had once told him that Rick had the kind of courage and passion it takes to lead a team to the Stanley Cup, and Rick's bold challenge sealed the deal. MacLean swapped picks with the Florida Panthers at #1, with a promise to reverse positions the next season. On draft day, Rick heard about the deal, and his heart sank. He figured the Blue Jackets traded up to get Bouwmeester, then was thrilled when his named was announced. And whether he realized it or not, Rick instantly became the biggest name in the history of Ohio hockey.
In the Columbus papers, Rick was compared to a young Brendan Shanahan. Parallels were also drawn to Luc Robitaille, who topped 30 goals a dozen times in his career. A decade earlier, the teenager probably would have been farmed out to the juniors for another year or two. But with budget-minded NHL teams more willing to let young talent ripen on league rosters, MacLean decided nothing save an injury or disastrous pre-season would keep Rick out of the Blue Jackets' opening-night lineup.
One thing the GM did not count on was how hard it would be to ink Rick to a deal. Rick did not want to return to the Knights for a third season, but was willing to use the juniors as a bargaining chip. League rules dictated that rookies could not make more than $1.2 million a year, so the sticky points regarded the incentive structure of the contract. Refusing to break the bank, Columbus found itself in a tough spot when it began selling tickets for the home opener that included a picture of Rick.
A couple of days before Rick would have been compelled to return to London, the deal got done: Three years potentially worth more than $12 million—the biggest rookie contract in NHL history.
As planned, Rick was in uniform for the opener, against the Chicago Blackhawks. After receiving a huge pre-game ovation, he rippled the back of the net on his second NHL shot to help Columbus win 2-1.
Rick's presence was a bug boost for the franchise, which was coming off two lackluster years and a season of tragedy in 2001-02. It had been less than a year since a young fan named Brittanie Cecil was killed by a puck in Nationwide Arena. And later that season MacLean's father died of cancer. It was great to feel positive energy in the building—and on the bench—once again.
Rick was part of a good nucleus with the Blue Jackets. MacLean was collecting young talent, including goalie Pascal LeCalire, center Chris Nielsen, and defenseman Rostislav Klesla, the #4 pick in the team's first draft. Key veterans included Ray Whitney, Geoff Sanderson and Andrew Cassels, Rick's old hometown hero. Coach Dave King looked like a good fit, too. He had a reputation for being an excellent teacher.
The NHL offered some challenges for Rick, but not ones typical for an 18-year-old rookie. He was ready for the speed of the game, and accepted the fact that he would spend a year or two bouncing off of defensemen before he beefed up to his ideal weight. Rick was more overwhelmed by the NHL lifestyle—nice hotels, deluxe travel, great meals, guys who take care of every little detail. A testament to Rick's maturity was the fact that he rented an apartment rather than staying with a host family, as many young NHLers do.
Despite his opening-night goal, Rick started the year tentatively. But as he gained experience and confidence he began pushing the envelope. In an early January game against the Flames, he collected the puck off the boards, and danced through four Calgary skaters before squeezing off a shot that beat Jamie McLennan.
It was about this time that MacLean took over bench duties from King. The GM was not happy that the parts he had assembled were failing to mesh. And he thought King was not putting Rick in the right situations. MacLean told his players that it was time to get serious—if they weren't ready to make the playoffs, they would find themselves out of jobs. Intensity heightened, the Blue Jackets and Rick, who was hampered by a foot injury early in the season, finished strong. He was making decisions like a veteran, outmaneuvering and outthinking defenders, and displaying a willingness to explore his own potential.
Rick averaged just under 15 minutes a game, scored 17 goals (10 after January 1) and logged 22 assists to tie for second in rookie scoring. When Calder Trophy voting was announced, Rick finished third. He was also named to NHL All-Rookie squad.
As for the Blue Jackets, they ended with the worst record in the conference. The team was young and fast, but they got run out of the rink by bigger clubs on a regular basis.
MAKING HIS MARK
For 2003-04, Columbus added several veterans, including goalie Fred Brathwaite, forwards Todd Marchant and Trevor Letowski, and defenseman Darryl Sydor. They also acquired young forward Manny Malholtra, whose career derailed after the New York Rangers force-fed him into the lineup as a teenager.
The loss of top scorer Whitney to Detroit proved a plus, as it opened a spot for Rick on the team's #1 line. Working well with Marchant, Rick—who had weight-trained three hours a day over the summer and was now 210 pounds—flourished as Columbus's newly anointed go-to guy.
The rest of the team was horrible, however. The Blue Jackets were the last NHL club to win a road game, and the defense, riddled with injuries, was embarrassed game after game. MacLean, unable to stop the bleeding, fired himself and appointed assistant Gerard Gallant as head coach.
Although a playoff berth seemed unlikely, things began to turn around in December with the arrival of the club's #1 draft choice in 2003, slick-passing forward Nikolai Zherdev. A member of the Central Red Army team, Zherdev planned to stay in Russia for a year and work with legendary coach Viktor Tikonov to get ready for the NHL. But when he found himself getting more splinters than ice time, he hopped a plane to Canada and maneuvered a transfer to the Blue Jackets.
Sparked by their two 19-year-olds, the Blue Jackets produced a winning January. MacLean's pre-season prediction of 25 goals for Rick was achieved by the All-Star break, as he netted his league-leading 30th at the end of the month. At that point Rick hadn't gone more than two games without a goal, underscoring his consistency.
The big difference in Rick's game? A combination of size, confidence and experience. He was now strong enough to hold his own in the slot, which enabled himself to get into position for rebounds. In this respect, Rick was becoming the Dennis Rodman of hockey—he had a sixth sense for where rebounds would slide out, and was already eyeing the goalie in anticipation of his shot.
Rick was not just a garbage goal-scorer, however. He consistently beat opponents to loose pucks and proved quite expert at digging around the boards. The moment he would dislodge a puck, he would dart into the middle, where he was in position for a pass or rebound before defensemen knew where he was.
By February, fans were starting to take notice of what Hockey News called the "Rick & Nik Show." Ironically, the teenagers rarely played together. They shared the ice on power plays, and late in games when Columbus was down by one or two goals. At the beginning of the month, an injury to Rick threatened to keep him out of the 2004 All-Star Game. A bruised left foot—suffered when he tried to block a shot against the Minnesota Wild in a 2-1 overtime win—kept him off the ice for several days. Rick sucked it up, suited up, and became the first teenager to play in the mid-season exhibition since Jaromir Jagr and Owen Nolan made the squad in 1992, and the youngest All-Star since Wendel Clark in 1986.
The night before the contest, he watched Zherdev score in the YoungStars Game. Earlier, Rick won the Individual Puck Control Relay in the Super Skills Competition. He failed to score in the Sunday game, but played 14 minutes and got three shots on goal.
The offense-starved Jackets played out the rest of the season to the tune of 25 victories, falling far short of the playoffs. Many of the veterans brought in were either hurt or underperformed. Goalie Marc Denis, playing behind a porous blue line, was fantastic at times, but he too was fighting a losing battle.
Rick kept the fans coming, however, as he stayed on pace for a history-making season. He finished 2003-04 with 41 goals to tie Jarome Iginla and Ilya Kovalchuk for the NHL lead. No teenager in history had ever ended a year atop the league's goal-scoring list.
During the 2004-05 lockout, Rick signed to play with Davos in Switzerland. In 44 games, he netted 26 goals with 20 assists to finish second in scoring and guide his team to the league crown. In the World Cup, he led Canada to a silver medal and topped all tournament scorers with nine goals. When the players and owners finally made peace in the summer of 2005, Rick inked a five-year deal worth $27 million.
The 2005-06 season did not start well for Rick and the Jackets. He twisted his ankle in a pre-season workout and missed 11 of the team's first 12 games. Despite a beefed-up back line, Columbus still found it hard to win and faded from playoff contention quickly. They were exciting to watch at times, and painful to watch at others. It took Rick several weeks to start skating at full strength, and the goals didn't come as easily this time. He had a hard time reaching 30 while lesser players were surpassing the 40 plateau.
No one doubts that Rick has the goods to become a consistent 40-goal scorer, but even the most ardent Blue Jacket fans wonder whether he can actually do it. He is taking a beating, and although his legs are young and his spirit high, he has become a marked man around the NHL.
Then again, Rick is an extraordinary player. Few doubt that he would have scored 100 goals before taking a legal drink had the strike not interfered. Columbus fans haven't had much to cheer about since the Blue Jackets came to town. With Rick lacing em up every night—and young cohorts like Zherdev and Gilbert Brule improving—those days are looking more and more like ancient history.
RICK THE PLAYER
Few would disagree that Rick is one of the 10 best players in the world. He has already established himself as a prototypical power forward. He reads the ice well at both ends, and doesn't hesitate to make the sacrifices it takes to play winning hockey. He has velvety hands, a long reach, and a swift and accurate shot—all of which come in handy when he plants himself in front of the net.
Rick's ability to dart from the boards to the slot means he should be a top sniper for years to come. As he gets stronger, his skating will continue to improve. Whenever a breakaway presents itself, he's able to shift into another gear. And he rarely loses a race for a loose puck. Rick also has terrific balance, and almost never gets knocked on his rear.
Rick has plenty going for him, including his understanding of the game, his knack for spotting openings on the ice, and his ability to endure lots of punishment to get his shot off. The fact that he has developed these instincts so young makes him a real find. The only hole in his game is his defense, but he is improving with age and his plus-minus numbers have been diminished by an often shaky back line.
Read more
Latest headlines