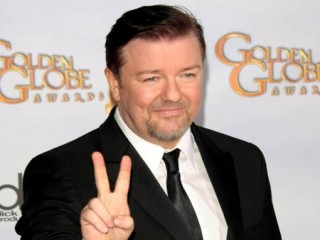 Ricky Gervais biography
Date of birth : 1961-06-25
Date of death : -
Birthplace : Reading, Berkshire, England
Nationality : English
Category : Arts and Entertainment
Last modified : 2011-10-19
Credited as : Comedian, Life's Too Short, 67th Golden Globe Awards
Ricky Dene Gervais is an English comedian, actor, director, radio presenter, producer, musician, and writer.
In 1983, during his final year as a student at UCL (University College London), Gervais and his friend Bill Macrae formed a pop duo, Seona Dancing. They were signed by London Records, which released two of their singles—"More to Lose" and "Bitter Heart". The singles failed to break the top 40—with "More to Lose" charting at number 117 and "Bitter Heart" peaking at 70 in the UK singles charts. Despite not being successful in the UK, Seona Dancing did manage to score a hit in the Philippines with "More to Lose".
According to the 20 December 2003 broadcast of the Ricky Gervais Show, Gervais later had a band called the Sacred Hearts, which Ian Camfield described as Gervais's Bon Jovi phase.
Gervais later worked as an events manager for the University of London Union (ULU),where he continued working until he took a similar job as "head of speech" at Xfm London.
Needing an assistant, Gervais interviewed the first person whose curriculum vitae he saw. The CV belonged to Stephen Merchant. During the interview at a local pub, Merchant agreed to do "all the boring stuff" because of his experience in media studies while Gervais "mess[ed] around". In 1998 Gervais was made redundant when the station was taken over by the Capital Radio group.
Gervais was music adviser for the BBC drama This Life, which was being produced by his girlfriend, Jane Fallon. He and Merchant also contributed sketches to BBC Radio 1's The Breezeblock in 1999 and 2000.
After the first series of The Office, Gervais and Merchant returned to Xfm in November 2001 for a Saturday radio show. The show ran intermittently until January 2004 with breaks of 1–3 months between new shows. This was when the pair first worked with Karl Pilkington, who produced the shows and later collaborated with them on their series of podcasts.
On 5 December 2005 Guardian Unlimited began offering free weekly podcasts featuring Gervais, Merchant, and Pilkington. Throughout January and February 2006 the podcast was consistently ranked the number-one podcast in the world; it appeared in the 2007 Guinness World Record for the world's most-downloaded podcast, having gained an average of 261,670 downloads per episode during its first month.
On 20 February 2006, after the conclusion of the twelve-podcast series, it was announced that all future episodes would be available from Audible.com at a "nominal fee" (later, these had to be called audiobooks in accordance with iTunes policy). Two more series—-each with six podcasts—-were released between February and September 2006.
In late 2006 three more free podcasts were released. Together called "The Podfather Trilogy", they debuted individually at Halloween, Thanksgiving, and Christmas. These three were known by Ricky and Steve as "The Fourth season". In October 2007 another free full-length podcast was released through iTunes; this podcast was originally given out for free during a performance of Gervais's Fame tour in London. On 25 November 2007 Gervais, Merchant, and Pilkington released another free full-length podcast, which lasted just over an hour.
In August 2008 Gervais, Merchant, and Pilkington recorded their fifth season of audiobooks, totalling 4 chapters, which were released on 16 September 2008. These audiobooks were described as the 'guide to...' series, covering several topics. As of May 2011, there are 12 "Guides" in total: Medicine, Natural History, Arts, Philosophy, The English, Society, Law & Order, The Future, The Human Body, The Earth, The World Cup 2010 & Comic Relief. The conversations typically begin on topic, but constantly stray away from the topic at hand.
Gervais has contributed to the BAFTA-winning The Sketch Show (ITV), penning several sketches. His mainstream-TV debut came in September 1998 as part of Channel 4's "Comedy Lab" series of pilots. His one-off show Golden Years focused on a David Bowie–obsessed character called Clive Meadows. Gervais then came to much wider national attention with an obnoxious, cutting persona featured in a topical slot that replaced Ali G's segments on the satirical Channel 4 comedy programme The 11 O'Clock Show in early 1999, in which his character used as many expletives as was possible and produced an inordinate amount of politically incorrect statements. Among the other regular featured comedians on the show was Mackenzie Crook, later a co-star of The Office.
Two years later, Gervais went on to present his own comedy chat show for Channel 4 called Meet Ricky Gervais; it was poorly received and has since been mocked by Gervais himself. The Independent newspaper has described Gervais as "obsessed by his own celebrity", but adds, "Who wouldn't want to be Peter Lawford in a comedy Rat Pack?" in reference to Ricky Gervais Meets...; the article, however, also describes him as "a very funny man" who "created one of the great sitcoms".The Guardian's Chris Tryhorn explained the "few gripes" he had with Extras, "particularly in the second series". "You can forgive Gervais a certain arrogance after the success of The Office, but..." He remarks on the confused tone of the series, taking in the clash between the broad comedy of characters Barry (Shaun Williamson) and Darren (Stephen Merchant), and the apparent parody of this style with When The Whistle Blows, and "given their total indulgence of Gervais, the BBC is portrayed as interfering, its comedy department run by a rather crudely stereotyped gay couple".
Throughout this time, Gervais also wrote for the BBC sketch show Bruiser and The Jim Tavare Show, and he had cameo roles in Channel 4's sitcom Spaced; it is speculated that the cameo is indeed The Office character David Brent.
However, both series of Spaced finished airing before The Office premiered. Gervais also appeared in a few of Channel 4's 'Top 100...' list programmes, and he voiced the character of Penguin in Robbie the Reindeer's Legend of the Lost Tribe. His voice was redubbed for the US market.
On 5 January 2006 he interviewed Larry David in a one off special, Ricky Gervais Meets... Larry David. On 25 and 26 December of the same year Channel 4 aired similar specials in which he interviewed the actor/comedian Christopher Guest and comedian Garry Shandling. There are no plans for further episodes of "Meets...", although editions with John Cleese and Matt Groening were recorded in 2006 for broadcast in 2007. A source claimed, "The Shandling experience put him off for good".
Gervais guest-starred in an episode of The Simpsons entitled "Homer Simpson, This Is Your Wife", which aired on 26 March 2006 in the United States, on 23 April 2006 on satellite station Sky One in the United Kingdom (first appearing on terrestrial television in 2010), and on 18 July 2006 in Australia.
He is the only British comic to write and star in a Simpsons episode. The episode was the highest rated in Sky One's history, arguably because of its extensive promotion, which revolved around the angle that Gervais was the episode's sole writer (and the first guest star on the show to also receive a writing credit for the episode of his appearance)
Gervais, a longstanding Simpsons fan, presented a segment to mark the show's 20th anniversary on BBC Two's The Culture Show on 16 June 2007. Recently on Gervais's blog it was announced that he will be returning to The Simpsons and will feature him doing a skit based on his recent controversial performance at the 2011 Golden Globes. It is unknown if he will be writing the episode this time around.
Gervais has also guest-starred on Alias (appearing in the third-season episode "Façade") as Daniel Ryan, a former Royal Navy bomb-disposal specialist turned rogue Irish Republican Army bomb-maker. He has said about the appearance, "I did an episode of Alias, and I can't watch it. Me being serious. I can't watch it".
Gervais made a cameo appearance on Saturday Night Live in a Digital Short during which he claims that The Office was adapted from a Japanese program of the same name (with Steve Carell reprising his role as Michael Scott). The sketch re-creates scenes from the American and British pilot episode with Japanese elements (although in an exaggerated way). "It's funny", Gervais laughs at the end, "because it's racist".
In January 2009 Gervais was interviewed by James Lipton for Season 15 of BravoTV's Inside the Actors Studio.
In January 2010 he hosted the 67th Golden Globe Awards, making him the first master of ceremonies since 1995. He stated:
"I have resisted many other offers like this, but there are just some things you don't turn down."
His performance as host received a mixed response with positive reviews from the New York Daily News and the Associated Press, but also some negative comments from industry bible, The Hollywood Reporter.
Gervais was a guest judge on Jerry Seinfeld's NBC show The Marriage Ref alongside Larry David and Madonna. On 1 April 2010 Gervais made his first appearance on Late Night with Jimmy Fallon on NBC.
As of April 2011 he has made 18 guest appearances on the Late Show With David Letterman on the CBS network.
In April 2010 it was announced that Gervais and Stephen Merchant will be writing a new show, called Life's Too Short, which they described as, "A cross between Extras and Curb Your Enthusiasm and One Foot in the Grave but with a dwarf. That is out and out funny."The show will star actor Warwick Davis as himself, as well as Gervais and Merchant.
In June 2010 it was announced that Gervais had been cast in the upcoming Season 8 of Curb Your Enthusiasm playing himself.
In August 1999, while on a BBC production course, Stephen Merchant had to make his own short film. He chose to make a docu-soap parody, set in an office. This sketch later formed the basis of the interview episode.
With help from Ash Atalla, Merchant passed this tape on to the BBC's Head of Entertainment Paul Jackson at the Edinburgh Fringe, who then passed it on to Head of Comedy Jon Plowman, who eventually commissioned a full-pilot script from Merchant and Gervais.
The first six-episode series of The Office aired in the UK in July and August 2001 to little fanfare or attention. Word-of-mouth, repeats, and DVDs helped spread the word, building up huge momentum and anticipation for the second series, also comprising six episodes, in September 2002.The second series topped the BBC Two ratings, and the show then switched to BBC One in December 2003 for its final two special episodes.
The Office has since been remade for audiences in France, Germany, Quebec, Brazil, and the United States. Gervais and Merchant are producers of the American version, and they also co-wrote the episode "The Convict" for the show's third season. The original UK version is currently airing on Adult Swim on Fridays, and prior to the show's airing, Gervais appears as himself talking about the episode that will air. In one of those segments Gervais claimed the episode "Training" to be his favourite.
Read more
Latest headlines