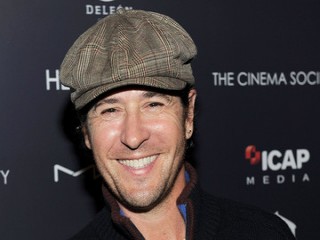 Rob Morrow biography
Date of birth : 1962-09-21
Date of death : -
Birthplace : New Rochelle, New York, U.S
Nationality : American
Category : Arts and Entertainment
Last modified : 2011-09-05
Credited as : actor, Numb3rs , Northern Exposure
Rob Morrow
is an American actor. He is known for his portrayal of Don Eppes on Numb3rs and as Dr. Joel Fleischman on Northern Exposure, a role which garnered him three Golden Globes and two Emmy Award nominations for "Best Actor in a Dramatic Series."
Robert Alan Morrow has struggled for much of his career to break free of typecasting as the quintessential "nice Jewish boy," a role best exemplified by his highly successful stint as Dr. Joel Fleishman on the acclaimed CBS series Northern Exposure in the early 1990s. After a number of other career detours, including portrayals of an ex-con and a Tourette's syndrome sufferer, Morrow scored another hit show with Numb3rs in 2005. In it, he plays a clever criminal detective whose toughest cases are solved with the help of his even brainier younger brother, a math genius. The hourlong crime drama presented a welcome change of pace for the veteran actor. "I'm not a gun guy, but I'm really into this," he enthused to Philadelphia Inquirer journalist David Hiltbrand. "We get some cool weapons. I love the action scenes."
Morrow was born in 1962 in New Rochelle, New York, a suburb of New York City. His father was an industrial lighting manufacturer, and his mother worked as a dental hygienist. They divorced when he was nine, and the situation troubled him over the next few years. "I started cutting school," he told Mike Lipton in People, "and I'd get caught in petty, stupid things I stole a baseball glove once." His delinquency worsened during his sophomore year at Edgemont High School in nearby Scarsdale, when he was caught stealing some team uniforms, and was expelled for it.
Morrow settled on his future career almost by accident. Coming out of a movie theater after seeing the 1950s-set musical Grease, the box-office hit of the summer of 1978, Morrow casually remarked to his friend, "'You know, I'm going to be an actor,' as if I had been planning it all my life," he recalled in the Philadelphia Inquirer interview with Hiltbrand. "I'd never even thought about it before. He said, 'I didn't know that.' I was like, 'Oh, yeah.'"
Morrow managed to finish his high-school education, and at the age of 18 a friend helped him land his first professional job, which was an uncredited one but nevertheless impressive he appeared in a 1980 Saturday Night Live skit. Over the next few years, Morrow subjected himself to countless auditions while struggling to make ends meet in New York City by waiting tables and working odd jobs. He landed a steadier behind-the-scenes position as an assistant for the Los Angeles production of Dreamgirls, the hit Broadway musical, and made a somewhat auspicious film debut in a 1985 teen comedy, Private Resort, in which he co-starred alongside a then-unknown Johnny Depp.
After that, Morrow had an impressive run in some off-Broadway productions in New York City, including I, Shaw at the Jewish Repertory Theatre and in The Chosen, a 1987 musical adaptation of the Chaim Potok novel set in Brooklyn's Orthodox Jewish community in the 1940s. By this point he was active in a theater group he co-founded, Naked Angels, whose other founding members included Marisa Tomei, Fisher Stevens, Gina Gershon, and Annabella Sciorra. The stage work helped him land his first regular television role in Tattingers, an NBC sitcom set in a Manhattan restaurant. Unfortunately, the series was cancelled after its brief 1988-89 run.
Morrow's big break came, somewhat characteristically, almost by accident. He was cast in the starring role for a summer replacement series on CBS, Northern Exposure. The show debuted in July of 1990, and began to draw impressive ratings over the next few weeks. The network immediately ordered more episodes, and Morrow suddenly found himself a household name thanks to his portrayal of Dr. Joel Fleischman, a recent medical school graduate who moves to a remote town in Alaska. The character is a lifelong New Yorker who made it through medical school with the help of a scholarship from the state of Alaska, and in return must spend the first four years of his career in the doctor-scarce state. Thinking he will be sent to one of Alaska's cities, Morrow's Fleischman is instead assigned to Cicely, population 500, and shown his living quarters, a log cabin. In the pilot episode, the hour-long comedy displayed the quirky humor that would make it a favorite of viewers and critics alike, including the scene when Maurice (Barry Corbin), the former astronaut who owns most of town, tells Fleischman that he and the rest of Cicely are "delighted to have a Jew doctor from New York you guys have an outstanding reputation."
Morrow's young doctor served as the comic foil for Cicely's eccentric residents on Northern Exposure. Over the next few seasons, Fleischman endured an off-again, on-again romance with Maggie, a bush pilot played by Janine Turner, and took and gave counsel to Cicely's radio DJ, Chris Stevens, played by future Sex … the City heartthrob John Corbett. The show scored several Emmy Award nominations, including one for Morrow as best lead actor in 1992, and opened up new career directions for him. Producer Robert Redford liked his Northern Exposure performance so much that he cast him in Quiz Show, a 1994 movie based on an actual television game-show scandal back in the 1950s.
In Quiz Show, Morrow played Richard Goodwin, the congressional investigator probing the behind-the-scenes story of Twenty-One, a popular quiz show rumored to be a sham. The double-dealing involved Charles Van Doren (Ralph Fiennes), whose father was a well-known American poet, and the actual whistleblower was another contestant on the show, Herbert Stempel (John Turturro). "Morrow faces a difficult job," asserted New York Times critic Janet Maslin, "since the film ascribes too much crusading nobility to Mr. Goodwin, and since Mr. Redford's own acting career has helped make the heroics of the lone investigator look so familiar. But the performance is vigorous, and when the film sets Goodwin between Stempel and Van Doren, it touches currents of anti-Semitism, self-deception and golden-boy quicksand that once again lift it out of the ordinary."
Morrow appeared in fewer episodes of Northern Exposure during its final season, which was explained by his move to an even remoter community of Native Americans, and then finally the release of his contractual obligation to the state of Alaska. The series ended in 1995, and Morrow began to take on more film roles over the next few years. He landed the lead in Last Dance, a 1996 drama from acclaimed director Bruce Beresford, about a rascally lawyer who attempts to save a death-row inmate played by Sharon Stone. Plagued by comparisons to Dead Man Walking, an Oscar-nominated film of the previous year, Last Dance failed to do well at the box office or with critics.
Determined to bring his own projects to the screen, Morrow teamed with several other Naked Angel friends to make Maze, a 2000 film that also marked his feature-length directorial debut. He also took the title role as Lyle Maze, a sculptor afflicted with Tourette's syndrome, the neurological disease that causes its sufferers to twitch, make odd noises or grunts, and sometimes even swear uncontrollably. Morrow co-wrote the screenplay with another Naked Angel founding member, Bradley White, and cast his friend Craig Sheffer (One Tree Hill ) as one of the leads. Laura Linney, who also had Naked Angel ties, played the woman whose love the two men vie for. The tormented Lyle believes he can never achieve a real relationship because of his disorder, and he based the character, as he told Denver Post journalist Diane Eicher, on a Canadian artist he had seen in a documentary film about Tourette's sufferers. "He was a sweet, charming guy, but he had reconciled himself to a life without love," Morrow recalled.
Maze earned a mixed review from New York Times critic Elvis Mitchell, who noted that "though Mr. Morrow places an almost ridiculous number of obstacles in his path—the difficulty of directing and starring in a picture being the biggest—he comes through with a notable performance, deftly using the attention-getting device of an affliction that leaves him twitching and explosive." Taking on the multiple jobs of writer, actor, and director in this project presented less of a challenge for Morrow than assumed, however. He was well-trained from his Naked Angels days, he explained to Leslie Blake in Back Stage. "We'd double dare each other into doing stuff," he said. "No doubt I gained a lot of confidence and it made me feel comfortable because the stakes weren't that high. And now that the stakes are higher, I can take care of myself."
Morrow went on to appear in supporting roles for a number of other Hollywood films, including The Guru and The Emperor's Club in 2002, and writer-director Henry Jaglom's Going Shopping in 2004. There was also a two-season series for the Show-time cable channel, Street Time, in which Morrow played a man recently released from prison who is struggling to return to a normal life. "While Morrow isn't particularly convincing as a baddie who could survive the state penitentiary," declared Michael Speier in a Daily Variety review, "he eventually evolves into someone mired in moral dilemmas and one-way streets."
Morrow returned to the CBS prime-time line-up when he was cast as one of the leads in Numb3rs, which debuted in January of 2005. He played Don Eppes, an agent with the Los Angeles division of the Federal Bureau of Investigation (FBI) whose math-whiz younger brother Charlie (David Krumholtz, the elf in both Santa Clause comedies) steps in to help him solve some of the Bureau's knottier Southern California cases. The series had a rather impressive pedigree for television: its executive producers were filmmaker-brothers Ridley and Tony Scott, and the scripts were vetted by a team at the prestigious California Institute of Technology in Pasadena for accuracy. Newsweek writer Devin Gordon called the show "a gripping hour of TV, with unexpected shades of character, crisp acting and enough gee-wizardry to excite anyone with even a quark of scientific curiosity." Reviewing it for Variety, Brian Lowry ventured that "at first glance, Morrow seems a trifle miscast as the FBI agent, but he's effective enough so long as the series stays on a relatively cerebral (as opposed to busting-down-doors) plane."
Morrow has broadened his experience behind the camera as a director of episodes for Numb3rs, Street Time, the HBO series Oz, and Joan of Arcadia. Married since 1998 to Debbon Ayer, an actress, he was instrumental in the decision to carry on the pun of his wife's name when it came time to label their newborn daughter, settling upon Tu Simone Ayer Morrow. Becoming a parent changed his life, the once-troubled teen told Lipton in People. "It's freed me up in a certain way," reflected Morrow. "Now nothing matters really except that. And I know that it doesn't matter even if, you know, I have to go work at Burger King. I'll do it. It's someone that you put your life on the line for."
Actor on television, including:
Saturday Night Live (uncredited)
NBC, 1980; Fame, 1985
Tattingers, NBC, 1988-89
Northern Exposure, CBS, 1990-95
The Day Lincoln Was Shot (movie),TNT, 1998
Magic (movie), 1998
Elements (movie), 1998
The Thin Blue Lie (movie), Showtime, 2000;
Jenifer (movie), CBS, 2001
Street Time, Showtime, 2002
Numb3rs, CBS, 2005
Film appearances include:
Private Resort, 1985
Quiz Show, 1994
Last Dance, 1996
Into My Heart, 1998
Maze (also director, producer, and author of screenplay), 2000
The Guru, 2002
The Emperor's Club, 2002
Going Shopping, 2004
Director of television episodes, including: Oz, HBO, 2002
Street Time, Showtime, 2002
Joan of Arcadia, CBS, 2004
Assistant to the director for the Los Angeles production of Dreamgirls, 1983
Stage appearances include:
Escape from Riverdale, Jewish Repertory Theatre, New York, 1984
I, Shaw, Jewish Repertory Theatre, 1986
The Return of Pinocchio, 47th Street Theatre, New York, 1986
The Chosen, Second Avenue Theatre, New York, 1987-88
The Exonerated, 45 Bleecker, New York, 2002
Read more
Latest headlines