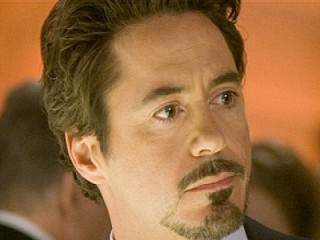 Robert Downey Jr. biography
Date of birth : 1965-04-04
Date of death : -
Birthplace : Manhattan, New York, U.S.
Nationality : American
Category : Arts and Entertainment
Last modified : 2011-04-04
Credited as : Actor and film producer, singer-songwriter, Iron Man
Robert John Downey Jr. is an American actor.
Downey made his screen debut in 1970, at the age of five, when he appeared in his father's film Pound, and has worked consistently in film and television ever since. During the 1980s he had roles in a series of coming of age films associated with the Brat Pack. Less Than Zero (1987) is particularly notable, not only because it was the first time Downey's acting would be acknowledged by critics, but also because the role pushed Downey's already existing drug habit one step further. After Zero, Downey started landing roles in bigger films such as Air America (1990), Soapdish (1991) and Natural Born Killers (1994). These higher-profile roles eventually led to his being cast as Charlie Chaplin in the 1992 film Chaplin, for which he received an Academy Award nomination for Best Actor.
The son of the avant-garde filmmaker Robert Downey, Sr., best known for the 1969 film Putney Swope, Downey began acting as a young child. His mother, Elsie, was an actress who instilled in her son a love of performing. Raised in Greenwich Village with his older sister, Alison, Downey made his film debut playing a puppy in his father's film, Pound (1970), in which actors played dogs. He would go on to have small parts in several more of his father's films.
Downey's parents divorced when he was 13, and the young actor ended up living in Los Angeles with his father. At the age of 16, however, he dropped out of high school and was on the move again, relocating to New York to live with his mother.
Downey made his earliest feature film appearances in such films as Baby, It's You (1983), Firstborn (1984), Weird Science (1985), and Back to School (1986). From 1985 to 1986, he was a regular cast member of the popular sketch-comedy program, Saturday Night Live.
Downey's first leading role on the big screen was a charming womanizer in The Pick-up Artist (1987), a romantic comedy co-starring Molly Ringwald that was written and directed by James Toback. His breakthrough performance came in 1987 with the film Less Than Zero (1987), which co-starred Andrew McCarthy. Downey played the party loving, cocaine addicted Julian Wells in the movie.
Sadly, the story line and character rang especially true for Downey, who had been introduced to drugs at the age of eight by his father, and developed a full-fledged addiction as he headed into his 20s.
"Until that movie, I took my drugs after work and on the weekends," he later explained. "Maybe I'd turn up hungover on the set, but no more so than the stuntman. That changed on Less Than Zero. I was playing this junkie-faggot guy and, for me, the role was like the ghost of Christmas future. The character was an exaggeration of myself. Then things changed and, in some ways, I became an exaggeration of the character. That lasted far longer than it needed to last."
A stint in drug rehabilitation followed shortly afterward, but Downey's struggles with drugs and alcohol would continue. And yet, his career continued to advance forward. By the early 1990s, Downey had established a reputation as a critically acclaimed A-List actor. He earned praise for his comic turn as a shifty soap opera producer in Soapdish (1991), co-starring Sally Field, Kevin Kline, and Whoopi Goldberg. More adoration followed in a featured role in Short Cuts (1993), the critically lauded ensemble film by Robert Altman.
A particular high point was his Academy Award nomination for Best Actor in Chaplin (1992), directed by Richard Attenborough. In the highly acclaimed film, which didn't go over nearly as well with audiences as with critics, Downey nimbly portrayed the legendary Charlie Chaplin from ages 19 to 83. The role displayed his dramatic range as well as his considerable talent for physical comedy. By this time, the 27-year-old Downey had come to be seen as one of the most gifted actors of his generation, but he had also earned a reputation as a troubled and controversial figure in Hollywood.
In the wake of his critical success with Chaplin, Downey anchored a documentary about the 1992 presidential election, called The Last Party. He appeared in the romantic comedy Only You in 1994, and Oliver Stone's acclaimed but controversial Natural Born Killers (1994). In 1995, he starred in the period film Restoration alongside Meg Ryan and Sam Neill; an updated film version of Richard III (1995), co-starring Ian McKellen and Annette Bening; and the Jodie Foster-directed Home for the Holidays, co-starring Holly Hunter.
Downey's personal life had expanded, too. In May 1992, he married actress Deborah Falconer. Two years later, the couple had a son, Indio, naming friend and actor, Anthony Michael Hall, as the boy's godfather.
If Downey was ever really grounded by his new status as husband and father, it was short-lived. In June 1996 the actor was stopped by police, driving naked in his Porsche on Sunset Boulevard, and found not only to be without clothes, but in possession of cocaine, heroine, and a .357 Magnum. Less than a month later, and just a few hours before he was slated to be charged, Downey ran afoul of the law again after he was found passed out in a neighbor's house.
For the next several years, Downey's life was a haze of headline-generating, dependency induced mistakes and their consequences. There was a 12-month stay in prison, and another visit to drug rehab. In November of 2000, Downey was again arrested, this time in a Palm Springs hotel room, where he was discovered with cocaine and a Wonder Woman costume. He was charged with felony drug possession.
Downey's trial, originally set for late January, was delayed for several months while his lawyers negotiated with prosecutors. In March of 2001, the two sides failed to reach a plea bargain, and the case was set for a preliminary hearing at the end of April. On April 24th, Downey was arrested for allegedly being under the influence of an undisclosed "stimulant." At home, Downey's personal life was in turmoil, too, as Falconer sued him for divorce in 2004.
Yet Downey continued working despite his personal turmoil. There was a memorable performance in Wonder Boys (2000), as well as roles in several other films (Auto Motives and Lethargy, among others). The same year Wonder Boys was released, Downey made the move to the small screen as a regular cast member of Ally McBeal. There, he once again reminded fans and critics of his talent, likeability and versatility, and Downey picked up a Golden Globe in 2001 (he later won a Screen Actor's Guild award as well).
But Downey's increasingly complicated personal life pressed his employer's patience. After that second arrest in April 2001, Downey was reportedly fired from Ally McBeal as producers decided to wrap production on the final episodes of the season without the actor. Lawyers reached an agreement with prosecutors that required Downey to plead no contest to cocaine-related charges. He was sentenced to three years' probation; the ruling allowed him to continue live-in drug treatment instead of returning to prison.
Since then, Downey's life has largely turned around. He became a husband again in 2005, when he married actress Susan Levin, whom he'd med two years before on the set of the thriller, Gothika. He's an ardent student of Wing Chung kung fu, and through the support of his family and friends, he's been able to stay clean. One of the people to play a key role in his turnaround is Mel Gibson, whom he worked with in Air America (1990).
The two are extremely close, and it was Gibson who stuck by his friend's side even as Downey's life was completely unraveling. When Downey was unable to get something as routine as an insurance bond because of his past troubles, Gibson found him work, casting him in the 2003 movie, The Singing Detective.
That same year he starred opposite Halle Berry in Gothika, which did better at the box office than it did with the critics. He continued to dedicate himself to his craft, playing a supporting role in the critically acclaimed Good Night, and Good Luck (2005) and the lead in the independent drama A Guide to Recognizing Your Saints (2006), which he also co-produced. In Zodiac (2007), Downey played a journalist who gets wrapped up in the hunt for the infamous Zodiac Killer.
In 2008, Downey transformed from an often critically admired actor to a box-office star. He played the wealthy industrialist-turned-crime fighter Tony Stark in the smash hit Iron Man (2008), which grossed more than $318 million. Taking a huge risk, Downey then starred in the comedy Tropic Thunder (2008) with Ben Stiller and Jack Black. He played a white actor pretending to be a black actor in this war movie spoof. His efforts received mostly positive reviews, and Variety magazine's Todd McCarthy said that "the audacity of Downey's performance" was one of "the best reasons to see the film." Downey later received a nomination for Outstanding Performance by a Male Actor in a Supporting Role from the Screen Actors Guild for his work on the film.
More recently, Downey worked with Jamie Foxx in The Soloist (2009), which tells the story about the friendship between a Los Angeles journalist (Downey) and a homeless Julliard-trained musician (Foxx). The film registered a respectable showing at the box-office and earned the praise from critics, who lauded Downey and Foxx for their performances.
Demonstrating he isn't afraid of blockbusters (or English accents), Downey will star in the Guy Ritchie directed Sherlock Holmes in 2009. The film, scheduled to be released on Christmas Day, co-stars Jude Law as Dr. John Watson. In addition, 2010 promises to return Downey to superhero status with the second installment of the Iron Man franchise. The crime fighting picks up again in 2012, when Downey's Iron Man character is slated to appear in The Avengers, a movie that will feature a bevy of Hollywood talent, including Don Cheadle (Col. James 'Rhodey' Rhodes), Ed Norton (Hulk), Samuel Jackson (Nick Fury) and Scarlett Johansson (the Black Widow), among others.
Proving that he hasn't completely forgotten about his lighter side, Downey is the choice of director Steven Spielberg to star in the remake of the award winning play and 1950 Jimmy Stewart classic, Harvey, which tells the story of Elwood P. Dowd and his best friend, a tall rabbit that nobody else can see.
For his part, Downey isn't taking this resurgence, both professionally or personally, for granted. "I think part of my destiny has to be realizing that I'm not the poster boy for drug abuse," he told reporters in 2005. "I'm just this guy who has a really strong sense of wanting home and wanting foundation and having not had it, I now choose to create it."
Read more
Robert Downey Jr. Picture Gallery
Latest headlines