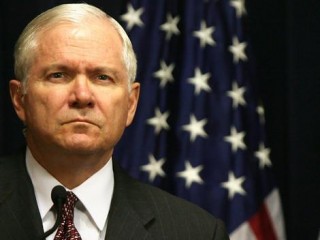 Robert M. Gates biography
Date of birth : 1943-09-25
Date of death : -
Birthplace : Wichita, Kansas, U.S.
Nationality : American
Category : Politics
Last modified : 2010-07-05
Credited as : Government official, Director of CIA, Obama administration
Robert M. Gates
(also known as:
Robert Michael Gates
) born September 25, 1943 in Wichita, Kansas, United States is an American governmanet offiicial and CIA Director .
Robert M. Gates has geared his entire career toward becoming
director of the Central Intelligence Agency
. From the time he joined the agency in 1966, he took challenging assignments and drew praise for his performance and clear-thinking analysis. He chose the right mentors---notably George Bush and Robert Casey---and was always loyal to his bosses. In 1987, Gates got his chance. Following Casey's death, Gates was nominated to succeed him as director of the CIA. At the time, however, the Iran-Contra affair was raging and Gates was a peripheral figure in the scandal. After several days of stormy Senate hearings, he withdrew his name from nomination.
Four years later, Gates got something that few in Washington ever get: a second chance. President Bush again nominated him for the CIA's top post and, despite ongoing reservations from some members of the Senate, he was approved. The agency Gates headed until 1993 seeks to adapt to a changing world in which there is one Germany and no Soviet Union. He is regarded as one of America's leading authorities on Russia, possessing knowledge that was important in helping the United States draft its policy in upcoming years.
Robert Michael Gates was born during the middle of World War II in a quiet, suburban neighborhood of Wichita, Kansas. He was an avid Boy Scout who became an Eagle Scout and a straight-A student in high school. After graduating, he traveled east to William and Mary College in Virginia, where he earned high honors in history, an award for service, and a reputation as a workaholic. From there, Gates moved to the University of Indiana's Institute on Soviet and East European Studies, where he earned a master's degree and met his wife, Becky. In the fall of 1966 the couple moved to Washington, where Gates---then 23 years old---began working as a Soviet affairs analyst for the CIA. Several years later he became one of two assistant national intelligence advisers to the strategic arms limitations talks.
From the beginning, Gates believed that the CIA's analytical studies of the USSR were inadequate and ill-conceived. "He was aware of the shortcomings," Gates's former CIA colleague, David Aaron, told the Washington Post. "He and I used to sit around and fantasize about why couldn't we get half the people from Time or Newsweek and have them put out the National Intelligence Daily, and have no intelligence people involved at all." In 1974, Gates earned his doctorate from Georgetown University. His 290-page doctoral dissertation, which focused on 15 years of Soviet-Sino relationships, quickly became regarded as the authoritative statement on the issue. Gates's status at the CIA began to soar and he drew the attention of then-CIA director George Bush.
He also drew the attention of President Gerald Ford's White House. Late in 1974 Gates was assigned to the administration's National Security Council staff under director Brent Scowcroft. He stayed with the NSC even after the election of President Jimmy Carter, working under Zbigniew Brzezinski. He earned a reputation as a loyal and diligent worker, albeit, one source told the Washington Post in 1987, "not a warm guy, not the kind of guy you'd like to spend a weekend with."
Working for the White House first exposed Gates to the policy-making side of government. David Aaron recounted for the Washington Post that in 1977 NSC officials were concerned about rising Islamic fundamentalism in Turkey. Aaron asked Gates for a CIA paper on the subject. Gates inquired of the agency several times, getting nothing back. Finally, he learned no one had studied the issue. "He thought it was appalling," Aaron recalled, "and he was more appalled because he wasn't sure that they would even go out and find out about it."
In January 1980, Gates returned to the CIA to work for director Stansfield Turner as national intelligence officer on the Soviet Union. Two years later, under director William J. Casey, he was promoted to deputy director for intelligence gathering, the agency's top analytical job. He distinguished himself in this job, allotting extra funds for travel, study and language training for the analysts. He also sought to improve contacts with the academic community and encourage more competitive analysis. In 1983, Gates became Casey's deputy director. Critics and supporters acknowledged that Gates had established himself as a top Soviet scholar with unsurpassed intelligence credentials.
Through the 1980s, Gates's views about the Soviets served as a consistent counterpoint to the political mind-set of President Ronald Reagan's White House. The Los Angeles Times's David Lauter wrote in 1991, "During the early days of the Reagan Administration, many White House officials viewed Gates as too soft. He was not an 'evil empire' believer. In 1983, for example, Gates ordered a study of Soviet military spending, which concluded that Moscow's military budget had stagnated since 1976 at a level far lower than the Pentagon had been saying. Subsequently, however, as Reagan became more and more enamored of his relationship with Mikhail S. Gorbachev, Gates began sounding warnings. In the first ten months of the Bush Administration, he was widely seen as a hard liner."
The flash point came in October 1989, when Gates wrote a speech that was highly pessimistic about Soviet President Gorbachev's chances of achieving genuine reform in his country. "There are very real limits to the democratization intended by Gorbachev," Gates wrote. "No opposition party will be tolerated....Elections were rigged....Every element of political reform seems to have been designed to increase Gorbachev's personal power." Secretary of State James Baker read the speech---and killed it---before Gates could deliver it.
Though Gates began his career as a Soviet specialist, many in the CIA regarded him as a better bureaucrat than analyst. In an opinion piece in the Washington Post in 1991, Tom Polgar, a former CIA "supergrade" who opposed Gates's nomination as CIA chief, wrote, "Through more than 20 years' service, Gates earned a reputation as an able staff officer, outstanding briefer (no small task), reliable subordinate and a non-competing deputy. These are qualities much sought after in Washington, particularly during periods when management is valued more highly than leadership." Sources said that by 1985, Casey was talking privately about Gates as a future CIA director. Gates had another key supporter in then-Vice President Bush who, after swearing in Gates as the CIA's deputy director in 1986, told the small crowd of family, friends and co-workers present that Gates was like a son to him.
In December 1986 Casey was incapacitated with a brain tumor. When Casey resigned two months later, President Reagan nominated Gates as his successor. Initially, Congressional leaders praised his selection, but Gates soon came under fire for his apparent role in the Iran-Contra scandal, in which profits from the sales of arms to Iran were illegally diverted to Contra rebels in Nicaragua. An independent report on the affair commissioned by President Reagan said that Gates had misled Congress in 1986 when he testified that Casey knew only "bits and pieces" about the possible diversion of arms sales funds. The report concluded that Casey knew much more than that.
In addition, Congressional leaders raised questions about Gates's actions, or lack of them, during the Iran-Contra affair. Gates said he had been aware of the covert scheme since December 1985, and voiced his protests over it to Casey. But his relative silence on the issue bothered some congressmen. Senator William Cohen, R-Maine, told the Philadelphia Inquirer that Gates was a man who was "not prepared to lay his career on the line over a matter he did not create."
Gates was also questioned on allegations that he may have advocated a U.S. invasion of Libya in 1985. Gates vehemently denied the charges, characterizing them for the Los Angeles Times as "outrageous" and "false." Still, after two days of hearings it became clear to the Reagan Administration that Gates's name would have to be withdrawn in order to avoid a drawn-out fight that could have lasted as long as the congressional investigation of the Iran-Contra affair. Gates took the initiative to make the move, telling the Los Angeles Times that "a prolonged period of uncertainty (over his nomination) would be harmful to the CIA."
Gates stayed on as acting director until May, 1987, when then-FBI Director William Webster was confirmed for the position. He returned to the post of deputy director until December 1980, when President-elect Bush brought him back into the White House as deputy national security adviser, again serving under Scowcroft. Bush took minor heat at the time for promoting someone with a minor involvement in the Iran-Contra affair, but Gates's solid credentials seemed to overshadow that criticism. Retired Adm. Bobby Inman, who preceded Gates as deputy director of the CIA, told the Los Angeles Times that Gates "is an extraordinarily bright, capable public servant and one of the country's premier students of the Soviet Union."
As deputy national security adviser, Gates headed the Deputies Committee, a panel of representatives from leading agencies that serves as a sort of executive committee for the Administration's foreign policy. In that post, he participated in such major events as the Gulf War, but also was the White House manager for many lower-level crises that did not require direct presidential involvement and received little public attention. Gates viewed the post as important, but made no secret of his desire to eventually head the CIA. "You know the great thing about the DCI (director of Central Intelligence) job," he told the Los Angeles Times in 1991, "is that it's the only job in government where you're free to promote anyone you want."
In 1991 he got that chance again. Despite Gates's confirmation problems four years earlier, President Bush again nominated him to head the CIA. A few members of Congress said at the time that they still had serious doubts about Gates's willingness to be fully candid with them. But White House officials felt they had enough support to go ahead. Before the confirmation hearings, Senate investigators conducted a four-month examination, including a painstaking review of Gates's answers to a comprehensive set of 80 interrogatories.
The hearings, in September 1991, were not easy for Gates. Senators questioned Gates's insistence that he knew little of the Iran-Contra diversion until long after the fact. If so, some suggested, didn't that suggest that he was out of touch with agency activities? Gates was also questioned on other unauthorized covert deals with Iraq, political tailoring of intelligence on the Soviet Union and Iran and a stifling bureaucratization of the CIA intelligence directorate he once ran.
Gates's supporters vouched for his objectivity. John N. McMahon, deputy director under Casey from 1982 to 1986 while Gates was running the CIA's analytical branch, told the Washington Post that he could not recall any instance in which Gates had slanted intelligence to please policy-makers. There would be 2,000 analysts in the agency, McMahon said, "who would be headed by Bob Gates, walking out the front door if they thought that the CIA was going to become a policy tool of any administration."
On November 5, 1991, the Senate confirmed Gates by a 64-31 margin. At age 40, he became the youngest man ever to head the CIA, as well as the first career analyst to run the agency. "Most of the past directors were American government people, and they learned foreign affairs after being appointed," Kenneth de Graffenreid, the National Security Council's intelligence expert during the Reagan era, told the Los Angeles Times. "Gates, by contrast, is actually a person who likes foreign policy."
Gates told senators that his first task as CIA director would be to recommend that President Bush launch a sweeping reassessment of intelligence needs for the post-Soviet era. "CIA and U.S. intelligence must change---and be seen to change---or confront irrelevance and growing sentiment for their dismantlement," he told Congressional Quarterly. He endorsed the idea that more attention be focused on "human intelligence" gathered by individuals, rather than on intelligence-gathering through the expensive, high-tech equipment that has been used to monitor the Soviet threat in recent decades.
Gates also vowed to chance the super-secret image of the CIA, telling the Lexington Herald-Leader that he planned to take "symbolic steps that would suggest that the mentality of the Cold War has changed." However, the first proposal he made---to publish the overall figure the United States spends on intelligence---was killed by President Bush. He also approved new procedures aimed at encouraging CIA employees to be on the lookout for criminal activities outside the agency as well as within it.
The plan, approved in January 1992, included the addition of legal issues to the training courses for new CIA officers, guidelines outlining some of the improper or potentially illegal activities that should be reported, and the designation of three offices at the agency to review the reports and coordinate follow-up inquiries. And he pledged as well to make intelligence more useful in response to complaints that reports had become inapplicable. "We publish too much intelligence of questionable relevance to policy makers," he told Congressional Quarterly. "Less and better should be the rule."
Gates ended his role as director of the CIA in 1993. In 1996, his book, From the Shadows: The Ultimate Insider's Story of Five Presidents and How They Won the Cold War, was published. After leaving the CIA, he served as president of Texas A&M University until 2006. In 2005 there were rumors that he would be offered the job of Director of National Intelligence, but he squashed the rumors by announcing that if offered the job, he would not take it.
In 2006, Gates was named Secretary of Defense by President Bush, replacing Donald Rumsfeld. The nomination was confirmed by the Senate in a 95-2 vote in December of that year. In April of 2007, responding to the increased need for troops on the ground in Iraq, Gates ordered that U.S. Army tours would be extended from 12 to 15 months, effective immediately; needless to say, this move was not popular. Gates responded by saying that U.S. troops would most likely be in Iraq for a long time to come.
When Democrat Barack Obama was elected President, he announced that Gates would remain Secretary of Defense, ensuring continuity in the war effort in Iraq and Afghanistan. However, under Obama, Gates announced in March of 2009 that the U.S. Army would phase out its so-called stop-loss policy, under which it had extended the tours of soldiers beyond their enlistment contracts.
In May of 2009, Gates spoke at the commencement ceremony of the famed West Point Military Academy. He told the graduating students, "We all seek a world at peace. After each war, we always hope that we have fought the last war, the war to end all wars. I believe that such hopes ignore all of human history. I believe that for so long as we seek to be free men and women, for so long as the bright light of liberty shines, there will be those whose sole ambition, whose sole obsession, will be to extinguish that light."
PERSONAL INFORMATION
Full name, Robert Michael Gates; born September 25, 1943, Wichita, KS; son of an auto parts salesman; married, 1966; wife's name, Becky; children; two. Education: William and Mary College, B.A., 1965; Indiana University, M.A. in Russian history, 1966; Georgetown University, doctorate in Soviet and Russian history, 1974. Addresses: Office---Central Intelligence Agency, Washington, DC 20505.
AWARDS
Distinguished Intelligence Medal; Intelligence Medal of Merit; Arthur S. Fleming Award (presented annually to the ten most outstanding young men and women in federal service).
CAREER
Joined the CIA career training program, 1966, served as a current intelligence analyst, later specialized in Soviet affairs; U.S. Air Force, 1966-68; National Security Council staff, 1974-1980; national intelligence officer on Soviet Union, 1980-82; deputy director of intelligence, 1982-86; deputy director of CIA, 1986-88, briefly serving as acting director in 1987; served as assistant to the president and as deputy for national security affairs, 1988-91; director of Central Intelligence Agency, 1991-93; president of Texas A&M University, 1993-2006; U.S. Secretary of Defense, 2006--. Wrote From the Shadows: The Ultimate Insider's Story of Five Presidents and How They Won the Cold War, 1996.
Read more
Latest headlines