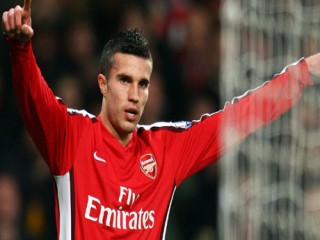 Robin Van Persie biography
Date of birth : 1983-08-06
Date of death : -
Birthplace : Rotterdam, Netherlands
Nationality : Dutch
Category : Sports
Last modified : 2010-05-07
Credited as : Footballer Arsenal, Dutch national team , World cup
Robin van Persie
(born 6 August 1983) is a Dutch footballer who plays for Arsenal for whom he is vice-captain and the Netherlands national team as a striker. In the national team he is occasionally deployed as a left/right winger as well.
The son of two artists, Van Persie was encouraged to follow in his parents' footsteps, but he instead preferred football and joined SBV Excelsior's youth squad. He made his breakthrough at hometown club Feyenoord, where he spent three seasons and won the 2002 UEFA Cup. Disagreements with coach Bert van Marwijk culminated in a change of club and Van Persie moved to Premier League side Arsenal for £2.75 million in 2004. He won the FA Community Shield and the FA Cup in his first season with the London club and won the 2006 Rotterdam Sportsman of the year award.
Van Persie has 41 caps and 14 goals with the Netherlands and made his senior international debut in 2005. He has participated in the 2006 World Cup and Euro 2008. He also assisted with the Netherlands' qualification for the 2010 World Cup.
Club career
Feyenoord
Van Persie joined Dutch side SBV Excelsior's youth squad at the age of 14, but left due to conflicts with the coaching staff and signed for Feyenoord. He was quickly promoted into the third team due to injury problems among the squad, and made his debut for the club at seventeen, which was the first of 15 total starts. He received the KNVB Best Young Talent award at the end of the 2001–02 season.
He signed a professional three-and-a-half year deal with Feyenoord at the start of the next season, and scored five goals in a 6–1 Amstel Cup thrashing of AGOVV on 6 February 2003. However, clashes with manager Bert van Marwijk saw Van Persie demoted to the reserve squad, and an irate Van Marwijk told reporters, "His behaviour made it impossible for him to remain in the squad any longer so he will join the reserve side for the time being". During a match featuring the Feyenoord and Ajax reserves, he was one of several Feyenoord players assaulted by hooligans who had invaded the pitch.
Van Persie's rift with Van Marwijk continued when he was sent home on the eve of the 2002 UEFA Super Cup final against Real Madrid after the coach was reportedly displeased with Van Persie's body language upon his being asked to warm up for a recent league game. Van Persie finished his tumultuous debut season on the first team, making a total of 28 appearances and scoring eight goals, in addition to finishing runner-up in the KNVB Cup.
Feyenoord unsuccessfully attempted to extend Van Persie's contract during the offseason, and his deteriorating relationship with Van Marwijk led to his spending most of 2003–04 on the bench. He again played 28 matches, but finished with two fewer goals than the previous season. Feyenoord shopped him at the end of the campaign but found few takers due to Van Persie's past disciplinary issues. During the January transfer window, the Eredivisie club opened negotiations with Arsenal, who were seeking a long-term replacement for aging veteran Dennis Bergkamp. Both parties could not agree to terms, and five months later, a deal was finalized and Van Persie was sold to Arsenal for £2.75 million, just over half of Feyenoord's original asking price of £5 million.
Van Persie revealed in 2009 that he had hoped to join Rangers following his decision to leave Feyenoord, but did not receive an offer from the Scottish club.
Arsenal
On 17 May 2004, Van Persie signed a four-year deal with Arsenal. Manager Arsène Wenger, who planned to convert Van Persie from a left winger to a center forward as he had successfully done with star player Thierry Henry, said of his new acquisition, "He can play on the left side of midfield, as a creative player behind the main strikers or as a target man". Arsenal had further padded their stable of strikers in January by signing Spanish forward José Antonio Reyes, leaving the two to battle for playing time. Van Persie made his debut and won a trophy in the process, as he came on as a substitute in the 3–1 FA Community Shield victory over Manchester United on 8 August 2004. Van Persie spent most of his time on the bench during earlier parts of the 2004–05 season, and made his competitive debut on 27 October by scoring Arsenal's opening goal in a 2–1 League Cup win over Manchester City. However, he was sent off for the first time in an Arsenal uniform on 26 February during a 1–1 road draw with Southampton, following a lunge at left back Graeme Le Saux, for which Wenger was seen yelling an obscenity at Van Persie from the sidelines. He then later lambasted his charge in the press. "I do not support Van Persie today, but he did not look out of control at half-time. When the referee has sent off a home player, he is under pressure, so, if any player had to behave, it was him." Meanwhile, Telegraph sportswriter Clive White described Van Persie in his match report as "21 going on nine". Van Persie was consequently benched for a number of games, starting with Arsenal's upcoming FA Cup replay against Sheffield United, and he was reintroduced into the squad only after Henry was out with a calf injury, and his return to the first team saw him score twice in a FA Cup semi-final win over Blackburn Rovers. The rest of Van Persie's season was cut short by injury, and he finished with ten goals in 41 appearances in all competitions.
Van Persie's good form at the start of the 2005–06 season earned him the Player of the Month award for November 2005 after eight goals in eight starts, and he was rewarded with a five-year contract extension until 2011 on 4 January. However, two days after signing the contract, Van Persie was again hit by injury when an opponent stepped on his foot and broke his toe during an FA Cup match against Cardiff. Van Persie played the next three matches with a hole cut into his shoe to alleviate the pain until he was finally rested for Arsenal's Premiership match against West Ham United on 1 February.He was an unused substitute in Arsenal's first Champions League final appearance, a 2–1 loss to Barcelona.
The beginning of the 2006–07 season included an airborne volley against Charlton Athletic that Wenger called "the goal of a lifetime" and was later named BBC's Goal of the Month for September, and he capped off the calendar year by being named the 2006 Rotterdam Sportsman of the Year. However, his season ended early for the second time in his career on 21 January, when he fractured the fifth metatarsal in his right foot while celebrating his late equalizer in a match against Manchester United. Although Van Persie was injured for a large part of the season he still managed to finish as Arsenal's top goalscorer with 13 goals in all competitions.
After Henry departed for Barcelona prior to the 2007–08 season, Van Persie assumed the role as Arsenal's main striker. Following a streak of seven goals in ten regular-season games, Van Persie was sidelined for two months with a knee injury suffered on international duty. He made his comeback in Arsenal's Champions League group stage win over Steaua Bucureşti on 12 December and made his Premier League return in the win against Chelsea over the weekend. However, he picked up a recurrent injury that kept him sidelined until January when he played 45 minutes in a League Cup game against Tottenham. He was withdrawn at half-time following another injury scare and featured sporadically throughout the rest of the campaign.
Van Persie opened his 2008–09 account on 31 August with a brace in Arsenal's 3–0 league victory over Newcastle United. On 29 October, he scored his fiftieth career Arsenal goal in a 4–4 home draw with North London derby rivals Tottenham Hotspur, but was hit with his first red card of the season on 1 November after knocking down goalkeeper Thomas Sørensen with a shoulder charge in a 2–1 loss to Stoke City. Sorensen later admitted to "teasing" Van Persie in an attempt to provoke a reaction. Later on the last day of November he scored a brace against Chelsea to help Arsenal to a 2–1 victory, which they had to come from behind. On 21 December 2008, he scored a spectacular goal against Liverpool which became his second-career BBC Goal of the Month. With captain Cesc Fàbregas injured and regular stand-in skipper Manuel Almunia rested, Van Persie captained Arsenal for the first time on 3 January 2009 for the club's 3–1 third-round FA Cup victory over Plymouth Argyle. Van Persie scored Arsenal's first and third goals, while the second was a result of his cross being deflected into the net by a Plymouth player for an own goal. In January 2009, every Arsenal goal that month was either scored or assisted by Van Persie, which earned him the club's player-of-the-month award. His most inspirational display being against Hull City, where he struck the post with a freekick, and provided three assists to his teammates, he later received the man-of-the-match award. On 24 February, Van Persie scored a crucial penalty that earned Arsenal a 1–0 win over A.S. Roma in the Champions League round of sixteen encounter, after he was fouled by defender Philippe Mexès. He followed it up with a fifth Champions League goal by converting another penalty against Villareal in a 3–0 victory. On the final day of the Premier League, Van Persie scored a brace against Stoke City which guaranteed him for the second time in his career as Arsenal's top scorer. He had his best season overall for Arsenal as he scored eleven Premier League goals, along with a league-leading eleven assists and a career-best of 20 goals in all competitions. Van Persie was named the 2008–09 Arsenal.com Player of the Season.
With only one year remaining of his contract, Van Persie was in negotiations with Arsenal about an extension for several months in 2009. Finally it was announced in July that he had signed a new long-term contract with his club, stating "My heart is with Arsenal and I just can't picture myself in a different shirt". The departure of Emmanuel Adebayor also meant that the Dutchman was now the main striker in Wenger's 4–3–3 system. Van Persie started the 2009–10 season with two assists in the first match against Everton, which led to a 6–1 victory. As one of the first choice penalty and corner takers, he has set up many of Arsenal's goals, including Vermaelen's debut goal against Everton. He scored his first goal of the season in the 4–2 loss at Eastlands to Man City where he later had his head stomped on by former teammate Adebayor (an act which the referee failed to notice, but the FA later charged Adebayor with violent conduct and served him with a 3 game suspension). He then scored goals against Olympiacos, Fulham, Blackburn Rovers, Birmingham, West Ham and Tottenham. Van Persie's excellent form in October did not go unrecognised as he was named Barclays Player of the Month for October, his second such award. On 14 November, however, he injured his ankle in an international friendly and was initially expected to be out for six weeks, but further tests showed that he would be out for five months. Van Persie made his return on April 14, 2010, in a 2–1 loss to Tottenham Hotspur.
International career
Van Persie was a U-21 international and took part in the 2004 and 2006 European Championship qualifying. The Jong Oranje failed to qualify for the 2004 tournament and van Persie did not participate in the latter as he was already in the senior squad for the World Cup. He earned his first caps for the Netherlands in less than the span of a week, first in a 2–0 2006 World Cup qualifying win over Romania on 4 June 2005, and in another qualifier four days later against Finland, which saw him pick up his first international goal in a 4–0 victory.
2006 World Cup
Despite not being a regular starter for Arsenal, Van Persie was part of coach Marco van Basten's roster for the 2006 World Cup finals. He played in all four of the Netherlands' matches and scored his only goal in the group stage against Côte d'Ivoire via a free kick as the Oranje were eliminated in the round of sixteen.
Euro 2008
Van Persie scored a team-best four Euro 2008 qualifying goals and was deployed as a winger behind lone striker Ruud van Nistelrooy during the tournament after van Basten decided to change to a 4–2–3–1 formation. As Wesley Sneijder and Rafael van der Vaart were preferred in the midfield, Van Persie was left to battle with Arjen Robben for the remaining spot on the wing. On 13 June, he scored as a 55th-minute substitute in a 4–1 Group C victory over 2006 World Cup finalists France, and started the next match against Romania, scoring off a pass from Demy de Zeeuw with an excellent volley into the back of the net. He finished with two goals as the Netherlands finished atop their group but again suffered a first knock-out round, second stage elimination.
Post-Euro 2008
Van Persie has scored in the friendlies he has played in against Russia and Sweden, and has scored a header in a World Cup qualifying match against Scotland, which stirred debate whether he should be taking corners or receiving them. He was injured during that match and was substituted early in the second-half.
Van Persie lives in London with his Moroccan-Dutch wife
Bouchra
, son, Shaqueel and daughter Dina Layla.
Read more
Latest headlines