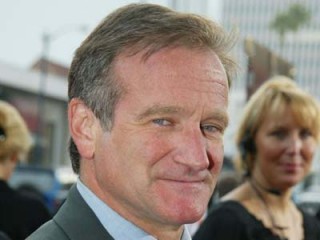 Robin Williams biography
Date of birth : 1951-07-21
Date of death : 2014-08-11
Birthplace : Chicago, Illinois, USA
Nationality : American
Category : Arts and Entertainment
Last modified : 2014-08-18
Credited as : comedy actor, mime, film producer, restaurateur
Robin Williams
, also credited as:
Marty Fromage, Ray D. Tutto, Robin McLaurim Williams, Robin McLaurin Williams
was born on July 21, 1951 in Chicago, Illinois, USA, the only child of a Ford auto executive and a former model from Mississippi is an American actor, comedian, comedy writer, producer, director, mime, restaurateur and restaurant worker.
The well-to-do family lived outside of Detroit, MI, where Williams attended private school but was a shy kid who largely entertained himself with his own imagination. When Williams was 16 years old, the family relocated to a town North of San Francisco, CA. In interviews, Williams recalled that when his parents took him to see Stanley Kubrick's "2001: A Space Odyssey" (1969) on the big screen in San Francisco, the teenager was not only amazed by the film but inspired to try acting. In his senior year, he joined the theater group at Redwood High School in Larkspur and made an impression on the student body, who voted him "Most Funny but Least Likely to Succeed." He went on to study political science at Claremont Men's College in Southern California, though he spent increasingly more time with the theater department.
Williams decided to major in theater and transferred back North to Marin College before landing a full scholarship to the best dramatic training ground in the country — the Juilliard School in New York City. He was one of only 20 incoming freshmen accepted that year, and shared that honor with his roommate Christopher Reeve – who would ironically find fame the same year as Williams by landing the lead in "Superman: The Movie" (1978). At Juilliard, Williams received classical dramatic training, honing his technique on Shakespeare and studying under famed actor John Houseman. He also earned money as a street performer, miming in white grease paint outside the Museum of Modern Art for change and applause. After three years, he returned to San Francisco, which was enjoying its heyday as a hotbed of stand-up and improv comedy. He became a regular on the scene and eventually made a trip to Los Angeles to try to book some stand-up shows. He debuted at the Improv in 1976, went on to play the Comedy Store, and immediately made an impression with his manic energy and his trademark baggy pants and loud shirts. Williams made his television debut as a member of the ensemble of a revival of "Laugh-In" (NBC, 1977-78) and followed up with the short-lived "Richard Pryor Show" (NBC, 1977).
In 1977, Williams showed up at an audition for a guest role as an alien on the top sitcom "Happy Days" (ABC, 1974-1984), and promptly got the part when he sat on his head in the office of producer Gary Marshall. His wildly popular debut on the show led to a recurring role, and by the start of 1978, the comic actor had a four-year contract to star in his own spin-off series, "Mork and Mindy" (ABC, 1978-1982). The show featured Williams as an émigré from the planet Ork who learns to adjust to American life with the help of a hip young music store clerk (Pam Dawber) who lets him live in her attic. Williams became an overnight sensation with a #3 rated show, a Golden Globe Award, and his likeness plastered on games, toys, and trinkets. His character's catchphrase "Nanu! Nanu!" even entered into the popular lexicon.
With such heady, seemingly overnight success, Williams landed his own HBO stand-up special "Off the Wall" (1978), and he his new wife Valeri Velardi spent their new fortune on a home in bohemian Topanga Canyon. Unfortunately, Williams also began spending his fortune up his nose, becoming a cocaine addict through the late 1970s into the early 1980s – a habit which no doubt put a strain on his marriage. Naturally, it was only a matter of time before directors demanded their turn at capturing Williams' razor-sharp, crazy talent on film. Unfortunately, his debut as the lead in "Popeye" (1980) was a disappointment on every level — audiences were thrown by director Robert Altman's purist vision, the acting was painful to watch, and the whole debacle an embarrassment for everyone involved. In fact, so bad was the film, that "Popeye" jokes would figure into Williams' stand-up for years after. That same year, the third season of "Mork and Mindy" found the show getting stale from the network's constant tinkering with their former hit, which was now lagging in the ratings. Some zest returned for the final season when Williams' real-life comedy hero Jonathan Winters joined the cast as the love child of the now-married title characters.
By early 1982, Williams' drug use was spiraling out of control, but through sheer happenstance, he was able to get a handle on his demons by watching someone else lose an epic battle with their own. On the night of March 4, 1982, Williams and actor Robert De Niro became guilty by association by showing up to visit comic John Belushi at the Chateau Marmont Hotel on L.A.'s Sunset Strip. They were among the last two people to see Belushi alive, as he was discovered dead of a speedball mixture of cocaine and heroin the following day. Both men were called to testify into the criminal investigation into his death; both testimonies helped send hanger-on Cathy Smith to prison for her part in fatally injecting the comic. The shocking death of someone Williams considered an indestructible "bull of a man" helped put an end to the sizeable coke habit he had been towing around since his days in stand-up.
When the series ended, Williams returned to the big screen in an unexpected capacity, as the star of the John Irving adaptation of "The World According to Garp" (1982). His first foray into dramatic territory was not immediately embraced, though the family drama did relatively well at the box office despite mixed reviews. Fans of the decidedly madcap Williams had their own offering that year, HBO's "An Evening with Robin Williams" (1982) which was filmed at San Francisco's Great American Music Hall.
Following a series of forgettable film comedies and the legendary HBO special "A Night at the Met" (1986) – perhaps his most famous concert film – which resulted in a Grammy winning comedy album, director Barry Levinson gave Williams' irreverence its best platform yet as Armed Services Radio DJ Adrian Cronauer in "Good Morning, Vietnam" (1987). Based on a real-life figure who boosted troop morale with his Saigon-based dispatches, Cronauer's unbridled comic ramblings and radio plays were actually improvised by the actor, and his outstanding performance earned a Best Actor Oscar nomination, in addition to over a $100 million dollars in ticket sales. Williams followed up his first bona fide comedy hit with a critically acclaimed dramatic role as an unconventional and inspirational prep school teacher in Peter Weir's "Dead Poets Society" (1989). While he occasionally flashed some of his trademarked shtick in the role, Williams showed considerable depth and inner life, earning himself Best Actor Oscar and Golden Globe Award nominations. Off-screen, Williams raised a few eyebrows that year when he married a second time to the woman who had formerly been his children's nanny during his first marriage, Marsha Garces.
Proving he was Juilliard through and through, Williams began to receive just as many dramatic offers as comical – a proposition which most comics pray for. He began exploring his interest in complex human characters, and showing a penchant for outsiders trying to connect with society. Penny Marshall cast him in "Awakenings" (1990) as a historic doctor who revived catatonic patients, for which he shared a Best Actor Award from the National Board of Review with co-star Robert De Niro and earned a Golden Globe nomination. Stephen Spielberg's bloated fantasy "Hook" (1991) was a certified blockbuster and one of the most popular films of the year – not to mention it introduced Williams to a new generation of fans – but it was Williams' turn in Terry Gilliam's stylish "The Fisher King" (1991) that won him critical favor. He took home his first Golden Globe award for the Herculean task of portraying an unhinged homeless man who enters into a curious, Biblically-inspired scenario with the shock-jock (Jeff Bridges) responsible for the traumatic murder of his wife. The film beautifully showcased Williams' dramatic capability and his ability to fuse it with the spontaneous energy of his comedy-based performances. It was a truly touching performance and one for which many felt he was robbed come Oscar time.
Williams was back in high comic form — voice form — the following year with the hugely successful animated Disney feature "Aladdin" (1992). Freed from the physical restrictions of live-action acting, Williams took off on inspired riffs, impersonating scores of cross-generational pop-culture icons from Arnold Schwarzenegger to William F. Buckley. He earned special recognition from the Golden Globes and another from the National Board of Review. Williams followed up with another box office triumph as one of the more iconic characters of his career, "Mrs. Doubtfire" (1993), for which Williams donned drag to play a doddering Scottish nanny in Chris Columbus' smash family comedy hit. He cemented his role as a family entertainment superstar with another box-office hit, the kids fantasy film "Jumanji" (1995). A more subdued performance as Armand, the nightclub owner with a high-strung drag queen lover (Nathan Lane), in "The Birdcage" (1996) – Mike Nichols' reworking of 1978's "La Cage aux folles" – followed. Somehow, Williams – who was capable of a killer stereotypical "gay" bit in all his stand-up – was able to reel it in enough to let Lane steal the show.
Unfortunately, his hot streak was interrupted briefly by the overly sappy, "Jack" (1996) in which he tried valiantly to salvage the sentimental film about a ten-year-old with a genetic disorder. Williams returned to his classical roots to play the fop Osric in Kenneth Branagh's full-length "Hamlet" (1996) and rounded out a very diverse year by reprising his Genie role in the direct-to-video sequel "Aladdin and the Prince of Thieves."
In 1997, Williams and Billy Crystal — his co-host since 1986 of many HBO homeless fundraiser "Comic Relief" specials — teamed onscreen for the lamentable "Father's Day," a weak remake of a French farce. He rebounded—literally and figuratively—in another comic character-based family hit, Disney's "Flubber" (1997), which was a remake of 1961's considerably tamer "The Absent Minded Professor." Taking another turn toward the dramatic, Williams went on to deliver one of his best performances, earning a Best Supporting Actor Oscar (finally!) for his role as a tough-love therapist trying to help a troubled genius (Matt Damon) in Gus Van Sant's "Good Will Hunting" (1997). It was a stunningly human portrait that unquestionably put Williams at the top of the list of Hollywood's most accomplished and versatile actors – and he owed it all to the two Hollywood newcomer screenwriters, Affleck and Damon – which many found ironic, Williams included.
After a brief role as an actor whose life is so messy he literally becomes out of focus in Woody Allen's "Deconstructing Harry" (1997), Williams undertook the treacly fantasy "What Dreams May Come" and the shamelessly manipulative but crowd-pleasing "Patch Adams" (1998) — another character-based comedy about a clowny physician who uses comedy to ease the suffering of terminally ill children. It was the latter role which, for many, put an end to Williams' good will on the big screen, with fans calling foul on such pandering, ponderous drivel.
In danger of being typecast in broad family fare and yearning to expand his unending creativity into new realms, Williams made some unexpected, if uneven, choices at the turn of the new century. He lent his voice to the holographic Dr. Know in Stanley Kubrick's unsettling sci-fi tale "Artificial Intelligence: A.I." (2002) before a chilling role as a manipulative crime writer involved in a murder in "Insomnia" (2002), co-starring Al Pacino. The black comedy "Death To Smoochy" (2002) featuring Williams as a revenge-seeking children's' television show host replaced by a purple rhino, was a notorious box office flop but destined for cult status thanks to its satirical take on the TV business and an all-star cast including Edward Norton, Danny DeVito (who also directed) and Jon Stewart. The boldest departure from his film persona and one of his most memorable roles, Williams delivered an incredible three-dimensional performance as a quietly insane stalker in "One Hour Photo" (2002). Meanwhile, he directed his comic chops back to the stand-up arena after a long absence from the stage, inspired by a post-September 11th state of the world he wanted to address directly with audiences.
In 2004, Williams toured the country with his first full stand-up act in decades, devoting four months to appearances in small, theatrical venues, as well as entertaining troops with the USO in Iraq. That year, he also appeared as a mentally challenged janitor in David Duchovny's indie directorial feature debut "House of D," which also featured Williams' teenage daughter Zelda in the cast. The comic devoted another several months to touring in 2005, but he also returned to the family film fold with his show-stealing role in "Robots" (2005), voicing Fender, a robot whose body parts fall off at inopportune moments. In 2005, he was a memorable practitioner of vivid improvisation in the documentary film "The Aristocrats" (2005), a study of a legendarily filthy show biz joke dating back to vaudeville days. In addition to another U.S. comedy tour, Williams appeared in a staggering six features in 2006, beginning with "RV" (2006), a predictable family road trip comedy that somehow raked in over $80 million in box office receipts – $16 million on its opening weekend alone. It truly seemed like public acceptance of Williams on the big screen simply depended which way the wind blew, at times.
In August of 2006, Williams starred in "The Night Listener" (2006), a psychological thriller about a late-night radio host who develops an on-air relationship with a 14-year-old boy living with AIDS (Rory Culkin), until he begins to question his true identity and his past. Off-screen, Williams suffered his own identity crisis when, after 20 long years of sobriety, he began drinking again. He entered an in-patient rehab program that summer and was newly sober for the release of "Man of the Year" (2006), an unsuccessful political satire about a talk show host whose mock presidential run turns into an actual win. "Happy Feet" (2006), an animated family comedy banking on the penguin craze, was a modest hit but nothing compared to the blockbuster holiday release "Night at the Museum" (2006). Williams portrayed a wax exhibit¬ former president Theodore Roosevelt-come-to-life and dispensing advice to Museum of Natural History security guard (Ben Stiller).
Williams returned to the Iraq to entertain troops in 2007, and eschewed any big budget starring roles in favor of a supporting role as a pushy priest in the lowbrow romantic comedy "License to Wed," and "August Rush," a critically panned melodrama about an orphan who seeks to find his parents through their shared musical gifts. Williams was slated to return to star billing in 2009 with another family comedy, "Old Dogs," but all the film work in the world could not soften the blow, when in March 2008, after nearly 20 years of marriage, Garces-Williams filed for divorce from her husband – rumored to have resulted from enduring her husband's substance abuse relapse. Diving into work to possibly ease the pain, the famed film actor took on a small but highly publicized role of a dark and disturbed killer on an episode of "Law & Order: SVU" (NBC, 1999- ).
Robin's Family
* Daughter: Zelda Williams. Born July 31, 1989; mother, Marsha Garces Williams
* Father: Robert Williams. Worked for Lincoln-Mercury; born c. 1901; died in 1987
* Mother: Laurie Williams. Born Sep. 24, 1922; died on Sep. 4, 2001
* Son: Cody Alan Williams. Born on Nov. 25, 1991 in San Francisco; mother, Marsha Garces Williams
* Son: Zachary Williams. Born in 1983; mother, Valerie Velardi
Education
* Redwood High School, Larkspur, CA, 1969
* The Juilliard School, New York, NY, drama
* Claremont Men s College, Claremont, CA, political science
CHRONOLOGY
* 1967 When his father took early retirement, family moved to Tiburon in Marin County, California (date approximate)
* 1977 First regular TV role on Laugh-In revival
* 1978 First appeared as the space alien Mork from Ork in an episode of the ABC sitcom Happy Days (in February)
* 1978 Starred as Mork in the ABC sitcom Mork and Mindy
* 1979 Feature film debut in Can I Do It...Till I Need Glasses
* 1980 First starring film role in Popeye, directed by Robert Altman
* 1982 Breakthrough screen role as Garp in George Roy Hill s film version of the John Irving novel The World According to Garp
* 1982 Voiced Mork in the animated ABC series Mork & Mindy
* 1983 Headlined the HBO special An Evening with Robin Williams
* 1986 With Whoopi Goldberg and Billy Crystal, began hosting the annual Comic Relief telecasts on HBO; funds raised went to help the homeless
* 1986 Wrote and starred in Robin Williams: Live at the Met (HBO)
* 1987 Earned first Best Actor Academy Award nomination as disc jockey Adrian Cronauer in Barry Levinson s Good Morning, Vietnam
* 1987 Made rare dramatic TV appearance in the PBS Great Performances presentation Seize the Day
* 1987 Was featured in A Carol Burnett Special ... Carol, Carl, Whoopi & Robin (CBS)
* 1988 Co-starred on stage with Steve Martin in Mike Nichols production of Waiting For Godot at Lincoln Center
* 1989 Garnered second Oscar nomination as Best Actor for his turn as a prep school teacher in Dead Poets Society
* 1990 Portrayed Oliver Sacks in Penny Marshall s screen version of Awakenings, co-starring Robert De Niro
* 1991 Received third Academy Award nod as Best Actor for The Fisher King
* 1991 Starred as a grown up Peter Pan in Steven Spielberg s Hook
* 1992 Reuinted with Barry Levinson as the star of Toys
* 1992 Voiced the character of the Genie in Disney s animated Aladdin
* 1993 Had major boxoffice hit with Chris Columbus comedy Mrs. Doubtfire ; played the title role in drag; also debut as producer
* 1993 Made dramatic guest appearance on the second season premiere of the NBC series Homicide: Life on the Streets
* 1995 Played a Russian-speaking obstetrician in Chris Columbus Nine Months
* 1996 Played first Shakespearean role, Osric, in Kenneth Branagh s full-length film version of Hamlet
* 1996 Reprised role of the Genie in the direct-to-video release Aladdin and the King of Thieves
* 1996 Starred opposite Nathan Lane in Mike Nichols The Birdcage, an American remake of the French farce La Cage aux folles (1978)
* 1997 Earned rave reviews for his performance as a therapist counselling a troubled math genius in Good Will Hunting
* 1997 Starred in Flubber , a remake of the Disney film The Absent-Minded Professor
* 1997 Teamed with Billy Crystal for Father s Day
* 1998 Played real-life doctor Patch Adams, who utilized humor in treating patients
* 1999 Reteamed with Chris Columbus for Bicentennial Man
* 2001 Voiced character of Dr. Know in A.I. Artificial Intelligence
* 2002 Had featured role in Insomnia
* 2002 Live uncensored comedy special Robin Williams: Live on Broadway, aired on HBO; earned an Emmy nomination
* 2002 Played a deposed children s host bent on revenge in the black comedy Death to Smoochy
* 2004 Starred in the thriller The Final Cut with James Caviezel and Mira Sorvino
* 2005 Cast in David Duchovny s directorial debut House of D
* 2005 Voiced Fender in the animated feature Robots
* 2006 Cast opposite Ben Stiller as Theodore Roosevelt in the action-adventure-comedy Night at the Museum
* 2006 Co-starred with Toni Collette in Armistead Maupin s adaptation of The Night Listener
* 2006 Played a comic talk show host who gets elected to the presidency in Man of the Year
* 2007 Cast as an overbearing minister in Licence to Wed
* 2007 Cast in August Rush with Freddie Highmore and Keri Russell
* 2008 Received an Emmy nominationn for his guest starring role on NBC s Law & Order: Special Victims Unit
* 2009 Co-starred with John Travolta in the comedy, Old Dogs
* 2009 Reprised role as Theodore Roosevelt in Night at the Museum: Battle of the Smithsonian
* Co-founded production company (with Marsha Garces Williams), Blue Wolf Productions Inc.
* Hosted the HBO series Shakespeare: The Animated Tales
* Made directorial debut with an episode of Mork and Mindy
* Performed in San Francisco nightclubs including Holy City Zoo, Intersection, The Great American Music Hall and The Boardinghouse, and in Los Angeles at The Comedy Store, Improvisation and The Ice House
* Raised in Bloomfield Hills, Michigan
Read more
Latest headlines