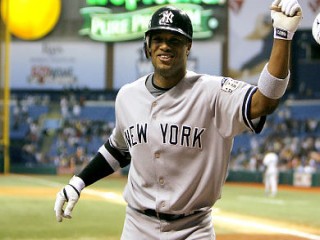 Robinson Cano biography
Date of birth : 1982-10-22
Date of death : -
Birthplace : San Pedro de Marcoris, Dominican Republic
Nationality : Dominican
Category : Sports
Last modified : 2010-10-16
Credited as : Baseball player MLB, second base with the New York Yankees,
Robinson Jose Cano was born on October 22, 1982, in San Pedro de Marcoris in the Dominican Republic. The infant went several weeks without a name as his parents, Jose and Claribel Mercedes, argued about options. Jose was a pitcher in a professional league, and his hero was Jackie Robinson. Initially, Claribel was against naming her son after the baseball pioneer but finally relented and the youngster became "Robinson."
Robinson did not see a lot of his father early in life. Jose spent much of his time trying to hook on with a big-league club in the U.S. In 1987, he joined the Houston organization, posted a 15–3 record for Osceola, and was named MVP of the Florida State League. Jose made it to the Astros for six games in 1989 but could not stick. He continued to pitch professionally, playing for two Taiwanese teams in the 1990s. Jose finally retired in 1999, at the age of 37.
By that time, Robinson had developed into one of the best young players in the Dominican Republic. He was strong and quick, with good instincts and mechanics in the field and a smooth, flat swing that put a charge into the baseball.
Robinson also spoke excellent English, the result of three years living in New Jersey. He spent seventh, eighth and ninth grades in the Newark school system, attending Barringer High for one year. Robinson went to the Pedro Apostol School in San Pedro when the family moved back to the Dominican Republic. There he was the star of the school's baseball and basketball teams.
In San Pedro, the best ballplayer on the team always took the field at shortstop. Though not as quick and wiry as other local products, like Tony Fernandez and Julio Franco, Robinson handled himself well at the position. Interestingly, his favorite player was not a shortstop. In fact, he wasn't even a Dominican. The man he most admired was Bernie Williams, a Puerto Rican. There was something about the way Williams carried himself and played the game that struck Robinson as being special.
What interested local scouts most about Robinson was his hitting. It didn't hurt that his dad served as his batting coach. Jose understood the difference between a good hitter and a bad one, and ironed out flaws in his son's swing as soon as he spotted them. Needless to say, having an active professional pitcher throw him batting practice had an extremely positive effect on Robinson's baseball IQ. In January of 2001, Robinson inked a deal with Carlos Rios, a scout for teh New York Yankees.
Robinson played all but two games of his first pro season with Tampa of the Gulf Coast League. He joined fellow prospects Dioner Navarro and Bronson Sardinha under the tutelage of manager Derek Shelton. Robinson earned time at second, third and short. He batted .230 but led the club in RBIs.
ON THE RISE
The following season, Robinson was promoted to the Staten Island Yankees. It was just a 22-game stop on the way to Class-A Greensboro, where he hit .276 and led the Bats in hits, RBIs, total bases and triples. Robinson was named the South Atlantic League's All-Star shortstop.
The 20-year-old opened the 2003 campaign with a 5-for-5 day and went 11 games before being held hitless. The Yankees had converted him to a full-time second baseman, and he showed no ill effects from the position switch. Robinson played 90 games for the Tampa Yankees, batting .276 again, with 50 RBIs. He finished the season with the Trenton Thunder, where he hit .280 against Eastern League pitching.
Robinson split the 2004 campaign between Trenton and Class-AAA Columbus. He batted a combined .283 with 29 doubles, 10 triples, 13 homers, and 74 RBIs. Robinson was killing the ball when he was promoted at the end of June and then made his debut with the Clippers a memorable one with a 4-for-4 day.
The Yankees could not have been more pleased with their second baseman's progress. The team had traded away Alfonso Soriano, plugging the hole with veterans Miguel Cairo and Enrique Wilson. New York, however, believed the position would eventually by Robinson's. He needed to become a bit more selective at the plate, but other than that he looked to be major-league ready. Already there were whispers around baseball that the Yankees had an All-Star in the making. Robinson's name came up in trades all summer, but the Yankees resisted. After letting players of his caliber go in the past, they were determined to hang on to him.
Robinson did everything he had to in spring training of 2005 —including making a positive impression on Derek Jeter—but the Yankees decided to start him off in Columbus, where he could get regular at-bats. He murdered the ball over the first month, batting .333 and slugging .574.
Meanwhile, in New York, a shakeup was underway. Bernie Williams—Robinson's hero—was no longer getting it done in center field, and Joe Torre decided to shift Hideki Matsui over from left and replace him with Tony Womack, who had been signed over the winter to play second. With Womack in the outfield, the Yankees turned to Robinson as Jeter's keystone mate.
The rookie immediately struggled when he hit the big leagues, enduring an 0-for-18 slump that would have torpedoed most young players. But Robinson was a different kind of rookie. When pressed by reporters to explain his slump, he replied that he was not worried—he was seeing the ball well and swinging well. The hits simply weren't dropping.
Luis Sojo, the coach assigned to be Robinson's mentor, saw soon enough that there was little he could teach the kid. Robinson's father had done a good job. Torre was amazed at the youngster's swing and began comparing him to Rod Carew, even when "Robby" was hovering around the Mendoza line.
By the end of May, Robinson's struggles were all but forgotten. He had solidified second base for the Yankees, presumably for many years to come. Criticized on occasion for losing his focus in the field, he proved to be sure-handed and level-headed enough to earn starts every day.
Among the highlights from his first season were back-to-back five-RBI games and the longest road hitting streak in the majors since 2003. Robinson got better as the year wore on. He was on fire in September, winning Player of the Week honors on the 18th and Rookie of the Month honors after batting .381.
Robinson finished the '05 campaign at .297 with 14 home runs and 62 RBIs in 132 games. His average was tops among A.L. rookies, as were his 78 runs scored,155 hits and 34 doubles.
The Yankees made the playoffs but lost to the Anaheim Angels in the ALDS. Robinson laced a bases-clearing double in his first postseason at-bat, off Cy Young Award winner Bartolo Colon, and collected four more hits in the series for a .263 average.
Early in the 2006 season, Torre surprised reporters when he began saying that Robinson had the kind of swing that would produce a batting title one day. But not even the New York skipper suspected that, by season's end, Robinson would come within a few hits of proving him right.
The Yankees have had many great players, but only Joe DiMaggio and Don Mattingly had batted over .340 in their second season. Robinson joined them by hitting .342. He added 41 doubles, 15 homers and 78 RBIs despite missing the entire month of July with a pulled hamstring. The hammy cost him a slot on the All-Star roster, but he came back strong and helped the Yankees finish in first place.
One of the year's highlights came late in September, when Baltimore's Daniel Cabrera took a no-hitter into the ninth inning against the Yankees. After retiring the first hitter, Cabrera stared in at Robinson. The two grew up together in San Pedro, lived a minute or two away from each other, and hung out during the winters. Robinson lined a single to left to break up the no-no. After the game, Cabrera joked that "he'not my friend no more."
Once again, Robinson finished with a flair, batting .365 after coming off the DL. Carrying a 13-game hitting streak into the playoffs, he finished third behind Joe Mauer and Jeter in the batting race, with just five points separating the trio.
Again, the New York bats fell quiet in the ALDS, this time against Detroit pitching. Robinson was one of the culprits. He managed a meager two hits against the Tigers in his team's four-game loss. After the series, the Yankees let Torre know that his services were no longer desired. He left for the West Coast and was replaced by Joe Girardi, the former New York catcher.
The change at the top did not immediately change the sagging fortunes of the Bronx Bombers. They began the 2008 season sluggishly and never recovered. The Rays and Red Sox finished ahead of them and made the playoffs.
Robinson was one of the reasons the Yanks struggled. He labored to get his average over .200 in the early weeks of the season and finished at a lackluster .271, with 14 homers and 72 RBIs. Robinson heard it from fans and the media—he was labeled as "lazy," a tag that upset him. He knew that shaking that kind of reputation would be difficult.
After working on his stroke all winter with coach Kevin Long, Robinson redeemed himself in 2009. The Yanks reloaded with a pair of top-of-the-rotation starters—C.C. Sabathia and A.J. Burnett—plus two talented middle-of-the-order switch-hitters, Mark Teixeira and Nick Swisher. Robinson settled into the bottom third of a super lineup and had a remarkable year. He rapped out 204 hits and scored 103 runs to go with 25 homers, 48 doubles and 85 RBIs. His .320 average ranked sixth in the AL. His 331 total bases ranked fourth in the league —an amazing stat for a bottom-of-the-order hitter.
As good as Robinson was during regular season, he was a non-factor for the Yankees in their championship postseason run. He batted under .200 in the ALDS and World Series. He was only slightly better against the Angels in the ALCS, with a pair of triples and a .261 average. Robinson was solid on defense, however—with the exception of a weird Game 2 against Anaheim—and had the honor of fielding the final groundout to win the World Series, off the bat of Philadelphia's Shane Victorino.
The bottom line was that New York's 2009 championship was a team effort, and Robinson was an integral part of the team. He has forged close friendships with young players such as Melky Cabrera, but also devotes hours absorbing wisdom from players like Mariano Rivera. Robinson's thoughtful approach to the game separates him from many other big leaguers his age and has some thinking that he may some day join other Yankee greats in Cooperstown.
ROBINSON THE PLAYER
A frequent observation about Robinson is that he does things at the plate that can't be taught. Specifically, he is as good as anyone in the game at hitting a pitcher's pitch—and hitting it hard. This drives opponents crazy, but it puts a big smile on the face of Robinson's father. All those years of throwing to his son paid off. Robinson reads hurlers as well as any young player in the game.
Robinson's hitting mechanics are superb. He has a compact lefthanded stroke that keeps the bat level right through the hitting zone. He squares up beautifully on the ball, turning high flies into doubles, triples and homers. Robinson has an unusually loose grip, which is why old-timers see a little Rod Carew in him.The ball just jumps off his bat. One important adjustment he made after reaching the majors was resisting the temptation to lunge at balls outside the strike zone.
Defensively, Robinson still has a little hot dog in him. He has polished his skills at second base and is average or better at most of the chores of that position, but he still has occasional lapses of concentration. Dropping throws on forceouts was a problem in 2006. If he continues to beef up, his ultimate position might be third base. He has an extremely strong arm.
Read more
Latest headlines