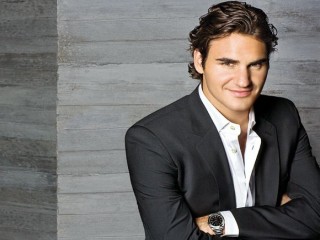 Roger Federer biography
Date of birth : 1981-08-08
Date of death : -
Birthplace : Basel, Switzerland
Nationality : Swiss
Category : Sports
Last modified : 2022-09-27
Credited as : Grand Slam winner, Hit for Haiti, Rally for Relief
Roger Federer
is a Swiss former professional tennis player. He was ranked world No. 1 by the Association of Tennis Professionals (ATP) for 310 weeks, including a record 237 consecutive weeks, and finished as the year-end No. 1 five times.
Born on August 8, 1981, in Basel, Switzerland. His parents, Robert Federer and Lynette Du Rand, met while on a business trip for a pharmaceutical company where they both worked.
Federer was born in Binningen, near Basel, to Swiss national Robert Federer and South African-born Lynette. He holds both Swiss and South African citizenships. He grew up in suburban Münchenstein, near Basel, close to the French-German borders and Federer speaks Swiss German, German, French and English fluently, Swiss German being his native language.
He was raised as a Roman Catholic and met Pope Benedict XVI while playing the 2006 Internazionali BNL d'Italia tournament in Rome. Like all male Swiss citizens, Federer was subject to compulsory military service in the Swiss Armed Forces. However, in 2003 he was deemed unfit due to a long-standing back problem and was subsequently not required to fulfill his 'obligations'. Federer himself also credits the range of sports he played as a child – he also played badminton and basketball – for his hand-eye coordination. "I was always very much more interested if a ball was involved," he says. Most tennis prodigies, by contrast, play tennis at the exclusion of pretty much everything else. "Having first played tennis, then badminton, and now back to tennis, I have an appreciation for how certain skills translate from one sport to another. I've lost some youthful vigor but am in some ways a better tennis player now because of the badminton years, when I learned how to construct points and control space with chess-like strategy (I used to play a little chess too), the importance of proper footwork, and the creative use of the hand and wrist for finesse shots."
Federer took an interest in sports at an early age, playing tennis and soccer at the age of 8. The young athlete excelled at athletics, and by the age of 11 he was among the top 3 junior tennis players in Switzerland. At the age of 12, he decided to quit other sports and focus all his efforts on tennis, which he felt he excelled at more naturally. By the age of 14, he was fully immersed in the game, playing 2-3 tournaments per month, and practicing 6 hours of the game a week along with up to 3 hours of conditioning. To perfect his technique, he often imitated his idols, Boris Becker and Stefan Edberg.
At 14, he became the national junior champion in Switzerland, and was chosen to train at the Swiss National Tennis Center in Ecublens, and had his his first sponsorship by the age of 16. He joined the International Tennis Federation junior tennis circuit in July 1996. In 1998, shortly before he turned pro Federer won the junior Wimbledon title and the Orange Bowl. He was recognized as the ITF World Junior Tennis champion of the year.
In 1998, he won the Wimbledon boys' singles and doubles titles in 1998 and turned professional later that year. At Wimbledon 2001 he caused a sensation by knocking out reigning singles champion Pete Sampras in the fourth round. In 2003, following a successful season on grass, Federer became the first Swiss man to win a Grand Slam title when he became Wimbledon singles champion.
At the beginning of 2004, Federer had a world ranking of number 2, and during that year won the Australian Open, the U.S. Open, the ATP Masters, and retained the Wimbledon singles title. He was ranked number 1 at the start of 2005 and his successes that year include the Wimbledon singles title for a third successive year, and the U.S. Open.
Federer held on to his number 1 ranking at the start of 2006, winning the Australian Open, his fourth successive Wimbledon singles title, and his third successive U.S. Open. Continuing to dominate the sport, the right-handed champion won the singles title at Wimbledon and the U.S. Open again as well as the Australian Open in 2007. Currently ranked No. 1 on the ATP Tour, Federer has been named Laureus World Sportsman of the Year Award three times in 2005, 2006, and 2007.
Federer was in the finals for a sixth U.S. Open win, and with the option of victory came the possibility of breaking several records. Federer lost, however, to Juan Martin del Potro.
Federer's versatility was summarized by Jimmy Connors: "In an era of specialists, you're either a clay court specialist, a grass court specialist, or a hard court specialist...or you're Roger Federer."
Federer is an all-court, all-round player known for his style of play and shot making.[citation needed] Federer mainly plays from the baseline but is also comfortable at the net being one of the best volleyers in the game today. He has a very effective smash and very effectively performs rare elements in today's tennis, such as backhand smash, half-volley and jump smash (slam dunk).
David Foster Wallace described Federer's exceptional speed, fluidity and brute force of this forehand motion as "a great liquid whip," while John McEnroe has referred to Federer's forehand as "the greatest shot in our sport."
Federer is also known for his efficient movement around the court and excellent footwork. Because of his excellent footwork, Federer can run around shots directed to his backhand and instead hit a powerful inside-out or inside-in forehand, one of his best shots. Federer plays with a single-handed backhand which gives him great variety. He employs the slice, occasionally using it to lure the opponent to the net and pass him.
Federer can also fire topspin winners and possesses a 'flick' backhand where he can generate pace with his wrist; this is usually used to pass the opponent at the net.[84] His serve is difficult to read because he always uses a similar ball toss regardless of what type of serve he is going to hit and where he aims to hit it, and turns his back to his opponents during his motion.
He is often able to produce big serves on key points during a match. His first serve is typically around 200 km/h (125 mph), however, he is capable of serving at 220 km/h (137 mph).
Federer is accomplished at serve and volleying, and used this tactic especially frequently in his early career. His speciality is a half-volley from the baseline which enables him to play very near to the baseline and to pick up balls (even deeper ones) very early after their bounce, thus giving his opponents less time to react on his shot.
Late in his career Federer also added the drop shot to his game and utilizes a well-disguised one off of both wings. He sometimes uses a between-the-legs shot, which is colloquially referred to as a "tweener." His most notable use of the tweener was in the semifinals of the 2009 US Open against Novak Djokovic, bringing him match point.
Federer currently plays with a customised Wilson Six.One Tour BLX tennis racquet, which is characterised by its smaller hitting area of 90 square inches, heavy strung weight of 12.5 ounces (350 g), and thin beam of 17 millimeters.
His grip size is 4 3/8 inches (sometimes referred to as L3). Federer strings his racquets at 21.5kg mains/20kg crosses pre stretched 20%, utilizing Wilson Natural Gut 16 gauge for his main strings and Luxilon Big Banger ALU Power Rough 16L gauge (polyester) for his cross strings.
When asked about string tensions, Federer stated "this depends on how warm the days are and with what kind of balls I play and against who I play. So you can see – it depends on several factors and not just the surface; the feeling I have is most important."
Federer is one of the highest-earning athletes in the world. He has a contract with Nike footwear and apparel. For the 2006 championships at Wimbledon, Nike designed a jacket emblazoned with a crest of three tennis racquets, symbolising the three Wimbledon Championships he had previously won, and which was updated the next year with four racquets after he won the Championship in 2006. In Wimbledon 2008 and again in 2009, Nike continued this trend by making him a personalised cardigan.
He also has his own logo, an R and F joined together. Federer endorses Gillette,Jura, a Swiss-based coffee machine company, as well as Mercedes-Benz and NetJets.
Federer also endorses Rolex watches, although he was previously an ambassador for Maurice Lacroix.
Also in 2009 Federer became brand ambassador for Swiss chocolate makers Lindt.
In 2010 his endorsement by Mercedes-Benz China was extended into a global Mercedes-Benz partnership deal.
Federer is married to former Women's Tennis Association player Mirka Vavrinec. They met while both competing for Switzerland in the 2000 Sydney Olympics. Vavrinec retired from the tour in 2002 because of a foot injury and has since been working as Federer's public relations manager. They were married in Basel on 11 April 2009, surrounded by a small group of close friends and family at Wenkenhof Villa (municipality of Riehen). On 23 July 2009, Mirka gave birth to twin girls, Myla Rose and Charlene Riva.
He was named as a 2010 Young Global Leader by the World Economic Forum in recognition of his leadership, accomplishments and contributions to society.
When he's not on tour, Federer lives in Oberwil, Switzerland. Outside of tennis, he established the Roger Federer Foundation to support projects that help children learn worldwide and that promote sports in his native Switzerland.
In response to the 2010 Haiti earthquake, Federer arranged a collaboration with fellow top tennis players Rafael Nadal, Novak Djokovic, Andy Roddick, Kim Clijsters, Serena Williams, Lleyton Hewitt and Sam Stosur to forgo their final day of preparation for the 2010 Australian Open to form a special charity event called Hit for Haiti, in which all proceeds will go to the Haiti earthquake victims.
Similar to the 2010 event, Hit for Haiti, Federer organized and participated in a charity match called Rally for Relief on 16 January 2011, to benefit those that were affected in the 2010-2011 Queensland floods. Federer is currently number 25 on Forbes top 100 celebrities.
Read more
Latest headlines