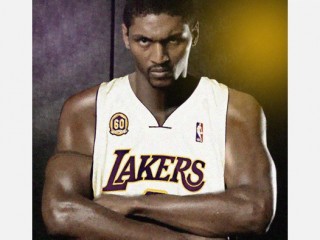 Ron Artest biography
Date of birth : 1979-11-13
Date of death : -
Birthplace : Queens, New York, USA
Nationality : American
Category : Sports
Last modified : 2010-08-04
Credited as : Basketball player NBA, currently plays with the Los Angeles Lakers, won the NBA Defensive Player of the Year Award in 2004
Ron Artest
is one of the nicest guys you'd ever want to meet. You just wouldn't want to meet him on a basketball court. He plays hard, he plays rough and he plays every minute of every game like it might be his last. Ron may be the best defensive swingman in league history. After years of banishment and obscurity, Ron reemerged with the Los Angeles Lakers and earned himself new respect, along with a championship ring.
GROWING UP
Ronald William Artest, Jr.
was born on November 13, 1979 in Queens, New York. He was the oldest of six children brought into the world by Sarah and Ron Artest, Sr. Ron's dad was a former Golden Gloves boxer, a navy veteran, and a jack of all trades. His 6-2, 250-pound frame enabled him to find work lifting, hauling and delivering for various companies in the city. Senior had a hair-trigger temper and saw it in his youngest son. He pushed him into boxing, hoping that it would help to channel the boy's anger.
The Artest family lived in the Queensbridge Houses, a complex of six-story buildings north of the 59th Street Bridge. New York City's oldest public housing complex, it was home to some gang and drug activity, but the "QB" was safer than most city projects. You could raise a family there, and with an education and a little luck, you could move up and out.
The Artests crammed as many as 10 people into their two-bedroom apartment—two adults, six kids, plus two nephews. There simply wasn't enough of anything to go around. Arguments were constant, and eventually Ron's parents' marriage came apart at the seams. Ron Sr. started hitting his wife, and things deteriorated quickly from there. He moved out, but only a few doors away. That was enough to set Ron off. His anger management problems began to manifest themselves after his eighth birthday, when he first visited a therapist's office. The therapist's suggestion? Basketball.
From that moment on—at least outside the apartment—Ron's world revolved around the two things for which the QB is famous: rap music and hoops. Ron had skills in both areas, plus an unwillingness to shrink in the face of a challenge. On the basketball court, he would not back down on offense, defense, or even in an argument over rules or fouls. Rare was the day when he didn't take a swing at an opponent, or at least threaten the person guarding him.
Ron's obsession with basketball became all-consuming when his parents split up for good. The 13-year-old would prowl the courts late into the night, looking for a game—any game—to sharpen his skills and take his mind of his home situation.
Ron played AAU with the Riverside Church for three seasons. As the level of competition—and the skill of his teammates—improved, Ron's passion for the game burned ever brighter. He took the court with a fire that could not be extinguished, and in the heat of battle he did not always make the distinction between friend and foe. The most famous incident occurred at a tournament in Phoenix, when he and teammate Elton Brand began jawing at each other during pre-game layups. The dispute turned into a fight before an astonished crowd.
One of the people in the stands for this tussle was St. John's coach Fran Fraschilla. He decided then and there that he wanted Ron on his team.
Ron's high school career was as storied as his AAU play. From his freshman season through his senior year, he was a force of nature for Bill Aberer at Manhattan's LaSalle Academy. Nicknamed the "True Warrior," Ron enjoyed a fabulous senior season at LaSalle. A McDonald's All-America selection, he led his team to a 27-0 record and was New York City's Co-Player of the Year.
After considering offers from a number of schools around the country, Ron decided to stay local. In the spring of 1997, he accepted a scholarship from St. John's, just seven subway stops away.
ON THE RISE
The Red Storm had decent talent—inccluding Zendon Hamilton and Felipe Lopez—but lacked the spirit to contend on the national stage. That is, until Ron began swinging his elbows and driving his older teammates as hard as he drove himself. His intensity scared the Storm players as much as it did their opponents. Fraschilla toyed with his freshman, building him up, breaking him down, keeping his adrenaline pumping and ensuring his other players remained on their toes. Ron finished his freshman year averaging 11.6 points and 6.3 rebounds per game. He was named to the Big East's All-Rookie and All-Tournament teams. The Red Storm went 22-10 and advanced to the NCAA Tournament for the first time since 1993.
The tempestuous Fraschilla was canned that spring, and mild-mannered Mike Jarvis replaced him. Jarvis called Ron in for an informal get-to-know-you meeting and was blown away by his sophomore star. Ron asked Jarvis if he believed St. John's had what it would take to reach the Final Four. The new coach fumbled for an answer, but Ron had already made up his mind.
In 1998-99, Ron averaged just under 15 points, along with six rebounds and four assists a game. With contributions from Bootsy Thornton, Lavor Postell and Erick Barkley, St. John's advanced to the March Madness Regional Finals for the first time in eight years. At season's end, Ron was voted First-Team All-Big East and was also a finalist for the Wooden Award as the top college player.
That spring, Ron called a press conference at the Queensbridge Community center to announce that he would be leaving St. John's for the pros. In a long, rambling speech he thanked almost everyone he had ever known—most of whom were in the audience.
The 1999 draft saw Brand, Ron's old AAU teammate, go #1 to the Chicago Bulls. Fellow Big East stars Lamar Odom and Rip Hamilton also went early. The Knicks—Ron's dream team—picked 15th, and he was still on the board. New York, howewver, opted for French big man Frederic Weis in one of the team's more notable draft-day blunders. The Bulls then snatched up Ron with their second first-round pick at #16. He was so happy to be selected that tears rolled down his cheeks as he walked to the podium to meet David Stern. The two would meet again. Many times.
The 1999-00 season was a rebuilding year for the Bulls, who had gone from NBA champs two yars earlier to 13 wins the following season. Indeed, the retirement of Michael Jordan and the departure of Scottie Pippen had exacted their toll. Ron's rookie campaign produced a meager 17 victories. He and Brand became the team's go-to guys after Toni Kukoc was dealt to the Philadelphia 76ers. Ron tied for the team lead with 202 assists, was in the NBA's top 20 in steals, and finished second on Chicago in minutes played and points scored. He was an easy choice for the NBA's All-Rookie Second Team.
Ron also proved himself to be a capable defender, but his over-aggressive style and the occasional wild drive to the basket caused coach Tim Floyd to yank him at times. Add to this the mounting frustration of loss after humiliating loss, and Ron's short fuse got the better of him on several occasions.
The Bulls were a last-place team again in 2000-01, despite a number of new players, including Ron Mercer, Brad Miller and Jamal Crawford. Ron led Chicago in games played and steals and was third in scoring and assists. He was at his best on defense. In fact, more often than not, Ron was assigned to the other team's top scorer.
Chicago fans did not have much to cheer about during a third straight year in which the team failed to win 20 games, but Ron was becoming a favorite. He viewed every minute of action as if the game hung in the balance and occasionally inspired his teammates to do the same.
Prior to the 2001-02 season, Jordan decided he would make a comeback. Over the summer, Ron was one of the Bulls with whom he held secret workouts. In their first one-on-one, Ron gave his Airness an elbow that cracked two ribs.
The Bulls struggled during the regular season and would finish with the worst record in the Eastern Conference yet again. Ron missed the first 23 games with a broken finger. Unhappy upon his return, he continued to play with one eye on coach Floyd, who didn't hesitate to yank him for the smallest infraction. Things looked up when Bill Cartwright became the head coach after Christmas. The former Bull told Ron to go out and do his thing—and he did, scoring between 15 and 20 a game, jacking up treys, tearing down rebounds and racking up multi-steal games.
Ron was doing well enough to attract the attention of the Indiana Pacers, who needed a swingman who could bring a little defensive intensity to the club. GM Donnie Walsh had always admired Ron's game—he played hard and he played for keeps. When the Pacers offered the Bulls hometown hero Jalen Rose, the deal was done. Mercer, Miller and Kevin Ollie also became Pacers, while Rose, Travis Best and Norm Richardson joined the Bulls. Ron suddenly found himself playing for Isiah Thomas and a team that was fighting for a berth in the playoffs. It was heaven.
Indiana was led by young power forward Jermaine O'Neal and old gunslinger Reggie Miller. Point guard Jamal Tinsley ran the offense. The new Pacers took a while to blend in, but Ron became one of Thomas's favorites. In a March game against the Miami Heat, he nearly pulled off the NBA's fifth quadruple-double, registering 24 points, nine rebounds, nine assists and eight steals.
Indiana finished the year at 42-40 and took on the New Jersey Nets in the first round of the playoffs. In Game 1, his first postseason appearance, Ron was the hero. Late in the final quarter of a close contest, he stole the ball three times in a span of 90 seconds to give the Pacers a lead they held until the final buzzer. Ron was a thorn in the Nets' side throughout the series, which went the full five games. New Jersey won the decider in double-overtime.
During the summer, Ron underwent an operation to correct a heart murmur and seal a hole between his aorta and pulmonary artery. The next day, against doctor's orders, he suited up and tried to play hoops at the Pacers' practice facility. When his heart started pounding furiously, he realized it was probably stupid to be throwing up 20-footers, so he went home … and then came back the next day.
Ron's first full year with the Pacers started wonderfully when the team inked him to a $42 million long-term deal. Although he still felt like an outsider at times, his teammates loved the ways he contributed. Ron was good for 15 points a night and led the club in steals. The Pacers sprinted out to a big lead in the East, winning 34 games before the All-Star break.
Ron was a whirlwind on defense, ultimately finishing second to Ben Wallace for Defensive Player of the Year. He might have won the award were it not for the 12 games he missed due to various suspensions, including the destruction of a TV in a game at Madison Square Garden. He was whistled for 14 technicals during the year and fined more than $150,000.
The Pacers struggled down the stretch, winning just 14 games after their great first-half start. In the playoffs, they lost twice at home in their first-round series with the Celtics. Boston went to win in six games. Ron performed well, averaging 19 a game and d-ing up Paul Pierce, but the Pacers went home after a first-round loss for the third year in a row.
That June, Ron married his longtime girlfriend Kimsha.
MAKING HIS MARK
The Pacers had some hard choices to make over the summer. Miller was getting old, and the team needed to start developing some young leadership. They turned to Ron and O'Neal as their main guys. J-O got big money in a nine-figure deal, and his first act was to reach out to Ron. Anything O'Neal and his pals were doing, Ron was invited. He didn't always go, but he clearly appreciated being included.
The friendship off the court produced great results on it. Ron and O'Neal finally clicked in 2003-04, forming the NBA's most formidable forward team. They combined for nearly 40 points a game and gave opponents horrible match-up problems. Rick Carlisle, who replaced Thomas as coach, installed a smothering defense that usually assigned Ron to an opponent's most troublesome player. Ron was terrific regardless of who he was checking. If an opponent scored more than two buckets a quarter, it was a headline-making event.
The Pacers went on to post the NBA's best record at 61-21. Ron was the team's leading scorer against the Celtics and Heat in their opening-round playoff triumphs. But he struggled in the series loss to the Detroit Pistons in the Eastern Conference Finals. Although his scoring and rebounding numbers were good, and his defense was sound as always, Ron pressed on offense and cost the team on several precious possessions.
Despite the postseason disappointment—and missing two weeks after thumb surgery in February—it was quite a year personally for Ron. He was named Defensive Player of the Year and garnered the most votes for the NBA's All-Defensive team. He was also named All-NBA Third Team and played in his first All-Star Game. In Indiana's victories, the players Ron guarded—a great many of whom were All-Stars themselves—averaged just 8.6 points a game.
Heading into the 2004-05 campaign, Ron was being hailed by many as one of the NBA's Top 10 players. He had rounded out his game and appeared to have gotten a handle on his emotions, thanks to some anger management counseling. In his first seven games, he was amazing. Averaging just under 25 points per game and shooting 92 percent from the line, Ron was nailing three-pointers, picking off passes and hauling down rebounds.
On November 19, in a game against in Detroit, Ron fouled Ben Wallace in the closing moments of game that the Pacers had already won. A frustrated Wallace shoved Ron hard with both hands. A number of Pacers and Pistons squared off, but Ron walked away from the fracas and lay down on the scorer's table, waiting for order to be restored. A fan threw a cup full of ice and liquid, which hit Ron in the face. He snapped to attention, spotted who he believed to be the assailant, and went into the stands after him.
All hell broke loose at that point, with O'Neal and Stephen Jackson following Ron into the stands. Later, on the court, a burly Detroit fan challenged Ron, who dropped him with one punch. The Pacers were herded into the locker room. On the way there, they were pelted with everything from ice cubes to a folding chair. Ron did not help matters during a post-fight interview with an Indianapolis radio station when he seemed more intent on plugging a rap album he had produced than explaining his actions.
Commissioner Stern watched the tape of the near-riot and announced harsh punishment for the players involved. Ron got the worst of it, drawing a suspension for the remainder of the season and playoffs. His absence from the lineup—along with suspensions and injuries that hit others on the team—spelled the end for the Pacers.
Ron stayed in shape during his year away from basketball by working out every day with his brother Daniel. He also enjoyed spending quality time with his wife and children.
When the 2005-06 season began, Ron was wearing a new number. Gone was #91, which he had adopted in tribute to fellow wild child Dennis Rodman. It was replaced by #15, which he had worn in high school and college. A few weeks into the campaign, Ron was back in the doghouse, this time after requesting a trade. The Pacers placed him on the inactive list. A few weeks later, after the new year, he was dealt to the Sacramento Kings for Peja Stojakovic.
Ron's defensive intensity set the tone for coach Rick Adelman. The Kings snagged the final playoff spot in the West, and Ron finished the year averaging five rebounds, four assists and nearly 17 points a game for Sacramento. In the playoffs, he tried to shake things up against the San Antonio Spurs. But when Ron elbowed Manu Ginobili in the head, he was suspended for a game. The Kings lost their series to the Spurs several nights later.
Ron played two more seasons for the Kings. Although he performed well, the team went into the dumper, suffering its first losing seasons in more than five years and missing the playoffs both times. Ron continued to involve himself with the community during his years in Sacramento, but his good work was undone by a couple of incidents. The first involved animal neglect. The second was and an arrest for domestic abuse. This resulted in a suspension from the NBA and hastened his departure from the Kings.
Before training camp in 2008, Ron was dealt to the Houston Rockets for Bobby Jackson. The trade reunited him with Adelman, a coach he loved. In fact, Ron had once offered to donate his salary to Adelman if the Kings kept him in Sacramento.
Ron said all the right things upon his arrival in Houston. He told the press that plugging into the Rockets was a once-in-a-lifetime opportunity. Houston fans seemed to sense the same thing. On opening night, he got the biggest ovation of any player.
Ron provided muscle for Yao Ming and Tracy McGrady and teamed with Shane Battier to give the Rockets a pair of defensive aces. With Rafer Alston, Aaron Brooks and Luis Scola rounding out the seven-man rotation, Houston won 57 games and hit the playoffs running. Ron, whose 17.1 ppg average ranked second on the Rockets, played well in a first-round win over Portland. He had nine assists in one victory and a team-best 27 points in the Game 6 finale against the Blazers.
Against the Lakers in the second round, Ron helped turn what was supposed to be an LA walk-over into a death struggle. He had 21 points and seven assists as Houston won the opener on the road. He scored 25 in each of the next two games—and was ejected from both—as LA won each contest. In Game 4, Ron couldn't buy a bucket, but he made important contributions with 10 rebounds and six assists as the Rockets evened the series. Despite losing his shooting touch the rest of the way, Ron provided rugged defense in the final three games. The Lakers ultimately prevailed in seven—and went on to win the NBA title.
As the Lakers reloaded for 2009-10, they put Ron atop their free agent wish list. The two sides came to terms on a five-year, $33 million deal. Ron joined a starting five that included Pau Gasol, Andrew Bynum, Derek Fisher and Kobe Bryant. No one was happier to have Ron on his side than Bryant—Ron had shown in the playoffs the previous spring that he was one of the few defenders in the league strong enough and quick enough to guard Kobe.
In his first season in LA, Ron was good for between 10 and 20 points most nights, while padding his stat sheet with a handful of assists, steals and rebounds. He led the club with 105 buckets from beyond the arc.
The Lakers won their division and went into the playoffs favored to repeat as NBA champs. Ron was solid but unspectacular in a tricky first-round series against the Oklahoma City Thunder. During a second-round sweep of the Utah Jazz, he lit it up from 3-point range in Game 3. He also rained down treys against Phoenix in the Conference Finals, hitting three in a Game 2 win and four in the Game 6 finale. The Suns took a calculated risk, daring Ron to heave it up. He obliged, sending the Lakers into the NBA Finals against the Boston Celtics. It was Ron's first trip to basketball's promised land.
Ron continued his hot long-distance shooting in Game 1 against Boston, hitting three of five attempts for 15 points in a 102–89 victory. Three nights later, he couldn't have been colder, missing nine of 10 attempts from the field. The Celtics evened the series. Ron was a non-factor in LA's Game 3 win, and he wasn't much better in the next two contests, both losses by the Lakers. With their backs against the wall, Ron and his teammates responded in Game 6 by thrashing Boston with a stifling defensive performance. Ron made six of 10 shots for 15 points in an 89–67 victory.
Game 7 was tailor-made for Ron. A defensive struggle from start to finish, it called for confident play and clutch shot-making. Ron excelled in both areas. As the Lakers fought back to erase a 13-point second-half deficit, Ron was on the court creating all kinds of havoc. On one key possession, he literally ripped the ball from the hands of Glen Davis. Late in the game, with Lakers clinging to a slim lead, Ron nailed a long three-pointer and blew kisses to the adoring crowd on the way back down the court. The shot gave him 20 points for the night.
When the final buzzer sounded on LA's 83–79 win, Ron could not contain his joy. In an emotional interview, he thanked everyone from the guys in the 'hood to his psychiatrist. Phil Jackson later called Ron the most valuable player in the game—"He brought life to our team, he brought life to the crowd," Jackson said.
Although Ron's reputation as an angry young man is undiminished, he has been a solid citizen of late. Not that he's a pussycat. On the contrary, few players have ever exhibited the same combination of pure fire and talent. Perhaps that's what makes him such a good fellow flier for Bryant. As different as they may first appear, when the game is on the line they are birds of a feather.
RON THE PLAYER
For all of his faults, Ron may be one of the NBA's most complete players. He can score 20 points a night and approach double-digit assists. At the same time, he can keep his man to much less than that. He is a terrific on-the-ball defender and a disruptive force roaming the perimeter.
Ron's mind and body are always working on defense. Beyond the steals he invariably gets, there are tipped balls, aborted fast breaks, and other plays that make opponents work harder for their points.
Unlike other defensive specialists, Ron does not use his own team's possessions to recharge his batteries. To the contrary, he has a nose for the basket, as well as a repertoire of twisting, spinning post-up moves that make him look like a miniature Hakeem Olajuwon.
Of course, Ron's greatest challenge is keeping his emotions in check. He can be a team leader, but he can also be a self-centered malcontent. As the 2009-10 season proved, put him in the right situation and the results can be sensational.
EXTRA
* Ron once played on the same youth league team as Chamique Holdsclaw.
* Ron's AAU team once went 64-1. His teammates included Elton Brand and Lamar Odom.
* Ron's 58 three-pointers for St. John's in 1998-99 was the second-higest total in school history. Ron's triple-double against Seton Hall that year was just the second ever for a St. John's player.
* As a college sophomore, Ron was named a third team All-America by The Associated Press, the National Association of Basketball Coaches and Basketball Times.
* The Red Storm went 50-19 during Ron's two seasons at St. John's..
* After Ron signed with the Bulls, he went through the training program at a local Circuit City. He wanted to become an employee so he could get the employee discount.
* Ron's 271 steals in his first two NBA seasons broke the Bulls team record held by Michael Jordan.
* When Jordan scored his 30,000th point against Chicago in 2002, Ron got so angry he nearly punched a hole in the scorer's table.
* During the 2009 playoff series against the Lakers, Ron sported a Mohawk with HOUSTON shaved into one side of his head and ROCKETS on the other.
* Ron was second on the Lakers in steals to Kobe Bryant in 2009–10.
* Ron's put-back of a Bryant shot gave the Lakers a buzzer-beating victory over the Phoenix Suns in the 2010 Western Conference Finals.
* Ron chose #37 with the Lakers in honor of Michael Jackson, whose album "Thriller" topped the charts for 37 weeks.
* In 2010, Ron began development of a reality TV series called "They Call Me Crazy."
* In a 2009 interview, Ron revealed that he drank at halftime during his years with the Chicago Bulls.
* Ron is a hero in his old Queensbridge neighborhood. He comes back each summer and hosts a tournament without fanfare or security.
* Ron switched to number 93 with the Kings because it looked like QB—a tribute to the Queensbridge projects where he grew up.
* Ron is a regular visitor to a hospital for the diabled on Roosevelt Island. he has been visiting the facility since he was a teenager.
* Ron's favorite food is beans. He craves the protein and carbohydrates they supply, and eats them whenever he can. His wife, Kimsha, works them into as many meals as possible.
* When Ron was 15, his baby sister Quanisha died of Sudden Infant Death Syndrome. She was buried with one of Ron's prized basketball trophies.
* One of Ron's favorite players to guard is 6-10 Dirk Nowitzki, because he can score from anywhere on the court.
* Ron is a huge fan of the WNBA. His favorite player is Tamika Catchings.
* Ron was a math major at St. John's.
* Ron is a passionate checkers player. He claims to be unbeatable at the game.
* Ron has a rap label called Tru Warier.
Read more
Latest headlines