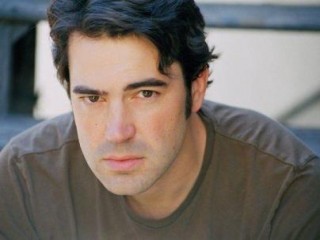 Ron Livingston biography
Date of birth : 1967-06-05
Date of death : -
Birthplace : Cedar Rapids, Iowa, U.S.
Nationality : American
Category : Arts and Entertainment
Last modified : 2011-09-09
Credited as : actor, Office Space,
Ronald Joseph "Ron" Livingston
is an American film and television actor. His roles include a disaffected corporate employee (Peter Gibbons) in the film Office Space, a sardonic writer (Jack Berger) in a short-term relationship with Carrie Bradshaw in the TV show Sex and the City, and Captain Lewis Nixon in the miniseries Band of Brothers. In 2006, he starred as FBI negotiator Matt Flannery in the Fox series Standoff, co-starring Rosemarie DeWitt, and he was an ad spokesman for Sprint Nextel. In 2009 he portrayed flight engineer Maddux Donner in the series Defying Gravity, which was cancelled after a single season.
Even after his first starring role in a feature film, actor Ron Livingston remained largely unknown outside of the cult following that accrued for his 1999 movie Office Space . As a disgruntled corporate cog who stops caring about his job and finds himself promoted up the ladder thanks to his indolence, Livingston immortalized the workplace slacker for a generation of comedy fans. It was only a few years later, however, that Livingston began to be widely recognized, this time thanks to his appearance on the hit HBO series Sex and the City . In 2006, he took on a starring role on the new FOX series Standoff as an appealingly handsome hostage-crisis expert.
Livingston's laconic charm is a product of a thoroughly Midwestern upbringing. Born in 1968, he grew up as one of four children in Cedar Rapids, Iowa. His father was an aerospace engineer and his mother was a minister in the Lutheran church. In interviews, he has said that his was a blithe, trauma-free adolescence, with a newspaper-delivery route in his teens and a first job at a Ground Round restaurant at the age of 15. "I walked around in a clown suit and juggled and waved at people," he recalled in a talk with Jennifer Wilson for InStyle magazine. "They fired me when they learned I was underage."
Livingston was already performing in school plays by then, and realized by his senior year at Marion High School that he wanted to pursue acting as a career. At Yale University, he majored in theater studies and English literature, and two of his fellow classmates involved in the undergraduate drama scene would also achieve fame in the entertainment industry, Edward Norton ( Fight Club ) and Paul Giamatti ( Sideways ). Before his senior year, Livingston spent the summer of 1988 working at the Williamstown Theatre Festival in Massachusetts, where he met Cheers star George Wendt. It proved a fortuitous encounter, as Livingston told Back Stage West writer Cassie Carpenter. "George is a great believer in the Jesuit principle of passing on good fortune. There were about three or four of us there that he sort of took under his wing. Later on, when I was broke here in L.A., I went to work for him for half a year as kind of a personal assistant which I don't think he really needed, but I think it was his way of helping out."
After earning his degree from Yale in 1989, Livingston moved to Chicago, where he appeared in productions at the Goodman Theatre, one of the city's top drama ensembles. He also befriended another struggling actor, New York City native Jon Favreau, who was living in the Windy City then and doing improvisational comedy. Livingston's big break came in a 1992 Dolly Parton movie called Straight Talk , which was filmed in Chicago. He landed a small part as a soldier who dances with the star and delivered two lines of dialogue, which failed to make it into the final cut.
Livingston's next role came two years later in Some Folks Call It a Sling Blade , a 1994 project that was the precursor to the 1996 Billy Bob Thornton film Sling Blade , the sleeper hit of 1996. The earlier work was directed by George Hickenlooper, whom Livingston had known at Yale. Hickenlooper also put Livingston in his next project, The Low Life , which co-starred him with Kyra Sedgwick and Sean Astin as part of a group of struggling young hopefuls in Los Angeles. The storyline was not unfamiliar to Livingston, who had indeed headed to Hollywood at that point, but then spent much of the decade looking for steady work. "There were times when I thought I would give this just another three months and then I'd head back to Iowa," he told John Millar, a writer for the Glasgow Daily Record .
That same theme played out in Livingston's next project as well, but in comic scenes so deft that the film became an instant classic upon its 1996 release. Swingers , written by Favreau, starred Livingston, Favreau, Vince Vaughn, and Patrick Van Horn as a quartet of friends struggling to break into show business and waxing nostalgic about the Hollywood glamour of a bygone era that seems to have been replaced with a cutthroat competitiveness. Livingston was as surprised as anyone when Swingers earned a slew of critical accolades and toted up impressive box-office numbers. "There are a million ways to screw up a movie, and only a couple of ways to get it right," he said in an interview with Bob Ivry for the Bergen County, New Jersey, Record of the Doug Liman-directed project. "Everyone was playing three or four leagues over their heads on that one. The crew was stretched thin. But everyone involved hit a home run."
The success of Swingers brought Livingston an offer to do a sitcom for ABC, Townies , which also starred Molly Ringwald and a pre- Will & Grace Eric McCormack, but the show was canceled midway through the 1996-97 season. Livingston subsisted by taking small parts in forgotten films, such as the country-music-scene mockumentary Dill Scallion . He landed the lead in a highly anticipated movie project the first live-action film from Mike Judge, the creative force behind Beavis and Butt-Head when studio executives finally gave up trying to convince Judge to cast Ben Affleck or a similarly well-known name in the role.
Livingston's laid-back demeanor was a perfect fit for the lead in Office Space , released early in 1999. He played Peter Gibbons, who toils at a high-tech company in some anonymous part of the American suburban landscape. Unhappy in his job and with his life in general, Livingston's Peter agrees to visit a hypnotherapist at the behest of his girlfriend (played by Alexandra Wentworth, later the wife of political correspondent George Stephanopoulos). Under hypnosis, Peter is told he is now free from worry, but then the therapist dies of a heart attack, and he remains in a trance. His shows up at work with the new attitude, evincing zero interest in his job, and finds himself promoted because of it. A romance with a waitress at a local restaurant (Jennifer Aniston), comic encounters with his unctuous boss, and a scheme to embezzle company funds with his two recently fired best friends, rounded out the rest of the Office Space plot.
Most reviewers were puzzled by Judge's first feature-length foray, and few gave it high marks. Salon critic Andrew O'Hehir did note, however, that though the "plot may be a standard-issue office drone's revenge fantasy," Judge and his cast displayed a talent for capturing "the monotonous, petty absurdities of life under capitalism: Within five minutes of Peter's arrival at the sprawling suburban offices of Initech, the woman two cubicles away has chirped, 'Corporate accounts payable, Nina speaking' at least a dozen times." At the box office, Office Space barely broke even, but began to enjoy a new life on cable's Comedy Channel, and the reruns boosted rental and sales numbers. Six years after its release, the movie had sold 2.6 million copies, and made a cult hero out of Livingston.
Over the next two years, Livingston struggled along in quickly forgotten duds. He appeared in Body Shots and A Rumor of Angels , and had a small role as the poet Allen Ginsberg in Beat , a 2000 movie that starred Courtney Love as the first wife of writer William S. Burroughs, whom he infamously killed in a 1951 barroom stunt. When Livingston auditioned for Band of Brothers , the HBO miniseries produced by Tom Hanks and Steven Spielberg, he had little expectation of actually getting the role, but was hired as Captain Lewis Nixon in the acclaimed World War II drama. His portrayal of the alcoholic officer was nominated for a Golden Globe award, and he later joked that enduring the tough, muddy European location shoot was rewarded by HBO executives when they cast him in what would truly be his breakout role.
Beginning in August of 2002, Livingston appeared in eight episodes of HBO's exceptionally successful Sex and the City as Jack Berger, a novelist who seems a promising new romantic interest for Sarah Jessica Parker's iconic Carrie Bradshaw. On the show, Parker's character commonly referred to him as simply "Berger," and fans of the show picked up the habit as well; once, Livingston was in a courtside seat at a Los Angeles Lakers game when Kobe Bryant looked over and yelled "Berger!" Livingston's run on the series ended when he broke up with Parker's Carrie rather infamously via a Post-it note left on her desk in the morning.
Leading-man status continued to elude Livingston, however. In 2003, he appeared in a well-received, but little-seen Las Vegas story, The Cooler , alongside William H. Macy and Alec Baldwin, and a year later he played the owner of a misplaced personal phone book in the critically reviled Brittany Murphy comedy Little Black Book . In 2005, he was cast as the maligned English teacher at a private school in Beverly Hills in Pretty Persuasion . The plot of the dark satire featured his character as the target of a sexual-harassment charge led by vixenish student Kimberly (Evan Rachel Wood of Thirteen fame). "Technically, Percy may be innocent, but in his heart he's not," wrote Stephen Holden in his New York Times critique. "Although the movie makes it clear that he would never molest a student, his fantasies are another matter. In one of the funniest scenes, he buys his wife, Grace (Selma Blair), a short gray skirt for her birthday that is identical to the girls' school uniforms," and persuades her to read one of Kimberly's essays.
Livingston returned to television in a new FOX drama, Standoff , which made its debut in September of 2006. He took one of the leads as Matt Flannery, a hostage-situation expert with the Federal Bureau of Investigation. In the pilot episode, Flannery's taboo romance with colleague Emily, played by Rosemarie DeWitt ( Cinderella Man ), is exposed, which portends bad news either for their relationship or their professional integrity. Most critical assessments of the series did not bode well for its longevity, but Entertainment Weekly 's Gillian Flynn did note that "the affable Livingston … was due for a good romantic role" and seemed to have found it in Standoff . Flynn asserted that most forced on-screen chemistry proves dreadful to watch, but here the pair are "a lovely rarity. They just click: It's crisp and unadorned."
Livingston was slated to appear in Holly , a 2006 feature film set in Cambodia that also starred actor Chris Penn, brother of Sean, in his last role before his unexpected death in January of that year. Livingston played Patrick, an American drifter and card shark in Phnom Penh who helps the eponymous young Vietnamese girl escape from the sex trade. In a review posted on the Variety website, reviewer Eddie Cockrell asserted that "between Holly's instinctual contrariness and Patrick's blatant violation of the unwritten rules of organized vice, the deck's stacked against them. As a rudderless cad transformed by a righteous indignation he didn't know he possessed, Livingston's increasingly anguished [performance] reps the pic's heart and soul."
Livingston lives in the Los Feliz neighborhood of Los Angeles, and is engaged to Lisa Sheridan, who appeared in the ABC series Invasion . He remains somewhat bemused by the enduring popularity of Office Space , telling Entertainment Weekly 's Dan Snierson that "I've had a lot of people tell me that the movie was their inspiration to quit their job, which is a lot of responsibility.
Read more
Latest headlines