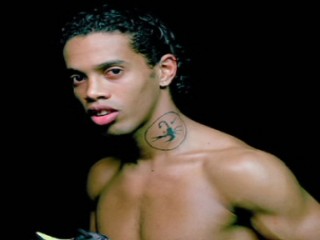 Ronaldinho biography
Date of birth : 1980-03-21
Date of death : -
Birthplace : Porto Alegre, Brazil
Nationality : Brazilian
Category : Sports
Last modified : 2011-09-09
Credited as : football player, Footballer of the Year, FIFA World Player of the Year
Ronaldo de Assis Moreira
commonly known as
Ronaldinho
is a Brazilian footballer who plays for Flamengo and the Brazilian national team as an attacking midfielder or forward. He is a two-time winner of the FIFA World Player of the Year, awarded to the best player over the year. He won the award in both 2004 and 2005.
Soccer fans around the world consider Brazil's Ronaldinho one of the sport's greatest contemporary players. A midfielder who joined the Spanish team FC Barcelona in 2003 just as he emerged at the peak of his game, Ronaldinho is often mentioned in same sentence as Pelé, the legendary Brazilian star of the 1970s. Rivals of Ronaldinho's for the title of the world's top soccer athlete are British born David Beckham and France's Zinedine Zidane, but in 2006 the young Brazilian bypassed them both to become the most marketable player in the sport, with annual earnings from his salary and endorsement contracts totaling $57 million. Beloved by fans and teammates alike for his easygoing, ego-free demeanor, Ronaldinho is fond of quoting his father, who died when he was eight. To Sports Illustrated 's Grant Wahl, he repeated words of advice told to him by his parent: "Do the right thing and be an honest, straight-up guy. And on the field: Play soccer as simply as possible. He always said one of the most complicated things you can do is to play it simple."
A one-name wonder and is known by the Portuguese-language diminutive of his given name, meaning "Little Ronald" to distinguish him from Ronaldo, a slightly older Brazilian soccer star. He is also sometimes called Ronaldinho Gaúcho, referring to the state of Rio Grande do Sul, where he was born on March 21, 1980, in its capital city, Porta Alegre. The youngest of three children in his family, he was immersed in soccer at an early age: His brother, Rob- erto, joined a professional league when Ronaldinho was still quite young, and their father, João, played for Cruzeiro E.C., one of oldest clubs in Brazil. João also worked as a welder in a Porta Alegre shipyard, while Ronaldinho's mother, Miguelina, was a door-to-door cosmetics saleswoman before returning to school to become a nurse.
Ronaldinho played street soccer at an early age, and loved to dribble the ball for as long as possible because, he explained to Justin Webster, a writer for London's Observer newspaper, "If you're playing for five hours you don't want to score goals all the time." Kicking the ball around with his father, however, was a different game, for João "forced me to play with only two touches of the ball each time," he told Webster. "This took all the fun out of it for me and, at that age, made me very angry. I cried. I didn't understand. But now I understand what he wanted."
In January of 1989, Ronaldinho lost his first coach. The family had recently moved to a new house with a swimming pool, a bonus for Roberto for extending his contract with Grêmio, one of Porta Alegre's two professional teams. The elder son returned from training for a family gathering to celebrate both his eighteenth birthday and his parents' anniversary, but came home to find his father had suffered a fatal heart attack while swimming. Ronaldinho was just eight years old, and has often credited his brother for stepping in to serve as a father-figure for him after their loss. Roberto's own athletic career would be cut short by injury.
At age 13, Ronaldinho became a local legend for scoring 23 goals in a single game, one that ended with a 23-0 tally. Four years later, he attracted international attention for two goals he scored in the 1997 Under-17 World Championships of FIFA, the Fédération Internationale de Football Association and international soccer's governing body, as a member of Brazil's championship junior team. In 1999, he followed his brother into Grêmio. Later that year he made his first appearance with the Brazilian national team in the Copa América, the contest that pits the national teams of ten South American countries against one another. He scored one of the seven goals in the final against Venezuela.
Europe's top soccer clubs often recruit South American players, offering them immense salaries. The house with the swimming pool, in fact, was Grêmio's bonus to Roberto to stay with the team instead of signing with Torino, an Italian team. Ronaldinho was also wooed by several leading clubs, including Arsenal F.C., a London team. He followed his brother's suggestion to sign first with a lesser club in order to take some of the stress out of a transition to the European game and joined Paris Saint-Germain F.C. in April of 2001. He spent three seasons with the French club, and continued to appear with the Brazilian national team in international tournament play. During the 2002 World Cup, he was part of a formidable trio known as the "Three Rs" Ronaldinho, Ronaldo, and Rivaldo who helped Brazil win the title that year, and his 30-yard kick that landed in the net during the quarterfinal against England was one of the event's highlights. Brazil beat Germany for the title that year, 2-0, but both of those goals were scored by one of the other Rs, Ronaldo.
In 2003, Ronaldinho announced he was ready to leave Paris Saint-Germain, and a heated bidding war for his professional commitment ensued. He was courted by two of the best teams in Europe, F.C. Barcelona and Manchester United, and signed with the Spanish team on July 19, 2003. His arrival in the soccer-mad city was a major event, with 25,000 fans turning out to welcome him. More commonly known as "Barça," FC Barcelona was the largest football club in the world, with some 100,000 devoted member-ownersknown as socis at the time. FC Barcelona's performance in recent years, however, had been lackluster, and the team had not won a major title since 1999, when they won the national title. So intense were its fans that when a top player joined archrivals Real Madrid in 2000, a pig's head was thrown at him from the crowd when he reappeared on the Barça home pitch.
Ronaldinho's five-year contract with Barça was worth $25 million, and it was hoped that he would become a major media star for them. Previous to signing him, the team had attempted to lure Britain's David Beckham over from Manchester United, but Beckham stepped out of negotiations and instead signed with Real Madrid. Ronaldinho did not disappoint during his first season with the team, helping it to a second-place finish in La Liga, as the Spanish league is known; later that year he topped an annual FIFA poll of the sport's coaches and team captains, who voted him FIFA World Player of the year for 2004. During the 2004-05 season, Barça won the national championship for the first time in six years, and Ronaldinho became a hero in the city as well as one of Spain's biggest celebrities.
The individual national victors from across Europe then go on to compete in the Union of European Football Associations (UEFA) Champions League, sometimes known as the European Cup. In Ronaldinho's first appearance in the hotly contested battle for the European title, his team lost to Chelsea of England. In the 2005-06 season, Barça successfully defended their La Liga title, and Ronaldinho came in first once again in the FIFA World Player rankings. In May of 2006, his team went on to win the European Cup, beating Arsenal 2-1, and he was named UEFA Club Footballer of the Year for his outstanding season.
Ronaldinho rejoined the Brazilian national team for the 2006 World Cup series, but his performance disappointed soccer fans he failed to score any goals, and had just one assist. After Brazil lost to France in the quarterfinals, some of the more ardent devotees of the sport unleashed their anger at Brazil's loss by setting fire to a 23-foot-high statue of Ronaldinho, made out of resin and fiberglass, in the southern state of Santa Catarina. Back in Spain, he continued to astound, however, and during the first weeks of the 2006-07 season he scored his 50th La Liga goal in a game against Villarreal. Later during the same match he executed an impressive overhead bicycle kick to score his 51st.
Such fireworks have made Ronaldinho one of the most exciting players in the game, and the more daring moments have become some of the most-watched soccer-game clips on YouTube.com. In one UEFA Champions League game, he toe-punted the ball past a Chelsea defense line-up right into the net, bypassing one of top goalkeepers in the sport. The toe-punt is rarely deployed by players for longer distances, because the resulting angle is too hard to control, but Ronaldinho's apparent conquering of it made the goal one of the most-talked about events of the season. "When I look at that goal now," he told Webster in the Observer interview, "it seems like someone pressed pause and for three seconds all the players on the pitch have stopped and I am the only one that moves. Because it was a moment when I stopped the ball, and everyone stopped." But Ronaldinho has also tried to deflect undue attention on such breathtaking stunts, telling Sports Illustrated 's Wahl that "each player has an individual style. I think my best talent is dribbling and setting up goal situations, giving an assist or deceiving one of the other team's players. So I'm always seeking new ways of dribbling, new moves, so I can give my best to the team."
Other impressive replay moments from Ronaldinho's career have been used in commercials for athletic-gear maker Nike. He also has endorsement contracts with American Express, Pepsi, Chinese computer manufacturer Lenovo, and several Brazilian companies. On Electronic Arts' top-selling game FIFA 07 , he appears on the cover with Britain's Wayne Rooney. The endorsement dollars helped him surpass Beckham as the world's most marketable soccer player in April of 2006, though the British phenomenon, five years his senior, still earns more per year. That same year Forbes magazine ranked Ronaldinho as the fourth highest-paid player in the sport, following Beckham, Ronaldo, and Zidane. Ronaldinho has his own clothing line, R10, a reference to the number on his Barça jersey. He has also shown an interest in social and charitable causes, and in December of 2006 returned to Porta Alegre for the ceremony that marked the opening of the Ronaldinho Institute. The school was slated to educate 3,500 youngsters once fully operational, and featured state-of-the-art technology and a regulation-size soccer field.
Ronaldinho's brother, Roberto, serves as his manager, while his sister, Deisi, handles all media inquiries. He lives in Barcelona with two dogs, Bola and Negrao, in a palatial home whose kitchen is regularly occupied by his mother, who visits often and likes to cook his favorite dishes. In February of 2005 he became a father for the first time when his son named João in honor of his late father was born to a former paramour, Brazilian television personality Janaína Nattielle Viana Mendes. In press interviews, he often expresses gratitude, realizing how few players ever make it to the top echelon of any sport. "I am motivated by wanting to make the dreams of my father come true," he asserted to Webster in the Observer interview. "When I was very little my father predicted that I would be exactly where I am now. My father said that … I would be the best player in the world." True, he noted, his brother Roberto was one of Brazil's newest stars by that time, to which "my father would say, 'Yes, he's good, but watch the other one.'"
Awards:
- FIFA World Player of the Year, Fédération Internationale de Football Association, 2004, 2005;
- European Footballer of the Year, France Football magazine, 2005;
- Union of European Football Associations (UEFA) Club Footballer of the Year, 2006.
Read more
Latest headlines