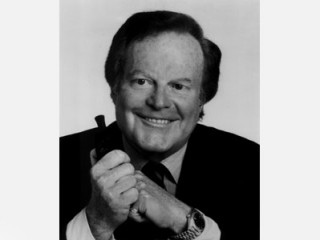 Roone Arledge Jr. biography
Date of birth : 1931-07-08
Date of death : 2002-12-05
Birthplace : Forest Hills, New York, United States
Nationality : American
Category : Famous Figures
Last modified : 2010-09-08
Credited as : Television producer and director, U.S. media executive, worked at the ABC
Roone Pinckney Arledge, Jr.
born July 8, 1931 in Forest Hills, New York, United States - died December 5, 2002 in New York, New York, United States was an American writer, television producer and executive best known for his work at the
American Broadcasting Company (ABC)
, where his innovative programming changed the way Americans watched sports and understood the news.
Arledge
was the son of Roone Pinckney Arledge, a lawyer, and Gertrude (Stritmater) Arledge, a homemaker. Growing up in the Forest Hills neighborhood of Queens, he enjoyed an affluent childhood, which from every indication was happy and uneventful. He credited his mother for his personal reserve and attention to detail, and his father for his passionate curiosity and love of the news. Arledge grew up during the golden era of the radio, listening to President Franklin D. Roosevelt's "fireside chats" and the nightly reports of World War II. The stars of his youth were foreign correspondents such as Edward R. Murrow, Eric Sevareid, Howard K. Smith, and Charles Collingwood. He saw his first television when he was eight years old, at the 1939 World's Fair in New York City, not far from where his family lived. It was an early glimpse of the medium that would dominate Arledge's future career.
After earning a B.B.A. from Columbia University in New York City in 1952, Arledge briefly attended Columbia's School of International Affairs, served a stint in the U.S. Army (where he produced radio programs at the Aberdeen proving ground in Maryland), and then went to work in the fledging television industry for the National Broadcasting Company (NBC). He rose rapidly from an entry-level position to jobs with increasing responsibility, and by the end of the 1950s he was producing Hi, Mom, an Emmy Award-winning show starring Shari Lewis and her puppets. Talented and young—and looking even younger, with his shock of red hair, freckles, and Huckleberry Finn looks—Arledge aspired to greater programs. He angled to produce a show called For Men Only," based on an amalgam of the men's magazines that were so popular at the time—Playboy, True, Sport, Field & Stream, and so on," as he later noted in his autobiography. NBC passed on the series, and a short time later, Arledge passed on NBC.
Timing was important in the television industry, and Arledge's was exquisite. In 1960 he accepted an ill-defined job in the sports department at the weakest of the three major networks. Indeed, the American Broadcasting Company (ABC) had 20 percent fewer stations than either NBC or the Columbia Broadcasting System (CBS), and many of its affiliates resided in the netherworld of the ultra high-frequency (UHF) channels. (In the era before cable, mainstream channels, numbered 2 through 13, were on very high frequency, or VHF; to access the relatively obscure UHF channels, with numbers higher than 14, viewers used a separate dial.) But the ABC sports department had just landed the Friday Night Fights series, and with it the television advertising of the Gillette Safety Razor Company. With that money, Ed Scherick, ABC's sports programmer, began to purchase the rights to televise other sports, including National Collegiate Athletic Association (NCAA) football.
Not long after starting at ABC, Arledge began to formulate a new way of televising sports. His idea was as revolutionary as it was simple. It was based on the notion that television sports should be for all viewers, not simply sports fans; in fact, it should be for people who were not particularly interested in sports. Arledge reasoned, "Sports were life condensed, all its drama, struggle, heartbreak, and triumph embodied in actual contests." The outcome of the contest was far less important than the process, and sports, far from inhabiting a realm all their own, were merely a form of entertainment. It was the drama of live entertainment, with its unpredictable happenings and evolving plot twists—not sports—that captured Arledge's interest.
How to realize that ideal became his quest. Ford Frick, the baseball commissioner, believed, "The view a fan gets at home should not be any better than that of the fan in the worst seat in the ball park," and he insisted that baseball be broadcast accordingly. Arledge believed the exact opposite, insisting that the television viewer should have the very best seat. He recalled the games he had seen with his father—the hot dog and peanut vendors, the mad scrambles for foul balls and home runs, and the other joys of the ballpark. "That was the game," he remembered, "as much as a home run or a diving catch. They were all part of a piece."
Arledge's philosophy in producing NCAA football games for ABC became "taking the fan to the game, not the game to the fan." He accomplished this through technology. Using directional and remote microphones, handheld and "isolated" cameras, split-screen and slow-motion replays, along with other innovations, Arledge's team was able to give the viewer the full game experience, from the action on the field and the coach on the sideline to the activities of the cheerleaders, marching bands, and spectators. Arledge's philosophy, including his "up close and personal" approach and emphasis on personal narration, became the heart of ABC Sports, and eventually sports programming at the other networks.
Arledge also expanded his philosophy into other sports programming. During the 1960s ABC acquired the rights to college and professional football, golf tournaments, horse races, All-Star games, the summer and winter Olympic Games, and a wide range of other activities. To provide sports coverage that was not subject to the vagaries of schedules or weather conditions, Arledge launched Wide World of Sports, an anthology program that emphasized exotic locales, interesting personalities, and the drama of contests—"the thrill of victory, the agony of defeat"—as much as the actual sports. Most of the shows were pre-recorded and pre-edited, and could fit nicely into any time slot. Between 1961 and 1966 Wide World of Sports presented eighty-seven different sports to American viewers. In 1970 Arledge also took sports to prime time with the introduction of Monday Night Football. The formula was the same—more technology, more well-known announcers, more drama. The program was the longest-running show on prime-time television.
In 1968 Arledge became the head of ABC Sports. His inspired coverage of the crisis at the 1972 Munich Olympic Games, when Palestinian terrorists held a group of Israeli athletes hostage before killing them, demonstrated that his approach to sports merged effortlessly with hard news. In 1977 he was named the head of the news division as well as the sports division. At the time, ABC News was struggling. Using essentially the same formula he had pioneered in sports, Arledge made ABC the "up close and personal" news network. He created new programs, including 20/20, Prime Time Live, and This Week. Perhaps his most important addition was Nightline, which debuted in 1979 and established the model for a host of nightly news shows.
Although the changes Arledge brought to ABC News proved as spectacular and successful as those he had effected with ABC Sports, they were not without controversy. Critics charged that his news shows emphasized glitz over content, and dramatic narrative over in-depth analysis. They also accused Arledge of turning news commentators into highly paid celebrities, pointing to the salaries of Peter Jennings, Barbara Walters, and Diane Sawyer. Arledge seldom answered his critics; however, he was deeply proud of the news coverage provided by shows such as Nightline, and never denied that he was in the entertainment business.
The string of successes that characterized Arledge's career did not always mark his personal life. He was married three times. His first marriage was on 27 December 1953, to Joan Heise; they had four children, but divorced in 1971. His second marriage was in 1976, to Ann Fowler; they had no children and divorced in 1984. On 21 May 1994 he married Gigi Shaw. Arledge retired from ABC in 1998 and was diagnosed with prostate cancer. He died from the disease four years later. His remains were cremated, and the ashes were given to his family.
Those who knew Arledge recalled that he could be both charming and irritating. "He was impossible, he was exasperating," noted Barbara Walters. "If you wanted to reach him, it was very hard. But no one ever had a greater 'vision thing' than Roone." The true measure of his impact was the large number of television producers, executives, and personalities who learned from and were indebted to him. His television—the marriage of storytelling with hard reporting—became the standard.
The best source on Arledge is his autobiography, Roone: A Memoir (2003). See also Bert Randolph Sugar, "The Thrill of Victory": The Inside Story of ABC Sports (1978); ABC Sports: The First Twenty-Five Years (1985); Randy Roberts and James S. Olsen, Winning Is the Only Thing: Sports in America Since 1945 (1989); and Marc Gunther, The House That Roone Built: The Inside Story of ABC News (1994). An obituary is in the New York Times (6 Dec. 2002).
PERSONAL INFORMATION
Family: Born July 8, 1931, in Forest Hills, NY; died of cancer, December 5, 2002; son of Roone (a lawyer) and Gertrude (Stritmater; a homemaker) Arledge; married Joan Heise, December 27, 1953 (divorced, 1971); married; wife's name, Anne (divorced, 1983); married Gigi Shaw; children (first marriage): Elizabeth Ann, Susan Lee, Patrcia Lu, Roone Pinckney. Education: Columbia University, B.A., 1952.
AWARDS
Recipient of thirty-seven Emmy Awards, given by the National Academy of Television Arts and Sciences; two Christopher Awards; four George Foster Peabody Awards; Kennedy Family Award, 1972; National Football Foundation and Hall of Fame Award, 1972; Broadcast Pioneers Award; Gold Medal, International Radio and Television Society, 1983; Distinguished Service to Journalism Honor Medal, University of Missouri; John Jay Distinguished Professional Service Award, Columbia University; Distinguished Achievement Award, University of Southern California Journalism Association; Founders Award; Olympic Order, Medal of the International Olympic Committee; Grand Prize, Cannes Film Festival; Man of the Year, National Association of Television Program Executives; Man of the Year, Football News; Man of the Year, Ohio State University; Man of the Year, Gallagher Report; inducted into Academy of Arts and Sciences Hall of Fame, and U.S. Olympic Hall of Fame, both 1990; du Pont-Columbia Award, 1995; Lifetime Achievement Emmy, 2002 (first ever awarded).
CAREER
Television producer. Dumont Television Network, 1952-53; The Shari Lewis Show, National Broadcasting Company, Inc. (NBC), 1955-60; American Broadcasting Companies, Inc. (ABC), producer, network sports, 1960-61; Wide World of Sports, producer and creator, 1961; vice president in charge of sports, 1963-68; executive producer of all sports programs, 1964, 1968, 1974; president, ABC News, 1968-85; creator, Monday Night Football, 1969; creator, Nightline, 1980; president, ABC Sports Inc., 1977-85; group president, ABC News and Sports, 1985-1990; ABC News president, 1990-1998; chairman ABC news, 1998-2002. Military service: U.S. Army, 1953-54.
WRITINGS BY THE AUTHOR:
* Roone: A Memoir, HarperCollins (New York, NY), 2003.
Read more
Latest headlines