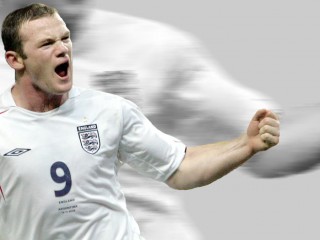 Rooney, Wayne biography
Date of birth : 1985-10-24
Date of death : -
Birthplace : Croxteth, Liverpool, England
Nationality : British
Category : Sports
Last modified : 2010-04-15
Credited as : English football player, Striker for Manchester United, English National team
Wayne Mark Rooney
(born 24 October 1985 in Liverpool) is an English rooneyfootballer. He currently plays for the English Premier League club Manchester United and the England national team. He normally played as a second striker to Ruud van Nistelrooy for his club team before van Nistelrooy's move to Real Madrid, although during 2005-06, he showed his versatility as a player by shifting to the midfield and playing on both flanks. He wears number 8 for Manchester United and wears number 9 the English national team.
Rooney was brought up in an urban area of eastern Liverpool called Croxteth, where he and his two brothers attended the local De La Salle Catholic School.
His boyhood team was always Everton; his love for his home town club was famously bore out when he wore a T-shirt reading "Once a blue, Always a blue". However, he would end up playing just two seasons with Everton before demanding, and then executing, a transfer. This has left him on unfavourable terms with Everton fans, as they showed when he returned to Goodison Park and he was booed severely.
Although he has been under an intense media spotlight since first arriving on the scene in 2002, it was not until his performances at Euro 2004 that he gained a reputation on the world stage, as he spearheaded the English attack, scoring four goals. Rooney is also on the cover of the FIFA 07 video game in the United Kingdom.
Rooney in the Premiership
After excelling for Liverpool Schoolboys and The Dynamo Brownwings, Rooney was signed by Everton shortly before his 11th birthday. Rooney gained national prominence on the 19th of October 2002 when he became the youngest goal scorer in the history of the Premier League at 16 years and 360 days while playing for Everton (though this record has since been surpassed twice). His goal against then-champions Arsenal was a last-minute winner and brought to an end the London side's 30-match unbeaten run. At the end of 2002 he won the BBC Sports Young Personality of the Year award. On 26 December 2002 he "achieved" the record of becoming the youngest player ever to be sent off in a Premiership game. This is also his only standing record in the Everton books.
National team career
He has also figured prominently in recent England international matches, after having become the youngest ever player to play for England, in a friendly against Australia, on 12 February 2003, aged 17 years, 111 days. This record has since been surpassed by Theo Walcott, who came off the bench to play in England's friendly against Hungary on 30 May 2006. England's youngest ever player previous to Rooney was James F. M. Prinsep of Clapham Rovers, who made his debut almost one and a quarter centuries before, on 5 April 1879, aged 17 years, 253 days. Rooney is also the youngest England scorer ever (17 years, 317 days).
His reputation as one of the world's most exciting young players was further enhanced by his impressive performances for England at Euro 2004 in Portugal. At the tournament Rooney became the youngest player ever to score in the UEFA European Football Championships, when on 17 June 2004 he scored twice against Switzerland; although the Swiss player, Johan Vonlanthen, broke this record against France four days later. Unfortunately Rooney was injured early in the quarter final match against Portugal and England were subsequently knocked out on penalties.
World Cup 2006
There was concern for Rooney's fitness ahead of the 2006 FIFA World Cup after the fourth metatarsal on his right foot was broken, possibly in several places, following a seemingly innocuous challenge from Paulo Ferreira during Manchester United's 3-0 defeat away at Chelsea on 29 April 2006, putting him out of action for an estimated six weeks. This was also the first match he played in the re-branded Nike Total 90 'Supremacy'. The boot's safety went under the spotlight after many considered it unsafe to wear.
A bone scan on 25 May 2006 suggested he would not be expected to return in time for the World Cup group ties, with a decision to be made on his return to training after these games had passed. Shortly afterwards his international manager confirmed he would travel with the squad to Germany, and would return to have another bone scan on 7 June. Ahead of this scan, Wayne claimed to be feeling fine and was "300% confident" of his own fitness. Rooney was reported to be back, doing light training on 2 June, working on kicking the ball and running.
On 7 June, Wayne Rooney had his second scan, with reports saying he would play in the World Cup as he boarded a flight to Baden-Baden to regroup with the England squad.
On 8 June, Sven-Göran Eriksson said that he was "injury free" and that "he just needs to get back his fitness before he can play". Eriksson hinted at a possible involvement in the later group stage matches and almost certainly, should England progress, in the second round of the competition.
On 15 June, Sven-Göran Eriksson and FA doctors declared Rooney match fit in time for the match against Trinidad & Tobago. Prior to the match there was much speculation as to whether his health would be risked by playing him at this stage; the speculation was ended when he entered the match in the 58th minute, replacing Michael Owen. Although Rooney did not score, England's fans were keen to see him running with pace (as if he was match fit many weeks before his medical clearance) and making his presence felt on the attack. On 18 June, Eriksson announced that Rooney would be starting England's next game. Rooney's rush into play was much to the dismay of his club team, Manchester United, who were concerned that a full recovery would be jeopardised.
On 20 June, Rooney started in the final group match, England against Sweden, helping England to a 2-2 draw.
On 25 June, Rooney once again started in England's second round game (knock-out rounds) against Ecuador. Although he failed to score, he looked lively and appeared to be fully fit and definitely match fit.
On 1 July, Rooney was sent off in the quarter final against Portugal while fighting for possession with Chelsea and Portugal defender Ricardo Carvalho. Rooney appeared to stamp down on Carvalho's groin and was sent off by referee, Horacio Elizondo. Rooney later announced, through the serialisation of his biography in the Daily Mail, that the stamp on Ricardo Carvalho was unintentional. He became only the third English player to be sent off in a World Cup Finals. Due to his red card, he missed England's opening Euro 2008 qualifiers against Andorra on 2 September and Macedonia on 6 September.
2009–10
Rooney's start to the new campaign got off to great scoring ways, grabbing a goal in the 90th minute of the 2009 Community Shield, though United lost the game to Chelsea on penalties. He then scored the only goal of the opening game of the 2009-10 season against Birmingham City, taking his overall United tally to 99. He failed to score in the next game, a historic 1-0 defeat to the hands of newly-promoted Burnley at Turf Moor. On 22 August 2009, he became the 20th Manchester United player to have scored over 100 goals for the club, finding the net twice in a 5-0 away win at Wigan Athletic, a game which also saw Michael Owen notch his first goal for United.
On 29 August 2009, United played Arsenal at Old Trafford. Rooney scored the equaliser from the penalty spot after Andrei Arshavin had put the Gunners ahead. The game finished 2-1 to Manchester United after Abou Diaby scored an own goal. Five days later Rooney commented on his penalty against Arsenal: "Everyone who watches me play knows I am an honest player, I play the game as honestly as I can. If the referee gives a penalty there is nothing you can do."
On 28 November 2009, Rooney scored his first hat-trick for three years in a 4-1 away victory against Portsmouth, with two of them being penalties.
On 27 December 2009, he was awarded
Man of the Match
against Hull. He was involved in all the goals scored in the game, hitting the opener and then giving away the ball for Hull's equalizing penalty. He then forced Andy Dawson into conceding an own goal and then set up Dimitar Berbatov for United's third goal which gave them a 3-1 victory.
On 30 December 2009, three days on from their victory over Hull, he grabbed another goal in United's 5–0 thrashing of Wigan in their final game of the decade. On 23 January 2010, Rooney scored all four goals in Manchester United's 4–0 win over Hull City; three of the goals came in the last 10 minutes of the match. This was the first time in his career that he bagged four in one match. On 27 January 2010, he continued his great scoring run by heading the winner in the second minute of stoppage time against derby rivals Manchester City. This gave United a 4-3 aggregate win, taking them into the final, it was his first League Cup goal since netting two in the 2006 final. On 31 January 2010, Rooney scored his 100th Premier League goal in a 3-1 win over Arsenal for the first time in the league at the Emirates, notably his first Premier League goal also came against Arsenal. On 16 February 2010, Rooney hit his first European goals of the season, scoring two headers in the 3-2 away win against A.C. Milan in their first ever win against them at the San Siro. On 28 February 2010, he scored another header against Aston Villa (his fifth consecutive headed goal in a row) which resulted in Manchester United winning the Carling Cup final 2-1. In the second leg of United's European tie against AC Milan, Rooney scored a brace in a resounding 4-0 home victory, taking his tally of goals this season to 30. He then added 2 more to his tally just 5 days later at Old Trafford, in a 3-0 win over Fulham. In the Champions League Quarter Final first leg against Bayern Munich (in Munich's Allianz Arena), Rooney crumpled when he twisted his ankle in the last minute. There were fears that he had received serious ligament damage or even a broken ankle, but it was announced that the injury was only slight ligament damage, and that he would be out for 3 to 4 weeks, missing United's crunch match with Chelsea and the return leg against Bayern Munich on the next wednesday. The team list for the Champions League Quarter Final second leg yielded a massive surprise when Rooney was giving a starting place in the United team.
Personal life
Rooney met his wife, Coleen Rooney (née McLoughlin), while both were in their final year of secondary school. They married on 12 June 2008 after six years of dating, during which Rooney admitted to soliciting prostitution in Liverpool in 2004. '"I was young and stupid. It was at a time when I was very young and immature and before I had settled down with Coleen." He has a tattoo of the words "Just Enough Education To Perform," the title of an album by his favorite band, the Stereophonics; Coleen arranged for the group to play at their wedding reception. The wedding ran into some controversy with the Catholic Church. The couple, held a religious ceremony at La Cervara, a converted monastery near Genoa, despite being warned by the local bishop's office against the plan. The bishop's office told the Rooneys that La Cervara is deconsecrated and not suitable for a wedding. It suggested a different church, five miles away. Nevertheless, the couple ignored the advice and Father Edward Quinn, their local priest from Croxteth, presided over a ceremony in which rings were exchanged.
In April 2006, he was awarded £100,000 in libel damages from tabloids The Sun and News of the World, who had claimed that he had assaulted Coleen in a nightclub. Rooney donated the money to charity.
The Rooneys reside in a £4.25 million mansion in the village of Prestbury, Cheshire, which was built by a company owned by Dawn Ward, the wife of former Sheffield United striker Ashley Ward. He also owns property in Port Charlotte, Florida While Rooney was house hunting in Cheshire after signing with Manchester United, he spotted a pub sign that read "Admiral Rodney," which he misread as "Admiral Rooney." He nonetheless considered it a positive omen for his future home. Rooney owns a French mastiff dog, which was reportedly bought for £1,25.
Rooney's wife Coleen announced on 7 April 2009 that the couple were expecting their first baby, due in October 2009. Coleen gave birth to their son, Kai Wayne Rooney, on 2 November 2009.
Rooney has endorsement deals with
Nike, Nokia, Ford, Asda(British Supermarket)
and
Coca-Cola.
He has appeared on five straight UK-version covers of Electronic Arts' FIFA series from FIFA 06 (2005) to FIFA 10 (2009).
On 9 March 2006, Rooney signed the largest sports book deal in publishing history with HarperCollins, who granted him a £5 million advance plus royalties for a minimum of five books to be published over a twelve-year period. The first, My Story So Far, an autobiography ghostwritten by Hunter Davies, was published after the World Cup. The second publication, The Official Wayne Rooney Annual, was aimed at the teenage market and edited by football journalist Chris Hunt.
Read more
Latest headlines