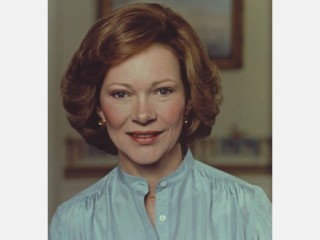 Rosalynn Carter biography
Date of birth : 1927-08-18
Date of death : -
Birthplace : Plains, Georgia, U.S.
Nationality : American
Category : Famous Figures
Last modified : 2010-08-03
Credited as : First lady of the United States, wife of President Jimmy Carter, Steel Magnolia
Eleanor Rosalynn Smith Carter
, born on August 18, 1927 in Plains, Georgia, U.S., commonly known as Rosalynn Carter, is the wife of the former President of the United States Jimmy Carter, and in that capacity served as the First Lady of the United States from 1977 to 1981. As First Lady and after, she has been a leading advocate for numerous causes, perhaps most prominently for mental health research. She was politically active in her White House years as her husband's closest adviser as well, and sat in on Cabinet and policy meetings. She also served as an envoy abroad, most prominently to Latin America.
Reporters nicknamed former First Lady Rosalynn Carter the
"Steel Magnolia"
because of the determination, discipline, and style she demonstrated while campaigning for her husband Jimmy, thirty-ninth president of the United States. Respect for Rosalynn grew during the Carter administration, and by the end of her husband's term in office Newsweek writers were contending that she was "probably the most influential First Lady of modern times." She worked for progressive reforms in mental health programs, for increased aid to the elderly, and for ratification of the Equal Rights Amendment (ERA) in addition to her roles as a goodwill ambassador and presidential adviser.
Rosalynn Carter began her activities as First Lady by addressing the issue of mental health care, a problem about which she developed some expertise as First Lady of Georgia. In that capacity she had volunteered to work with the mentally afflicted at the Georgia Regional Hospital in Atlanta, served on the Georgia Governor's Commission to Improve Services for the Mentally and Emotionally Handicapped, acted as honorary chairman of the Georgia Special Olympics, and helped to establish day-care centers for the state's mentally retarded. Hence Rosalynn was prepared to assist in developing President Carter's commission on mental health, which she served as honorary chairman. After much research and study, the commission issued 117 long-range recommendations and advocated placing a higher priority on mental health. One of its suggestions, for example, called for removing mentally ill patients from large state institutions to reassign them to smaller, more personalized community centers. Carter also chaired hearings on mental health throughout the United States and earmarked $300 million for community mental health programs.
She likewise instituted a series of discussions on aging and on the problems of the elderly. "Jimmy will let me assume as much responsibility as I will," Carter told Time correspondent Bonnie Angelo in 1977. "These last two years, I have seen the problems [of the mentally ill and the elderly], and I feel that I can help with some of them. Jimmy has always said that we--the children and myself--can do anything."
Carter also worked to advance the cause of women. She lobbied both for the passage of the Equal Rights Amendment and for an extension of the bill's ratification period. Carter promoted appointments of women to her husband's cabinet and advocated greater representation of women and minorities on the president's strategy councils. She even encouraged the Pentagon to appoint more female honor guards at the White House.
In addition to these duties, Carter served as a roving ambassador, a role she accepted in order to become the president's liaison with the public. Since her husband had many constraints on his time, the First Lady decided to venture into the world and share her impressions with the president to keep him abreast of national and global conditions. "I think I am the person closest to the President of the United States," she was quoted in Time, "and if I can help him understand the countries of the world, then that's what I intend to do."
In 1977, for example, she toured Caribbean and Latin American countries to explain the president's views and to listen to the opinions of Latin leaders. Though these nations cooly received word of her visit and questioned a woman's ability to handle an important mission, Carter nevertheless discussed topics such as Peru's arms buildup with President Francisco Morales Bermudez as well as addressed human rights and other issues with Jamaican Prime Minister Michael Manley, even visiting social service centers in a Kingston slum. After her tour, the New Republic quoted Costa Rican President Odubar as saying: "It is the first time since President Kennedy that a United States administration brings us a message that kindles hope, love and attachment."
Carter also acted as an official representative of the United States on ceremonial occasions. She attended the inauguration of Mexico's President Jose Lopez Portillo, and she headed the U.S. delegation to the funeral of Pope Paul VI. She even conducted her own itinerary while touring with President Carter, often inquiring into health situations and the status of women in other nations.
Perhaps Carter's most significant role was that of presidential adviser. Her husband often said that he considered her "an almost equal extension" of himself and treated her as a partner, confidante, and sounding board. President Carter told Newsweek's Eleanor Clift that "there's very seldom a decision that I make that I don't discuss with her--either to tell her after the fact what I've done, or, very frequently, to tell her my options and seek her advice." For instance, during Jimmy Carter's first presidential campaign Rosalynn cautioned him to refrain from liberal rhetoric in order to maintain a conservative campaign. She also convinced him to enter all the primaries, "a crucial part of the winning strategy" according to Gail Sheehy's New York article. Once in the White House, the Carters met for weekly working lunches to discuss and plan.
Rosalynn Carter chronicled her work in the White House in First Lady From Plains, deemed "perhaps the frankest, most personal autobiography a first lady has written" by Washington Post reviewer Sarah Booth Conroy. Jonathan Yardley also praised the book and its subject in the Washington Post Book World. He commented that Carter "does not herself emerge as a distant figure." "To her enormous credit," he said, "she remains in this book the girl from Plains who dreamed of seeing the great world out there, who as an adult ended up seeing far more of it than she could possibly have hoped for, and who has come through all of it with her feet quite firmly on the ground. That is a rare and wholly admirable accomplishment."
PERSONAL INFORMATION
Family: Born August 18, 1927, near Plains, Ga.; daughter of Wilbur Edgar (a garage mechanic) and Allethea (a dressmaker; maiden name, Murray) Smith; married Jimmy Carter (a former governor and the thirty-ninth president of the United States), July 7, 1946; children: John William, James Earl III, Donnel Jeffrey, Amy Lynn. Education: Graduated from Georgia Southwestern College, 1946. Religion: Baptist. Avocational Interests: Sewing, tennis. Addresses: Home: 1 Woodland Dr., Plains, Ga. 31780.
AWARDS
Elizabeth Boyer Award from Women's Equity Action League, 1977; Golden Humanitarian Award from Ronald Bruce Nipon Association (Philadelphia, Pa.), 1977; award of recognition from D.C. Democratic Women's Club, 1977, for outstanding accomplishments in the field of mental health; Humanitarian Award from Circle K International Club (Chicago, Ill.), 1977. Special award from National Mental Health Association, 1978, for outstanding contributions and leadership in work with the President's Commission on Mental Health; award from Ladies' Home Journal, 1978; Martin Luther King, Jr., Award from King-Fanon Community Mental Health Center (St. Louis, Mo.), 1978; award from Coalition of Labor Union Women, 1978, for dedication and commitment to the cause of the ERA; gala salute from American Women in Radio and Television (Washington, D.C.), 1978; presidential citation from American Public Association (Washington, D.C.), 1978; named woman of the year by Maryland Federation of Business and Professional Women's Clubs, 1978. Frank Lanterman Award from Willing Workers for the Mentally Retarded (Los Angeles, Calif.), 1979; Victor I. Howery Lectureship and Award from University of Wisconsin--Extension (Madison, Wis.), 1979; Nuestra Hermana en Salud Award from Su Clinica Familiar (Harlingen, Tex.), 1979; International Award from St. Boniface General Hospital Foundation (Winnipeg, Canada), 1979; Height Award from National Council of Negro Women (Syracuse, N.Y.), 1979; award from National Council of Jewish Women, 1979, for initiative and achievement in the field of voluntarism; Dameschek Award from Leukemia Society of America, 1979; Humanitarian Award from Ladies' Philoptochos Society (Brooklyn, N.Y.), 1979; Distinguished National Service Award from Jewish Theological Seminary (New York, N.Y.), 1979; award from Girl Scouts of America, 1979, for significant contributions to girls and women; certificate of merit from city of Erie, Pennsylvania, 1979; named woman of the year by Democratic Women's Council of Erie and Erie County, Pennsylvania, 1979; award from Culver-Stockton College, 1979, for unceasing efforts in the interest of women. Gala salute from Business and Professional Women of Philadelphia and Vicinity, 1979; award from B'nai B'rith Women of Greater Washington Area, 1979, for efforts on behalf of children; Distinguished Asian-American Public Service Award during Asian/Pacific American Heritage Week (New York, N.Y.), 1979; special citation from American Psychiatric Association, 1979, for dedicated service to the mentally ill in America; Vincent DeFrancis Award from American Humane Association, 1979, for outstanding service to humanity; named woman of distinction by Alpha Delta Kappa (Kansas City, Mo.), 1979; H.H.D. from Tift College, 1979. Humanitarian Award from Save the Refugees Fund, 1980; citation from Rosewell Park Memorial Institute (Buffalo, N.Y.), 1980, for devoted interest and tireless volunteer effort on behalf of physically and mentally disadvantaged Americans and for leadership provided to volunteers across the nation; certificate of tribute from Oakland Board of Education (Oakland, Calif.), 1980; Alice Paul Award from National Women's Party, 1980; First Humanitarian Award from National Association of Social Workers (Rochester, N.Y.), 1980, for outstanding efforts in advancing the quality of life; special award from Multiple Sclerosis Society, 1980, for support of multiple sclerosis programs and handicapped persons; Human Assistance Award from International Human Assistance Program, 1980; Toussaint L'Ouverture Freedom Award from Haitian Ministry, 1980; award from Glamour magazine, 1980, for support of women; Civic Accomplishment Award from Department of Pediatrics at Georgetown University School of Medicine, 1980; Advocate of the Year Award from Federation of Parents Organizations for New York State Mental Institutions, 1980; Alice Paul Award from Duval Women's Political Caucus (Jacksonville, Fla.), 1980, for efforts on behalf of ERA; resolution of appreciation from Council of District of Columbia, 1980. National Humanitarian Award from Coalition of Spanish-Speaking Mental Health Organizations (COSSMHO; Washington, D.C.), 1980; recognized by Administrators of Child Care in Texas, 1980, for interest in International Year of the Child; L.H.D. from Morehouse College, 1980; named Volunteer of the Decade by National Mental Health Association and District of Columbia Mental Health Association, 1980; certificate of merit from Garden Club of Georgia, 1981; special tributes from Georgia Mental Health Association, Metropolitan Atlanta Mental Health Association, and Cities in Schools (Atlanta, Ga.), all 1981; presidential citation from American Psychological Association (Washington, D.C.), 1982; distinguished service award from Christian Life Commission of the Southern Baptist Convention, 1982, for leadership in Christian social ethics.
CAREER
Worked part-time as seamstress and in beauty shop in Plains, Ga., beginning c. 1940; homemaker, 1946-53; book-keeper for family farm supply business, beginning 1953; First Lady of Georgia, 1971-75; First Lady of the United States, 1977-81; writer. Volunteer at Georgia Regional Hospital, Atlanta; member of Georgia Governor's Commission to Improve Services for the Mentally and Emotionally Handicapped. Honorary chairperson for Georgia Special Olympics for Retarded Children; honorary chair of President's Commission on Mental Health. Member of boards of directors of National Association of Mental Health and of Gannett Co., 1983; member of board of advisers of Habitat for Humanity, 1984. Honorary fellow of American Psychiatric Association, 1984.
WRITINGS BY THE AUTHOR:
* (With Linda Bird Francke) First Lady From Plains, Houghton, 1984.
* (With Susan K. Golant) Helping Yourself Help Others: A Book for Caregivers, Times Books, 1994.
* (With husband, Jimmy Carter) Everything to Gain: Making the Most of the Rest of Your Life, University of Arkansas Press, 1995.
* (With Susan K. Golant) Helping Someone with Mental Illness: A Compassionate Guide for Family, Friends, and Caregivers, Times Books, 1998.
Read more
Latest headlines