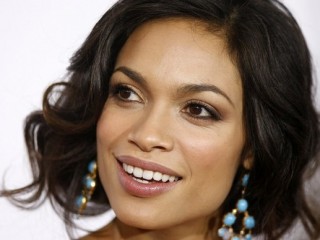 Rosario Dawson biography
Date of birth : 1979-05-09
Date of death : -
Birthplace : New York City, New York, U.S.
Nationality : American
Category : Arts and Entertainment
Last modified : 2011-09-05
Credited as : actress, singer,
Rosario Isabel Dawson
is an American actress, singer, and writer.
After beginning her acting career on a lark as a 15-year-old, Rosario Dawson established herself as a solid film actress in the late 1990s and early 2000s. Discovered by filmmaker Larry Clark as she was sitting on the front steps of her New York City home, Dawson made her film debut in 1995's Kids. She continued to find work and appear in films like Men in Black II, The 25th Hour, Alexander, Sin City, and Rent .
Born in 1979 in New York City, Dawson was the daughter of a construction worker father, while her mother, Isabel, worked as a singer, though she later was trained as a plumber and electrician. Isabel was 17 years old when her daughter was born. Dawson has a mixed ethnic background of Cuban, Native American, African-American, Puerto Rican, and Irish. She grew up in Manhattan's Lower East Side with her close-knit family, which included her younger brother, Clay. She had a somewhat difficult childhood. When she was seven years old, Dawson and her family moved into a squat, a tenement building that had been abandoned. Though they initially had no electricity or running water or walls, an apartment was eventually created there for them with the help of neighbors.
A somewhat precocious child, Dawson often performed for her family as a child. Education was a priority of her mother's, and Dawson used big words from an early age. She received her acting break quite unexpectedly when she was a young teenager. In the mid-1990s, filmmaker Clark was casting an independent film he was directing based on a script by young writer Harmony Korine. They saw Dawson sitting on the stoop of her apartment building and asked her if she wanted to be in a film. She said she did, auditioned for a role, and won the part.
In 1995, Dawson made her debut in Kids. She played Ruby in the explicit independent film about teenage kids in New York City and their active sex lives. Her character was very sexually active and worried that she had been exposed to AIDS. The film was somewhat criticized and controversial, though Dawson received positive notice for her work. Jamie Portman of the Ottawa Citizen wrote of Dawson's performance, "Even those critics who loathed Kids praised Dawson for the conviction with which she approached this assignment and for her striking onscreen presence."
A few years after Kids was released, Dawson understood the power of what she had done, something she had not appreciated when she worked on the film. She told Lori Talley of Back Stage West , "It was quite a shock to be put in the project. It was more of a shock to see it afterwards and realize what it was. I don't think I thought about it as much when I was doing it. I was like, OK, this is a cool script. It made waves in the industry, and it definitely opened doors for me."
Around the time the film was released, when Dawson was 16 years old, her mother moved the family to Texas. She lived there for a year and did not work as an actress. Dawson was unsure about her direction in life, and was still planning on going to college. During her time in Texas, she learned that the industry was interested in her as an actress and she had numerous offers for representation. Dawson decided she wanted to act and returned to New York City to focus on her career. While she graduated with honors from a high school in Manhattan, she also studied acting at the Lee Strasberg Institute for two semesters.
Dawson won roles in a number of independent and small films in the late 1990s. Her first film after Kids was 1997's Girls Night Out, followed by a role as Lala, a big-mouth girlfriend of an up-and-coming basketball player, in the Spike Lee film He Got Game . She also appeared in films like Side Streets and the drama Light It Up about a high school hostage situation in which Dawson played one of the students.
After a role as party girl Lana in 2000's Down to You, Dawson appeared in a big Hollywood film in 2001, Josie and the Pussycats. This was a film adaptation of the comic book which also was once made into an animated cartoon. Dawson played Valerie, one of the members of the titular band in the movie. Also in 2001, Dawson appeared in a critically praised role in a film by Edward Burns, Sidewalks in New York. In this romantic comedy, Dawson had a starring role as Maria, a Manhattan-based teacher who has recently gone through a divorce. The film was an ensemble piece about Maria and five other residents of Manhattan who are having difficult love lives, and also starred Heather Graham and Stanley Tucci.
Some of Dawson's roles were bigger than others. In the summer of 2002, she appeared in two Hollywood films, both of which were not particularly well-received by critics. Dawson co-starred with Eddie Murphy in The Adventures of Pluto Nash also known as Pluto Nash. This was a comedy about Murphy's character, Pluto, who owns a nightclub on the moon. Dawson played a singer who was from Earth. Pluto Nash was a box office flop. Dawson also appeared in Men in Black II as the love interest of star Will Smith's character in the follow up to the smash hit Men in Black.
Dawson had better critical buzz for another 2002 release. She worked again with Spike Lee in The 25th Hour. Dawson basically demanded the role of Rosario, the marathon-running girlfriend, from Lee as well as the producer and writer of the book the script was based on. Her character was involved with Edward Norton's character, a convicted drug dealer who was going to jail the next day. Dawson's character helped turn him in.
Though Dawson was focused on her acting career, having appeared in 18 films between 1995 and early 2003, she still had academic aspirations and wanted to take a break from acting. In 2002, she took a class in civil engineering at Columbia University. She then applied to be admitted to the same university, but her application was rejected. Dawson was also interested in psychology and marine biology, and even could imagine working as a math teacher.
Though the closed door bothered Dawson, she knew that she could not focus on school, stop acting for a time, and expect to still have a career, in part because of her ethic background and look. She told Meghan Sutherland in Paper, "Taking time off for college would be a different thing for someone like me. If I disappear, I'm replaced by Michelle Rodriguez. It would happen so quickly; I can't afford that…. Hollywood is not necessarily going to wait for me." Dawson did take much of a year off in this time period, but soon returned to roles in high-profile films.
One major film that Dawson appeared in was 2004's Alexander, director Oliver Stone's controversial biopic of the life of Alexander the Great which proved to be a box-office failure. She played Roxane, the wife of Alexander. This was not a major role, but was key to understanding Alexander, played by Colin Farrell. Of the role, Dawson told fellow actor Hayden Christensen in Interview, "It was a kind of character I'd never played before she lived in a time and place where everything was life or death. And it was interesting to play a woman who was so fierce and strong, but so limited in her power. She couldn't be persuasive, so she had to be manipulative."
Dawson continued to appear in both smaller, independent projects as well as Hollywood films. In 2005, she had roles in two of the former like This Revolution and The Devil's Rejects. In This Revolution, a fictional documentary based on the 1960s film Medium Cool, Dawson played a woman who, after her husband loses his life in Iraq, protests during the 2004 Republican convention.
During the filming of This Revolution, Dawson faced legal troubles when the filmmakers shot footage during the real 2004 Republican Convention. She was arrested for covering her face with a mask to hide her identity, which she did when a film crew-member began talking to a colleague who worked for BET (Black Entertainment Television). Dawson was charged with obstruction of governmental administration and disorderly conduct, as were two cameramen, despite the fact that they had all the permits they needed. Their charges were dismissed in 2005.
Dawson also landed roles in higher profile films like 2005's Sin City and the film adaptation of the hit Broadway musical Rent released the same year. The former, a gritty film noir, was based on the graphic novels created by Frank Miller and was co-directed by Robert Rodriguez and Miller. Much of the film and Dawson's performance as Gail, the leader of a gang of prostitutes, was filmed against a green screen. For Rent , Dawson had to work on her dancing and singing skills. She played the leading role of Mimi Marquez, a stripper who was addicted to heroin and is HIV positive. Dawson identified with the character and the film since she grew up on the Lower East Side and knew much about the environment in which the story was set.
After making her stage debut in a musical version of Two Gentleman of Verona at New York City's Public Theater in the summer of 2005, Dawson left New York and moved to Los Angeles. She lived there with her then-boyfriend, actor Jason Lewis, and two dogs. Dawson continued to act in films, including a leading role in 2006's Clerks II . That film was director Kevin Smith's follow-up to his debut film, 1994's Clerks which launched his filmmaking career. Dawson played Becky, a manager of a New Jersey fast food restaurant.
In addition to her film career, Dawson was socially and politically active over the years. She helped raise funds for the Lower East Side Girls Club (a community center for girls in the neighborhood she grew up in), Voto Latino, a nonprofit voter registration group; and other New York-based causes including many that worked to prevent violence against women. She also loved comic books and had her own comic book series Occult Crimes Task-force, co-created with writer David Atchinson, in which a version of herself appears.
While Dawson still considered going to college, her primary focus remained on her acting career. She had a number of film roles lined up, including Sin City 2 and Grind House. Though firmly established as an actress, Dawson still appreciated her nowlegendary break. Dawson told Joe Neumaier of the New York Daily News, "New York stories in general are interesting, but I know being discovered on your stoop is unique. That's a pretty remarkable thing, when so many people are working and trying so hard to do it. It's like winning the lottery…. But now, I think they're saying, 'It's cool that door of opportunity opened, but her hard work kept it open.'"
Read more
Latest headlines