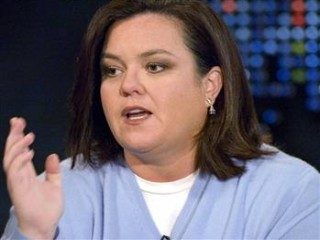 Rosie O'Donnell biography
Date of birth : 1962-03-21
Date of death : -
Birthplace : Commack, New York, U.S.
Nationality : American
Category : Arts and Entertainment
Last modified : 2011-10-12
Credited as : stand-up comedienne, actress, The Rosie O'Donnell show on OWN
Rosie O'Donnell
is an American stand-up comedienne, actress, singer, author and media personality.
She has also been a magazine editor and continues to be a celebrity blogger, LGBT rights activist, television producer and collaborative partner in the LGBT family vacation company R Family Vacations.
Born on March 21, 1962, in Commack, New York, Rosie O'Donnell graduated high school and went on a stand-up comedy tour in the US. She made five winning appearances on Star Search before moving to Los Angeles in 1984. After her role in the film A League of Their Own, O'Donnell went on to further success in TV, notably with The View, and her own radio show, Rosie Radio.
Actress, comedienne, talk show host, and author. Born March 21, 1962, in Commack, New York. The middle of five children, she is the daughter of Roseann and Edward O'Donnell, a homemaker and an electrical engineer. Being one of five children had its challenges. "We weren't poor—my father was an electrical engineer. But there were five children. The kids who went to school with us in Dix Hills [New York] would all get Camaros on their 16th birthdays. And at our house, we had a Plymouth Volare with an AM radio. All five of us kids had to use that car. We went to the flea market to buy clothes, not Macy's," O'Donnell later said.
Life got harder when Rosie was 10 years old; her mother died of cancer, and her father took the loss particularly hard. Becoming emotionally distanced from the rest of the family, O'Donnell's father coped by removing most of his wife's belongings from the family home. One of the few reminders of their mother that escaped their father's touch was an old record collection. O'Donnell and her siblings often sought comfort by listening to their mother's albums—particularly the Barbra Streisand records. "When we came home from school, [my mother] would put on Barbra Streisand's A Happening in Central Park and cook dinner, and we would sing all the songs to it. [My father] didn't know about that, because that was a ritual that was done while he was at work. . . So the only thing I had that was hers were the records. My love of Barbra Streisand is totally taken from my mother's sheer and complete adoration of her. She is what my mother left me," she explained to Redbook.
O'Donnell's love of music and theater didn't stop with Streisand, and by high school Rosie had officially caught the acting bug. She imitated Gilda Radner's character "Roseanne Rosannadanna" for a skit, which earned her high praise and helped foster a desire to pursue a career in comedy. By watching and imitating other comics such as Jerry Seinfeld, O'Donnell eventually came up with her own material and honed her magnetic presence for the stage. O'Donnell was a popular student who was elected prom queen, homecoming queen, most school-spirited and class president before graduation. After matriculating, she embarked on a stand-up comedy tour around the United States, appearing in 49 states over a five-year period. It was a difficult and enlightening time for O'Donnell, who slowly came to grips with the unhealthy lifestyle and sexist climate of the comedy world. She told Robert Hoffler of Buzz, "Everybody was doing drugs and drinking, and I was just this little girl on the road, scared in her room."
After returning home to study briefly at Dickinson College in Carlisle, Pennsylvania, and Boston University, O'Donnell returned to performing. She made five winning appearances on Star Search before moving to Los Angeles in 1984. She landed a part on the last season of NBC's popular sitcom Gimme a Break before cable music video channel VH-1 snatched her up as a VJ. When the station decided to stop using VJs, O'Donnell convinced the company to create Stand-Up Spotlight, a television program that showcased comedians. O'Donnell signed on as the show's host and, for the next four years, helped make Stand-Up Spotlight VH-1's most popular show.
In 1992, after appearing in several television specials, O'Donnell made a much-desired move to film. She made her big-screen debut as Madonna's loveable sidekick in A League of Their Own, a Penny Marshall-directed film. During filming, O'Donnell forged many connections and friendships which served to enhance her career, including an enduring relationship with co-star Madonna. Her role spawned a string of "best-friend" roles: playing Meg Ryan's closest pal in 1993's Sleepless in Seattle; co-starring alongside Richard Dreyfuss and Emilio Estevez in Another Stakeout (1993); and making a memorable appearance across from Natalie Portman and Timothy Hutton as the wise-cracking hairdresser in Beautiful Girls (1996). O'Donnell began a trend of making praiseworthy performances in less-than-extraordinary films.
In 1994, O'Donnell's dream of performing live on stage materialized when she was cast as Rizzo in Tommy Tune's Broadway revival of Grease! However, both the production and O'Donnell's performance met lukewarm reviews. O'Donnell also expressed concern about the message of the play, with its sexist premise about a girl who must transform herself into a tightly-clad tramp to gain acceptance from her boyfriend and his friends. Following her Broadway debut, O'Donnell appeared in Lesli Linka Glatter's coming-of-age film, Now and Then (1995), alongside Demi Moore and Melanie Griffith. She also made a cameo on the TV sitcom Bless This House. In February 1995, after a two-year hiatus, O'Donnell returned briefly to stand-up in order to prepare for an HBO comedy special.
The Rosie O'Donnell Show
O'Donnell landed another big break when she accepted a post as host of her own variety talk show for NBC, called The Rosie O'Donnell Show, in 1995. Inspired by The Merv Griffin Show, O'Donnell offered viewers a change of pace from the swarm of sensationalist talk shows commanding the airwaves. Warm and approachable, O'Donnell engaged in light-hearted interviews with celebrities and showcased Broadway performances on her program. "Rosie makes you feel good. She's like everybody's sister," actor John Travolta told Entertainment Weekly.
Moving to daytime television also made it easier for O'Donnell to continue to work in show business while raising her two adopted children, Parker and Chelsea Belle, in New York—producers even built a deluxe nursery for her children right in the Rockefeller Center studio. The show quickly became one of the most popular in daytime television, and O'Donnell was hailed as the "Queen of Nice" due to her down-to-earth frankness and sense of humor. During her time on her talk show, O'Donnell received two Emmy awards—one for Outstanding Talk Show and another for Outstanding Talk Show Host.
O'Donnell also continued to make occasional appearances in films as well; playing a nanny in the children's film Harriett the Spy (1996) and a schoolteacher-nun in 1998's Wide Awake. She blossomed in the children's movie arena, playing the voice of Terk, Tarzan's gorilla-companion in Disney's animated production of Tarzan in 1999. Her continual support of Broadway shows, and theatre in general, brought renewed attention to the stage, and the Tony Awards show enjoyed its highest ratings in years when she hosted.
In November 2000, O'Donnell revealed plans to leave her talk show after her contract expiration in 2002. She told audiences that she hoped to focus more time on her nonprofit organization, Rosie Adoptions, which helps facilitate the process of adoption between birth mothers and adoptive families. She then made headlines for her personal life in early 2002, with word that she would officially come out as a lesbian in her autobiography Find Me. Part of her decision to come out was fueled by a desire to advocate on behalf of gay adoption. She and her partner, Kellie Carpenter, had taken in a foster child from Florida whom they wished to adopt. Florida law, however, prohibits homosexuals from adopting. The American Civil Liberties Union was waging a legal battle against the law, and O'Donnell felt that she could help. "When I read about this lawsuit, when we had the experience of being discriminated against with our foster child, that's when God tapped me on the shoulder and said, 'You're in, Kid,'" she told The Advocate. O'Donnell and her partner Kelli Carpenter were unable to adopt their foster child, but they did add to their family later that year. In November, the couple welcomed a new addition to their family when Carpenter gave birth to a baby girl, Vivienne Rose.
Also in 2002, O'Donnell announced that she would no longer produce her namesake magazine after a little over a year on newsstands. Though the magazine was fairly well received, Rosie cited editorial differences for the reason she pulled the plug, causing Rosie's publisher to file a $100 million lawsuit for breach of contract. O'Donnell later filed a $125 million countersuit, claiming the publishers seized control and forced her out. In the midst of the media-heavy trial that ensued, she continued to produce her Broadway musical, Taboo, about the life of Boy George. However, after receiving negative reviews and publicity, the show closed just three months after it opened.
In 2004, O'Donnell wed longtime partner Kelli Carpenter in San Francisco, California. Carpenter changed her last name to O'Donnell, but their union was later annulled by a California court decision. The couple also enjoyed the first cruise organized by their travel business R Family Vacations, which creates holidays for gays, lesbians, and their friends and families. The voyage was featured in a documentary shown on the HBO cable network.
O'Donnell returned to the daytime talk show format in 2006 when she signed on to become co-host and moderator of the ABC daytime talk show The View, replacing Meredith Vieira. Her time on the show, which also featured Barbara Walters, Joy Behar, and Elisabeth Hasselbeck, brought strong ratings along with some controversy. She and the conservative Hasselbeck often clashed during group discussions on the show. In April 2007, O'Donnell announced that she was leaving the show a few weeks before her contract expired after a particularly heated exchange with Hasselbeck. Later that same year, she published her second memoir Celebrity Detox, which detailed her struggle with fame and her time at The View.
In 2008, O'Donnell tried to revive the variety show format on prime-time television with her Rosie Live! special. The show received low ratings despite an impressive array of guests, including Alec Baldwin and Liza Minnelli. After taking some time away from the spotlight, O'Donnell premiered her new two-hour daily talk show, Rosie Radio, on Sirius XM Satellite Radio in 2009. O'Donnell also made plans to return to television with her own show on Oprah Winfrey's network, OWN, which debuted in January 2011.
O'Donnell has signed on with the OWN: Oprah Winfrey Network to return to daytime TV with a talk show in Fall 2011.
Read more
Rosie O'Donnell Picture Gallery
Latest headlines