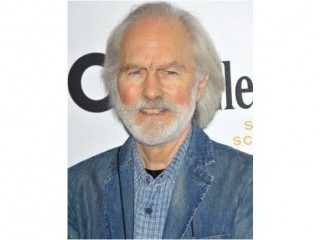 Roy Harper biography
Date of birth : 1941-06-12
Date of death : -
Birthplace : Rusholme, Manchester, England
Nationality : English
Category : Arts and Entertainment
Last modified : 2011-11-28
Credited as : singer-songwriter, folk musician, Guitarist
Roy Harper is an English folk / rock singer-songwriter and guitarist who has been a professional musician since the mid 1960s. He has released a large catalogue of albums (21 studio albums and 10 live albums) most of which are available on his record label Science Friction.
Throughout his career, musician Roy Harper has displayed a multi-faceted talent and quirky congeniality that proved too unconventional for mass conception, yet so distinctive and original that it made the unruly performer an icon to many. His output hovers somewhere between folk and rock, though not folk-rock, which record companies found difficult to market. Nevertheless, critics and other artists alike consider Harper one of Great Britain's greatest singer-songwriters. Kate Bush, with whom he recorded a duet in 1980 entitled "You," once commented to Paul Gambaccini during a BBC radio interview: "I think he is a very English poet. I mean, I think Roy is a poet, really I do. And for me, Roy is one of the greatest English songwriters we've had, and people just don't realize it. And I really think that when they do we're going to have another top songwriter up there. He's brilliant."
As a performer as well as in his songs, Harper is freely intimate and associative with his audience, often forgetting about taking a break during his typically lengthy concerts. "[Roy is] one of those people who never want to compromise anything," said frequent collaborator David Gilmour of Pink Floyd, as quoted by Chrysalis Records in An Introduction to Roy Harper, 1976. "He often takes things a lot further than I personally would, in the way he performs, but I like it. I like and admire the way he does things: his courage, getting up there and doing it that way... his honesty and openness in the way he puts over his own life on stage. I think he's very much more talented than a lot of people who've been more successful than he has; maybe because people are frightened of that sort of thing he does and the kind of honesty he puts over. I think it scares a lot of people off."
Despite the respect gained as a cult figure and musician's musician for his unconventional approach, Harper has had trouble dealing with, among other personal difficulties, the lack of mainstream recognition, repeatedly putting himself through prolonged periods of self-torture and emotional turmoil. "Harper is a terrific songwriter," said former manager Peter Jenner in 1988, as quoted in an Awareness Records biography, "but a bit crazy, like all the best people. The great problem for him was seeing all those people who'd nicked his licks doing so much better than he did. People like Jethro Tull, Led Zeppelin and, to some extent, Roger Waters." Additionally, when the nine-year relationship with Jenner ended, Harper again felt abandoned. Although he resurfaced in the late-1980s and early-1990s more self-assured, admittedly realizing that he had throughout his career either rightly or wrongly perceived himself as a victim, Harper nonetheless disappeared from sight for several years thereafter. From 1992 until around 1996, he imposed upon himself an exile from gigging, writing, and recording before finally returning to the studio and touring in the late 1990s.
To better understand Harper's insecurities, one should first consider the events of his life thus far. Born on June 12, 1941, in Rusholme, Manchester, England, Harper spent his youth in constant torment and dysfunction. His mother died within a month after giving birth, and Harper was brought up by his stepmother in Blackpool. A rigid, devout Jehovah's Witness, she soon instilled in Harper a lifelong hate for any form of religion. But in music, Harper found a means of escape. When not rebelling against his parents or fighting at school, he listened to the records of American blues musicians.
At the age of 14, Harper formed his first group, De Boys, with his brothers David and Harry. However, finding life at home too unbearable, a then 15-year-old Harper left, lying about his age to join the Royal Air Force. During his short stint with the Air Force, Harper performed at camp concerts before the military regime--which probably seemed even more intense because of his young age--affected his mental state. Discharged on the count of insanity after suffering a self-induced nervous breakdown, Harper was then committed to the Lancaster Moor Mental Institute, where part of his treatment included electro-convulsive therapy. One night after a beating for dressing without permission, Harper escaped the mental hospital in his pajamas through a bathroom window. Living on the streets, he was arrested some weeks later in London for trying to climb the St. Pancras Station clock tower and other minor offenses and spent one year in jail.
All of these experiences from his boyhood and teen years converged to shape Harper's songs. The music he wrote and performed, especially that of his early career, seemed to teeter on the edge, fueled by his own insecurities, a deep distrust of authority, and a belief in individual freedom, as well as anger against cruelty, racism, and reckless self-indulgence. Soon after his release from prison, Harper spent most of 1964 busking (playing music on the street) around North Africa and Europe before moving to London, where he started performing on the folk-club circuit. Eventually, he secured a residency at the legendary Les Cousins, continuing to solidify a reputation as a radical hippie singer/songwriter with an uncompromised, emotionally intense style.
In 1965, the small independent label Strike offered Harper a chance to record. His debut, The Sophisticated Beggar, was released the following year and included "Committed," a celebratory, yet harrowing song about his mental condition and the helpless suffering of psychiatric treatment. The album attracted favorable reviews, as well as the attention of the larger label Columbia Records, for whom he recorded his 1967 follow-up, Come Out Fighting, Genghis Smith. "Some of my songs start out nice and suburbia," he said in summary of the album's mood, as quoted by Awareness Records, "and suddenly swing violently toward anarchy." Likewise with his next album, 1969's Folkjokeopus, issued on Liberty, Harper further demonstrated his willingness to experiment with songwriting forms. And by the close of the decade, he had firmly established himself on the underground scene as an artist who refused to bow to convention.
Consequently, Pink Floyd's manager, Peter Jenner, sought out Harper, signing him to a long-term deal with the EMI subsidiary label Harvest. Channeling the performer to a more rock sensibility, Jenner produced the 1970 album Flat, Baroque and Berserk, considered a milestone in Harper's musical development and dubbed a "lost masterpiece" by Martin Haggerty in Rock: The Rough Guide. Alongside songs that reflected the tone of his previous work, such as "How Does It Feel" and "Feeling All the Saturday," stood tracks that showed exceptional talent, including the angry yet beautiful Harper classic "I Hate the White Man" and "Another Day," a song demonstrating Harper's ability to present old songwriting themes in a new and exciting way. Many years later, the tune was covered by both the Cocteau Twins and This Mortal Coil. Also in 1970, he achieved another measure of fame as the subject of the song "Hats off to (Roy) Harper" on the Led Zeppelin III album. Led Zeppelin's Jimmy Page, a life-long friend, wrote the song in tribute to Harper.
In 1971, Harper maintained his creative streak with Stormcock, in addition to finding time to write the script and music for the socio-realist film Made, in which he starred opposite Carol White. Later that year, he was struck with a rare congenital circulatory disorder called multiple pulmonary arterio-venus fistuli (where veins and arteries are joined in the lungs) that remains with Harper to this day. Although the condition slowed down his momentum for a few years in the early-1970s, he says that overall it hasn't interfered with his musical pursuits. Thus, after a rest, he returned with two more sets of evocative songs: Lifemask, released in 1973, and Valentine, released in 1974. On Valentine's Day of that year, he performed a now legendary gig at London's Rainbow club with a backing band consisting of Page, Keith Moon, and Ronnie Lane.
Harper's next album, 1975's HQ, surprised many. Although he had played to a rock audience before and used a backing band, HQ presented a case for establishing Harper as a major rock musician. Backed by a distinguished lineup that included David Gilmour, John Paul Jones, and Bill Bruford, and opening with the epic rock song "The Game," the album then traveled through a myriad of styles before ending with the acoustic number "When an Old Cricketer Leaves the Crease." In 1975, Harper also guested as lead vocalist for the song "Have a Cigar" off Pink Floyd's Wish You Were Here album.
After collapsing on stage during the HQ tour, an event brought on by various excesses, Harper recovered his health and recorded Bullinamingvase. Released in 1977, the album became his biggest commercial success, reaching number 25 on the British charts and yielding the elegiac hit "One of Those Days in England," which featured the vocal contributions of Paul and Linda McCartney.
Concurrent with the growing popularity of punk rock in the early 1980s, Harper went through a period of uncertainty about his role in rock music. In 1980, amid disputes with his record label and financial difficulties resulting from unfortunate business deals, he released The Unknown Soldier, which included "You," a duet with Kate Bush. In 1982, Harper formed his own label, Public, and released Work of Heart. Although it earned favorable reviews, the album failed to sell well, and Public went bankrupt. Although both albums contained a few excellent songs, most of the tracks featured more bitterness than his usual fire.
After recording a couple more albums for fringe labels, Harper in 1985 signed an agreement with Awareness Records, who began the comprehensive task of reissuing much of the songwriter's earlier work. Then in 1986, interest in Harper returned upon the release of Whatever Happened to Jugula, a collaboration with Page for the Beggars Banquet label that garnered excellent critical responses. "There's only one man I know who could be a virtuoso on both (acoustic and electric) and that's Page," Harper said of his friend, as quoted by Awareness. Therefore, thanks in large part to Page's involvement in addition to Harper's songwriting, the album achieved success on the United Kingdom charts, peaking at number 44 and widening somewhat the performer's cult following.
That same year, Harper re-signed with EMI, a self-described love-hate relationship that resulted in a double live album in 1986 entitled In Between Every Line. In 1988, he released a bleak collection of songs for Descendents of Smith, an album Harper described as over-recorded and over-produced. Returning to Awareness, he released the acclaimed album Once, which included contributions from Gilmour and Bush, in 1990. Here, Harper displayed a quieter, though more confident tone, as well as improved vocals and guitar technique. This accomplishment was succeeded in 1992 by Death or Glory?, his most intensely personal and dynamic album in years.
Although he had reaffirmed his status in the rock world, Harper exiled himself for several years until around 1996. In his absence, however, several archived and live materials were made available, including the stellar six-volume set of Live at the BBC albums and 1994's An Introduction to... Roy Harper, both on his own Science Friction label. In June of 1998, he released a new studio album entitled thedreamsociety, which finds Harper looking back on his life with contributions from family member Nick Harper, Felix Howard, and Ian Anderson on flute for the timeless track "These Fifty Years." Also included was the song "Broken Wing," now on the set list for many of Harper's gigs. The next year, he released a spoken word collection, Poems, Speeches, Thoughts and Doodles, then released The Green Man album in the fall of 2000. Most of Harper's albums are now available via his official website.
In 2000, Harper released an almost entirely acoustic album, The Green Man, accompanied by The Tea Party's Jeff Martin on guitar, hurdy gurdy and numerous other instruments. The following year (2001) Harper celebrated his 60th birthday with a concert at London's Royal Festival Hall. Harper was joined by numerous guest artists, including David Bedford, Jeff Martin and John Renbourn. A recording of the concert Royal Festival Hall Live – June 10th 2001 was released as a double CD shortly afterwards.
In April 2005, Harper released a lengthy CD single, The Death of God. The 13 minute song, a critique of the war in Iraq, featured guest guitarist Matt Churchill, who has also joined Harper on stage at his live performances.
2006 saw Harper release his first DVD, Beyond the Door. Composed of live footage recorded in 2004 at Irish folk club "De Barra's" in Clonakilty, Cork, the package includes an additional 10-track audio CD and received a 4-star review from both Mojo and UNCUT, as well as from Classic Rock magazine, who made it their "DVD of the month".
In 2008, plans were announced for a Roy Harper tribute album. The album, All You Need is What You Have (named after songs on Harper's 1969 release Come Out Fighting Ghengis Smith), is being compiled by Laurel Canyon folk singer Jonathan Wilson, and features Chris Robinson (The Black Crowes), Gary Louris (The Jayhawks), Johnathan Rice, Eric Johnson (Fruit Bats, The Shins), Benji Hughes and others. At present, the collection remains unfinished, having been delayed beyond its planned 2009 release date. Some of the tracks can be heard on the project's Myspace page.
In 2010, Newsom once again invited Harper to be special guest for her on several of her European Tour Dates. Plans for Harper to star in the film Rebel City Rumble were also announced.
On 5 November 2011 Harper returned to London's Royal Festival Hall to celebrate his 70th birthday and perform once again with special guests Jonathan Wilson, Nick Harper, Joanna Newsom and Jimmy Page. The performance was described in the media as "...an evening of devastating musical brilliance..." and an "...historic concert".
Discography
Studio albums:
1966 – Sophisticated Beggar
1967 – Come Out Fighting Ghengis Smith
1969 – Folkjokeopus
1970 – Flat Baroque and Berserk
1971 – Stormcock
1973 – Lifemask
1974 – Valentine
1975 – HQ (US title: When an Old Cricketer Leaves the Crease)
1977 – Bullinamingvase (US title: One of Those Days in England)
1980 – The Unknown Soldier
1982 – Work of Heart
1984 – Born in Captivity
1985 – Whatever Happened to Jugula? (with Jimmy Page)
1988 – Descendants of Smith
1988 – Loony on the Bus
1990 – Once
1992 – Death or Glory
1994 – Commercial Breaks (previously unreleased album from 1977)
1994 – Garden of Uranium (re-issue of Descendants of Smith)
1997 – Poems, Speeches, Thoughts and Doodles (A collection of spoken tracks with occasional instrumentation)
1998 – The Dream Society
2000 – The Green Man
Live albums:
1974 – Flashes from the Archives of Oblivion
1984 – Live at the Red Lion, Birmingham (Volume I & II Limited edition cassette)
1985 – Live at the Red Lion, Birmingham (Volume III Limited edition cassette)
1986 – In Between Every Line
1992 – Born in Captivity II (Limited edition cassette)
1993 – Unhinged (Edited version of Born in Captivity II)
1996 – Live At Les Cousins
1997 – The BBC Tapes – Volume II (In Concert 1974)
1997 – The BBC Tapes – Volume IV (In Concert 1975)
1997 – The BBC Tapes – Volume VI (In Concert 1978 with Andy Roberts)
2001 – Royal Festival Hall Live – June 10th 2001
Compilations, reissues and remixes:
1977 – The Early Years (reissue of Come Out Fighting Ghengis Smith)
1978 – Harper 1970–1975
1994 – An Introduction to .....
1997 – Song of the Ages (3-CD collection of Roy Harper interviews)
1997 – The BBC Tapes – Volume I (1969–1973)
1997 – The BBC Tapes – Volume III (BBC Sessions 1974)
1997 – The BBC Tapes – Volume V (BBC Sessions 1975 - 1978)
1998 – Death or Glory? (tracks 1 & 9 remixed)
2001 – Hats Off (compilation of collaborative tracks)
2001 – East of the Sun (compilation of love songs)
2002 – Today Is Yesterday (compilation of demo, unreleased and rare material from 1964–1967)
2005 – Counter Culture (double disc compilation)
2007 – From Occident to Orient (compilation and initially, only released in Japan whilst Harper toured there)
2011 – Songs of Love and Loss (two volume compilation of love songs)
Read more
Latest headlines