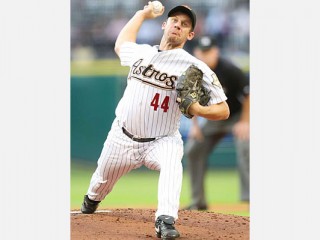 Roy Oswalt biography
Date of birth : 1977-08-29
Date of death : -
Birthplace : Weir, Mississippi, U.S.
Nationality : American
Category : Sports
Last modified : 2010-11-05
Credited as : Baseball player MLB, pitcher with the Philadelphia Phillies,
Roy Edwards Oswalt was born on August 29, 1977 in Weir, Mississippi. He was one of three children born to Jean and Billie Joe Oswalt. Roy has a brother Brian and a sister Patricia.
Roy's hometown had a population of around 500. He grew up in a quiet, secure environment where everyone knew everyone else, people worked and played hard, and life was pretty simple.
Roy was always very athletic, but never very big. "Scrawny" is a word you often see when people talk about him. He could throw the heck out of the ball, however, so in schoolyard games he usually ended up playing quarterback or pitcher. With the pressure on, he was the kid who usually seemed to come through in the clutch. When challenged, Roy was able to bump his performance up a notch. The same is true today.
Roy never had much in the way of formal baseball coaching. Everyone in his family was crazy about the sport. Jean passed along all he know about baseball to all three of his children.
Roy often got by on gut instincts. He would size up a hitter, figure out his weakness and then just go after him. He delivered the ball from a strange, wide-open stance which put a lot of stress on his lower body. But no one worried much about his future in baseball—he seemed too small and skinny for a professional career to be a real concern.
Despite his size, Roy's boyhood dream was to play baseball for Mississippi State. He really got into the sport at about the same time the Bulldogs had their great team in the early 1980s. Their stars—Will Clark, Rafael Palmeiro, Bobby Thigpen and Jeff Brantley—were all familiar names to him.
There were around 30 students in Roy's class at Weir High School. The Lionsl actually had a decent football team, and Roy was one of its stars. But there was no baseball team when he enrolled. Only after months of badgering was Billy Joe able to convince the school to start one, and it didn't practice for the first time until Roy's sophomore year.
When boys from bigger schools played Weir in sports, they made fun of its size. When the Lions trotted out Roy as their top athlete, they laughed at him, too. This was always a mistake. Roy seethed at the taunting and would devise ways not just to beat opponents, but to make them look bad in the process.
By his junior season, Roy was reaching in the mid 80s with his fastball and, more important, throwing just about any pitch he tried for a strike. This should have at least interested some college coaches, but the recruiting calls never came. Roy's parents even sent him to baseball camp at Mississippi State one summer, and though he threw as well as anyone there, coaches looked at his slight frame and his hometown and lost interest.
Roy stood 5-10 and tipped the scales at 150 as a senior at Weir High. Despite lights-out numbers, his small stature scared teams away. Add to the fact that Weir was just too far off the beaten path, and it was no secret why almost every scout stayed away. One who did show up (at the behest of Weir's football coach) was Kenny Dupont, who bird-dogged for the Baltimore Orioles. Dupont had just signed on to be the pitching coach at Holmes Community College in nearby Goodman. He offered Roy a chance at college ball, and he took it.
Roy gained strength and experience at Holmes, but he failed to draw much attention among Division I coaches and big league teams. The only scout who believed in him was James Farrar, a college professor who did some talent evaluation on the side for the Astros. He spotted Roy, convinced the Houston brass he had potential, and then determined that no other team even knew he existed.
The Astros would have used a high pick on Roy, but they gambled and let him slide down during the 1996 draft. Houston finally pulled the trigger in the 23rd round. Hoping to improve his lot, Roy decided to play a second season for Holmes. When he pitched well enough for Mississippi State coach Ron Polk to offer a full ride, he was faced with an agonizing choice. Go pro or fulfill his boyhood dream? The Astros made the decision easy when they put a half million on the table as a signing bonus. Now that Roy was a known commodity, Houston did not want him going back into the draft. Roy packed his bags for the minors.
Roy's first stop was with the Astros' Gulf Coast League team. In five starts, he was ridiculous, giving up two earned runs and striking out a batter an inning. He moved up a notch to the organization's team in Auburn of the NY-Penn League and went 2-4 the rest of the way. The following year, in 1998, Roy made the same two stops, finishing with a 5-6 record in 15 starts with an ERA just above 2.00.
Roy began to move up the ladder in 1999, when he spent the entire year with Class-A Michigan of the Midwest League. He led the Battle Cats with 13 victories, despite a sore shoulder that nagged him all year. After pitching in the league playoffs, he could barely lift his arm above his head. On his drive back to Mississippi all he could think about was going under the knife.
That winter, Roy scheduled a surgical consult with doctors. Before his appointment, he was fixing his pickup truck and put his right hand in a place he shouldn't have. Roy grabbed an exposed wire, and was electrocuted. He tumbled off the bucket he was using as a step, and when he came to his senses, he noticed that his right arm was pain-free. He still went to the doctor, who confirmed that he was really healed. The theory was that the jolt loosened scar tissue that had been causing the discomfort.
ON THE RISE
Roy began his fourth pro season with Class-A Kissimmee of the Florida State League. The Cobras played in virtually privacy, drawing fewer than 500 fans to the games in Houston's spring training complex. Roy was cruising along with four wins and a 2.98 ERA when he was called up to Class-AA Round Rock of the Texas League for an emergency start. He literally had his return ticket to Florida in hand when he reported to manager Jackie Moore, who slapped him on the back and told him to go long enough to hand the game over to the bullpen. Nine innings later, Roy had himself a 15-K shutout and the Express had a new ace. The ticket to Kissimmee went unused.
Round Rock was owned by Nolan Ryan. In their first Texas League season, the Express drew over 10,000 a game when Roy was pitching—20 times the crowds that cheered him on in Kissimmee. The league was known as a hitter's circuit, but Round Rock pitching was dominant, and the Express finished first behind Roy's 11-4 record and league-best 1.94 ERA and 141 strikeouts. He was named the league's top prospect, and along with Keith Ginter and Morgan Ensberg, Roy paced the club to the championship with a convincing series victory over the Wichita Wranglers.
In September, Roy joined a group of minor leaguers who formed the U.S. Olympic team. Manager Tom Lasorda's job was to whip them into a cohesive unit. Using Ben Sheets as a centerpiece, he built a competent club that won five out of six games to reach the gold medal final against the heavily favored Cubans. Sheets twirled a three-hit shutout, and Team USA was the unexpected champion. Roy allowed just two runs in two starts during the tournament. After it was all over, Lasorda told him he was ready to pitch in the big leagues.
Roy had a good spring in 2001 and was promoted to Class-AAA New Orleans. After five starts, he was called up by the Astros, who had a power-laden team built for their new homer-happy ballpark. The Houston pitching staff was led by veteran Shane Reynolds and young gun Wade Miller. Billy Wagner, Mike Jackson and Octavio Dotel made up the bullpen. Basically, the starters had to go six, and the relievers would take it from there.
Roy added depth to the relieving corps. He picked the brains of his teammates, finding out everything he could about pitching to major league hitters. Roy won twice during May, prompting manager Larry Dierker to move him into the starting rotation in early June. Once Roy got the ball, he took off. The Astros won his first eight starts, marking only the third time in history this happened.
In all, Roy made 20 starts and went 12-2. His final record was 14-3 with an ERA of 2.73 and 144 strikeouts in 142 innings. He showed command of five pitches—a four-seamer and two-seamer, curve, slider and change. He varied speeds like a veteran, making it hard for enemy batters to dig in and take their best cuts. Roy's 6-to-1 strikeout to walk ratio, plus his 2.15 ERA at Enron Field, caused many onlookers to forget he was a rookie.
The Astros spent September in a dogfight with the St. Louis Cardinals and Chicago Cubs. They won the division with a 93-69 record. Unfortunately, Roy went down with a groin injury and was unavailable for the playoffs. He watched as his teammates were shut down by the Atlanta Braves in three straight.
In almost any other season, Roy would have been a hands-down pick for Rookie of the Year. But this was Albert Pujols's first season, and the St. Louis slugger put up historic numbers.
Heading into 2002, Dierker was replaced with Jimy Williams. Roy was poised to become Houston's ace. He fulfilled this goal, but not under the conditions he had envisioned. The Astros were simply horrible. Lance Berkman was the only player who hit well all year, while the starting staff was plagued by inconsistency and injuries. Roy was the team's shining star, starting fast and heating up in July and August with nine straight wins. Houston launched a brief run at the Cardinals in late summer, but the club faded in September and wound up at 84-78.
Roy ended the year with a 19-9 record and 3.01 ERA. He fanned 208 in 233 innings. He probably would have won 20 with Dierker in the dugout, but Williams had a quick hook with his young pitchers. Roy got stuck on 19 in early September and could not win in his final four starts. Ironically, the pitcher who denied him win #20 on his last start was Wayne Franklin—the player who was sent to the minors to make room for Roy the year before.
Many were predicting a Cy Young award for Roy in 2003, but it turned out to be a year of great frustration. His old groin injury cropped again, limiting him to 21 starts. Ironically, he got hurt in the first inning of a start against the New York Yankees. Eight innings later, five relievers had backed him up to register an historic no-hitter. The Yanks had gone a record 6,980 games without being blanked until the Astros did it.
When Roy was healthy, he was great. In 127 innings, he went 10-5 with a 2.97 ERA and 108 strikeouts. The Astros fixed their offensive woes with the addition of Jeff Kent and the return to health of Jeff Bagwell. Still, they fell one victory short of the division title, and the Cubs grabbed a playoff spot in front of them. Roy, a team player to a fault, stated publicly that he believed he had cost the Astros the pennant.
MAKING HIS MARK
The Astros retolled for 2004, landing Roger Clemens and Andy Pettitte over the winter. Roy became the best #3 starter in baseball—though he did get the ball Opening Day. With addition of Clemens and Pettitte, Houston became the favorite to win the National League Central. But the Astros broke from the gate slowly, while St. Louis set a blazing pace. With Houston left eating the Cardinals' dust, Williams lost his job. Phil Garner stepped into the skipper's slot, and the Astros began to play to their potential. In a truly wild Wild Card finish, they won 26 of their final 46 games to edge four other teams.
Pettitte fought an elbow injury all season long, but Clemens was great, leading the league with an .833 winning percentage and copping the Cy Young. Roy was just as big a story, topping the NL with 20 wins. He fanned 206 hitters in 237 innings and had a solid 3.49 ERA. He also pitched in his first All-Star Game, thanks to the fans, who voted him onto the team as the 25th man.
Roy made two starts against the Braves in the Division series. He ended up on the losing end of a 4-2 score in Game 2 but got the win in Game 5. That victory enabled the Astros to advance in the postseason for the first time in team history.
In the NLCS against the Cardinals, Roy started Game 4, pacing the Astros to a 5-4 win. Brandon Backe pitched a shutout a night later, meaning Houston needed just one more win to reach the World Series. St. Louis eked out an extra-inning victory in Game 6 and beat up Clemens in the decider. Roy came in to pitch relief, but it was too late. The Cards won 5-2.
The Astros repeated as the NL Wild Card winner in 2005 despite suffering huge losses on offense. Kent and Carlos Beltran—the hero of the '04 postseason—departed via free agency, and injuries to Bagwell and Berkman reduced them to mere mortal status. Morgan Ensberg had a career year to keep Houston afloat early, and just as they had the previous season, the Astros finished with a flourish to lock up a postseason berth despite a miserable 15-30 start.
They earned their invite to the dance with pitching. Pettitte was awesome in the second half, while Clemens posted an ERA under 2.00. Brad Lidge was nearly unhittable in relief, while everyone else on the staff pitched decently down the stretch. Roy paced the club with 20 victories again and was almost unbeatable at home. He turned in a 2.94 ERA and fanned 184 batters.
In the Division Series, the Astros and Braves played again. After splitting the first two games, Roy won Game 3, 7-3. The only trouble he had on the mound was of his own doing—he fell down during a pitch. The Astros finished off the Braves in an 18-inning marathon to advance to the NLCS versus the Cardinals for the second straight year.
After Pettitte got battered in Game 1, Roy rescued the Astros with a gem the following day. Houston rode this wave of momentum to two straight wins after they returned home. But Lidge coughed up a two-run lead with two out in the ninth in Game 5.
Roy took the mound for Game 6 in St. Louis with everyone predicting the Astros would finally fold. Instead, Houston rolled behind Roy's brilliant pitching to win 5–1. He was named MVP of the NLCS with two wins and a 1.29 ERA in 14 innings. After the season, owner Drayton McLane gave Roy a Caterpillar bulldozer for his clutch performance in Game 6.
The Astros faced the Chicago White Sox in their first World Series in franchise history. But the South Siders were on an even better roll and swept Houston in four close games.
Roy pitched Game 3 and was given a 4–0 lead. It was the first World Series game ever played in Houston, and the fans were going crazy. In the 5th inning, however, it all came apart. The White Sox touched Roy for a homer, double and four singles to take a 5–4 lead. He pitched into the seventh before coming out. Roy watched as the Astros tied the game on a Jason Lane hit one inning later. The game went into extra innings. In the 14th, Ezequiel Astacio yielded a solo homer and a bases-loaded walk, and the Astros lost 7–5. The next day, Freddy Garcia outdueled Brandon Backe to end the series.
Roy continued his great pitching in 2006, leading the NL with a 2.98 ERA and 4.37 strikeout-to-walk ratio. For the third year in a row, he was among the final four in the Cy Young Award voting, but a bunch of no-decisions hurt him. His final record was 15–8.
The Astros had a tough time when Roy wasn't pitching. They won only 82 games in '06 and missed the playoffs. Still, the Houston brass saw his value to the club, signing him to a five-year, $73 million contract extension before the year ended. Roy responded by nearly pitching the Astros into the postseason. He notched five victories in September, as Houston made a spirited run at the division crown. The Astros fell a game short.
The following season was a year of change for Houston. In a campaign that saw both Pettitte and Clemens return to the Yankees, Roy was the lone bright spot for the Astros' mound corps. He went 14–7 with a 3.18 ERA and 154 strikeouts. No other Houston pitcher reached double-digits in wins. The team tumbled into fourth place, costing Garner his job.
In 2008, interim manager Cecil Cooper was named the full-time skipper and led the team to 86 wins. Unfortunately, the Astros only moved up one spot in the Central standings, but they remianed in the Wild Card hunt until mid-September. As usual, Roy led the staff with in victories (17) and strikeouts (165). He was good in the first half, overcoming a DL stint with a sore hip. In the second half, Roy was great, leading the NL with 10 wins after the break.
The 2009 campaign saw another reversal of fortune, as the Astros finished fifth in the division with a 74–88 record. Roy had the worst year of his career, winning a mere eight games despite starting 30 times. He finished the year on the DL with a sore back.
Things didn't improve much in 2010. In fact, they got worse—the Astros were terrible. Roy's agent talked to the team to find out how management planned to fix things. The Astros admitted they had no plan. Soon Houston was doing the unthinkable—fielding offers for Roy. It wasn't an easy sell. The Astros put a high price on their ace, even though he was leading the league in losses.
In the end, the Phillies made the best offer. They sent J.A. Happ and a couple of minor leaguers to Houstonbut insisted that the Astros eat $11 million of Roy's salary. Former teammate Lidge sold Roy on pitching in Philly. The Phillies were sold on Roy after watching him twirl a one-hitter against the Pittsburgh Pirates right before the All-Star Game.
In Philadelphia, Roy joins a team of stars who may all meet in Cooperstown one day—including Roy Halladay, Ryan Howard, Jimmy Rollins and Chase Utley. But as he proved in Houston, Roy has a way of outshining the superstars when the pressure is on. That'll be fine with the fans in Philly. They love rooting for the underdog ... especially when he competes like a superhero.
ROY THE PITCHER
Roy is a student of hitters, not just from start to start, but from pitch to pitch. He watches a batter's body language and tries to read his facial expression for clues about what he's thinking or which pitch he's looking for. This has resulted in some stare-downs, as batters sometimes think he's trying to intimidate them.
Roy can get his fastball up into the mid 90s, while his curve snaps over at around 75 mph. This incredible differential has made many a hitter look bad. In 2004, he began varying the speeds of his breaking pitches, making the almost impossible to hit even when a batter guesses right. His unusual delivery only makes him tougher.
Although Roy does not give up many hits or issue many walks, he does not mind putting guys on base. He attacks the strike zone as aggressively as anyone in the league, so he knows that control won't get him into a deeper jam.
Roy is a perfectionist in all aspects of the game. He practices fielding bunts all around the mound, and will hit the cage for an hour if he fails to get one down himself. This commitment to excellent rubs of on his teammates, and gives them ultimate confidence in Roy when he takes the hill.
Read more
Latest headlines