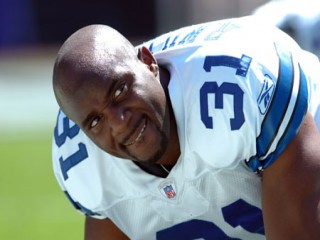 Roy Williams biography
Date of birth : 1981-12-20
Date of death : -
Birthplace : Odessa, Texas
Nationality : American
Category : Sports
Last modified : 2010-11-10
Credited as : Football player NFL, wide receiver for the Dallas Cowboys, Pro Bowl/NFL Draft player
Roy Williams, Jr. is an American football wide receiver for the
Dallas Cowboys
of the National Football League.
PRO:
The Dallas Cowboys acted before the 2008 trade deadline on October 14 to acquire Roy Williams - and a 2009 seventh round selection - from the Detroit Lions in exchange for Dallas' 2009 first, third and sixth round selections. Williams, a former first round selection himself (seventh overall in 2004), came to Dallas after spending his first four and a half seasons in Detroit. Through his career as a Lion, Williams moved up the team's receiving charts and left seventh in receiving touchdowns (29) and receiving yards (3,884) and 10th in receptions (262). The former Texas Longhorn has one 1,000-yard season (1,310 in 2006) along with 14 100-yard games on his pro resume. His best season was in 2006 when he caught 82 passes for an NFC-high 1,310 yards and seven touchdowns to earn a spot on the 2007 NFC Pro Bowl squad. Williams will be yet another receiving threat for Dallas' offense in 2010 following the emergence of Miles Austin, the selection of Dez Bryant in the first round of the 2010 NFL Draft and the continued dominance of tight end Jason Witten.
2009:
# In his first full season in Dallas, finished second with seven receiving touchdowns, third with 38 catches and fourth with 596 yards.
# In the season-opening win at Tampa Bay (9/13), had three catches for 86 yards with his long going for a 66-yard touchdown. It was the second-longest catch of his career behind a 91-yard touchdown catch at Philadelphia (9/23/07) while with Detroit.
# Had one catch for 18 yards in the Cowboys Stadium opener against the N.Y. Giants (9/20) before catching four passes for 75 yards in the first win at Cowboys Stadium against Carolina (9/28).
# Had three catches for 35 yards but suffered a rib injury and was sidelined for the club's final drive at Denver (10/4).
# Was inactive (ribs) for the overtime win at Kansas City (10/11) and returned following the bye week to have one catch for 17 yards against Atlanta (10/25).
# Caught two passes for 19 yards with a touchdown against Seattle (11/1), then had five catches for a team-best 75 yards in the win at Philadelphia (11/8).
# Led the team with 105 yards with one touchdown on five catches at Green Bay (11/15) to mark his first 100-yard game since going for 106 with Detroit against the N.Y. Giants (11/18/07).
# Did not catch a pass against Washington (11/22), then had two catches for 15 yards with a nine-yard touchdown catch in the Thanksgiving Day win over Oakland (11/26).
# Finished the game at the N.Y. Giants (12/6) with six catches for 60 yards with two touchdowns – his first multi-receiving touchdown game as a Cowboy and first since his two scoring grabs at Arizona (11/11/07).
# Led the team with 74 yards on four catches against San Diego (12/13), then had one catch for 14 yards at previously undefeated New Orleans (12/19).
# Had a four-yard touchdown catch in the playoff-clinching win at Washington (12/27).
# Was held without a catch in the season finale against Philadelphia (1/13/10).
# In his first career postseason game, caught five passes for 59 yards in the Wild Card Playoff Game against Philadelphia (1/9/10) - Dallas' first playoff win since 1996.
# Did not catch a pass in the Divisional Playoff loss at Minnesota (1/17/10).
2008 (Detroit/Dallas):
# Started the first five games for Detroit prior to his trade to Dallas and caught 17 passes for 232 yards and a touchdown.
# Upon arriving in Dallas, Williams recorded 19 receptions for 198 yards with one touchdown while playing in 10 games with seven starts.
# In the season opener at Atlanta (9/7), had three catches for 47 yards with a 21-yard touchdown. His touchdown catch was the 29th of his career and moved him past Gail Cogdill for seventh in Lions club history.
# Had season-highs against Chicago (10/5) with seven catches for 96 yards. Six of his seven receptions resulted in first downs. His 96 receiving yards moved him into seventh in Lions history (3,861).
# At Minnesota (10/12) caught two passes for 23 yards in his final game as a Lion.
# At St. Louis (10/19) made his Cowboys debut, but did not record a catch as he saw limited action on offense.
# Made his first start at receiver for Dallas against Tampa Bay (10/26) while recording his first reception and his first touchdown as a Cowboy. His lone touchdown marked the only one of the game and gave the Cowboys a 10-6 lead as the first half expired.
# At Washington (11/16) finished with three catches for 36 yards with all three catches picking up first downs.
# Finished with two catches for 51 yards with a season-long of 38 yards along with one rush for a season and career-long 13 yards against Seattle (11/27). His 51 receiving yards allowed him to pass 4,000 for his career.
# Finished with three catches for 12 yards against Baltimore (12/20) in the Texas Stadium finale with two of his catches picking up enough yardage for a first down on third down.
2007 (Detroit):
# Hauled in 63 passes for 836 yards and five touchdowns to earn a selection as an NFC Pro Bowl alternate before landing on Reserve/Injured with a sprained knee ligament on Dec. 18, 2007.
# Caught four passes for 20 yards and a touchdown at Oakland (9/9) to move into 18th place on Detroit's all-time receptions list.
# Nabbed seven passes for 111 yards and a touchdown against Minnesota (9/16).
# Established a career-high with 204 receiving yards on a season-best nine receptions at Philadelphia (9/23) to become just the third player in Lion history to top 200 yards in one game. It was also the 12th time in his career he topped 100 yards in a game.
# Among his 204 yards in the Eagles game were receptions of 54 yards and a career-best 91-yard touchdown catch. It was the 26th touchdown catch of his career, to tie for eighth in club annals. His two long catches allowed him to become the first Lions receiver to haul in two passes of 50-or-more yards in the same game since James Gibbons did it against San Francisco (12/13/64).
# The Philadelphia game also marked his fifth straight game with a touchdown catch, the longest streak by a Lion since Herman Moore scored in six straight games in 1994.
# Added two touchdowns and 47 yards on seven catches at Arizona (11/11). His second touchdown catch was the 28th of his career and moved him into a tie with Cogdill for seventh in Dertoit record books.
# Caught six passes for 106 yards - his 12th career 100-yard performance - against the N.Y. Giants (11/18). Moved into fifth place for 100-yard games in Lions history.
# Started the game at Minnesota (12/2) with five catches for 85 yards in the first half before leaving the game with the knee injury.
# Was inactive against Dallas (12/9) and at San Diego (12/16) before being placed on Reserve/Injured on Dec. 18, 2007.
2006 (Detroit):
# Finished the season tied for third in the league (first in the NFC) with 1,310 receiving yards and tied for 16th in the league (ninth in the conference) with 82 receptions - both career-highs.
# His 1,310 yards were good for fourth in Lions history and were the most since Germane Crowell had 1,338 in 1999. He was also the fourth receiver in club history to top 1,300 yards.
# Earned his first career Pro Bowl selection, making him the first Lions receiver to play in the game since Moore in 1999.
# Averaged 16.0 yards-per-catch, tops amongst league receivers with at least 65 catches. Also led the NFL with 24 catches of 20-or-more yards.
# Tied Indianapolis' Marvin Harrison for the most 100-yard games on the season (six).
# Had at least 135 receiving yards in an NFL-high four games to become the first Lions receiver to accomplish that feat.
# Along with Mike Furrey, was one of just three receiver duos in the league to each register 80 catches and 1,000 yards. They were the first Lions duo to do so since Crowell and Johnnie Morton (1999).
# Williams' and Furrey's combined 180 catches were the second-most in the league and the most since Moore's and Morton's 184 in 1997.
# His 82 catches on the year were good for the sixth-most in Lions history.
# Led the squad against Green Bay (9/24) with seven catches for 138 yards and a touchdown. His average of 19.7 yards-per-catch was the highest of his career in games with five-or-more receptions.
# Led the team for the third consecutive week at St. Louis (10/1) and set a then single-game career-high in receiving yards for the second straight week with 139 yards on nine catches.
# With 100-or-more yards against the Packers and at the Rams, it was the first time in his career he had back-to-back 100-yard days.
# Left the game at Minnesota (10/8) in the first series with a neck stinger after catching one pass for seven yards.
# Returned the next week in the win over Buffalo (10/15) to establish a career-high with 10 catches for 161 yards with a touchdown.
# Had a then career-long catch of 60 yards for a touchdown as part of a six-catch, 138-yard performance against Atlanta (11/5).
# Caught six passes for 104 yards and two touchdowns at Dallas (12/31) to mark his fifth career multi-touchdown outing.
2005 (Detroit):
# Finished his second professional season second on the team in receptions (45), first in receiving yards (687) and first in yards-per-catch average (15.3).
# Scored the Lions only touchdown of the game against Chicago (9/18) on a 51-yard pass from Joey Harrington.
# Had two catches for 24 yards against Baltimore (10/9) before leaving the game with a quadriceps injury.
# Missed the next three games with the injury and returned at Minnesota (11/6) but did not record a catch.
# Had season-highs with three touchdown catches (7, 21 and 29 yards) on seven catches for 117 yards against Arizona (11/13). It marked his first career three-touchdown game, his third career 100-yard day and his fourth career multi-touchdown game.
# Had his sixth touchdown grab of the season at Green Bay (12/11) to go along with a 40-yard catch in the final frame to put the Lions in the red zone.
# Added his seventh touchdown catch against Cincinnati (12/18).
# Finished the game at New Orleans (12/24) with four catches for 111 yards - all in the fourth quarter. His 49-yard catch on the first series of the final quarter set up a Detroit field goal that gave the Lions a 10-9 lead. Had two more catches that led to the game-winning 39-yard Jason Hanson field goal.
# Notched his eighth touchdown reception with a 15-yard scoring catch at Pittsburgh (1/1/06).
2004 (Detroit):
# Established club rookie receiving records with 54 catches for 817 yards and eight touchdowns.
# Named NFC Rookie of the Month for September after recording 17 catches for 277 yards and four touchdowns through the first three games.
# In his NFL debut, led all receivers with four catches for 69 yards in the opener at Chicago (9/7).
# Named Pepsi Rookie of the Week after scoring his first two career touchdowns on four catches for 73 yards against Houston (9/19).
# Added two more touchdowns against Philadelphia (9/26) on nine catches for 135 yards to become the first Detroit rookie to have a 100-yard game since Larry Foster in 2000 and the first Lions rookie with multiple touchdowns in multiple games since David Hill (1976).
# Caught three passes at Atlanta (10/10) before suffering an ankle injury in the third quarter.
# Broke the Lions rookie receiving yards and touchdowns records with 104 yards and two scores against Minnesota (12/19).
COLLEGE:
# Started 40 games through his collegiate career and shattered Longhorn records with 241 receptions for 3,866 yards (16.0 avg.) and 36 touchdowns.
# Added 16 runs for 243 yards (15.2 avg.) and three touchdowns.
# Was a semi-finalist for the Biletnikoff Award and an All-Big 12 Conference second-team choice as a senior.
# Became the only player in school history to record over 1,000 receiving yards in a season two times.
# Earned All-Big 12 first-team honors, was a semi-finalist for the Biletnikoff Award and was named the school's co-Offensive MVP as a junior.
# Named MVP of the Cotton Bowl against Louisiana State as he had his fifth consecutive 100-yard game with 142 yards on four catches with a 51-yard score. Also added a 39-yard reverse for a touchdown.
# As a freshman, named Big 12 Freshman of the Year, third-team All-Big 12 and second-team Freshman All-American by The Sporting News.
• Was the nation's leading true freshman in receiving yards-per-game (73.5), yards-per-catch and touchdowns.
PERSONAL:
# Roy Williams earned all-state honors in both football and track as a junior and senior at Permian High School in Odessa, Texas.
# Added three letters in both basketball and track at Permian.
# Guided the Permian track team to a fourth place finish at the 2000 Texas 5A state meet after winning the long jump with a state-record leap of 25-6, finishing second in the high jump (6-10) and third in the 100 meters (10.48) to record all of the school's 24 points.
# Was a three-time first-team all-district baseball player.
Read more
Latest headlines