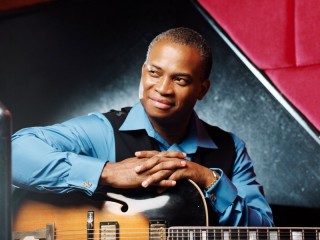 Russell Malone biography
Date of birth : 1963-11-08
Date of death : -
Birthplace : Albany, Georgia, U.S.
Nationality : American
Category : Arts and Entertainment
Last modified : 2011-12-12
Credited as : jazz guitarist, swing and bebop musician, "Triple Play"
Russell Malone is an essentially self-taught swing and bebop jazz guitarist. He began working with Jimmy Smith in 1988, and went on to work with Harry Connick, Jr. and Diana Krall throughout the 1990s.
Russell Malone provided an interesting analogy to describe his approach to music. As he told Billboard magazine's Steve Graybow, "One of the things that made Franklin Roosevelt such a good president was that while he was educated--an aristocrat--he still knew how to talk to the common man. That principle should apply to music. Every song doesn't have to be a lesson in theory and harmony. A lot of guys feel a need to educate the audience; I'd rather reach people."
Born in Albany, Georgia, in 1963, Malone grew up within a deeply spiritual church environment that influenced his early interest in music. He received his first instrument, "a green plastic four-string" according to Malone, at the age of four. However, after watching legendary blues guitarist B.B. King play "How Blue Can You Get" during an episode of the popular 1970s sitcom Sanford and Son, Malone started gravitating to various other musical forms besides gospel. And as the young guitarist discovered the blues, country, and jazz, he began to marvel at the musicianship of both country singers/guitarists such as Chet Atkins and Johnny Cash, as well as jazz guitarists like Wes Montgomery and George Benson.
Listening to the songs of the aforementioned performers and others, Malone taught himself how to play guitar. By the time he reached 25 years of age, he accepted his first gig playing with master organist Jimmy Smith. During his first performance with Smith, Malone recalled, "It made me realize that I wasn't as good as I thought I was," according to the Verve Music Group. Two years later, Malone joined singer/pianist Harry Connick, Jr.'s orchestra, holding this position from 1991 through 1994. In the meantime, Malone also worked with a diverse variety of other musicians, including Clarence Carter, Little Anthony, Peabo Bryson, Mulgrew Miller, The Winans, Eddie "Cleanhead" Vinson, Bucky Pizzarelli, and Jack McDuff.
Malone recorded his first solo album from August of 1991 until March of 1992. Released by Columbia Records in 1992, the self-titled debut provided an opportunity for Malone to display his classic, though modernized, technique. Covering most of the jazz spectrum and utilizing both electric and acoustic guitar, the album featured uplifting songs such as "When I Take My Sugar to Tea" and "I Can't Believe That You're in Love With Me" (a duet with friend Connick), in addition to more relaxed compositions like "Moonlight Serenade" and "London By Night." Pianist Donald Brown, bassists Milt Hinton and Robert Hurst, and drummers Yoron Israel and Shannon Powell also joined Malone for recording sessions. The following year, Malone returned with a second solo effort entitled Black Butterfly, recorded March through April of 1993 and again issued by Columbia. His accompanying lineup included Gary Motley on piano, Steve Nelson on vibraphone, Paul Keller on bass, and Peter Siers on drums. Similar to his previous release, Malone's follow-up effort, a collection of both original and cover tunes, was marked by his ability to combine the rich jazz tradition of master guitarists with clever melodies and youthful arrangement. Yet at the same time, Malone played more tightly with his backing musicians.
Up to this point in his career, the young singer/guitarist remained virtually overlooked by the mainstream jazz audience. But with Black Butterfly, critics and jazz enthusiasts began to take notice. Reviewer Michael Wright surmised in Audio: "Malone takes command immediately with an aggressive tribute to Wes Montgomery highlighted by nimble, hellbent lines; next comes a salute to Kenny Burrell, loaded with surprising and delightful intervalic skips that wind up the tension and get you in the mood for more electric improvisations. Whether it's bluesy bends and rapid jumping between fast, angular scales and glissando chords or the gentle, rippling arpeggios of a lullaby, Malone is remarkably precise and expressive."
Despite his accomplishments as a bandleader, Malone opted to place his solo aspirations aside for the time being. Rather than focus his attentions on a third album right away, the musician instead returned to joining other solo artists. In addition to continuing to record with Connick and landing a small role as a guitarist in Robert Altman's 1996 film Kansas City, Malone also appeared on Stephen Scott's 1997 release The Beautiful Thing and on Benny Green's 1997 album Kaleidoscope. Other recordings included sessions with Roy Hargrove and Gary Bartz.
Around 1995, Malone joined Diana Krall's studio and live band. From the onset, according to Malone, he and the singer/pianist developed a near telepathic relationship. "It's good working with a singer who can sing," the guitarist told Willard Jenkins in Down Beat, "and Diana is a musician, so it makes it easy; singing good songs and trusting in each other. My favorite part of the show is when we do duets, just voice and guitar." Considered his most precipitous hook-up, Malone's work with Krall included appearing on the singer's two Grammy-nominated albums, All For You in 1996 and Love Scenes in 1997, in addition to touring and performing with Krall's band throughout the world.
Although Malone's career was anything but inactive in the years following Black Butterfly, many jazz enthusiasts wondered what had become of the guitarist's acclaimed solo work. Finally in October of 1998, Malone eased the minds of fans and critics alike with the release of the highly praised Sweet Georgia Peach, his Impulse!/GRP (an imprint of the Verve Music Group) label debut. For his third solo effort, Malone assimilated a cast of jazz music's most noted players: bassist Ron Carter, pianist Kenny Barron, and drummer Lewis Nash. "I've been listening to Ron Carter since I was 8 or 9 years old," the guitarist told Graybow. "When I put the headphones on and I heard that sound coming through, well, it took maybe two hours for me to get my composure back. People talk about the late-1960s Miles Davis Quintet, and how much the sound revolved around Tony Williams. That may have been true to some extent, but I don't think it would have sounded the way it did without Ron Carter." And Malone gave similar adulations to his other backing musicians. "Lewis Nash has the ability to fit into any situation. But at the same time he manages to stand out and do something unique," remarked Malone. Describing Barron, the guitarist noted, "there are a lot of piano players who may play slicker or faster, but you'd be hard pressed to find a better piano player than Kenny Barron."
GRP President Tommy LiPuma, who produced the album, also inspired Malone's ensemble, sitting beside the musicians rather than behind the console during recording sessions. "He loves melody and honesty and honesty and beauty, and I think that came out here. I will never forget one of my earlier conversations with the powers that be--they told me 'you have a lot of technique and chops and we want to showcase that.' Basically, they wanted me to play fast. But working with Tommy was a musician's dream," said Malone, as quoted by his record label.
Sweet Georgia Peach consisted of both original and cover tunes, including a version of Herb Albert's radio pop song "Rise," Thelonious Monk's "Bright Mississippi," and a rendition of "Swing Low, Sweet Chariot," a tribute to the African American church tradition of Malone's childhood. Of all the songs on the album, though, Malone was most proud of his own "Song For Darius," written for and dedicated to the musicians then ten-year-old son. Holding to his belief in placing melody above technique, Malone declined the inclusion of "complexity for complexity's sake," the musician told Verve. "I was down in Georgia visiting my mother; she doesn't know anything about the technical aspects of music. And when I played the album for her, she liked it. A lot of people write songs that are understandable only to them and other musicians, but I like to write things that the average person can get into. And when you see your kids running around dancing to what you're playing, that is a good indication that you've got it."
Likewise, critics agreed that Malone succeeded in making a comprehensible record without compromising musical style and craftsmanship. "It isn't just the uncluttered flow of Malone's phrasing or the deft assurance of his touch that makes this disc such a... well, a peach," concluded Gene Seymour of Newsday. "There's also an easygoing ingenuity in both his original compositions (such as the hard-driving 'Mugshot' and the frisky title tune) and his arrangements of such boilerplate pop as 'With You, I'm Born Again' (seamlessly melded with his original ballad, 'Strange Little Smile')." And although the guitarist's collection featured such an adept backing rhythm section, "Malone brings enough control, vitality and intelligence to his material to make him more than worthy of such auspicious company."
During the summer of 1999, Malone took a break from Krall's live group to play dates with a trio that also consisted of bassist Christian McBride and pianist Benny Green. He also toured with his latest working group, which included Richie Goods on bass, Byron Landham on drums, and Anthony Wonsey on piano. These musicians also worked with Malone for the guitarist's forthcoming album, expected to be issued in the year 2000 by the Verve label. Regarding the follow-up release to Sweet Georgia Peach, Malone revealed to Jenkins, "I wrote some new material, and I did some arrangements of some popular tunes that are a bit left of center. I did the theme from The Odd Couple and I did a Stevie Wonder tune called 'You Will Know.'" Also in 1999, Malone received Down Beat magazine's critics poll award for best jazz guitarist of 1998.
Russell Malone recorded live September 9–11, 2005, at Jazz Standard, NYC, and MAXJAZZ released "Live At Jazz Standard, Volume One" (2006) and "Live At Jazz Standard, Volume Two" (2007). Appearing on these two volumes, and touring as The Russell Malone Quartet, are Martin Bejerano on piano, Tassili Bond on bass, and Johnathan Blake on drums. Malone's 2010 recording "Triple Play" (also on MAXJAZZ) is pianoless, featuring David Wong on bass, and Montez Coleman on drums. Currently, in 2011 and into 2012, Malone can be seen touring with his trio of David Wong or Tassili Bond on bass and Darrell Green on drums.
Discography:
-Russell Malone (COLUMBIA - 1992)
-Black Butterfly (COLUMBIA - 1993)
-Sweet Georgia Peach (IMPULSE! - 1998)
-Wholly Cats (VENUS - 1999)
-Look Who's Here (VERVE - 2000)
-Heartstrings (VERVE - 2001)
-Jazz at the Bistro [with Benny Green] (Telarc - 2003)
-Bluebird [with Benny Green] (Telarc - 2004)
-Playground (MAXJAZZ - 2004)
-Live At Jazz Standard, Volume One (MAXJAZZ - 2006)
-Live At Jazz Standard, Volume Two (MAXJAZZ - 2007)
-Portrait Northwestern State University Jazz Ensemble featuring Russell Malone (2009)
-Triple Play (MAXJAZZ - 2010)
Read more
Latest headlines