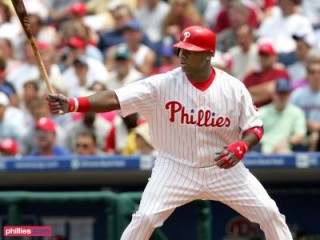 Ryan Howard biography
Date of birth : 1979-11-19
Date of death : -
Birthplace : St. Louis, Missouri, U.S.
Nationality : American
Category : Sports
Last modified : 2010-10-29
Credited as : Baseball player MLB, first baseman with the Philadelphia Phillies,
GROWING UP
Ryan James Howard was born on November 19, 1979 in St. Louis, Missouri. His parents, Cheryl and Ron, already had two children, Chris and Roni Karen. Ryan and his twin brother, Corey, brought that number to four.
Ryan made sure he never showed up late to the dinner table. He may rank among baseball's biggest sluggers, but in his own home, Ryan placed a distant third to Chris and Corey, who would grow to 6-6 and 6-7, respectively. All three were good athletes. The Howard boys played baseball, football, soccer and basketball.
School, however, was priority #1 as far as Cheryl and Ron were concerned. Homework always came before sports, and Ryan and his siblings were all expected to go to college and earn a degree. Chris, for example, has a bachelor's degree in education, a master's degree in sports administration and a law degree, all from the University of Kansas. Roni counsels juvenile delinquents in St. Louis, and Corey works for AT&T.
When each of his kids reached their teens, Ron took them back to his hometown of Birmingham, Alabama, where he grew up amid poverty and racism. The message was clear. Ron had overcome great odds to be a success—he didn't want his kid wasting the opportunities before them.
Ron, however, was also a big baseball fan. His childhood hero was Dick Allen. Ron saw him play live on several occasions and never forgot a towering homer that Allen hit with the St. Louis Cardinals at Busch Stadium in 1970.
Ryan shared a love of baseball with his dad. By Little League, he was already displaying awesome power. In one game, he launched a drive that cleared the fence and a parking lot behind it before smashing into a Red Lobster restaurant. It wasn't long after that Ron built a makeshift batting cage for his son. Ryan took BP day after day. By the time he reached Lafayette High School as a freshman in 1994, he had the look and size of a big-league prospect.
The problem was that the scouts never came knocking. Despite an impressive high school career, Ryan went undrafted. The country's major college programs didn't seem all that interested in him, either. After talking to Arizona State, Kansas State and Nebraska, Ryan settled on nearby Southwest Missouri State (which later changed its name to Missouri State).
By now, Ryan had an inkling that professional baseball would be part of his future. During the 1998 season, he was glued to the TV as Mark McGwire and Sammy Sosa waged their history-making home run race. Ryan could picture the day when he would do the same.
ON THE RISE
SMSU turned out to be an ideal place for Ryan to pursue his education and his pro aspirations. The teenager decided on a Communications major and took on an aggressive course load. He hoped to have enough credits to graduate by his junior year.
Ryan worked just as hard on the baseball field. The Bears had a proud diamond tradition, sending their fair share of players onto stardom at the next level, including Bill Mueller, who won the American League batting title in 2003. It appeared that Ryan was headed for similar success. After joining the team as a walk-on, he was awarded a scholarship and became a permanent fixture in the lineup.
Ryan enjoyed good seasons as a freshman and sophomore, but he didn't truly break out until his junior campaign in 2001. That year, he blasted 19 home runs and caught the attention of big-league teams—even though he set a school record with 74 strikeouts. Much to Ryan's relief, that second stat didn't phase the Phillies, who selected him in the fifth round of the amateur draft. Ryan's deal included a $235,000 signing bonus.
Philadelphia assigned Ryan to the Batavia Muckdogs, a low Class A team in the short-season New York-Penn League. Fittingly, his first hit in pro ball was a home run. Ryan went on to bat .272 with six homers and 35 RBIs in 48 games.
For the 2002 campaign, the Phillies promoted Ryan to the Lakewood BlueClaws, also a Class A club. But the South Atlantic League was a big step up from the NYPL, and the lefty slugger responded with a terrific season, raising his batting average to .280. Though he also struck out 145 times in 135 games, Ryan was anything but an all-or-nothing hitter. An SAL All-Star, he found the gaps with regularity, legging out 20 doubles and eight triples. Ryan tied for third in the league with 19 home runs and was fourth with 87 RBIs. By the end of the year, he was rated among the top ten prospects in the Philadelphia farm system.
The Phillies began to think they might have a special player on their hands. Granted, Ryan was a big swinger who fanned a lot, but he also showed good patience at the plate and possessed scary power to all fields. His wonderful attitude and charming personality were plusses as well. Teammates were always genuinely happy to see him when he entered the locker room.
Ryan spent the 2003 season with the Clearwater Threshers in the Florida State League, where he continued to open eyes with his ability to produce runs. Against tough pitching in the FSL's spacious parks, Ryan started hitting in April and never stopped. During a three-week stretch early in the year, he batted .360 with five homers. In August, he hit close to .400 with nearly 30 RBIs. Ryan finished the year at .304 with 23 home runs and 82 driven in, just seven RBIs short of the Triple Crown. He was named league MVP, and the Phillies recognized him with the Paul Owens Award, given annually to the team's top minor leaguer.
For all his good work in '03, Ryan had reason for concern in the off-season, as his path to the big leagues now had a major roadblock. All-Star Jim Thome was coming off his first year in the City of Brotherly Love and playing to rave reviews. He pounded 47 homers, drove in 131 runs and placed fourth in the N.L. MVP voting. With the lefty slugger anchored at first for the Phillies, Ryan wondered where he fit into the picture.
As the 2004 season opened, Ryan and his agent, Larry Reynolds (the brother of former All-Star Harold Reynolds), hinted that he would entertain a trade. The Philadelphia brass, however, wasn't listening, especially when Ryan again broke from the gate on a tear. Playing for Double-A Reading, he amassed 37 home runs and 102 RBIs by the end of June. The Phillies promoted him to Triple-A Scranton, where he did more damage. After adjusting to new pitching patterns, Ryan went deep nine times in 20 games.
Philadelphia called him up when rosters expanded on September 1. He picked up his first hit five days later off Travis Smith of the Atlanta Braves. He homered for the first time as a major leaguer against Bartolome Fortunato of the New York Mets on September 11.
Ryan ended the '04 season with the Phoenix Red Dogs in the Arizona Fall League, where he batted .331 with three home runs and 24 RBIs. Between his minor-league stops and his time with the Phillies, Ryan's numbers included 51 homers and 160 knocked in.
MAKING HIS MARK
Ryan again pondered his future address heading into the 2005 campaign. Thome had another big year, and Philly GM Ed Wade was fielding offers for Ryan on a daily basis. The club was in the market for a center fielder and a third baseman. Players like Rocco Baldelli, Carl Crawford and Hank Blalock topped the wish-list.
But a funny thing happened on the way to the trading deadline. Ryan started the season in Scranton and absolutely crushed the ball, batting .441 in his first 11 games. At the same time, Thome was battling a sore right elbow. When he was placed on the disabled list, Ryan was recalled and resumed his torrid pace. In four games with the Phillies, he collected five hits, including two doubles and a home run. When the team optioned Ryan back to Triple A, he launched a 24-game hitting streak, the third longest in Scranton history. By July, he was leading the International League in batting (.371), slugging (.690) and on-base percentage (.467), while also belting 16 homers and driving in 54 runs.
That's when Thome had to return to the DL. Ryan rejoined the team and hit a three-run homer against the Braves two days later. He was off and running to the N.L. Rookie of the Year.
Ryan carried the Phillies down the stretch as they fought for a Wild Card berth in the playoffs. Every time the team needed a hit, he seemed to deliver. Along with second baseman Chase Utley, Ryan gave Philadelphia the most potent right side of the infield in baseball.
Ryan was at his best in the clutch. In August, on the day the Phillies learned that Thome was done for the season. Ryan hit a grand slam at Dodger Stadium to lead Philadelphia to a win. He hammered his second long ball with the bases full in September to beat Atlanta in the 10th inning. It was one of 10 home runs for Ryan in the month, a big-league record for rookies.
Unfortunately for the Phillies, Ryan finished stronger than they did. Philadelphia wound up at 88-74, two games behind the Braves. Ryan did all he could to reverse the standings. In 88 games, he batted .288 with 63 RBIs and led N.L. rookies with 22 homers and a .567 slugging percentage. When Ryan went deep, the Phillies went 16-6.
Ryan's breakout season precipitated a change of strategy in Philadelphia. The team dealt Thome to Chicago for center fielder Aaron Rowand and also let closer Billy Wagner walk as a free agent, replacing him with Tom Gordon. With Jimmy Rollins and Bobby Abreu joining Ryan and Utley, Philly figured to have a high-scoring offense in 2006. The club's pitching was the unknown.
Nothing, however, went as planned for the Phils. Brett Myers surprised many by becoming the ace of the staff. The offense, by contrast, struggled to maintain any sort of consistency. Abreu was the scapegoat, and as the spring moved into summer, Philadelphia dealt him to the New York Yankees.
The impact of that move—intentional or not—turned out to be genius. Abreu had been the team's de facto leader. Now Ryan and Utley shared that responsibility. Both flourished in their new roles, particularly Ryan. He enjoyed a marvelous first half with 28 homers and 71 RBIs. No Phillie had set such a pace since Mike Schmidt had manned the hot corner for the team in 1980s. Ryan also earned his first All-Star nod, winning the Home Run Derby with a breathtaking display of power.
Amazingly, after the break Ryan kicked it into an even higher gear. With the Phillies again battling for the N.L. Wild Card, there were few superlatives to accurately describe his play. In the second half, he hit .355 with 30 homers and 78 RBIs. August was his most dominant month as he led the majors with 14 home runs and 41 driven in. His RBI total was the highest single-month total since Frank Howard's 41 in 1962.
Like the '05 season, the Phillies again fell short of a playoff berth, this time by three wins. Still, Ryan was the talk of baseball. He ended the year at .313 with 58 home runs and 149 RBIs. In November, he was voted N.L. MVP, outdistancing Albert Pujols in the balloting. In turn, Ryan became just the second player in big-league history to win the Rookie of the Year and MVP awards in back-to-back seasons. Cal Ripken Jr. was the first in 1982 and 1983.
As the 2007 campaign began, Ryan was easily the best bargain in baseball. Hoping to capitalize on his growing fame, he let Reynolds go as his agent and hired the Creative Artists Agency (which also represents Derek Jeter, plus a host of Hollywood stars). He could not agree, however, on a contract with the Phillies, and the team renewed his old deal at $900,000 for one year. Ryan's big payday will come after the 2011 season when he becomes a free agent. Until then, he will be eligible for arbitration after each of the next four years. In the meantime, he has found plenty of endorsement deals that have increased the size of his bank account.
On the field, Ryan got off to a slow start. At the end of May, in fact, his average stood below .230, and he had just nine homers and 30 RBIs. Pressing to match his production for the previous year, Ryan was pulling off the ball, trying to yank every pitch he saw over the right field wall. When he began using the whole field, his numbers reflected it. He followed a hot June with a torrid July. Not surprisingly, as Ryan's play improved, Philadelphia moved above .500 and right into the middle of the Wild Card race.
By early September, the Phillies had crept up on the Mets. They made their move in the final 17 games erased a seven-game deficit to win the NL East. Ryan was one of the players who powered this amazing stretch run. He finished the year with 47 home runs and 136 RBIs. He also set a new mark with 199 strikeouts, nudging fellow slugger Adam Dunn out of the record books.
As hot as the Phillies finished in '07, their foes in the Division Series were even hotter. Philadelphia ran into the Colorado Rockies and got out-slugged and out-pitched in a bewildering three-game sweep. In 12 at-bats, Ryan homered once and fanned seven times.
IThe 2008 Phillies were built to succeed in the postseason. The team added closer Brad Lidge, which enabled Brett Myers to move back into the starting rotation. Sparkplug Shane Victorino was given the full-time job in center, as the Phillies swapped Aaron Rowand for third sacker Pedro Feliz. The team played solid ball throughout the summer and pulled ahead of the Mets with another exciting late-September surge.
Once again, Ryan was the man of the moment. After a sluggish start, he began cracking homers and driving in runs at a terrific pace. He notched his 100th RBI on August 1st and finished the year with 146. He hit 48 home runs and scored a career-best 105 runs. In the final weeks, his name moved toward the top of the MVP candidate list. Weighing against him was a second straight season of 199 strikeouts and a .251 average.
Ryan mysteriously lost his mojo in the postseason. There is a fine line between attacking pitches and jumping at them, and he had crossed it. He was a non-factor in series wins over the Brewers and Dodgers. But the fact that the Phillies beat these teams so easily without him showed they were a true team. This gave Philly fans and players great confidence as they met the Tampa Bay Rays in the World Series.
Ryan got off to a tough start in the Fall Classic, going 0-for-4 with three strikeouts in Game 1. He began to heat up after that, collecting two hits the following night. The Phils returned home tied with the Rays at one game apiece.
Ryan blasted his first homer of the series in Game 3, which helped Philadelphia pull out a 5-4 win. He went deep twice more and drove in five runs in Game 4. The Phillies cruised 10-2. Ryan took the collar again in Game 5, but it didn't matter. In a contest that started on Monday and ended on Wednesday, the Phils and their fans weathered rain and wind to claim their first title in more than 20 years. Ryan made like a linebacker after the final out and laid a perfect tackle/bear hug on closer Brad Lidge.
It's been a long time since a slugger has caught the imagination of baseball fans the way Ryan has. With the microscope fixed more intensely than ever on players because of performance-enhancing drugs, Ryan has become the poster boy for playing the game the right way. During games at home and on the road, adoring female fans hold up signs with marriage proposals. Even Philly fanatics have been know to race onto the field to literally bow at Ryan's feet. With an NL pennant flying behind him and an MVP award on his mantel, does it get any better than this?
RYAN THE PLAYER
Ryan didn't become baseball's most feared slugger by accident. He developed a strong work ethic as a kid, and it continues to guide him today. Every day, Ryan is one of the first ones on the diamond for batting practice and one of the last ones off.
Ryan is a classic lefty home run hitter in many ways. He hammers pitches down in the strike zone, and no ballpark can hold him. But Ryan differs from others in the way he uses the entire field. When he's right, Ryan will drive balls on the outer half to left field. Thanks to his long arms and quick wrists, his plate coverage his astounding.
Though he strikes out a lot, Ryan is a smart hitter who isn't afraid to take what the defense gives him. That's especially true in RBI situations. Ryan is a terror with runners in scoring position. For him, a line drive to left or center with men on base is just as satisfying as a homer to right.
Ryan is surprisingly nimble for a player his size. This translates into good feet and soft hands around the first base bag. A Gold Glove might not be in his future, but he more than holds his own in the field.
Ryan's clubhouse presence is well recognized. His teammates like him and respect the way he goes about his business. They also want him at the plate when the money is on the line.
EXTRA
* In 2003, Ryan was a Florida State League in-season and post-season All-Star. He also played in All-Star Futures Game, held at U.S. Cellular Field that year.
* Ryan's total of 48 homers between the minors and majors in 2004 were tied for most in professional baseball with Adrian Beltre.
* In 2005, Ryan was named the "Best Defensive 1st Baseman" in the International League by Baseball America.
* Of Ryan's 22 homers with the Phillies in 2005, eight gave the team the lead and four tied the game. He finished the season with the most home runs by a Philadelphia rookie since Willie Montanez (30) in 1971.
* In 2005, Ryan joined Jack Sanford (1957) Dick Allen (1964) and Scott Rolen (1997) as the only Phillies to win N.L. Rookie of the Year.
* Ryan's RBI total in 2006 ranked third in Phillies' history behind Chuck Klein (170 in 1930) and Sam Thompson (165 in 1895).
* In addition to his MVP tropphy in 2006, Ryan received the Ted Williams Award at the 68th annual Boston Baseball Writers dinner and the Josh Gibson Award, given annually by the Negro Leagues Baseball Museum to the majors' top home-run hitter. He and Derek Jeter also shared the Oscar Charleston Legacy Awards from the museum. Ryan said the Josh Gibson Award was the most meaningful to him.
* Before the 2007 season, Ryan filmed a commercial with weight-loss phenom Jared Fogel for SUBWAY.
* Ryan has been drving the same car for more than four years: a 2001 Denali. The truck has more than 100,000 miles on it.
* Ryan appeared on the "Late Show with David Letterman" in April of 2007.
* Ryan has his own following at Citizens Bank Park. The group calls itself "Howard's Homers."
* Ryan became a member of Phi Beta Sigma Fraternity Inc in the Fall of 2000. His line name is BLUE HURT.
* Ryan played the trombone in his high school marching band.
* Ryan won the Home Run Derby at the 2006 All-Star Game. In the championship round, hec outslugged David Wright of the New York Mets to capture the title. The winning home run, Ryan's 23rd of the competition, was a memorable one. It bounced off a "Hit It Here" sign above the right-field stands to win 500 free round-trip airline tickets for a fan.
* Ryan stole his first base of his career in August of 2007.
* Ryan's .251 average in 2008 was the lowest in history for a player with 130-plus RBIs.
* Ryan reached 150 home runs in 495 games. That eclipsed the mark of 569 set by Eddie Mathews.
* Ryan's $10 million arbitration win prior to the 2008 season set a record for a victorious player.
* Ryan is single and has a son, Darian Alexander, who was born on January 26, 2001.
* Howard lives in his native St. Louis area, in a home he had built.
Read more
Latest headlines