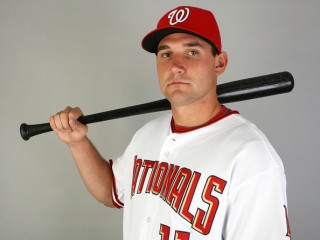 Ryan Zimmerman biography
Date of birth : 1984-09-28
Date of death : -
Birthplace : Washington, North Carolina
Nationality : American
Category : Sports
Last modified : 2010-11-16
Credited as : Baseball player MLB, third base with the Washington Nationals ,
Ryan Wallace Zimmerman was born to Keith and Cheryl Zimmerman on September 28, 1984 in Washington, North Carolina. His only other sibling, a brother named Shawn, arrived three years later. Keith and Cheryl both grew up in Collegeville, Pennsylvania. Athletes in their younger years, Cheryl was a runner and a lacrosse player, while Keith played third base at Atlantic Christian College (now Barton College).
In the early 1990s, the Zimmermans moved to Virginia Beach, Virginia—also known as the state's Tidewater area. Ryan could not have asked for a better place to nurture his athletic talent. Tidewater is home to an endless string of professional athletes including NFL greats Michael Vick and Lawrence Taylor, NBA stars Allen Iverson and Alonzo Mourning, and Minnesota Twins right fielder Michael Cuddyer.
Keith and Cheryl bought a house (on stilts) right on the beach, where the boys played baseball and learned to surf. In his youth, Ryan used to climb to the roof of his house to get better views of the coast. He worked lots of weekended alongside his parents fixing up the house.
The Zimmerman boys followed in their parents' athletic footsteps. Ryan and Shawn spent countless hours playing baseball and sockball ( agme with tube socks bound with duct tape) in their backyard. Ryan also starred on the basketball court, with his mother helping out as an assistant coach. Shawn went his own way and pursued golf.
By all accounts, Ryan's early childhood was happily unexceptional. However, there was one source of worry for all the Zimmermans. A mystery ailment had been plaguing Cheryl for years. At one point, she began having difficulty running, something she had always loved to do, and her hands would become numb from time to time. After exhaustive tests to identify the mystery illness, Cheryl was diagnosed with multiple sclerosis in 1995. Ryan was 12 at the time.
Cheryl didn't let her illness rule her life and continued her job as a special education teacher. Keith, meanwhile, worked as a supervisor at the Princess Anne Recreation Center. Then it all changed in 1998, when Cheryl was involved in an accident on a personal watercraft, which left her with 12 broken vertebrae. Trauma can accelerate the course of MS, and daily activities soon became harder and harder for Cheryl. Simply walking from the parking lot at her school to her classroom was a struggle. Finally, in 200, she decided to start using a wheelchair.
The rapid escalation of Cheryl's disease brought on serious life changes for the entire Zimmerman family. Ryan and Shawn took on more and more responsibilities, learning to do the laundry and make dinner. The boys were forced to grow up faster than most kids, but they also developed a thick skin and were better equipped to deal with whatever the world threw at them. The calm demeanor that Ryan displays today was in part a result of how he dealt with his mother's illness.
During it all, Ryan baseball found solace on the baseball field. He played for Kellam High School in the spring and various leagues in the summer and fall. Small for his age, Ryan depended on his glove to keep him in the game. His bat developed late for him. In fact, Ryan's first homerun didn't come until his after his sophomore year of high school in summer ball.
His lack of power, however, didn't stop him from playing on some great teams. In 2000, Ryan was the starting shortstop on the Tidewater Orioles. Joining him in the infield were future big-league stars David Wright (at third) and B.J. Upton (at second).
In 2001, Ryan began to put it togeher at the plate, hitting a sizzling .480. He also had a nice senior season, but while he was a lauded AAU player, scouts paid little attention to him. The major college programs didn't recruit him, either. Ryan was set to play at James Madison until the University of Virginia came calling. He earned a partial scholarship after impressing Cavalier coaches during the 2002 Commonwealth Games.
ON THE RISE
Ryan was pleased to stay close to home. He was also agreeable when UVA converted him to a third baseman, a position he had never played before. Ryan had no trouble adjusting and quickly became an everyday player. In his first season at Virginia, he batted .308 and played stellar defense.
While Ryan hit for a good average, he didn't show much pop. He didn't record his first college diner until May of 2004, after more than over 90 games and 500 at-bats. Those numbers, however, were a little misleading. UVA's home field was enormous, measuring 352 feet down the lines and 408 feet in center. On top of that, the outfield fence was 20-feet high.
As a sophomore, Ryan raised his average to .361 and broke Virginia's single-season record for hits with 90. He was voted first-team All-ACC for his efforts.
In the summer of 2004, Ryan was invited to play for the U.S. national team. The experience was invaluable. Ryan was named USA Baseball's Athlete of Year, and the club went on to win the gold medal at the 2004 FISU World University Baseball Championship in Tainan, Taiwan. Ryan led Team USA in batting average, RBIs, and home runs.
Things only got better from there. In his junior year at UVA, Ryan hit .393 and surpassed his mark from the previous campaign with 92 hits. An All-American at third, he topped the Cavaliers in almost every offensive category. Those stats—along with soft hands and a rocket arm at the hot corner—were enough to draw the attention of big-league teams.
Ryan declared himself eligible for the draft and was taken fourth overall by the Nationals, the team's first-ever pick. The Washington brass heaped praise on Ryan, comparing him to the likes of Brooks Robinson, Mike Schmidt, and Scott Rolen. He used that to his advantage in contract negotiations, ultimately inking a deal that included a $2.97 million signing bonus.
Ryan enjoyed a meteoric rise through the minors. He began his career in Class-A ball in the Savannah Sandgnats and was soon promoted to Doulbe-A Harrisburg. The youngest player on the roster, Ryan started out slowly with the Senators. Facing pitchers ticketed for the majors, he struggled to catch up to fastballs and identify breaking stuff. Usinga wooden bat was also an adjustment. Ryan began to feel comfortable after the All-Star break, batting .326 in the seaon's second half.
With no one of note manning the hot corner for the big club, The Nationals called up Ryan on September 1. He was only 20-years-old and had not logged a single day in Triple-A. Washington skipper Frank Robinson took an immediate liking to Ryan. The Hall of Famer loved the rookie's his swing and knew he aqlready had the glove to make it in the majors. Robinson started Ryan at shortstop in his debut. He belted a double off of Florida's Dontrelle Willis and committing two errors. The next day, Ryan was the first guy on the field, eager to smooth out his footwork. He played the last 20 games of the season, hitting .397 and slugging at a .569 clip.
Ryan was a joy for his veteran teammates. Quiet but confident, he had a real desire to listen and learn. Ryanwanted to find his place on the club and give his relationships with fellow players a chance to develop naturally. His approach to the game earned respect from other players and demonstrated maturity beyond his years.
With the Nationals finishing a surprising 81-81 in 2005, Vinny Castilla was one of several veterans expecting to rejoin the club. Yet Ryan had played so well in his first month in the majors that the team faced a tough decision. Believing Ryan was the real deal, Washington let Castilla go.
As usual, Ryan didn't have much to say about the move. After a short rest, he played in the Arizona Fall League. Teammate Brian Schneider then invited Ryan to work out with a group of major leaguers in the off-season in Florida. He excitedly accepted the offer.
MAKING HIS MARK
Ryan showed up for his first full season in the bigs optimistic about his team's chance. Alfonso Soriano was the Washington leadoff hitter, Nick Johnson and Jose Vidro were proven RBI guys, the pitching staff was anchored by Livan Hernandez in the starting rotation and closer Chad Cordero.
Ryan got plenty of opportunities to hit with runners in scoring position—and took full advantage. In 157 games, he batted .287 and led the team with 110 RBIs and 47 doubles. Ryan slammed the first homer of his career in April off of All-Star closer Billy Wagner. He went on to total 20 long balls, tying the franchise rookie record. Ryan wound up second to shortstop Hanley Ramirez in tvoting for NL Rookie of the Year.
The Nationals, by contrast, did not fare nearly as well, finishing last in the NL East at 71-91. At the end of the year, the team announced that Robinson would not be back as manager.
The one part of his game that Ryan hoped to improve was his fielding. Despite a collection of highlight-reel players, he made 15 errors in '06. To minimize that total, he spent time in spring training with former All-Star shortstop Barry Larkin, a special advisor for the Nationals. Ryan also worked on his approach at the plate, cutting down his swing and trying to make contact more regularly.
The 2007 season opened with Ryan getting a modest raise to $400,000 a year. He was still officially one on the best bargains in baseball. (Ryan isn't eligible for arbitration until 2009 and doesn't become a free agent until 2012, so he'll have to wait a few years for his big payday.)
The Nationals entered the campaign with low expectations, with many prognositcators predicting the club to be the worst in the league. Soriano was gone via free-agency, the pitching staff was full of holes, and first-time manager Manny Acta was learning on the job. Ryan, in turn, became the face of the franchise. Acta batted him third in the lineup, and Ryan's work at the hot corner had fans talking about a Gold Glove.
Ryan stumbled a bit early in the year, pressing at times with runners on base and chasing too many pitches out of the strike zone. His biggest moment came in May, when he hammered a fastball from Jorge Julio for a game-winning grand slam against the Marlins.
As with most promising young players, Ryan's future depends partly on patience—his own and that of Washington fans. Surrounded by precious few quality big leaguers, Ryan is learning on the fly without much support. The Nationals appear in no hurry to turn around their struggling team. Currently, they are content to recycle players who have failed in other organizations and nurse along prospects in their farm system. The window of opportunity for Ryan to experience winning baseball in Washington might be small. But in the nation's Capital, where politics can make strange bedfellows, stranger things have happened.
RYAN THE PLAYER
Ryan is a throwback when it comes to third base. For as dangerous of a hitter as he can be, he is known first and foremost for his defense. Ryan has quick and soft hands, great range and an arm that allows him to make throws from anywhere on the field. Comparsions to Broosk Robinson are not unwarranted. Ryan charges slow rollers aggressively and goes into foul territory on ground balls down the line very similarly to the Baltimore Hall of Famer. There is no doubt Ryan will win more than one Gold Glove during his career.
As a young hitter with almost no minor-league experience, Ryan is surprisingly accomplished. When he uses the entire field—especially in Washington's spacious ballpark—he is most effective. Ryan might not develop into 40-homer guy, but he's depdenable in RBI situations and likes to pound the gaps.
Ryan gets in trouble at the plate when he leaves the strike zone. He struck out 120 times in 2006, a total that he's not proud of. His goal heading into 2007 was to work the count better.
Ryan is already viewed as a leader by his Washington teammates. That says a lot about his maturity and the way he plays the game. He has the kind of make-up that suggests he'll rise to the occasion under the pressure of a pennant race or the playoffs.
EXTRA
* Ryan's childhood home is nicknamed "Sandtucket"—a mixture of the Nantucket and Sandbridge sections of Virginia Beach.
* Ryan graduated in the top 30 of his high school senior class.
* Ryan was the highest ever pick from UVA.
* Ryan was named MVP at the 2004 FISU World University Baseball Championship.
* In 2006, Ryan became the third National League rookie in the last 50 years to have at least 100 RBIs in a season. The other two were Albert Pujols and Mike Piazza.
* Papa John's named a pizza after him called the Zimmerman pizza in 2007. It comes with five toppings.
* Ryan's ziMS Foundation, focused on finding a cure for MS, was founded in November of 2006. For every contract Ryan signs, a percentage goes to the foundation.
* Ryan's agents are Casey Close and Brodie Van Wagenen, principals of Creative Artists Agency, which also represents Peyton Manning, Lebron James and Brad Pitt.
* Ryan worked as a cart boy at Hell's Point Golf Club as a kid.
Read more
Latest headlines