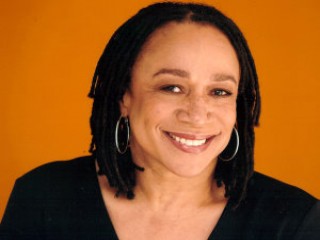 S. Epatha Merkerson biography
Date of birth : 1952-10-28
Date of death : -
Birthplace : Saginaw, Michigan, United States
Nationality : American
Category : Arts and Entertainment
Last modified : 2011-10-04
Credited as : actress, Law & Order, Golden Globe Award
S. Epatha Merkerson
, born
Sharon Epatha Merkerson
, is an American film, stage, and television actress. She has won a Golden Globe, Emmy Awards, Screen Actors Guild Awards, Obie Award and four NAACP Image Awards. She has also received two Tony Award nominations. She is best known for her role as NYPD Lieutenant Anita Van Buren (1993-2010) on the long-running NBC police procedural drama series Law & Order. She appeared in 390 episodes of the series, more than any other cast member. Merkerson has been a staple of the show since 1993, three years after its launch, and more than a dozen years later her name became the answer to a trivia question: she is the longest-serving African-American actor on a prime-time drama series. In 2005, she won both an Emmy and a Golden Globe award for her work in the well-received HBO film, Lackawanna Blues.
Merkerson avoids divulging what the initial "S" stands for, but some sources note that her given name is Sharon; the name she uses professionally is pronounced "ee-PAY-thuh." She was born on November 28, 1952, in Saginaw, Michigan, but grew up in Detroit as one of five children raised by her divorced mother, Ann, a postal worker. At a time when the racial demographics of the city were rapidly shifting, the Merkersons moved to a predominantly white neighborhood in Detroit. Their address was the first black-owned house on the street, which prompted a flurry of "For Sale" signs, she recalled, and tensions flared elsewhere in the city into race riots that lasted for days the summer when she was 14. The city's police force was largely white, and Merkerson experienced firsthand how harrowing a routine traffic stop could become. "My older brother, Zephry, and I were out driving, and the police were looking for someone driving a car like his, " she recalled in an interview with Galina Espinoza for People. "One of them pointed a gun at the back of my head."
Merkerson's home life provided her with the impetus to succeed in life. "When I was a kid going to high school, it was ninety percent white, " she told Black Issues Book Review writer Sharon D. Johnson. "I remember sitting at the kitchen table and [my mother] telling me, 'Don't you let a soul in this school tell you that you can't do anything that you want to do. No one can take your education from you. If they say you can't do it, prove them to be the liar.'" Further inspiration to excel came from the cultural events she regularly attended with her family, most memorably the dancer Judith Jamison performing with Alvin Ailey's acclaimed dance company. Jamison's stage presence moved Merkerson so deeply that she decided to major in dance when she entered college.
At Wayne State University in her hometown, Merkerson eventually switched over to the drama department. She found herself the sole African-American student in the program, and though she asserted she received a solid training for the stage, "because I was the only black student in the department, I didn't work on the main stage, " she said in an interview with Simi Horwitz for Back Stage. "I worked in master classes, the studio theatre, and at recitals, but never the main stage. I learned racial typecasting in college. But as a result, I was prepared when I came to New York, knowing I would be typecast as an African American and generally not expecting much."
Merkerson did not immediately head for Manhattan once she earned her Wayne State degree in 1975, but instead took a job in Albany, New York, with a children's theater company. She arrived in New York City in 1978, and worked in Off-Broadway productions for a number of years. Her first screen credit came when a young filmmaker, Spike Lee, cast her in his breakthrough 1986 film, She's Gotta Have It , as Doctor Jamison. Later that year she also found a regular gig as Reba the mail carrier on Paul Reubens' CBS children's series Pee-wee's Playhouse. The show, which had nearly as many adult fans as younger ones, won three Daytime Emmy Awards for its first season. Both Natasha Lyonne ( American Pie ) and Laurence Fishburne ( The Matrix ) were fellow cast members on the series.
Pee-wee's Playhouse ran until 1991, and the job helped Merkerson secure steady work in film and television over the course of its run. She appeared in the made-for-TV films Elysian Fields and Equal Justice , and in two feature films from 1990, Navy Seals and Jacob's Ladder. She also continued to take theater work, most notably in the original Broadway production of playwright August Wilson's Pulitzer Prize-winning drama The Piano Lesson in 1990. Her portrayal of Berniece, a woman fighting to preserve her family's most prized possession, was nominated for a Tony Award. In 1991, she appeared in the Hollywood action thriller Terminator 2: Judgment Day as Tarissa Dyon.
In 1992, legendary television producer Dick Wolf hired Merkerson for his new cop series, Mann … Machine , and though the show was cancelled after its first season, Wolf called her a year later when network executives strongly suggested that he needed to diversify the cast of Law … Order. The gritty, well-written police procedural was set in New York City and had lured a large viewership since its inception in 1990. Wolf cast Merkerson in the part of the humorless Lieutenant Anita Van Buren without even asking her to audition, so convinced was he that she was ideal for the part.
Merkerson occasionally provided input on certain plotlines in rehearsals for Law … Order episodes. For example, she objected to a premise in which a black man, passing for white, has a baby with his wife, who is white, and the infant is born much darker than either parent. This was genetically impossible, and a few African-American viewers were irate. "We try to do shows that are correct, " Merkerson told the St. Louis Post-Dispatch a few seasons into her run, after recounting that episode's controversy and the letters she received from viewers. "Not politically correct, not artistically correct, but correct in reality. It's the minutiae, those little things that present themselves in our culture that I've spent my career fighting for."
Law … Order 's shooting schedule allowed Merkerson to remain active in film and theater. In 1999, she won the Helen Hayes Award for her lead role in The Old Settler , a play about Harlem in the 1940s staged at the Studio Theatre in Washington, D.C. She also appeared in the 1999 Harrison Ford thriller Random Hearts , the Cuba Gooding Jr. feel-good sports tale Radio , and the Ben Affleck-Jennifer Lopez romantic comedy Jersey Girl in 2004, and in several more made-for-television movies. Despite her lengthy resume, she was most often recognized as Lieutenant Van Buren. Real-life New York City cops, in particular, were among her most ardent fans, and as she told Horwitz in the Back Stage interview, they often call out "Loo, " short for lieutenant, to her. "Not too long ago, several cops who saw me go into a store waited for me to come out, " she also recounted to Horwitz. "They had just arrested some guys and put them in the police van, but the cops weren't going anywhere. They wanted the chance to say hello to me."
Veteran Broadway director George C. Wolfe ( Bring In 'Da Noise, Bring in 'Da Funk , ) cast Merkerson in a highly coveted lead role for his 2005 HBO Films project, Lackawanna Blues. Based on a one-person play by Ruben Santiago-Hudson, the movie was set in an all-black suburb of Buffalo, New York, during the 1950s, and featured a stellar cast, including Jimmy Smits, Macy Gray, Jeffrey Wright, Mos Def, and Rosie Perez. Merkerson played Rachel "Nanny" Crosby, the woman who became a parental figure for young Santiago-Hudson as the proprietor of a boardinghouse. "It's not just about a young boy and the woman who raised him, " Merkerson explained in an interview with Les Spindle for Back Stage East. "It's also about a period of time when this could happen. All of these people would be in this home because of what was going on in the larger world. It shows what people had to do to make it through their lives at that time and how they needed to support each other."
The pre-civil rights black community depicted in Lackawanna Blues was not unlike the world Merkerson knew in her earliest years in Detroit. "All elements were in the neighborhood, but there were checks and balances, " she recalled when discussing the Lackawanna milieu with Chicago Tribune writer Michael Kilian. "You know, 'That's Dr. Jones' house. You don't make a lot of noise there."
Merkerson collected an Emmy Award for Outstanding Lead Actress in a Miniseries or a Movie as well as a Golden Globe and a Screen Actors Guild award for Lackawanna Blues. When she accepted the last award, she mentioned her divorce lawyer in the speech. She had married a social worker in 1994, and commuted to and from New York City from the Maryland home they shared for a number of years, but the marriage ended. As she told Entertainment Weekly writer Alynda Wheat, her professional success provided some solace after a tough year. "That was another reason [the award] was so exciting, " she admitted. "It was happening at a time when someone was trying to take my spirit."
Merkerson still appears on stage, and won her second Obie Award from the Village Voice for her turn in Birdie Blue , which ran at the Second Stage Theatre in the summer of 2005. She also makes time to work with the Campaign for Tobacco-Free Kids, an anti-smoking organization. She gave up the habit herself after losing two friends to lung cancer. In 2006, she was slated to appear in Black Snake Moan , an interracial drama starring Samuel L. Jackson, Christina Ricci, and Justin Timberlake. She also began her fourteenth season on Law … Order , which was edging toward a record as the longest running drama series on television. Among its lengthy roster of cast members over the years, she was now the veteran. Despite her longevity in the role, Merkerson claims she never tires of the job. "The thing about Lt. Van Buren is that there are certain things she's going to do and you'll be guaranteed them every week, " she told Kilian in the Chicago Tribune. "That's why people like [her]. What makes it fresh for me is that we have these new stories every week. It would be different if it were a serial."
Merkerson's real ambition, however, was to produce. When the interview in Black Issues Book Review appeared in early 2006, she had recently acquired the rights to a 2004 novel by Diane McKinney-Whetstone, Leaving Cecil Street , that had won several literary accolades. Merkerson was moved by the stories, which were set in a Philadelphia neighborhood in the 1960s that reminded her of her own Motown upbringing. She viewed her investment in the project as a way to bring more stories about African-American life to the screen. "We never, ever are lacking talent in front of the camera, " she told Johnson for the journal. "What we are lacking are the people behind the scenes who are the decision makers. That's why I want to produce."
Filmography:
She's Gotta Have It , 1986
Jacob's Ladder , 1990; Navy Seals , 1990
Terminator 2: Judgment Day , 1991
Random Hearts , 1999
The Rising Place , 2001
Radio, 2003
Jersey Girl, 2004
Black Snake Moan , 2006.
Television appearances include:
Peewee's Playhouse , CBS, 1986-91
Elysian Fields (movie), 1989
Equal Justice (movie), 1990
Mann … Machine , NBC, 1992
It's Nothing Personal (movie), 1993
Law … Order , NBC, 1993
A Place for Annie (movie), 1994
A Mother's Prayer (movie)
1995; Breaking Through (movie) 1996
An Unexpected Life (movie) 1998
A Girl Thing (miniseries) 2001
Lackawanna Blues (movie) 2005.
Stage appearances include:
The Piano Lesson , Walter Kerr Theatre, 1990-91
The Old Settler , Studio Theatre, Washington, D.C., 1999
Birdie Blue , Second Stage Theatre, New York City, 2005
Awards:
992 Obie Award Outstanding Performance (I'm Not Stupid)
1999 Helen Hayes Award Outstanding Lead Actress-Resident Play (The Old Settler)
2002 Regulus Award For her dedication to lung cancer awareness and education
2005 Emmy Award Outstanding Lead Actress in a Miniseries or a Movie (Lackawanna Blues)
2006 SunDeis Film Festival at Brandeis University Entertainer of the Year Award
2006 Screen Actors Guild Award Outstanding Performance by a Female Actor in a Television Movie or Miniseries (Lackawanna Blues)
2006 PRISM Award Performance in a TV-Movie or Miniseries (Lackawanna Blues)
2006 Obie Award Outstanding Performance (Birdie Blue)
2006 NAACP Image Award Best Supporting Actress in a Drama Series (Law & Order)
2006 NAACP Image Award Best Actress in a Made for TV Movie, Miniseries or Dramatic Special (Lackawanna Blues)
2006 Gracie Allen Award Outstanding Female Lead - Miniseries (Lackawanna Blues)
2006 Golden Globe Award Best Performance by an Actress in a Mini-Series or a Motion Picture Made for Television (Lackawanna Blues)
2006 Black Reel Award Best Actress in a Made for TV Movie or Miniseries (Lackawanna Blues)
2010 NAACP Image Award Best Supporting Actress in a Drama Series (Law & Order)
Read more
S. Epatha Merkerson Picture Gallery
Latest headlines