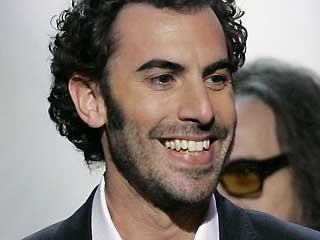 Sacha Baron Cohen biography
Date of birth : 1971-10-13
Date of death : -
Birthplace : Hammersmith, London, England
Nationality : British
Category : Arts and Entertainment
Last modified : 2011-09-06
Credited as : stand-up comedian, actor,
Sacha Noam Baron Cohen
is an English stand-up comedian, actor, writer, voice artist. He is most widely known for his portrayal of three unorthodox fictional characters: Ali G, Borat, and Bruno. In his routines, Baron Cohen's characters interact with unsuspecting people who do not realize they are being set up for comic situations and self-revealing ridicule.
Sacha's outrageously offbeat foreign-journalist road movie Borat: Cultural Learnings of America for Make Benefit Glorious Nation of Kazakhstan , became a box-office hit in late 2006 and helped make the British comedian-actor a household name in America. In it, he played the fictional title character whose fractured English, bigoted assertions, and deep confusion about American customs seemed to expose the worst elements of the national character, but nevertheless had movie audiences hooting with laughter or perhaps because they had unwittingly become part of the joke themselves.
Media profiles of the notoriously press-shy Baron Cohen usually note that he comes from a middle-class Jewish family in London, and few further details are given, save for the name of the schools he attended. He was born in October of 1971 in London, and grew up as the middle of three sons in the northern suburbs of the metropolis. His father, Gerald, was an accountant and originally from Wales; in London he ran a chain of clothing stores. Baron Cohen's mother, Daniella, had a fitness studio in London specializing in a combination of yoga and water aerobics that had been developed by her mother, Baron Cohen's maternal grandmother, in Israel. Baron Cohen's own physical gifts surfaced in his passion for breakdancing in the early 1980s. He and his friends formed their own performing troupe, calling themselves Black and White and even landing gigs at their friends' bar and bat mitzvah celebrations.
Later in his teens, Baron Cohen became involved with Habonim Dror, a Jewish youth group, which gave him his first authentic stage experiences as an actor. After finishing at Haberdashers' Aske's School for Boys in Hertfordshire, he spent a year on a kibbutz, or communal farm, in Israel, before entering Christ's College of Cambridge University. As a history major he wrote his thesis on relations between social-reform-minded American Jews and their involvement in the civil rights movement in the American South during the 1950s and '60s. He spent time in Atlanta doing research, and managed to interview activist Robert Parris Moses, an organizer of the 1964 "Freedom Summer" voter-registration project across several southern states. Moses had not granted an interview to anyone in 20 years, Baron Cohen was told by his Cambridge advisor, who also suggested that he use it as the basis for his doctoral dissertation, too.
But Baron Cohen was uninterested in pursuing a graduate degree in his field. During his time at Cambridge, he participated in a few productions of its famed Footlights theater troupe, which served as the amateur stage for Cambridge students not enrolled in a drama curriculum. Baron Cohen soon became legendary among his friends for his improvisational-comedy skills, which he claimed in a rare Rolling Stone interview with Neil Strauss were merely a scamming ploy. "I started developing characters partly as a way to get into places without paying," he told Strauss, explaining that Cambridge held annual student formal-dress balls, but the tickets were prohibitively expensive. "I would try to get myself and other people in, pretending to be the band or something. And we'd do it."
After earning his degree, Baron Cohen worked briefly in investment banking before deciding to give himself five years to achieve success as a comedian and performer. He was already doing stand-up comedy sometimes with his brother in skits where they dressed as rabbis and sang songs that poked fun at Jewish culture and told himself that at the end of the five-year period he would opt for law school or another professional career if he had not yet achieved fame. His first television appearances came on a small cable network as the host of a youth program, but he also began honing various fictional personas that would evolve into Ali G, Borat, and Bruno, a campy Austrian fashion-television host.
Baron Cohen first appeared as Ali G in 1996, though the character did not have a name at the time, in some skits that he and a camera crew filmed for a comedy show on London Weekend Television. When Baron Cohen saw a group of kids skateboarding, he attempted to impress them with his own moves before attracting attention in a park by resurrecting his old breakdancing moves. At first, he was stunned when others assumed he and his antics were genuine. That first foray also included hopping aboard a tourist bus and providing his own commentary with the microphone, and getting thrown out of a corporate office building. The bits were brought back and edited as filler for the show, which aired live, but when the cue came for the second one, "there wasn't anything," Baron Cohen recalled in a 2004 interview with Jim Windolf of Vanity Fair . "I didn't understand it. Basically, what had happened was the head of the channel had said, 'We're pulling all of this.' Because he was scared of getting sued."
Realizing he had struck the equivalent of gold in the comedy business, Baron Cohen honed the Ali G character into a bling-encrusted, track-suit-wearing figure with comically mangled grammar and sentence syntax, and who may even be borderline illiterate. The break came with when he was hired by a new series, The 11 O'Clock Show , in 1998. It had a current-events-focused format not unlike that of Jon Stewart's Daily Show on Comedy Central in the United States, and the call in which he was offered it came just two months before his self-imposed five-year deadline was about to come due. On the show, Baron Cohen's Ali G character served as an interviewer of actual figures in British news, politics, and culture, and Baron Cohen's longtime friend from Cambridge and Haberdashers' Aske's, Dan Mazer, was one of the writers and producers; Mazer would serve in that dual role for several subsequent projects in Baron Cohen's career.
Those included Ali G's own series, Da Ali G Show , which began airing on Britain's Channel Four network in 2000. It quickly emerged as a pop-culture phenomenon in Britain, coining several catch-phrases and leading to a film version, 2002's Ali G Indahouse , in which the titular character is elected to the British House of Commons. There was also a book of Ali G wisdom, and even an appearance as the limousine driver in Madonna's video for "Music" in 2000. That video was Baron Cohen's first ex- posure to an American audience, but he was already working on episodes for a brand-new Ali G series to air on U.S. television, partly because he had become so famous in Britain as the character that he was no longer able to hoodwink unsuspecting interview subjects into appearing on camera with him.
Da Ali G Show began airing on the premium cable channel HBO in early 2003, and for the first six episodes Baron Cohen and his producers had scored several notable guests. All were subjected to Ali G's absurd but utterly straight-faced questions: He asked former United Nations Secretary-General Boutros Boutros-Ghali if Disneyland belonged to the U.N., interviewed astronaut Buzz Aldrin and asked if the moon was real, and wondered aloud to former U.S. Surgeon-General C. Everett Koop why he could never remember his PIN number for automatic-teller banking, which prompted an increasingly peeved Koop to reply, "I can give you a quick answer and say you're stupid."
Getting his subjects to make such statements seemed to be Baron Cohen's most impressive talent as a comedian. The HBO version, which included another six episodes in 2004, also featured Borat Sagdiyev, the fictional U.S. correspondent for Kazakhstan television, and Bruno, a barely clothed, Mohawk-sporting gay fashion-television reporter with a deeply comic German accent. As Borat, Baron Cohen met with a men's group in the Deep South and asked them if they had slaves, to which they expressed some rue that the practice was now illegal. In a Bruno clip, he excitedly told his viewers that "Being gay is the new coolest thing, which is why I came to gayest part of America Alabama!" At a college football game there, Bruno cheered alongside the pep squad, which prompted an ugly homophobic chant to erupt from the stands.
Baron Cohen's mission in duping his subjects went deeper than just easy derision. Ali G's targets have been Green Party presidential candidate Ralph Nader, onetime Speaker of the House Newt Gingrich, former New Jersey governor and head of the Environmental Protection Agency Christine Todd Whitman, and conservative pundit Pat Buchanan. "I'm showing how separate these people are from the society they govern, and that's a very worrying thing, that they believe that an Ali G could exist," he explained to Windolf in the Vanity Fair article.
It was Borat, however, that became the subject of Baron Cohen's first Hollywood movie deal. Fox Searchlight signed him to expand Borat's on-the-road stories into a full-length, cross-country travelogue-mockumentary, but there were some issues with various names attached to direct it, and three weeks of footage shot in 2004 had to be shelved. Baron Cohen then convinced Larry Charles, a former writer for Seinfeld who had directed HBO's comedy series Curb Your Enthusiasm , to come aboard, and the result was Borat , which became the number-one film at the U.S. box office for the first two weekends of November of 2006 when it opened.
Borat dominated entertainment-industry news as well as Internet and water-cooler chat during that same time frame, and earned a slew of surprisingly positive critical accolades as well as an Academy Award nomination for Best Screenplay. Writing in Entertainment Weekly , Owen Gleiberman theorized that the hapless foreign visitor represented "a world we didn't have to think much about before 9/11, and the people Borat talks to become the symbolic heart of America—a place where intolerance is worn, increasingly, with pride."
There was some criticism of Borat , however, for the character's rampant anti-Semitism. Baron Cohen had intended the jokes as a mockery of genuine anti-Semitism, but Borat's remarks on film prompted a statement from the Anti-Defamation League which asserted that some audience members may not realize that the comments were meant to be a joke, and instead view their own prejudices as reaffirmed by the movie. The controversy did not deter Baron Cohen's 91-year-old grandmother from seeing it, however. As he told Strauss in the Rolling Stone interview, the Haifa resident who had fled Nazi Germany went to a late showing in her city and telephoned him at 4 a.m. to talk about it afterward. The point was to discuss such sensitive topics in the first place, he said. "I know it's not very funny being a comedian talking about the Holocaust, but I think it's an interesting idea that not everyone in Germany had to be a raving anti-Semite," he said in the Rolling Stone interview. "They just had to be apathetic."
Baron Cohen promoted his film almost entirely in character, even refusing to launder the suit he wore as Borat in order to give off a somewhat offensive odor. He would likely smell much better during press interviews for the planned Bruno movie, for which he had reportedly received $42 million for the film rights a figure Baron Cohen claimed was erroneous in the Rolling Stone interview. He was slated to appear in Sweeney Todd , the 2007 screen adaptation of the Broadway musical alongside Johnny Depp, who was cast as the murderous barber in nineteenth-century London. Baron Cohen has also appeared as a gay French race-car driver in Talladega Nights: The Ballad of Ricky Bobby , and in the animated Madagascar movie as the voice of Julien, king of the lemurs, a role he was set to reprise for the 2008 sequel.
Engaged to Isla Fisher, an Australian actress who appeared in Wedding Crashers , Baron Cohen reportedly still follows the Sabbath prohibition against work whenever contractual obligations allow him to do so, and keeps a kosher household at his Los Angeles residence. He admitted that he was uneasy with having become a celebrity. "I think that essentially I'm a private person, and to reconcile that with being famous is a hard thing," he told Strauss in Rolling Stone . "So I've been trying to have my cake and eat it, too to have my characters be famous yet still live a normal life where I'm not trapped by fame and recognizability."
Awards:
Best comedy series award, British Academy of Film and Television Arts, for Da Ali G Show , 2001;
Golden Globe award for best performance by an actor in a motion picture musical or comedy, Hollywood Foreign Press Association, for Borat , 2007.
Read more
Sacha Baron Cohen Picture Gallery
Latest headlines