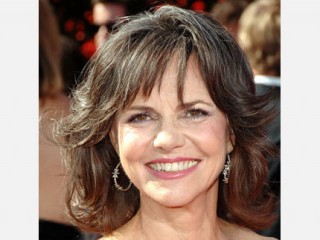 Sally Field biography
Date of birth : 1946-11-06
Date of death : -
Birthplace : Pasadena, California
Nationality : American
Category : Famous Figures
Last modified : 2010-11-06
Credited as : Actress, The Flying Nun, Sybil
Blessed with boundless energy and charm,
Sally Field
was a natural choice for the All-American girl roles that brought her early stardom - the spunky girl surfer
Gidget
(ABC, 1965-66) and Sister Betrille in
The Flying Nun
(ABC, 1967-1970). In the 1970s, Field reinvented herself as a serious film actress with the Emmy-winning TV-movie
Sybil
(1976) and with her Oscar-winning turn as a labor organizer in "Norma Rae" (1979). Field's popularity rarely waned over the next two decades - helped in large part by a fabled late 1970s romance with her
Smokey and the Bandit
(1977) co-star, Burt Reynolds, as well as an impeccable choice in films like
Steel Magnolias
(1989),
Mrs. Doubtfire
(1993) and
Forrest Gump
(1994). At an age when many actresses best days are behind them, Field lent an aura of class with her return to the medium that made her a star, complete with an Emmy win for playing the liberal matriarch of a dysfunctional family on the hit drama series, "Brothers & Sisters" (ABC, 2006- ), proving talent knew no age or boundaries.
Born in Pasadena, CA on Nov. 6, 1946, Field's father was U.S. Army Captain Richard Dryden Field, and her mother was Margaret Field, a Paramount contract player best known for the 1951 cult sci-fi movie, "The Man from Planet X" and countless episodic television appearances. The Fields split in 1951, with Margaret Field relocating to her mother's house while trying to make ends meet. In 1953, she married famed stunt man and actor Jock Mahoney, who proved a difficult stepfather to Field and her brother Richard. Field and Mahoney frequently clashed throughout her teenage years, but they did find common ground in acting. Field was a member of her drama club at Birmingham High School in Van Nuys, CA, and the veteran stunt performer encouraged his step-daughter to hone her talent at a summer acting workshop at Columbia Pictures. In 1964, the 18-year-old Field caught the eye of ABC casting agents at an audition, and they offered her the lead role in a new series based on the popular "Gidget" book and movies. The show required its star to have some proficiency at surfing, which Field swore she had. The truth was that she had never been on a board, and needed lessons to simply stand on it in front of rear-projected waves.
The show, which was one of the first regularly-scheduled programs for ABC, was crushed in the ratings by CBS' rural juggernaut "The Beverly Hillbillies" (1962-1971) and ceased production at the end of its debut season. Surprisingly, the show's ratings - and Field's popularity among young viewers - soared during the summer rerun season, but ABC did not renew it. Field then moved on to the short-lived sitcom "Hey Landlord" (NBC, 1966-67), before making her movie debut as a settler in "The Way West" (1967), starring with such heavyweights as Kirk Douglas and Robert Mitchum. She also tried her hand at a pop music career with the 1967 single "Felicidad" and a full album in 1968. That same year, she married Steven Craig, with whom she had two sons.
Sensing that young audiences liked the ever-perky Field, ABC brought her back into the TV fold with a new series, "The Flying Nun" (1967-1970), which hinged on the absurd notion that Field's novice nun could become airborne due to her small frame and oversized headgear. Despite a critical drubbing, the show became a hit with viewers; unfortunately, it helped to typecast Field as a lightweight comic actress for several years. The show remained a pop culture touchstone - though mostly as the butt of jokes - for decades after it left the air. Reportedly, ABC even extended an offer to Field to appear in an updated "Flying Nun" TV-movie in the 1980s, which she not surprisingly turned down.
As her career progressed, Field appeared mostly in TV movies and series during the early 1970s, including the counterculture drama "Maybe I'll Come Home in the Spring" (1971), starring as a reformed drug addict who clashes with her straight-laced family; the violent "Mongo's Back in Town" (1971) in which Field is the ill-fated girlfriend of hitman Joe Don Baker; and "Home for the Holidays" (1972), a suspenseful thriller with Field as the youngest of three sisters targeted by a killer who wants her family inheritance. Field made a brief return to the sitcom with the dire comedy "The Girl With Something Extra" (NBC, 1973-74), in which she starred as a newly married woman with ESP.
Field divorced Craig in 1975, and set out to reinvent herself as a dramatic actress. She starred as the romantic interest for Jeff Bridges and then bodybuilder Arnold Schwarzenegger - who, of all things, won a Golden Globe for his performance - in Bob Rafelson's little-seen drama, "Stay Hungry" (1976), which featured her sole on-screen nude scene to date. But the picture that convinced audiences and industry players alike of the depth of Field's talent was the 1976 miniseries "Sybil," in which she starred as a young graduate student whose abusive childhood resulted in a stunning dissociative identity disorder that manifested itself in 16 different personalities. The production won her an Emmy, but more importantly, respect within the film and television community who now looked at her as more than just a flying nun.
During this period, Field became romantically involved with Burt Reynolds, who was on the cusp of becoming one of Hollywood's most popular actors during the 1970s. The pair also made a popular on-screen couple, starting in 1977 with the mega-successful action-comedy "Smokey and the Bandit," which landed at the #2 spot for top grossing movies of that year. Field and Reynolds' chemistry proved irresistible for moviegoers, so the pair continued to co-star in the comedies "The End" (1978) and "Hooper" (1978), as well as the inevitable "Smokey and the Bandit II" (1980) sequel, all of which proved popular at the box office. Field's stepfather Jock Mahoney appeared briefly in "The End" as a man in a wheelchair, while the character of veteran stuntman Jocko (Brian Keith) in "Hooper" was inspired by Mahoney's life and career.
By the end of the 1970s, Field was finding herself typecast again, this time as Reynolds' arm candy in a string of popular if distinctly middlebrow pictures. She split from Reynolds - professionally and personally - in the early 1980s - in the process, breaking Reynolds heart, who would later proclaim her the love his life - and took on one of the most challenging roles in her career - that of a Southern textile worker who risks her career and marriage to unionize her factory. The picture was a critical and box office success, providing Field with not only an Academy Award and Golden Globe for Best Actress, but an iconic role that forever banished the lightweight roles of her early career and her onscreen connection as a simple Reynolds co-star. In fact, the American Film Institute ranked Norma Rae Webster 15th on their list of film heroes from 100 years of cinema.
Though her next few projects were missteps - the ill-advised "Beyond the Poseidon Adventure" (1979) and "Back Roads" (1981), the latter with Tommy Lee Jones - Field soon embarked on a successful string of projects that befit her talents. "Absence of Malice" (1981) starred Field (and earned her another Golden Globe nomination) as an enterprising journalist whose articles severely damage the reputation of the son of a local crime boss (Paul Newman), while "Murphy's Romance" (1987) was a May-December romance buoyed by the charm of Field and James Garner as the unlikely couple. Field scored another triumph in 1984 as a widow who attempts to keep her family's farm running in "Places in the Heart." Field won her second Oscar for the picture, and gushed effusively in her acceptance speech that she finally felt accepted by the Hollywood community. Unfortunately, her exact quote - "I haven't had an orthodox career, and I've wanted more than anything to have your respect. The first time I didn't feel it, but this time I feel it, and I can't deny the fact that you like me, right now, you like me!" - was interpreted by many as insincere and over-the-top, serving as fodder for comics and pundits for decades. Field herself later parodied the speech for a television commercial. The same year, Field married producer Alan Greisman and the couple had a son, Samuel.
Field's output in the late 1980s and early 1990s was hit and miss - successes included the film version of "Steel Magnolias," in which she believably played Julia Roberts' mother; "Mrs. Doubtfire," as Robin Williams' exasperated ex-wife; and her biggest blockbuster then to date, "Forrest Gump" in which she starred as Tom Hanks' mother, despite the fact that the actors were only a decade apart in age. Misfires included "Punchline" (1988), also with Hanks, and with Field as a housewife who attempts to break into standup comedy; "Not Without My Daughter" (1991), in which Field stars as an American woman who attempts to escape her Iranian husband; and "Eye for an Eye" (1996), with Field seeks revenge on Kiefer Sutherland for the death of her daughter. She also divorced Greisman in 1993.
Sensing that substantial roles for women in their late 40s and early 50s were growing few and far between, Field wisely shifted her priorities to include more television work - including appearances on "The Larry Sanders Show" (HBO, 1992-1998), and a 2000 NBC miniseries based on Charles Dickens' "David Copperfield," which earned her a Screen Actors Guild Award nomination. She also began taking turns behind the camera, making her writing and directing debut with a charming holiday TV movie, "The Christmas Tree" (1996), with Julie Harris and Andrew McCarthy. She also helmed an episode of Tom Hanks' acclaimed "From the Earth to the Moon" miniseries for HBO in 1998, as well as served as executive producer on "A Woman of Independent Means," a 1995 miniseries in which she also starred - and which yielded two Emmys nods for her as an actress and producer. She even shared production duties with no less than Steven Spielberg on the 1997 documentary, "The Lost Children of Berlin" (1997).
Field made her debut as feature film director with "Beautiful" (2000), a comedy-drama with Minnie Driver as a woman who wants to become Miss America. The picture did not fare well at the box office, though Driver was singled out with praise for her performance. That same year, Field began a recurring role on "ER" (NBC, 1994- ) as the bipolar mother of Dr. Abby Lockhart (Maura Tierney). The role gained Field another Emmy award, no doubt helping her decision to return to the series several times between 2000 and 2006. She also made her fourth venture into a primetime television show as the lead in "The Court" (ABC, 2003), a legal drama from the producers of "ER" that lasted only six episodes. Field returned briefly to feature films with a cameo as Natalie Portman's unsympathetic mother in "Where the Heart Is" (2001); "Legally Blonde 2: Red White and Blonde" (2003), with Field starring as a congresswoman with whom Reese Witherspoon's Elle Woods interns; and "Two Weeks" (2006), as the dying mother of a Southern clan who calls her far-flung children together to spend her final weeks with them.
That same year, she replaced Betty Buckley on the drama series, "Brothers & Sisters" (ABC, 2006- ), as the head of a California family that struggles to keep it together after the death of her husband in the pilot episode. Though the show initially suffered from production troubles and re-castings, it eventually blossomed into a hit for the network and earned praises for its positive portrayal of gay characters. For her efforts, Field won an Emmy in 2007. No stranger to acceptance speech controversy, Field did not disappoint. Her speech was cut short by the show's producers at the Fox network when she said, "Let's face it - if the mothers ruled the world, there would be no goddamned wars in the first place," which earned her much applause among the attendees. The following year, she earned a Golden Globe nomination for Best Actress in a television drama, then won a Screen Actors Guild award in early 2009 for her role on "Brothers & Sisters." While enjoying her stint of popularity on "Brothers" - as well as a role as Mary Lincoln Todd opposite Liam Neeson as Abraham Lincoln in Steven Spielberg's "Lincoln" (2009) - Field also served as the on-camera spokesperson for the osteoporosis medication Boniva. That same year, she earned more recognition for "Brothers & Sisters" after receiving her second Emmy nomination for the matriarch role.
Filmography
* Magic Roundabout, The (2005) (for language, including some sexual references)Played "Anita Bergman"
* Legally Blonde 2 (2003) PG (Contains mild innuendo and language)Played "Congresswoman Rudd"
* Absence of Malice (1981) (2003) Played "Megan"
* Soap Dish (2002) Played "Celeste Talbert"
* Say It Isn't So (2001) 15 (for strong sexual content, crude humor and language)Played "Valdine Wingfield"
* Where The Heart Is (2000) 12A (for intense thematic material, language, and sexual content)Played "Mama Lil"
* Beautiful (2000) (for language and thematic elements)Director
* Homeward Bound II: Lost in San Francisco (1996) Played "Voice of of Sassy"
* Eye for an Eye (1996) Played "Karen McCann"
* Punchline (1995) Played "Lilah Krytsick"
* Forrest Gump (1994) 12 (for drug content, some sensuality and war violence)Actor, Played "Mrs Gump"
* Mrs. Doubtfire (1993) (for some sexual references)Played "Miranda Hillard"
* Steel Magnolias (1989) Played "M'lynn Eatenton"
* Places in the Heart (1984) Played "Edna Spalding"
* Absence of Malico (1981) Actor/Actress
* Norma Rae (1979) PGActor/Actress, Played "Norma Rae"
* Smokey and the Bandit (1977) (N/A)Played "Carrie"
* Stay Hungry (1976) (1976) Actor
* Homeward Bound: The Incredible Journey (1963) Played "Voice of of Sassy--The Cat"
Awards
1. Screen Actors Guild Award (2009) Outstanding Performance by a Female Actor in a Drama Series - "Brothers & Sisters"
2. Emmy Award (2007) Outstanding Lead Actress in a Drama Series - "Brothers & Sisters"
3. Emmy Award (2001) Outstanding Guest Actress in a Drama Series - "ER"
4. American Society of Cinematographers Board of Governors Award (2001)
5. Emmy (2000) Outstanding Guest Actress in a Drama Series - "ER"
6. Women in Film Crystal Award (1986)
7. Academy Award (1985) Best Actress in a Leading Role - "Places in the Heart"
8. Golden Globe Award (1985) Best Performance by an Actress in a Motion Picture - Drama - "Places in the Heart"
9. Golden Globe Award (1984) Best Motion Picture Actress (Drama) - "Places in the Heart"
10. Oscar (1984) Best Actress - "Places in the Heart"
11. People's Choice Award (1982) Favorite Movie Actress
12. NATO Star of the Year Award (1981)
13. Academy Award (1980) Best Actress in a Leading Role - "Norma Rae"
14. National Society of Film Critics Award (1980) Best Actress - "Norma Rae"
15. Golden Globe Award (1980) Best Performance by an Actress in a Motion Picture - Drama - "Norma Rae"
16. New York Film Critics Circle Award (1979) Best Actress - "Norma Rae"
17. Cannes Film Festival Best Actress Award (1979) - "Norma Rae"
18. Golden Globe Award (1979) Best Motion Picture Actress (Drama) - "Norma Rae"
19. National Board of Review Award (1979) Best Actress - "Norma Rae"
20. Cannes Film Festival Award (1979) Best Actress - "Norma Rae"
21. Los Angeles Film Critics Association Award (1979) Best Actress - "Norma Rae"
22. National Society of Film Critics Award (1979) Best Actress - "Norma Rae"
23. Oscar (1979) Best Actress - "Norma Rae"
24. Emmy Award (1977) Outstanding Lead Actress in a Drama or Comedy Special - "Sybil"
25. Emmy (1976) Outstanding Lead Actress in a Drama or Comedy Special - "Sybil"
Read more
Latest headlines