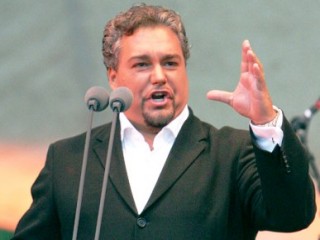 Salvatore Licitra biography
Date of birth : 1968-08-10
Date of death : 2011-09-05
Birthplace : Bern, Switzerland
Nationality : Italian
Category : Famous Figures
Last modified : 2011-09-06
Credited as : opera tenor, La Scala, Metropolitan Opera of New York
Salvatore Licitra
was an Italian operatic tenor.
Tenor Salvatore Licitra's debut at the Metropolitan Opera of New York was one of the surprise events of the 2001-02 opera season. On the closing gala night in May, Licitra filled in at the last minute for Luciano Pavarotti in what was supposed to be the celebrated tenor's swan song before an adoring public. The announcement that Licitra would play the role of Cavaradossi in Giacomo Puccini's Tosca that night elicited a stir from the audience, but he stepped into the role admirably, and was heralded with a two-minute ovation for his stirring interpretation. Licitra had already been hailed as Pavarotti's heir apparent, perhaps the elusive "Fourth Tenor" who might succeed Pavarotti, Placido Domingo, and Jose Carreras, the trio that have gained international renown. New Yorker music critic Alex Ross wrote that "in Licitra's best moments, he actually sounds like an ideal blend of the two mega-tenors, echoing both Pavarotti's fluency and Domingo's fire."
Licitra is of Sicilian heritage but spent his first two years in Bern, Switzerland, where he was born in 1968. His family settled in Milan, and Licitra had no formal vocal training until his early adult years. Instead he worked as a graphic artist, creating layouts for Italian Vogue and other publications. One day, his mother overheard him singing along to a pop song on the radio, and was stunned to hear how well his voice carried. At her suggestion, he began studying voice at the age of 19 at the Music Academy of Parma. After eight years, he was ready for a career as a choirist in an opera company, but decided on further study with a highly regarded Italian tenor, Carlo Bergonzi, at Bergonzi's academy in Busseto, the northern Italian town that is the birthplace of composer Giuseppe Verdi. When he began working with Licitra in 1996, Bergonzi helped the young man to obtain some of his first performance work, in comprimario (secondary) roles that provided Licitra with the lira to pay his tuition, after funds from the sale of his motorcycle were depleted.
Licitra's professional debut came at the Teatro Regio of Parma in 1998, in a performance given by the academy's students, where he sang the role of Riccardo in Verdi's Un Ballo in Maschera. The audience was enthralled, but the night went largely unnoticed by critics. He then landed a stint as an understudy at the Arena di Verona, one of Italy's premier opera venues, but was asked to sing all the season's principal roles after the conductor, Daniel Oren, heard him sing. After reprising Riccardo and taking on roles in Rigoletto and Aïda, in March of 1999 Licitra debuted at La Scala, Milan's famed opera house, in La Forza del Destino ("The Power of Fate"). The reviews were appreciative, and La Scala conductor Riccardo Muti invited him to appear in Tosca in March of 2000, a performance that was recorded for Sony Classical.
Cautious about Voice
In 2000 Licitra appeared in Madrid in La Forza del Destino, and toured Japan with the La Scala ensemble. The international buzz surrounding his name grew louder, and he was rumored to be opera's next star tenor, with the ability to achieve what makes a truly outstanding tenor memorable: a deep male voice that can reach the high C notes. That expectation nearly derailed his career during the opening of the 2000-01 La Scala season, however, when he obeyed Muti's direction and did not deliver the interpolated high Cs in the cabaletta "Di quella pira" in the third act of Verdi's Il Trovatore. The outraged audience of opera lovers booed the omission. The performance was recorded for Sony and released in 2002. In a review for Opera News, the critic Fred Cohn asserted that nevertheless, "Licitra's glory is his secure, ringing top.... Even without the Cs, his 'Di quella pira' is one of the performance's highlights." Cohn also noted that "unsurprisingly, Sony seems to have misplaced the booing" in the final mix.
Licitra reprised the role of Il Trovatore's Manrico six months later in Verona, and hit the high C notes, which caused the audience to erupt in joy. He was the undisputed star of La Scala, signed by Sony Classical as a solo artist, and heralded as the next Pavarotti. His increasing prowess as Ballo's Riccardo, the role that had made Pavarotti famous three decades earlier, only fueled the hype. "Close your eyes, and you could mistake Licitra for Pavarotti: at least, this was the impression in some of the middle-voice passages of Ballo, an opera that demands a ringing sweetness of tone," noted Financial Times journalist Andrew Clark. "Like Pavarotti, he sculpts the words on the music--one of the keys to Verdi interpretation--so that you are never in doubt that this is an Italian singing his native tongue."
48 Hours' Notice
Licitra made his American debut in November of 2001 as the guest soloist at the Richard Tucker Opera Gala in New York. A few weeks later he performed Tosca at Vienna's Staatsoper. It was the following May, however, that his career-defining moment occurred, when he was contacted on the evening of Thursday, May 9, at his family's home in Milan. The Metropolitan Opera of New York wanted to know if he was available to take the stage that Saturday, two years ahead of his planned contractual debut. Pavarotti was scheduled to appear in Tosca all that week, and had already bowed out of the Wednesday night performance due to poor health. Licitra accepted the offer and flew in on the Concorde the next morning. He spent much of Friday being fitted for a costume and preparing, but still did not know for certain if he would take the stage.
The Saturday performance of Tosca was the closing night of the Met season, and was considered likely to be Pavarotti's final stage appearance after a 41-year career. The top ticket price was $1,875, and only at 8:05 p.m. did the Met's general director, Joseph Volpe, appear before the audience of 4,000 to make the announcement. "Miffed, the audience was itching for something memorable," noted New York Times critic Anthony Tommasini, "and Licitra delivered. Stocky and bushy-haired, he seemed the real thing: a big-voiced, impassioned tenor with a lyrical bent and lusty top notes. He earned two resounding ovations, a final one that lasted two minutes and reduced him to tears. Ross, writing in the New Yorker, found Licitra able to deliver some "thrilling, ringing high notes--they are sung, not hollered--and he cannily shapes his phrases to make his top-heaviness seem a dramatic necessity."
Debut and Duetto Released
Within weeks Sony Classical had released Salvatore Licitra: The Debut, a collection of arias by Verdi and Puccini, with Licitra accompanied by the London Symphony Orchestra. It included what had become his signature aria, "E lucevan le stelle," as Cavaradossi in Tosca. Opera News critic Ira Siff declared that the new tenor had indeed lived up to his myth-making Met debut. "Licitra offers a good deal of passion, even if this program, composed mostly of chestnuts, leaves little room for surprises," wrote Siff, who praised the "absolutely thrilling finish" of "Nessun dorma" from Turandot, another Puccini classic.
Sony teamed Licitra with Argentine tenor Marcelo Alvarez for a 2003 CD, Duetto, and the two performed in several North American cities to promote it. Serious opera lovers scoffed at it, characterizing it as an attempt to capitalize on the "Fourth Tenor" hype surrounding both performers, and some critics compared it to the recordings of Andrea Bocelli, with its romantic ballads and re-workings of arrangements from Bach and Rachmaninoff. "The slickly, cynically produced disc aims squarely for the massive mainstream audience of 'popera,'" noted New Jersey Star-Ledger reviewer Bradley Bambarger, who termed it "a showcase for the most saccharine, overblown expressions of amore; several tunes are based on famous classical melodies, although sometimes tarted up with more fortissimo, Celine Dion-style finales." Licitra and Alvarez appeared before an immense audience one July night on the Great Lawn of Central Park in New York City to perform selections from the release. New York Times writer Anne Midgette gave the event a mixed review, but did commend the show's first encore, "Torna a Sorriento," in which both young stars, she felt, displayed fine vocal form, and she praised Licitra for his "ringing, bell-like tone."
Appealing "Burnished Gleam"
In January of 2003, Licitra appeared in La Forza del Destino at Carnegie Hall before a sold-out audience that included the famous tenor, Placido Domingo. Licitra's Don Alvaro was once again pronounced a success, with Midgette remarking in the New York Times that "he warmed up into some affecting singing in gorgeous rivers of sound." Some opera aficionados claimed it was too early in Licitra's career to see if he would indeed prove to be the elusive Fourth Tenor. San Francisco Chronicle critic Joshua Kosman asserted that Licitra's "voice is rich and muscular, with a dark, baritonal quality," but found a few flaws in his style. Kosman felt that the lower-note passages were "delivered with a burnished gleam that was enthralling," while Licitra's efforts to hit the upper end of the scale "by contrast, are elaborately cantilevered affairs, belted out with an impressive sense of effort. They don't always land squarely ... but when they do, they ring out powerfully with a vibrant impact."
Licitra has been slated to make his Paris Opera debut in April of 2004 in Il Trovatore, and reprise the Don Alvaro role in Forza in his first performance at Covent Garden in London the following September. Engaged to a law student in Rome, the low-key Licitra favors cowboy boots, but does drive a convertible. "I'm not a divo," he told Newsweek International writer Barbie Nadeau. "I imagine Pavarotti goes around with a scarf, very protected. I never wear a hat. I like the wind. I am convinced that when you are covered up you make yourself weak."
Death
On 27 August 2011, Licitra sustained severe head and chest injuries while riding his motor scooter at low speed, without a helmet. He was looking for parking space near a restaurant when he crashed into a wall in Modica, Ragusa, Sicily. His girlfriend, wearing a helmet, was unharmed. Licitra underwent emergency surgery and remained in a coma for nine days in the Garibaldi Hospital in Catania before he was pronounced clinically dead on September 5, 2011
Read more
Salvatore Licitra Picture Gallery
Latest headlines