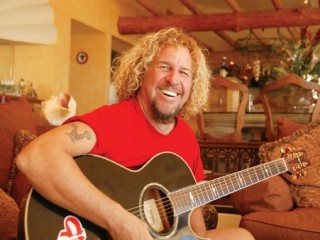 Sammy Hagar biography
Date of birth : 1947-10-13
Date of death : -
Birthplace : California.U.S.
Nationality : American
Category : Arts and Entertainment
Last modified : 2011-10-24
Credited as : Montrose, Van Halen, Cabo Wabo Tequila
Sam Roy "Sammy" Hagar also known as The Red Rocket,is an American rock singer, guitarist, and songwriter.
Hagar came to prominence in the 1970s with the hard rock band Montrose. He afterwards launched a successful solo career, scoring an enduring hit in 1984 with "I Can't Drive 55". From 1985 to 1996, and 2003 to 2005, Hagar was the singer for Van Halen. On March 12, 2007, Hagar was inducted into the Rock and Roll Hall of Fame as a member of Van Halen. He has worked with hard rock guitarists such as Eddie Van Halen, Ronnie Montrose, Neal Schon of Journey, and Joe Satriani.
Outside of music, he founded the Cabo Wabo Tequila brand and restaurant chain. He currently resides in Mill Valley, California, and also has a residence in Cabo San Lucas, Mexico. His present musical project is as lead singer of Chickenfoot.
Hagar's first major success came from his work with the group Montrose on their debut and second albums, including the first song Hagar wrote, "Bad Motor Scooter". After difficulties with the band's founder, Ronnie Montrose, during a European tour, Hagar departed from the group. Bassist Bill Church (who had quit Montrose after the first album) and drummer Denny Carmassi would eventually find themselves playing in Hagar's backing band. After the album Paper Money, Hagar left Montrose for a solo career.
Hagar started a solo recording and touring career to increasing success. He enjoyed moderate success on Capitol Records initially, with such albums as Nine on a Ten Scale and hits such as "Red", which would build as a persona and style, leading to his nickname of "The Red Rocker". Hagar made some personnel changes, including enlisting long time friend and former Justice Brothers bandmate David Lauser as his drummer. With this and a change to Geffen Records, Hagar enjoyed greater commercial success, with hits such as "There's Only One Way to Rock", "Three Lock Box" and perhaps his best-known song "I Can't Drive 55". His highest charting single on the Hot 100 is "Your Love Is Driving Me Crazy", which peaked at #13 in 1982, and both "Little White Lie" and "Give to Live" hit #1 on the US Rock chart. Hagar had become a headlining act in many parts of the United States and Europe.
In 1983–84 Hagar and Neal Schon formed the supergroup HSAS (Hagar Schon Aaronson Shrieve) along with former Foghat bassist Kenny Aaronson and former Santana drummer Michael Shrieve. HSAS did a small Christmas tour to benefit local charities and released an album, Through The Fire. The tracks which appeared on the album were recorded live, but crowd noise was removed during the mixing process to create the feel of a studio album. As intended from its start, HSAS was a short-lived project. One song in particular, a cover of "A Whiter Shade of Pale", received some airplay, peaking at #94 on the Billboard Pop 100 Singles chart.
After parting ways with vocalist David Lee Roth, the remaining members of the band Van Halen contacted many potential replacements. In July 1985, given Eddie Van Halen's appreciation of Montrose and his swami's suggestion, the band auditioned and quickly hired Hagar to fill the opening. With Hagar at the front, Van Halen produced four multi-platinum, #1 Billboard charting albums: 5150, OU812, For Unlawful Carnal Knowledge, and Balance, as well as many chart hits, including nine #1 Mainstream Rock hits. During Hagar's stint as Van Halen's vocalist, the band was often informally referred to by fans as "Van Hagar" as a way to distinguish the band from the previous "David Lee Roth albums". Internal disputes eventually led to Hagar's departure from the band in June 1996. Hagar disagreed with a decision to record two new tracks for the soundtrack to the film Twister, after the band had agreed to take time off following their 1995 world tour. Hagar was also opposed to the issuance of a greatest hits record at that point in the band's career. These two items were pushed by Van Halen's new manager Ray Danniels, Alex Van Halen's brother-in-law, brought in after the death of their longtime manager Ed Leffler. Hagar wanted instead to record a new studio album, but only after Eddie, Alex, and Hagar's pregnant wife had all dealt with their respective medical issues. Although there are several versions of how the split occurred, Hagar has stated that the final straw came when he was with his wife in Hawaii, where they had arranged for a natural delivery of the baby (meaning outside of a hospital), and Eddie wanted him back in the studio in California. Hagar claimed to have flown to Los Angeles with his wife only to discover that she could not fly back to Hawaii. In the ensuing argument, he claims that he was fired. Eddie, on the other hand, says that Hagar quit. The end came when Eddie started to work with former lead singer David Lee Roth instead of Hagar, and two new songs were made with Roth for the greatest hits album Best of Volume I. When Van Halen again parted ways with Roth, instead of rehiring Hagar, the band hired Gary Cherone, the former lead singer of Extreme.
Having jammed as a trio in 1992, Hagar, drummer David Lauser and Van Halen bassist Michael Anthony formed the harmony-singing rock band Los Tres Gusanos (in English, The Three Worms) in 1993. Playing a mixture of Hagar, Van Halen, and cover songs at Cabo Wabo and in San Francisco, the band got together a few times a year. Initially active until 1996, Los Tres Gusanos regrouped in 2002, then again in 2005,and has performed together many times since. Lauser has gone on record to say, "Los Tres Gusanos will never die, and rumours abound that they may resurface in Cabo soon."
Musician Robert Berry stood in for Michael Anthony in 1996 and 1998 while the bass player fulfilled his touring commitments with Van Halen. And being basically a bar/jam-band, it has also hosted a number of guests with them on stage.
Like related project Planet Us, Los Tres Gusanos has played at the BAMMIES (aka the California Music Awards) and is known for its live performances. Similarly, neither band has ever made any official releases, although a number of unofficial bootleg live recordings have been widely circulated on CD and download, though these tend to be credited to Van Halen even when Hagar refers to Los Tres Gusanos by name during the recorded performances.
Hagar went on to produce several new solo records after the split with Van Halen in 1996. In 1999, Hagar formed a long term solo band, called The Waboritas, consisting again of David Lauser on drums, as well as former keyboardist Jesse Harms, and new to the mix was former The Bus Boys guitarist Vic Johnson, and former Tommy Tutone bassist Mona Gnader. His subsequent tours were known for spontaneity, once doing an improve version of "Folsom Prison" by Johnny Cash at the IC Light Ampitheatre in Pittsburgh after a train disturbed his show.
In the summer of 2002, Roth and Hagar teamed up in the Song For Song, the Heavyweight Champs of Rock and Roll tour (also known as the 'Sans-Halen' or 'Sam & Dave' Tour). The joint tour headlining both former lead singers attracted media and audience fascination because it seemed more improbable than even a Van Halen tour with Roth or Hagar could be. The tour drew large crowds and featured no opening acts, Roth and Hagar alternating opening as the first act during the tour. In an interview, Roth contrasted his personality with Hagar's, saying, "He's the kind of guy you go out with to split a bottle with a friend. I'm the kind of guy you go out with if you want to split your friend with a bottle." Michael Anthony guested with Hagar's band, The Waboritas, numerous times and sometimes even sang lead vocals. During performances, Hagar would tease Anthony by asking, "Do the brothers know you're here?". Anthony never played with Roth. Gary Cherone appeared on occasion. Hagar released a live album (Hallelujah), featuring vocals by Mike and Gary, and a documentary DVD, Long Road to Cabo, about touring with Roth.
In 2002, with Van Halen still unreformed at this point, Hagar joined again with guitarists Neal Schon of Journey and later Joe Satriani to form a new side project called Planet Us. Along with Van Halen member Michael Anthony on bass and Deen Castronovo (also of Journey) on drums. Despite big intentions, the band only recorded two songs and played live a few times before dissolving when Hagar and Anthony rejoined Van Halen. The two songs, "Psycho Vertigo" and "Peephole," would not see release until Hagar's 2008 effort, Cosmic Universal Fashion.
In 2005, Hagar continued to play with The Waboritas as he toured the Atlantic coast and the Midwest and added ex-Van Halen bass player Michael Anthony, calling the band Los Tres Gusanos (The Three Worms). In August of that year, Hagar went on another mini-tour starting at DTE Energy Music Theatre in Clarkston, Michigan and then hitting the southwest before finishing at his own Cabo Wabo Cantina. Hagar's 2006 tour with The Waboritas also included a segment with Michael Anthony playing as a band called The Other Half (a reference to Hagar and Michael being the half of Van Halen that was not Van Halen by name) for a set of songs in the middle of the show, including both Hagar- and Roth-era tunes. The band also invited Kid Rock on stage at DTE Energy Theatre for a couple of songs, including covers of Led Zeppelin's "Rock and Roll" and Beastie Boys' "You Gotta Fight For Your Right (To Party)". Hagar also released an album and DVD called "Livin' It Up! In St. Louis" with the Wabos on July 25, 2006. Hagar has a longstanding and strong relationship with St. Louis. Often in concerts, he can be seen wearing a red St. Louis Cardinals cap. He has said that he credits St. Louis fans and the radio station KSHE in St. Louis with helping to launch his professional career.
In 2008, Hagar formed a "supergroup" named "Chickenfoot" with Michael Anthony, Red Hot Chili Peppers drummer Chad Smith, and guitar virtuoso Joe Satriani. Their self-titled debut album was released in June 2009 and debuted at #4 on the Billboard Music Chart. The band played June 5 on The Tonight Show with Conan O'Brien, the last day of O'Brien's first week as host of the show. They then launched a European and North American tour that lasted through September. In September 2009, the RIAA certified the Chickenfoot debut as Gold (having sold 500,000 copies). The band was also featured performing the track "Sexy Little Thing" on the November 6, 2009 broadcast of Jimmy Kimmel Live.
Hagar currently endorses Yamaha Guitars, which are currently producing a line of Hagar signature guitars named the Yamaha AES620 SH. The guitar is based on Yamaha's AES620 guitar and features a number of modifications requested by Hagar, including a Seymour Duncan JB pickup in the bridgeposition, a "Cabo Wabo" inlay at 12th fret and custom translucent red finish. In addition to his signature model Hagar also plays a handmade AES920 solid body guitar. Previously Hagar collaborated with Washburn Guitars which also made a Hagar signature guitar named Washburn RR150 which also featured Seymour Duncan pickups and a piezo pickup incorporated into the bridge.
Hagar currently uses Crate Amplifiers which is concurrently marketing a Hagar signature 120 watt amplifier named Crate BV120RH Red Voodoo Amp Head.
Hagar married his first wife, Betsy Berardi, on November 3, 1968. They had two sons together, Aaron (born in 1970) and Andrew (born in 1984). In 1994, the couple divorced after 26 years of marriage. He married his current wife, Kari Karte, on November 29, 1995, and together they have two daughters, Kama (born in 1996) and Samantha (born in 2001).
In March 2011, Sammy Hagar released an autobiography entitled Red: My Uncensored Life In Rock, written with the assistance of rock critic Joel Selvin. On April 3, 2011 it reached number 1 on the New York Times Best Seller list of hardcover nonfiction.
During an interview with the American Rock Scene, Hagar announced the forthcoming paperback version of 'Red' would include an additional chapter, stating that he "didn't want to release the same book again."
Read more
Latest headlines