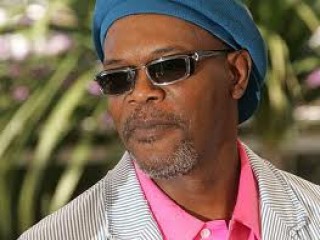 Samuel L. Jackson biography
Date of birth : 1948-12-21
Date of death : -
Birthplace : Washington D.C., U.S.
Nationality : American
Category : Arts and Entertainment
Last modified : 2011-10-12
Credited as : Actor and film producer, Hollywood Walk of Fame, Guinness World Records
He was born Samuel Leroy Jackson on the 21st of December, 1948, in Washington DC. His father left when he was very young, moving to Kansas City, Missouri, leaving Samuel to be raised by his mother, Elizabeth, and his grandparents, in Chattanooga, Tennessee. Granddad was a janitor, while Elizabeth worked in a factory (later she'd be a supply buyer for a state mental institution).
Elizabeth had high hopes for her son, wanting him to be a doctor or a lawyer, and she instilled in him a serious work ethic. In this time of segregation, she made him recognise his disadvantaged state and taught him that he needed to work ten times harder than everyone else, and dress ten times better, just to survive. Consequently, young Samuel was a bookworm of a child, kind of nerdy, though he says "I was always kind of MEMORABLE". He learned many skills, playing French horn and trumpet in the school symphony. He'd also teach himself an important trick that would serve him well onscreen - how to not blink. He became a master of the art, staring out all comers.
Eventually, he won a place at Morehouse University in Atlanta. He'd thought of becoming an oceanographer, but settled on architecture, as befits such a bright young man. But that didn't last long. Since childhood, Samuel had been afflicted with a terrible stammer. At Morehouse, one of the tutors suggested that he attend public speaking classes to cure himself. He did, and he did. And he also got hooked on the adrenalin rush of performance. He won a part in a college musical and never looked back, changing his major to Drama.
Jackson has since said that he got into acting for all the wrong reasons - for the girls, the drugs, the rock and roll, the popularity. Whatever his reasons, he loved it and persisted after graduation in 1972. His mother, of course, was not keen on this choice of profession. It was only when Samuel appeared in an ad for Krystal hamburgers, getting well-paid for chomping an onion burger and smacking his lips, that she realised he had some kind of future.
Eventually, he found himself standing in for Bill Cosby during rehearsals of The Cosby Show. Hardly the place for such a storming thespian talent.
By the late Eighties, a few film parts were coming his way, all of them small. There wasn't a lot going for a black man with problems, no matter how charismatic he was. Inevitably there was Uncle Tom's Cabin (how that must have pained the activist in him), starring Bruce Dern. He played Eddie Murphy's uncle in a sketch in Raw, and a hold-up man in Murphy's Coming To America. There was a blink-and-you'll-miss-it part in Sea Of Love, he was a card player in Michael Caine's comedy thriller A Shock To The System, a taxi dispatcher in Alan Alda's Betsy's Wedding, the Dream Blind Man in Exorcist 3, a preacher in Troma's black vampire flick Def By Temptation, and he was Stacks Edwards, a low-life whacked by Joe Pesci in Goodfellas. These were all good movies, and Jackson was noteworthy in most of them - but the parts were too brief to build a reputation on.
e did this in collaboration with his old mucker Spike Lee. Over the last couple of years, Lee had been extremely prolific, and had cast Jackson in each of his productions. School Daze had taken him back to his college years, being about confrontation at a Southern university. In the inflammatory Do The Right Thing, where tension builds to riot on a hot day in New York, he'd had a groovy cameo as Senor Love Daddy. And he'd been a back-alley thug in Mo' Better Blues, the tale of Bleek Gilliam, where Denzel Washington and Wesley Snipes played rival musicians. These, of course, continued the work Jackson had done as an activist in college - he also appeared in the video for Public Enemy's 911 Is A Joke.
And now came Jungle Fever. The word Ironic is probably misused more than any other, but it was genuinely ironic that Jackson, his life thus far having been horribly blighted by drugs, should clean up and immediately come to prominence playing a crack addict. The movie basically concerned the inter-racial fall-out when preacher's son and successful businessman Wesley Snipes embarks on an affair with Italian girl Annabella Sciorra. But the searing side-plot was what lingered in the memory, with Jackson, as Snipes' brother, Gator Purify, constantly bugging and begging for money, and gradually descending into crack hell, forcing Snipes to walk some mean streets in an attempt to rescue him.
Jackson was brilliant and, at last, his brilliance was noted. The New York Film Critics Circle lauded him. At Cannes, they even invented a new category, Best Supporting Actor, in order to honour him. Formerly known as Sam Jackson, he had transformed himself into Samuel L. Jackson, and the name was high of the list of all casting directors (nowadays, Jackson will not answer to the name of Sam, believing that to be an entirely different person). Juiced up by the sudden rush of offers, Jackson took on all the work he could. Throughout the Nineties, he would appear an absurd number of movies, sometimes up to seven in a single year.
He began with the comedy Strictly Business, playing the malevolent, grey-haired boss of a fellow taking lessons in street-wisdom in order to woo Halle Berry. He was whacked within 30 minutes in the Tony Danza mobster flick Dead And Alive. There were more gangsters and drugs with Tim Roth in Jumpin' At The Boneyard, then it was indie cool all the way with Brad Pitt in Johnny Suede. He was Trip in the Tupac-starring Juice, directed by Ernest Dickerson, Spike Lee's cinematographer, and then in White Sands he was a slimy renegade FBI agent, apparently trying to bust gun-runner Mickey Rourke and recover $500,000 found by sheriff Willem Dafoe out in the desert.
Then he played techie nerd Chief Engineer Ray Arnold in Jurassic Park, showed up in Robert Townsend's comedy The Meteor Man (Townsend had earlier directed him in Raw) and, for the first time scripted by Quentin Tarantino, played Big Don in True Romance.
In Losing Isaiah, he was an attorney helping former crack addict Halle Berry win her child back from foster parent Jessica Lange (his wife LaTanya appeared too). He was a vengeful cop, hunting down Nicolas Cage in Kiss Of Death. And then he was a denizen of Harlem who helps Bruce Willis chase terrorists in Die Hard III.
In Hard Eight - Paul Thomas Anderson's smooth precursor to Boogie Nights - he played a shady, scary character teaching bad lessons to a gambler's apprentice in Reno.
And then there was Tarantino once more, and another mega-hit in Jackie Brown. Here he was Ordell Robbie, a foul-mouthed arms dealer who orders around girlfriend Bridget Fonda, buddies up with Robert De Niro and threatens or kills pretty much everyone else. He is, as he puts it himself, "as serious as a heart attack" and Jackson played him to perfection - smooth, flashy, funny and unbelievably menacing.
He also added "Jackie Brown is a wonderful homage to black exploitation films. It's a good film, and Spike hasn't made one of those in a few years".
At this point, even Jackson realised that he'd arrived. He'd been Golden Globe-nominated for Jackie Brown, as he had been for Against The Wall, Pulp Fiction and A Time To Kill, but there was more to it. Having stolen scenes from Robert De Niro in Jackie Brown, he moved on to take them from Dustin Hoffman in Michael Crichton's under-sea supernatural thriller Sphere.
2003 brought another burst of activity. First there was Basic, where he played a hard-ass sergeant hated by his men on a military base in Panama. When a huge storm hits and people are killed, Sam's old mucker John Travolta is called in to investigate. Then there was SWAT, based on the old TV series, where a drug lord is captured and offers a huge reward to any criminals who can free him - Jackson playing the head of the titular sharpshooters and Colin Farrell one of his finest men. The year would end with a brief reunion with Quentin Tarantino in Kill Bill, when he popped up as the chapel organ-player at Uma Thurman's blood-spattered wedding.
2004 brought another rush of work, beginning with John Boorman's In My Country, based on Antjie Krog's novel Country Of My Skull. Set in South Africa's Truth And Reconciliation days of the 1990s, where cops and soldiers were able to admit their Apartheid-era crimes and be forgiven, this saw Samuel as a hard-bitten and cynical Washington Post journalist covering events, his unforgiving views striking against those of innocent and hopeful South African poet and reporter Juliette Binoche. The movie would dig deep into the complexities of race and racism, Binoche being white but African and Jackson being black but wealthy, very much separated from his ancestral people.
After showing up, again briefly and in a wedding flashback, in Kill Bill Volume 2, Samuel enjoyed another huge success when lending his voice to The Incredibles, a superb animation concerning superheroes who are forced to deny their powers and live normal lives.
The film was a huge financial success with the result that, come 2005, the worldwide gross of Jackson's movies had topped $3 billion, the highest in history. Of course, he hadn't headlined many of the big hits but, even so, after the long, dark years, it was nice to claim he was bigger than Harrison Ford.
On January 30, 2006, Jackson was honored with a hand and footprint ceremony at Grauman's Chinese Theater; he is the seventh African American and 191st actor to be recognized in this manner. He next starred opposite actress Julianne Moore in the box office bomb Freedomland, where he depicted a police detective attempting to help a mother find her abducted child while quelling a citywide race riot. Jackson's second film of the year, Snakes on a Plane, gained cult film status months before it was released based on its title and cast. Jackson's decision to star in the film was solely based on the title. To build anticipation for the film, he also cameoed in the 2006 music video "Snakes on a Plane (Bring It)" by Cobra Starship. On December 2, 2006, Jackson won the German Bambi Award for International Film, based on his many film contributions. In December 2006, Jackson starred in Home of the Brave, as a doctor returning home from the Iraq War.
On January 30, 2007, Jackson was featured as narrator in Bob Saget's direct-to-DVD Farce of the Penguins. The film was a spoof of the box office success March of the Penguins (which was narrated by Morgan Freeman). Also in 2007, he portrayed a blues player who imprisons a young woman (Christina Ricci) addicted to sex in Black Snake Moan, and the horror film 1408, an adaptation of the Stephen King short story. In 2008, Jackson reprised his role of Mace Windu in the CGI film, Star Wars: The Clone Wars, followed by Lakeview Terrace where he played a racist cop who terrorizes an interracial couple. In November of the same year, he starred along with Bernie Mac and Isaac Hayes (who both died prior to the film's release) in Soul Men. In 2008, he portrayed the villain in The Spirit, which was poorly received by critics and the box office. In 2009, he again worked with Quentin Tarantino when he narrated several scenes in the World War II film, Inglourious Basterds.
In 2010, he starred in the drama Mother and Child and portrayed an interrogator who attempts to locate several nuclear weapons in the direct-to-video film Unthinkable.Alongside Dwayne Johnson, Jackson again portrayed a police officer in the opening scenes of the comedy The Other Guys. He also co-starred with Tommy Lee Jones for a film adaptation of The Sunset Limited.
Jackson has several upcoming film projects between 2010 and 2012.He will appear in Quentin Tarantino's upcoming film, Django Unchained. Jackson is involved two other projects, titled The Samaritan and Arena. He is also set to produce a live-action movie of Afro Samurai and is assuming the role of Sho'nuff in a remake of The Last Dragon.
Throughout the 1990s, A.C. Neilson E.C.I., a box office tracking company, determined that Jackson appeared in more films than any other actor which grossed $1.7 billion domestically. For all the films in his career, where he is featured as a leading actor or supporting co-star, his films have grossed a total of $2.81 to $4.91 billion at the North American box office, placing him as the seventh (as strictly lead) or the second highest-grossing movie star (counting supporting roles) of all time; behind only that of voice actor Frank Welker. The 2009 edition of The Guinness World Records, which uses a different calculation to determine film grosses, stated that Jackson is the world's highest grossing actor, having earned $7.42 billion in 68 films.
Jackson married actress LaTanya Richardson in 1980, whom he met while attending Morehouse College. In 2009, the couple started their own charitable organization to help support education. The couple, who live in Los Angeles, California, have a daughter, Zoe, born in 1982. She works as a sports channel producer.
He enjoys collecting the action figures of the characters he portrays in his films,playing golf, a game he has been reported to have become very proficient at.Jackson is also a keen basketball fan, and especially favors the Toronto Raptors and the Harlem Globetrotters and
a known lover of Ireland, also supports a Dublin based football team Bohemian F.C.
Having been the most prolific actor of the Nineties, it's likely Samuel L. Jackson will slow down a touch. Especially as he's discovered golf - "the only place I can go dressed as a pimp and fit in perfectly". But that doesn't mean he won't make more appearances than anyone else, or that he won't continue to deliver some of the most intense performances in history. That fire in his eyes is still so bright - it's impossible to imagine it ever going out.
Read more
Samuel L. Jackson Picture Gallery
Latest headlines