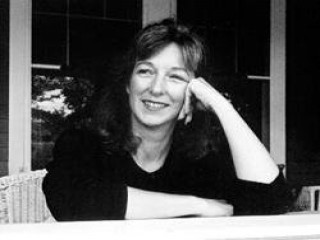 Sandra Boynton biography
Date of birth : 1953-04-03
Date of death : -
Birthplace : Orange, New Jersey, U.S.
Nationality : American
Category : Famous Figures
Last modified : 2011-09-20
Credited as : humorist, songwriter, children's author and illustrator
Sandra Keith Boynton
is an American humorist, songwriter, children's author and illustrator. Boynton has written and illustrated more than forty books for both children and adults, as well as over four thousand greeting cards, and four music albums. Although she does not license her characters to be redrawn or adapted, she has herself designed for various companies calendars, wallpaper, bedding, stationery, paper goods, clothing, jewelry, and plush toys.
One of four daughters raised by a teacher and a school secretary, Boynton grew up in Philadelphia, Pennsylvania, attending the Germantown Friends School (where her father taught English) from kindergarten through high school. Her school's rich art program would have a lasting influence, though the self effacing Boynton would often deny her natural abilities. "Growing up, I never had any particular talent for art," Boynton said in a 2001 interview with Simon & Schuster Children's Publishing, as quoted at Barnes&Noble.com. "I just always loved to draw and make things." A prolific doodler, she created her own cartoon characters, including an animal like sports car named Furrari.
Entering Yale University in 1970, Boynton had planned to major in art but found herself drawn to courses in English. At Yale, she took a course on writing and illustrating for children by the celebrated author/illustrator Maurice Sendak. Boynton was not yet convinced that she would become an illustrator, however. Upon graduation she intended to pursue a career as a theater director, entering a graduate program in drama first at the University of California at Berkeley, and later back at Yale.
In need of spending money for college, Boynton made her first foray into greeting cards during the summer of 1973. An uncle printed the cards, some 60,000 of them all drawn, hand colored, and packaged by Boynton. She distributed them herself, hitting craft shops along the East Coast. More than 100 stores accepted her cards, and only three turned her away. "I can't believe they sold," she told Paula Span of the Washington Post. By the following summer, she had made between $3,000 and $4,000 from the venture.
The next step for Boynton was to attend a trade show in New York City in the hopes of finding a marketer. At the show she was impressed with the work of an environmentally responsible business called Recycled Paper Products, run by two recent college graduates. A deal was struck that gave Boynton royalty rights and nearly complete control over her material and its marketing. Boynton would produce two card lines distributed by Recycled Paper Products: Animal Farm and Kulture Kards.
With their witty word play and disarming animal illustrations, Boynton's cards appealed to a wide audience. Among her best selling items, one birthday card depicted a menagerie of animals with the words "Hippo Birdie Two Ewe." A thank you card featured two pigs in a bathtub with the message "Not the usual hogwash. Just thanks." Making her cards feel personal was important to Boynton. "When you get a card that says 'Just for you.…' it seems very impersonal," she told Victoria Irwin of the Christian Science Monitor. "My cards are actually from me to someone."
Early in her career, Boynton still considered the greeting cards a side project to support herself through graduate school. It was not until she had a family that Boynton fully embraced illustrating as her vocation. "When my first daughter was born," she told Simon & Schuster, "I realized that the drawing and writing were much more compatible with a reasonable family life than theater would be, so I followed that path."
After achieving commercial success, Boynton bought a 1700s farmhouse on 40 acres in Connecticut's Housatonic Valley with her husband, Jamie McEwan. A writer as well as a bronze medal canoeist in the 1976 Olympics, McEwan shared parenting responsibilities with his wife. Boynton set up her studio and workplace in a restored barn on the property, where a day's work might yield between five and 20 new card designs. Her family kept a dog and a cat, but farm animals would only populate Boynton's drawings.
Boynton also started writing and illustrating books, the first of which was 1979's children's counting book Hippos Go Berserk! The same year, she published Hester in the Wild and Gopher Baroque and Other Beastly Conceits. The following year brought her first adult humor title, The Compleat Turkey, with cartoons poking fun at life's difficult people, the so called "turkeys." Successive adult books have served as an outlet for Boynton's ironic observations about life.
By 1980, Boynton was making news as a best selling greeting card designer, cartoonist, and author. Her animal illustrations were appearing on stuffed animals with mock literary names like Gustave Flaubear, Harry Elephonte, and Emily Chickinson. Her designs graced sheets, quilts, wallpaper, and even a line of Carter's children's clothing. In 1982, her illustrated book Chocolate: The Consuming Passion graced the New York Times bestseller list for 24 weeks.
Boynton's cast of characters has included hippos, cats, turkeys, and gophers—all surrogates for people. Frequently asked why she has not directly represented people, Boynton has joked that she does not know how to draw them. Yet she has also noted the benefits of depicting only animals. "[U]sing [animals], an artist becomes largely freed from the constraints of age, gender, race, and so on," Boynton explained to Simon & Schuster. She creates her cartoons with a technical pen and watercolors, using a computer only for typography.
"Inspiration almost never happens to me," Boynton told Sandy Coleman of the Boston Globe. "I work when I work. If I need to do ten card ideas, I sit down and go: idea No. 1.… It's almost like a math problem: What direction do I want to go? What direction have I gone?"
In the 1980s Boynton's popular cards spawned a slew of imitators. Although the attention flattered the illustrator, it also worked against her. When a new line from Hallmark Card Inc. directly copied a Boynton birthday card in 1986, she decided to sue for copyright infringement. The Hallmark card in question featured the same text and a similar illustration to a Boynton card featuring several pigs holding quiches, with the message "Hogs and Quiches on Your Birthday." After Hallmark's new line appeared, sales of Boynton's cards dipped for the first time in five years. "That's upsetting," she told Marilyn A. Harris of BusinessWeek. "I get so offended. I'm worried about people mistaking the cards for mine."
Boynton had always enjoyed almost absolute control over her material. Early in her career, some companies had offered to buy her designs, but she refused. Recycled Paper Products gave her the freedom that she needed, and the business had grown at a rate of about 30 percent a year since it had started marketing Boynton's cards. But both Boynton and Recycled Paper Products began to suffer after Hallmark launched its Shoebox Greetings line, which attempted to break into the alternative greeting card market with knockoffs of Boynton's cards. Recycled Paper Products was forced to compete with stationary giant Hallmark, which commanded prominent shelf space in stationary stores across the country. Boynton, however, continued to prosper from her books, clothing, and merchandise.
The illustrator remained with Recycled Paper Products until the mid–1990s, when she decided to end her 20–year relationship with the Chicago–based company. According to Boynton, her quibble with the company was largely philosophical. "They went in a direction that I found distasteful," she told Karen Heller of the Houston Chronicle. Speaking with Denise Lavoie of the Associated Press, as quoted at SouthCoastToday.com , she elaborated: "An increasingly large percentage of their line were cards they called risqué. They weren't risqué—they were obscene. They were rude and offensive, flip, trendy, but nasty in various ways."
To express her dissatisfaction with Recycled Paper Products, Boynton refused to create new card designs for a year. When her contract ran out at the end of 1994, she did not renew it. But a spokesperson for the company explained the split differently, telling the Associated Press that declining sales in Boynton's cards led to the falling out. Between 1987 and 1995, Boynton had dropped in status from Recycled Paper Products' top selling artist to No. 8.
Boynton then signed with a small company called Portal Productions, a California based card and fine art poster company, which inherited the rights to thousands of vintage Boynton cards, including her 60 bestsellers. In addition, Boynton would keep the new cards coming. She continued to handle almost every aspect of her cards' production, including proofreading, contracts, design, and licensing for Boynton merchandise. "I find doing cards very easy," she told the Houston Chronicle 's Heller. "I still find I have room to grow."
In 1996 Boynton entered new territory, complementing her children's books with companion CDs. Her book and CD set Rhinoceros Tap: And 14 Other Seriously Silly Songs featured tunes with names like "Perfect Piggies" and "I Love You More Than Cheese," written with composer/arranger Michael Ford and performed with Adam Bryant. The pairing of her words and pictures with music came naturally to Boynton, who once sang with her high school and college choirs. Inspiration for the project came from a desire to give children's music a touch more sophistication. Often, Boynton told Stephanie Dunnewind of the Seattle Times, children's music can be "very condescending and repetitive. It doesn't move you." That same year, Boynton also published an illustrated book and CD for adults, Grunt: Pigorian Chant from Snouto Domoinko de Silo, a funny twist on Gregorian Chant recordings, substituting pigs for monks.
In the late 1990s Boynton stopped creating new greeting cards, though her classic designs remained available. Instead she concentrated her efforts on writing children's songbooks and other music, occasionally teaming up with celebrity actors and singers. Actress Meryl Streep, whose children attended the same school as Boynton's, was the first to collaborate with the illustrator. Streep then helped to enlist actor Kevin Kline and others to record songs for Boynton's 2002 book and CD set Philadelphia Chickens, which spent more than 40 weeks on the New York Times bestseller list in 2003.
An illustrator and author with dozens of titles to her credit, Boynton shows no signs of slowing her pace.
Awards:
- Irma Simonton Black Award, for Chloe & Maude, 1985; National Cartoonists Society Award, 1993;
- National Parenting Publications Awards Gold Medal, for Barnyard Dance!, 1994.
Read more
Latest headlines