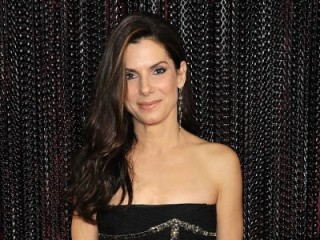 Sandra Bullock biography
Date of birth : 1964-07-26
Date of death : -
Birthplace : Arlington, Virginia, U.S.
Nationality : American
Category : Arts and Entertainment
Last modified : 2010-06-16
Credited as : Hollywood actress, role in Speed,
Sandra Bullock
(Also known as:
Sandra Annette Bullock
) born July 26, 1964 in Arlington, Virginia, U.S. is an American actress who rose to fame in the 1990s, after roles in successful films such as
Speed
and
While You Were Sleeping.
Sandra Bullock's Hollywood success has put her in the same league as Demi Moore, Nicole Kidman, and Julia Roberts. She wowed film critics with her first starring role in a major motion picture, While You Were Sleeping, which has the box office returns to prove that she also charmed movie audiences. Her own earning power has skyrocketed, resulting in multi-million dollar deals to star in big name Hollywood pictures. The press gives Bullock the full celebrity treatment, with sexy photo spreads and outrageous tabloid tales. In anticipation of her $6 million deal to star in A Time to Kill, a film based on John Grisham's novel, Variety dubbed her "Hollywood's hottest actress." Movieline declared that "Sandra Bullock got Hollywood eating out of both her palms for the way she drove a bomb-rigged bus" in the movie Speed. Funny, sexy, and appealing, Bullock presents natural good looks and a witty, engaging on-screen presence that has writers comparing her to Hollywood legends like Carole Lombard. A New Yorker review of While You Were Sleeping offered this example of Bullock's effect: "When she stands in an elevator, wiggling her jaw with anxiety, or tosses her head back and forth to steel her nerves before opening the door to her apartment, you don't think, What a kook. You think, Can I come in? Can I stay?"
This kind of success came after six years of work as an actress. Bullock started her career in New York, off-Broadway, at the age of 21. When she received favorable comments from John Simon in New York regarding her role in the play No Time Flat she was able to get an agent, and her career started to move. When it came time for Simon to review Speed for National Review, he remembered her stage role and commented that Bullock's "first movie appearances were disappointing, until she came into her own in Wrestling Ernest Hemingway, and now this. As Annie, the free spirit who takes the wheel of the bus, she manages to be plucky, witty, and enchanting." Bullock's previous acting jobs included supporting parts in television movies and direct to video releases. She does not apologize for these early, sometimes embarrassing roles, but deems them part of the process of becoming a successful actress. Bullock told the story of how she did a nude love scene for Fire on the Amazon. Concerned that the director would not live up to his promise not to show her private parts, she covered her nipples with duct tape. She also threw up after shooting was finished. Of her starring role in the ill-fated television series Working Girl in 1990, Bullock told Entertainment Weekly, "It was not funny ...but it paid well, and I stashed my money away."
Although Bullock gained attention with visible supporting roles in feature films such as Demolition Man and The Vanishing, her big break came with the movie Speed, playing with established stars Keanu Reeves and Dennis Hopper. The big budget thriller was well received by critics, who took notice of Bullock. A review in Rolling Stone gave the actress the highest marks, saying, "While Reeves and Hopper play a battle of wits, Sandra Bullock nearly drives off with the picture. As Annie, a passenger whom Jack puts behind the wheel when the bus driver is shot, the smart and sassy Bullock is a knockout." The strength of this performance gave her the credentials to take the leading role in While You Were Sleeping, a job that was reportedly turned down by Demi Moore due to scheduling conflicts. Bullock's $1.2 million contract for the movie was estimated to be one tenth of what Moore would have demanded for the role. It nevertheless offered her the opportunity to prove herself as a leading lady and a box office draw.
While You Were Sleeping opened strong in April of 1995, instantly becoming a good earner in the United States. It held its own against competing romantic comedies that year featuring big name stars, including French Kiss, starring Meg Ryan and Kevin Kline, and Forget Paris, with Billy Crystal and Deborah Winger. Reviews of While You Were Sleeping singled out the movie and its star as modern day classics. A reviewer for Time marveled, "What is startling is how well While You Were Sleeping recaptures the true spirit of the best kind of modern fairy tale---classic romantic comedy. This is something Hollywood has been trying hard, and failing miserably, to revive in recent years." Another critic, writing for the New Yorker, likened Bullock to movie legends of the 1930s and '40s: Ginger Rogers, Judy Holliday, and even Gary Cooper. In response to Bullock's line, "I'm not that photogenic," came the reply, "Yeah, Gary Cooper had the same problem."
In her films, Bullock is most often cast as the girl on the street, cute but unpretentious; Entertainment Weekly noted her ability to make her While You Were Sleeping romantic interest, played by Bill Paxton, fall in love with her "without once putting on lipstick or combing her floptopped hair." Publicity shots, however, have shown a pouting, navel-baring starlet and in one Premiere photo spread, a chameleon-like beauty as she posed as Veronica Lake and Greta Garbo, among other legendary Hollywood screen stars.
Interviews draw a different picture, closer to Bullock's on-screen image: that of a grout-stained sex symbol. Of the photos, Bullock told Cosmopolitan, "It's a game....I love it, but then I see the pictures, and I think, My God, that's me? In my life, I run around in overalls and clunky boots." The actress also speaks of the joys of tiling her bathroom and of her plans to travel cross country in an RV. She is known for her passion for flamenco dancing, surfing the Internet (although she declines to reveal her screen name), and her admiration for singer Tom Jones. In Entertainment Weekly, Bullock compared herself to her peers: "I do consider myself an actor....but with more of a blue-collar mentality." She also takes a levelheaded approach to her future, telling USA Weekend, "I get bored watching some actors. People will get bored with me, too. I can't think I'm invincible."
Bullock, however, has had little to worry about. In addition to A Time to Kill, her projects have included a thriller, The Net; a Denis Leary comedy, Two if by Sea; and a film which she both starred in and co-produced, Kate & Leopold. Bullock's films in the late 1990s included the Speed sequel, entitled Speed 2: Cruise Control, as well as Practical Magic, the romantic comedy Forces of Nature with Ben Affleck, and Gun Shy, which she helped to produce. Bullock plays Gwen Cummings in the 2000 release 28 Days, the funny yet dramatic story of a New York writer who struggles to recover from alcohol addiction in a rehabilitation program. Bullock was also considered for jobs such as the female lead in Batman Forever and the Audrey Hepburn role in a remake of Sabrina with Harrison Ford. Her busy schedule, however, prohibited her from doing these films. In May of 2001 her publicist announced that Bullock was in negotiations to star as Wonder Woman in a feature length film. Opposite Hugh Grant in 2002's Two Weeks Notice, Bullock received thumbs up reviews. "The pairing is inspired," wrote Lisa Schwarzbaum in Entertainment Weekly. It was a busy time for this rapidly rising star who was seen in Murder by Numbers, and Divine Secrets of the Ya-Ya Sisterhood also that year, even while as executive producer of television's George Lopez Show. Bullock was also considered for roles such as the female lead in Batman Forever and the Audrey Hepburn role in a remake of Sabrina with Harrison Ford. Her busy schedule, however, prohibited her from doing these films.
Beyond the security of her niche in Hollywood, where she owns a home valued at $1.5 million, Bullock reportedly harbors a passion for buying and selling real estate, having purchased properties in Texas, Wyoming, and Georgia.
Bullock's plans for the future include a determination to not become typecast. The actress told Movieline, "I want to be the girl nobody can quite figure out. 'Is she the funny chick in action movies? Is she the one who does those edgy, touching comedies? Is she the one who does those dramas?' I just want the chance to keep doing good movies." Chances are likely to continue for Bullock who, late in 2000, was named to receive a prestigious international Bambi Award from Hubert Burda Media of Germany for her outstanding achievement in the arts. Likewise in 2004 she received the Virginia Film Award at the seventeenth annual Virginia Film Festival where she presented a sneak preview clip of Miss Congeniality 2: Armed and Fabulous.
Bullock's most recent movies include Crash, 2004, Miss Congeniality 2: Armed and Fabulous, 2005, and Loverboy, 2005. In 2006 she starred in The Lake House, which was released by Warner Brothers.
PERSONAL INFORMATION
Born in 1967; daughter of John (a voice coach) and Helga (an opera singer) Bullock; married Jesse James, 2005. Education: Attended East Carolina University.
CAREER
Actress. Appeared in an opera in Nuremburg, Germany, at age five; acted in off-Broadway plays and student films, 1988-89. Stage appearances include No Time Flat, WPA Theatre, New York City, 1988; My Sister Eileen; A Streetcar Named Desire; Measure for Measure; Go Fish; Three Sisters; Peter Pan; Stage Door; Fool for Love; and Hatful of Rain. Television appearances include movies The Bionic Showdown and The Preppy Murder, 1989; series Working Girl, 1990; miniseries Jackie Collins' Lucky/Chances, 1990; and specials Great American Music: A Salute to Fast Cars, 1994, and 1994 MTV Video Music Awards, 1994. Film appearances include direct to video releases Religion, Inc., 1989; Who Shot Patakango?, 1989; and Fire on the Amazon; and theatrical releases Love Potion No. 9, 1992; Me and the Mob, 1992; Who Do I Gotta Kill?, 1992; When the Party's Over, 1993; Demolition Man, 1993; The Thing Called Love, 1993; The Vanishing, 1993; Wrestling Ernest Hemingway, 1993; Speed, 1994; While You Were Sleeping, 1995; The Net, 1995; In Love and War, 1996; A Time to Kill, 1996; Two if by Sea, 1996; Stolen Hearts, 1996; Speed 2: Cruise Control, 1997; Practical Magic, 1998; Hope Floats, 1998; Forces of Nature, 1999; Gun Shy, (also produced), 2000; 28 Days, 2000; and Miss Congeniality (also produced), 2000; Two Weeks Notice (also produced), 2002; Divine Secrets of the Ya-Ya Sisterhood,2002; Murder by Numbers (also produced), 2002; Crash, 2004; Miss Congeniality 2: Armed and Fabulous, 2005; Loverboy, 2005; The Lake House, 2006. Also appeared in films Hangmen, Making Time, and Willie and Maya. Executive producer of television series, George Lopez, 2002--.
Read more
Sandra Bullock Picture Gallery
Latest headlines