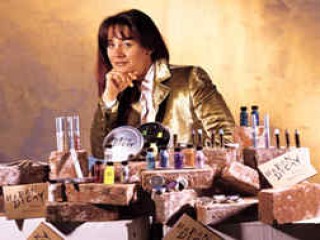 Sandy Lerner biography
Date of birth : -
Date of death : -
Birthplace : U.S.A
Nationality : American
Category : Science and Technology
Last modified : 2011-10-05
Credited as : businesswoman, co-founded Cisco Systems Inc., commercially viable router
Sandy Lerner
co-founded Cisco Systems, Inc., maker of the first commercially viable router that allowed computers to "network" to one another. Lerner and her husband began their company out of their living room back in the 1980s, and it grew explosively over the next few years. Within a decade, both had stepped away from it and began cashing in their stock in order to pursue other interests. Lerner's own Cisco windfall made her the first female philanthropist to emerge from the Silicon Valley boom era, and she has since gone on to fund a number of unusual pet projects, including the cosmetics company Urban Decay. Its name reflects her iconoclastic vision. "A number of people have tried to get me to grow up," she once joked with James Sterngold of the New York Times.
Born in the mid-1950s, Lerner was four years old when her parents divorced, and she spent her childhood divided between the homes of two aunts. One had a cattle ranch in the California Sierras, while the other lived in Beverly Hills. Both lifestyles would influence her in ways both obvious and subtle, but it was on the Clipper Gap ranch that she first exercised her entrepreneurial instincts. At the age of nine, Lerner bought her first steer, selling it for a profit two years later; with those proceeds she acquired two more head of cattle. By the time she entered college, she owned a registered livestock herd of 30 head of cattle, and it provided an income stream that paid for her college tuition.
Lerner breezed through an undergraduate degree in political science at California State University in Chico, finishing in two years. For a time, she considered academia as a career, and began graduate school at Claremont College outside of Los Angeles. She was particularly fascinated by comparative political studies, but came to realize there was likely little financial gain in it. In 1975, she stumbled into the school's nascent computer lab, and was intrigued by what she saw. She began visiting it so frequently that she was eventually made its manager. Still at work on her degree, she enlisted the computers to do quantitative data analysis for her research in social-science topics. This was uncharted academic waters, she explained to San Jose's Business Journal writer Genevieve Leone. "People left you alone because they thought you were weird, and nobody knew anything about what you were doing."
After earning her master's in econometrics from Claremont, Lerner entered Stanford University's graduate program for statistics and computer science. Such graduate programs were relatively new at the time, and a female student was a rarity. But as Lerner told Business Journal 's Leone, "Stanford was dying to get graduate students back then who could bail out the faculty who didn't know anything about computers. If you had all these hacker-type graduate students, you'd moved into the computer age. So they let me in."
Lerner actually married a fellow "hacker type" from Stanford, Leonard Bosack, in 1980. He eventually became director of computer facilities for Stanford's Computer Science Department, while Lerner had found a job running the computer facility for the Graduate School of Business at Stanford. Their offices were just 500 yards apart, but their computers were separate entities, as were all the departments' computer rooms across the campus. Lerner and Bosack wanted to share software and databases with one another without resorting to time-consuming disk transfers; it was a time when floppy disks were actually floppy, measuring more than five inches across, and software purchases came in a box containing a dozen or more of them. They created a local area network, or LAN, using a router that Bosack had made, first between their offices, and then linking the entirety of the school's computer system.
Lerner and her husband were at the cutting edge of computer technology at the time, having linked 5,000 computers across a 16-square-mile campus area single-handedly. Some computer makers were offering networking capabilities, but their systems could only be used with their own particular products. By contrast, the router that Lerner and Bosack had come up with was a unique "multiprotocol" bit of hardware and software that could work with many different kinds of computers. Venture capitalists who provided start-up money for new businesses that were still in the idea stage claimed this would never sell, however, and told the couple that in the future, companies would each market their own LAN systems.
Lerner and Bosack thought otherwise. Schools like the University of Chicago had heard about the Stanford network and were begging them to share their expertise. But Stanford administrators were leery of licensing the technology, and Lerner and Bosack grew tired of arguing with them. They decided to strike out on their own, and quit their jobs. They began Cisco in the living room of their Atherton, California, home and sold their first router in 1986. Early on they realized there were much larger possibilities for networking, Lerner told Forbes journalist Julie Pitta. "We suspected that Procter & Gamble in Des Moines was going to want to talk to Procter & Gamble in San Francisco."
During their first month in operation, Cisco landed contracts worth more than $200,000. The university, irate, eventually demanded $11 million in licensing fees, but settled instead for a tenth of that plus free product and tech support from Cisco forever. Lerner and Bosack hired friends and neighbors, and asked them to work for deferred salaries or stock options, and they also mortgaged their home and went into credit-card debt to keep their business afloat. At one point, they ran so low on funds that Lerner took a job as a corporate data-processing manager.
Finally, in late 1987 a venture capitalist firm came on board, and Cisco began to thrive. Yet the backer, Donald Valentine, wasn't happy with Lerner and Bosack's management style, and installed John Morgridge as chief executive officer. This was a bad start, Lerner recalled in the Forbes interview. "The first time I met John Morgridge he had already been hired," she told Pitta. The new senior management also began replacing some employees who had been with Cisco from the start, such as the retired physicist in his seventies who served as their plant manager.
For a time, Lerner served as vice president for customer services, but clashes with Morgridge forced her out in August of 1990. Her husband resigned as well from his post as Cisco's chief scientist. Their company was taken public that same year, after previous year's revenues of an astonishing $25 million, and its stock quickly became the darling of Wall Street analysts. For much of the 1990s, it was one of the most popular of all tech stocks.
When Cisco went public, Lerner and her husband suddenly found themselves in possession of $85 million in stock. They began to sell it off, and with the bulk of it created a charitable foundation and trust that would fund their pet projects. These included animal-welfare issues and the search for extraterrestrial life. Their marriage, however, had suffered. Both worked extremely long hours, Lerner told Leone in the Business Journal article. "What do married people do together? Watch TV, go to the opera, mow the lawn? We didn't do any of that."
Still eager to manage a company, Lerner looked for another market void to fill, and came up with an idea for a cosmetics line that steered clear of the standard girlish pinks and reds in nail polish and lipstick. Inspired in part by the dark-red, nearly black "Vamp" nail color introduced by Chanel that was selling out at makeup counters across North America, Lerner decided to create a line of alternative shades of lipstick and nail color. In mid-1995, she founded the company, which she called Urban Decay, and installed her accountant as its president. This left her free to concentrate on the creative side of the business.
Urban Decay products came on the market in January of 1996 and were an instant smash. Its nailvarnish palette had punk-rock names like Bruise, Pallor, Smog, and Roach, and stayed in the blue-green-purple-black spectrum, with a few odd white choices thrown in. Its marketing campaign garnered instant attention with the tag line, "Does Pink Make You Puke?" and the products were packaged in aluminum shells that resembled pipe bombs or even gun shell casings. In its first year in business, Lerner's new venture took in $9 million. Male celebrities, from rock stars to athletes, even liked the nail lacquers, and Urban Decay was said to have helped launch the nail polish-on-men trend.
Lerner was also busy with her philanthropic ventures. She helped create PetLink, a database system of missing and up-for-adoption cats and dogs that linked local shelters to one another. She bought an 800-acre property in Loudoun County, Virginia, called Ayrshire Farm that was home to her own impressive collection of cats, cattle, and English Shire horses, which she sometimes rode in Elizabethan jousting contests. It also became a working farm dedicated to promoting the virtues of organically grown produce. She had a Harley-Davidson motorcycle and was a rare-book collector, spurred in part by her love of the Jane Austen novels of the early 1800s. She had read Austen's Persuasion some 60 times, she once admitted, having discovered Austen during her graduate-school days. Her time at Stanford involved "a pretty hellish computer science-mathematics" curriculum, she recalled in an Independent Sunday article by Laura Tennant, and she found the Austen works "a wonderful escape into a kind of civilized, humorous world, a thinking person's escape."
Lerner's passion for Austen's work eventually led to her purchase of Chawton House, a manor dating back to the 1580s in Hampshire, England. It had once been owned by a well-to-do family who adopted Austen's brother as their heir. Though Edward Austen did not use it as his primary residence, he spent regular intervals there, and installed his mother, Austen, and another sister in the nearby village of Chawton. They were regular visitors to the estate, which is considered the model for the "Great House" mentioned in Austen's fiction. By the twentieth century, however, it had fallen into disrepair, and a consortium was established to turn it into a golf resort. The group succeeded in buying back the 275
acres surrounding the manor house before it went bankrupt. Lerner acquired the house and land on a 125-year lease, and turned it into a research facility for early English women writers.
Lerner donated to the Chawton House Library her 7,000-volume collection of tomes by and about early English female writers. These are works that came before Austen, whose handful of novels published in a few short years before her 1817 death established her as the first significant female novelist in English. Lerner's library includes works by other female writers dating all the way back to the early 1600s, and Lerner had said that tracing the genesis of English women's fiction deepened her appreciation for her favorite writer. "All of a sudden, Jane Austen made a whole lot more sense," she said in the Independent Sunday interview with Tennant. "It wasn't like she'd dropped in from outer space with six of the best novels in the English language and left. You could see her in the context of things she'd read."
Read more
Latest headlines