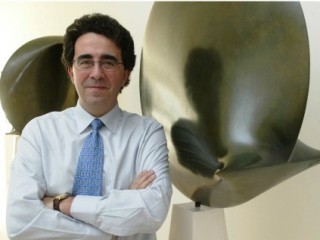 Santiago Calatrava biography
Date of birth : 1951-07-28
Date of death : -
Birthplace : Benimamet, Valencia, Spain
Nationality : Spanish
Category : Arhitecture and Engineering
Last modified : 2011-09-27
Credited as : architect, sculptor,
Santiago Calatrava Valls
is a Spanish architect, sculptor and structural engineer whose principal office is in Zürich, Switzerland. Classed now among the elite designers of the world, he has offices in Zürich, Paris, Valencia, and New York City.
Calatrava gained international attention with a number of high-profile projects, and emerged as one of the world's new leading design visionaries. In 2003, his office was selected to design a new commuter-rail transportation terminal to replace the one that was destroyed during the attack on the World Trade Center, and in the summer of 2004 his soaring arches above a redesigned sports complex in Athens, Greece, became one of the most enduring images of that year's Summer Olympics. Those arches and the new translucent roof over the main Olympic venue featured, like many of Calatrava's earlier projects, a dazzling display of technical bravado.
Both an architect and a structural engineer, Calatrava was already renowned across Europe for his bridges and public buildings, which may be blindingly white, in defiance of physical laws, or just delightfully kinetic. New York Times architecture critic Herbert Muschamp had noted back in 1993 that "the appeal of Mr. Calatrava's work rests largely on their resemblance to religious architecture. Immaculately white, accented with tracery of Gothic lightness, these secular projects are imbued with a sacred aura."
Calatrava was born in 1951 in Spain's Mediterranean coastal city of Valencia, and grew up in nearby Benimamet. His mother's family were of Jewish heritage, but had nominally converted during the Spanish Inquisition of the fifteenth century. His Calatrava surname was an old aristocratic one from medieval times, and was once associated with an order of knights in Spain. Both sides of his family were involved in the agricultural export business. Members of his father's family suffered during the turmoil of the 1930s, when a bloody civil war resulted in a military dictatorship, and as a young man Calatrava was eager to leave behind the repressive atmosphere that endured.
Artistically inclined from an early age, Calatrava dreamed of becoming a sculptor, and began to take classes in drawing and painting at the local arts school when he was eight. In his teens, he traveled to Paris as an exchange student, and also visited Switzerland before returning to Valencia to finish high school. In 1968, just weeks after student and workers' riots had disrupted Paris and made international headlines, he arrived to enroll at the city's lauded Ecole des Beaux Arts, but found it impossible to move ahead with his studies because of the lingering turmoil.
Returning to Valencia, Calatrava enrolled at its Institute of Architecture, a course of study he decided upon after having seen a building by modernist master Ludwig Mies van der Rohe that impressed him tremendously. He also studied urban planning at the school. After graduating in 1974, he was still determined to leave Spain, which would remain under Generalissimo Francisco Franco's dictatorial rule for another two years. He traveled to Zürich, Switzerland, to enroll at the city's Federal Institute of Technology, where Albert Einstein had once studied. He earned two Ph.Ds. from the school, the first in structural engineering and the second in technical science. The structural-engineering training was a somewhat unusual choice of study for an architect, for few in either field are trained in both. But Calatrava was fascinated by the construction of large, load-bearing buildings, and the technical expertise he gained would later make his name as an architect.
At the Zürich institute, Calatrava and his fellow students tried to solve unusual gravity and design challenges. They once built a donut-shaped swimming pool in the rotunda of the school, suspended by cables from the ceiling and made of a transparent sheeting material that allowed viewers to watch swimmers from below. His 1981 Ph.D. dissertation was titled "On the Foldability of Space Frames," and after marrying a Zürich law student he decided to remain in the city. In its first year, his small architectural office was hired to do "roofs for a school or entrances to buildings," Calatrava told Smithsonian 's Doug Stewart. "Small things."
That changed in 1982, when Calatrava won a competition asking architects to submit a redesign for the Zürich train station, Stadelhofen. His sketches showed curving avenues leading to the various modes of transportation-for the trains, cars, buses, pedestrians-with steel pergolas supporting a skeletal framework above. The entire building, when finished, seemed to resemble a ribcage. These curving spines, usually of poured concrete but still delicate-looking, would become a hallmark of Calatrava's style. They were inspired quite directly by an actual skeleton: while in school in Zürich, he had once helped a veterinary student complete some drawings for a project, and as thanks the student gave him the skeleton of a dog. Calatrava hung it in his office, and his young son named it Fifi.
Calatrava began winning more design competitions: for a factory in Coesfeld, Germany, in 1985, for a concert hall in Suhr, Switzerland three years later. As a structural engineer, he was particularly fascinated by bridges, and began taking on these projects, too, though local authorities did not usually hire architects to design them. Over the next dozen years, he would complete almost 50 spans around the world, but most of them in Europe. Usually suspension bridges, Calatrava's works were often made from white concrete, which reflected the water's light, and steel cables. They often defied the reassuring standard of symmetry in bridge design, and featured a quirk that resembled something organic, such as a bird's wing in flight. "I love being an architect of bridges," Calatrava confessed to Alan Riding of the New York Times. "[E]very bridge has to be different. It is made for different people, above all for different surroundings. It can be in a horrible urban spot, but it can rescue its environs."
In 1991, Calatrava was chosen to design an immense cultural complex in Valencia that would house a science museum, opera house, and other venues under its 95,000 square feet. A Montjuic telecommunications tower finished in time for the 1992 Summer Olympics in Barcelona, Spain, became a noted symbol of that city, and both works earned international attention and advanced his reputation as an architect to watch. In 1993, Calatrava's profile in North America was boosted by a show at the Museum of Modern Art in New York City.
Calatrava went on to complete a number of other impressive projects during the 1990s. These included a train station for Liege, Belgium, an airport-train station in Lyons, France, and the Oriente Station train terminal in Lisbon, Portugal. "Calatrava," noted Time International journalist Rod Usher, "has a peculiarly animal way with concrete and steel, his buildings evoking huge eyes, venus flytraps, giant birds about to take flight, delicate arrangements of human bones. Many have foldable parts; all rely on the eye of an artist and the calculation of an engineer."
Those moveable parts were sometimes derided by Calatrava's detractors among the architectural community, who claimed they were gimmicks that had little to do with the building's function. But Calatrava explained his philosophy to Stewart in the Smithsonian interview, noting that "movement gives an added dimension to form. It makes form a living thing. Instead of thinking of a building as something mineral, like a rock, we can start to compare a building to the sea, which has waves that move, or to a flower whose petals open in the morning. This is a new, more poetic understanding of architecture."
Calatrava's first commission for a major American work was very movable, and equally as controversial: Milwaukee visionaries hired him to expand the city's Art Museum. The original structure dated back to the late 1950s and had been designed by renowned Finnish architect Eero Saarinen. For the new Quadracci Pavilion, Calatrava designed a futuristic, two-pronged shade that could open and close according to the atrium's lighting needs. The two fins, called Burke Brise Soleil- brise soleil means "movable shade" in French-did not move altogether smoothly from drawing board to completion, however: no company could come up with a working prototype, so Calatrava became a licensed structural engineer in Wisconsin and took over that part of the job himself. He had the pieces made in Spain and shipped over, all 100 tons in total, with the help of a Soviet transport plane.
When the new museum addition formally opened in October of 2001, the Milwaukee Journal Sentinel carried a front-page description by Whitney Gould that called the moment "a sight to take your breath away-an exquisite fusion of the natural and built environments and a reminder of architecture's transforming power, its capacity to make life whole." Gould praised other, more prosaic elements of Calatrava's addition, from its parking garage to its lake views. Referring to the architect of New York City's Solomon R. Guggenheim Museum (inarguably the twentieth century's most famous museum design), Gould asserted that Calatrava's "mastery of scale-especially the tension between restraint and grandeur-would do Frank Lloyd Wright proud."
Calatrava went on to complete a number of other breathtaking works, such as an opera house for Santa Cruz de Tenerife, the largest city on Spain's Canary Islands. In homage to the Canaries' link to the Atlantic Ocean that surrounds it, Calatrava came up with a roof with a massive arc that swooped up and over almost like a tidal wave. In 2003, he was selected to design a New York City terminal site for the PATH commuter line, used by commuters to and from New Jersey. The original terminus had been leveled on September 11, 2001, when the towers of the World Trade Center above it fell. Calatrava was also commissioned to rebuild the Roman Catholic cathedral for the diocese of Oakland, California, which had been heavily damaged in an earthquake some years before.
Calatrava still likes to design bridges. His first on American soil was a $23.5 million footbridge of glass and steel over the Sacramento River in a remote part of northern California. The bridge's main pylon, from which cables were connected to the span, was actually a working sundial. His new roof for the Olympic stadium in Athens resembled a bridge of sorts, too, from afar, with its massive arches. On closer view, its curving white beams, connected by transparent tiles, resembled once again a ribcage, and it was a spectacular showpiece building for the 2004 Summer Games.
Bridge projects for the cities of Venice, Jerusalem, and Dallas were next on Calatrava's agenda, and he had also won a commission for a new hall that would be the permanent home of the Atlanta Symphony. His first residential project in the United States was a new high-rise called the 80th South Street Tower in Lower Manhattan, scheduled to open in 2006. The ingenious four-story, cantilevered cubes will rise 835 feet in height, allow residents a four-way view of the city and environs, and are destined to become a skyline landmark.
Calatrava and his family, which includes four children, live in a Park Avenue townhouse in Manhattan. His wife, Tina, the former law student, serves as his business manager, and oversees the details of offices in Zürich, Valencia, and Paris. He continues to be inspired by Fifi, the dog that became a veterinary-school cadaver after a long life as someone's pet. "We see her now without life," Calatrava reflected in the interview with Stewart in the Smithsonian, "but once this structure was able to move and run and jump. That to me is almost unbelievable."
Read more
Latest headlines