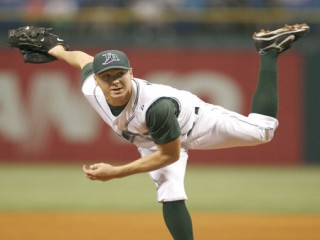 Scott Kazmir biography
Date of birth : 1984-01-24
Date of death : -
Birthplace : Houston, Texas
Nationality : American
Category : Sports
Last modified : 2010-11-04
Credited as : Baseball player MLB, pitcher with the Tampa Bay Rays,
Scott Edward Kazmir was born Januray 24, 1984, in Houston, Texas, to Deborah and Eddie Kazmir. His father was co-owner of Gulf States Abrasive Manufacturing along with Ed Dunn, father of Cincinnati Reds outfielder Adam Dunn. Although five years apart, the young Kazmir and Dunn often played Wiffle Ball with each other.
Scott loved hard throwers. He idolized Nolan Ryan—the Hall of Famer righty pitched for the Texas Rangers when Scott was a boy. Later, he modeled himself after Houston's fireballing left-hander, Billy Wagner. One of his great thrills was meeting Wagner in person after an Astros game.
A strong-armed lefty himself, Scott strengthened his wing playing baseball and football in the competitive youth leagues around Houston. By high school, he excelled in both sports. He played quarterback and pitched for Cypress Falls High School and was recruited hard by the University of Texas as a potential two-sport athlete. But the Longhorns took a backseat when the big-league scouts came knocking. Scott was touted as an early first round pick in the draft when he threw two no-hitters as a sophomore, and then four consecutive no-hitters as a junior.
In 2002, his senior year, Scott went 11-2 with an 0.37 ERA and struck out 172 batters in 75 innings. His K total broke the Texas state record held by Josh Beckett. The teenager was also named Baseball America's High School Player of the Year.
Incredibly, Scott might not have even been the best pitcher on the Cypress Falls staff. Teammate Clint Everts struck out 157 in 81 innings that same season and finished with an 8-2 record and a 0.73 ERA. Both he and Scott were named First-Team HIgh School All-American. Others on the squad inlcuded Prince Fielder, James Loney, Delmon Young, Lastings Milledge, Jeff Francoeur, Cole Hamels and B.J. Upton. Everts was taken as the fifth player overall in the 2002 draft by the Montreal Expos, while Scott dropped to the 15th pick, a shocker for him and the New Yotk Mets after he fell into their laps.
The Reds were expected to take Scott with the third pick, but they passed. Scott's agent, Scott Boras, was demanding more money than most teams were willing to offer a first-round pick, which may have contributed to his drop in the draft. For his part, Scott expressed no jealousy toward Everts, adding that the friendly competition between the two had probably helped both become first-rounders. Everts hurt his arm as a pro and has been bouncing around the minors ever since.
If there was a knock on Scott coming out of high school, it was that he needed to develop a changeup. He had used his fastball almost exclusively to overpower prep batters, and had a decent curve and slider. After the Mets chose him, he was told he needed a better off-speed pitch. With Boras pulling the strings during negotiations, Scott ended up signing for $2.15 million, the largest bonus ever offered by New York. He was immediately assigned to Class A Brooklyn.
Before he got to Brooklyn, though, he pitched the U.S. Junior Olympic team to a silver medal in Cuba at the World Games. He struck out 33 batters in 16 innings and went 13 innings without allowing a run. It wasn't as easy as he made it look—Scott came down with an illness while drinking water during the tournament and lost 10 pounds. He basically pitched on a diet consisting of Saltines.
ON THE RISE
Scott lit the lights of New York during his brief stint in Brooklyn in 2002. He started five games for manager Howard Johnson and had an ERA of 0.50 despite an 0-1 record. In 18 innings of work, Scott struck out 34 batters. Opponents batted just .089 against him.
In 2003, Scott went 5-6 in 25 starts, but led all minor league pitchers in strikeouts per innings (11.94), fanning 145 batters in all. He started the campaign withh the Class-A Capital City Bombers and finished with another Class-A affiliate, the St. Lucie Mets.
In 2004, Scott was back in St. Lucie to begin the season, but was promoted to Class AA Binghamton after 11 starts. Meanwhile, the Mets, trying to hang on in the National League East, were desperate for another starting pitcher. The Devil Rays, foundering in the American League East cellar, were looking for prospects. Known for driving a hard bargain, they parted with erratic but talented Victor Zambrano and received Scott in return. The young lefty had heard plenty of trade rumors that July, but most of them had him going to the Rangers, where he would be close to home. The Tampa Bay deal seemed to come out of nowhere. Mets fans were aghast at the trade and turned on the team's front office, especially when New York radio stations gave major attention to Scott's success in the Tampa Bay organization.
Zambrano brought little to the Mets, but Scott made an immediate impression on the Devil Rays. He was originally assigned to Class-AA Montgomery, where he started four games and posted a 1.44 ERA. Promoted to Tampa Bay on August 23, he became the youngest pitcher in the major leagues when he took the mound for his first start against the Mariners. Scott threw five scoreless innings as the Rays beat Seattle, 9-0. The first batter he faced, Ichiro Suzuki, grounded to shortstop. In the last 30 years, only nine pitchers have made their big-league debut at a younger age. Scott was also the youngest pitcher to win his major league debut since Mike Norris of the Oakland Athletics in 1975.
Only three weeks later, on September 14, Scott made bigger headlines, becoming the youngest left-hander to beat the World Champion Boston Red Sox at Fenway Park since Hall of Famer Hal Newhouser did it in 1941. In that game, Scott defeated Pedro Martinez—only the 11th rookie ever to do so. His season ended on September 27 when he hit back-to-back Red Sox (Manny Ramirez and Kevin Millar) and was tossed from the game. He had struck out six and had not allowed a hit at the time of the ejection.
Scott had a couple of brutal outings during his rookie campaign, too. But his final numbers were impressive enough, a 2-3 record with a 5.67 ERA and 41 strikeouts in 33.1 innings.
MAKING HIS MARK
Scott had his breakout season in 2005. He went 10-9 with a 3.77 ERA for the last-place Devil Rays, but his 174 strikeouts were the most for a rookie since Rick Ankiel whiffed 194 in 2000 (and 37 more than another other American League rookie that year). Scott was also only one of three pitchers with more strikeouts than hits allowed. He tied for the league lead in starts with one earned run or less allowed, but due to Tampa Bay's anemic hitting, he won only half of those starts.
After overcoming early-season inconsistency, Scott found his comfort level. Over the campaign's final three months, he posted a 7-2 record with a 2.79 ERA—and won two games by the score of 1-0 in September.
Heading into the 2006 season, Scott was confirmed as the team's ace by rookie manager Joe Madden, who handed him the ball on Opening Day in Baltimore. He was shelled in a 7-1 loss to the Orioles, but rebounded with a 5-2 win over Roy Halladay and the Toronto Blue Jays a week later. Scott continued to roll asthe campaign progressed. He pushed his record to 7-2 after outdueling Dontrelle Willis and the Florida Marlins on May 21. On July 3rd, he threw his first complete-game shutout—a two-hitter against Josh Beckett and the Red Sox. It was his third win of the year against division-rival Boston.
Scott was among the league leaders in wins and strikeouts as mid-season approached. With starters Casey Fossum and Mark Hendrickson on the disabled list, and Seth McClung was sent to the bullpen, Scott was asked to carry the Tampa Bay starting rotation on his back—and he did. All at the ripe old age of 22.
Scott's performance hardly went unnoticed. He was named to the All-Star team and threw a perfect sixth inning, retiring Freddy Sanchez, Carlos Beltran, and Albert Pujols. In a mid-August start against the Blue Jays, Scott went five innings, allowed no runs, and struck out 10 of the 20 batters he faced. It marked the first time in the live ball era a pitcher had a line like that.
One start later, Scott began experiencing pain in his shoulder. It was diagnosed as inflammation but the Devil Rays didn't want to take any chances and shut him down in late August, after 24 starts. Scott finished the year at 10–8 with a 3.24 ERA. He struck out 163 batters and cut his walks from 100 to 52. At the time of his injury, he was leading the majors in strikeouts per nine innings pitched.
The big-time breakout year the Devil Rays had been hoping from Scott for came in 2007. He made a league-best 34 starts and pitched over 200 innings for the first time. Any fears that Scott could not shoulder a heavy load were erased by a spectacular second half—he went 8-3 with a 2.39 ERA after the All-Star break. In September, Scott outdueled Curt Schilling 1–0 in Fenway Park. He finished at 13–9 and led the AL with 239 strikeouts. He would have been the major-league leader, but Jake Peavy posted 240 after throwing in the play-in game in the NL West.
Tampa Bay began the 2008 season with a new name (Rays instead of Devil Rays), a new uniform (the dreadful green was now a memory), and for the first time a solid roster top-to-bottom. The team began winning in April and never stopped. In a year when the Yankees and Red Sox were not at their best, this was enough to stay atop the AL East and shock the world. Not only did the Rays have their first winning season, they won the division.
And they did so despite the injuries that befall every club during a 162-game season. In fact, the first injury they overcame was Scott's sore elbow. He strained it in spring training and did not begin his season until May. But what a May it was. Scott went 5–0 to give Tampa Bay a huge boost. Despite his late start to the campaing, he was named to the All-Star Game again. Scott pitched the final frame of a 15-inning thriller. The AL won on a sac fly, and Scott earned the victory.
Scott headed a much-improved staff that featured James Shields, Matt Garza, and Andy Sonnanstine. Tampa Bay's bullpen was also strong, as was the team's defense. A year earlier, these areas had been the the team's.
A bench-clearing brawl with the Red Sox in June let Boston know the Rays didn't plan on rolling over for the defending champions. Tampa Bay made no deals at the trade deadline, a signal to its young players that the team had confidence in their ability to hold off a September charge by the Bosox. The Rays responded like champs. So did Scott, who finished the year 12–8 in 27 starts. He fanned 166 batters in 152 innings and fashioned a 3.49 ERA.
The Rays faced the White Sox in the ALDS. Scott pitched Game 2 in Tampa Bay. As had become his habit, he threw a lot of pitches but left the game after five innings after surrendering only two runs. The Rays, meanwhile, tallied three earlyand added three more in the eighth for a 6–2 victory. Tampa Bay closed out Chicago in four games.
In the AL Championship Series, the world was betting on the Red Sox against the young Rays. Game 1 only supported this viewpoint, as Daisuke Matsuzaka baffled Tampa Bay hitters in a 2–0 masterpiece. Scott faced Josh Beckett in Game 2, and the anticipated pitchers duel quickly turned into a slugfest. Neither hurler was around when the game ended in the 11th inning on a sac fly by the Rays.
Garza and Sonnanstine stunned the Red Sox by winning the next two games and suddenly the World Series was just a win away for Tampa Bay. That win turned out to be more difficult than anyone imagined. Scott got the start in Game 5 and pitched six innings of flawless baseball. Tampa Bay led 7–0 in the seventh inning, but Boston stormed back against the usually reliable Grant Balfour, Dan Wheeler and J.P. Howell to win 8–7. Game 6 went to the Red Sox, too, as Beckett outpitched Shields.
Madden put the ball in Garza's hand for Game 7, with Scott and every other arm on the team ready to come in. Dustin Pedroia—who had homered twice off Scott in Game 2—went deep again to give Boston an early lead. Evan Longoria and Rocco Baldelli responded RBI singles in the 4th and 5th, and Willie Aybar hit one out in the seventh for a 3–1 lead. David Price, who had a month of major league service under his belt, struck out JD Drew with the bases loaded in the eighth and got the Red Sox in the ninth to win the pennant.
In the World Series against the Philadelphia Phillies, Scott got the ball in Game 1 and weathered a rocky first inning. From there, he handled the Phils, but his counterpart, Cole Hamels, was better. The Rays fell 3-2, and their bats never really woke up. With Tampa Bay facing elimination in Game 5, Scott took the mound again. On a rainy night in Philly, he gave his team five innings of two-run ball. Once again, it wasn't enough. In a contest that took three nights to play because of winter-like conditions, the Phillies won 4-3. The Rays watched the celebration from their dugout.
As the young elder statesman of the Tampa Bay staff, Scott has lived up to even the wildest expectations of him when he was mowing down teenagers in high school and rookie ball. He has also rekindled memories of his first hero, Nolan Ryan, whom the Mets traded too soon, for a player who disappeared quickly from the New York roster. Fortunately for fans in Tampa, Scott has no plans leaving the Rays any time soon.
SCOTT THE PITCHER
A lefty who can bring it at 95-plus is a rarity in the majors. One who can throw sliders and changeups for strikes is a pitching coach's dream. Scott is all that, and assuming he stays injury-free, he can only get better from there. His heater has late jump, enabling him to pitch up in the zone and get away with it. He throws his slider equally well to either side of the plate.
Critics have little to gripe about when evaluating Scott. His defense is spotty, and he struggles to hold runners sometimes, but these are skills that typically develop with a little experience. So, too, does a lower pitch count. Although Scott throws effortlessly, he misses more than he should, which keeps him from pitching deep into some games. On the other hand, he has learned how to pitch his way out of trouble. Indeed, he is practically untouchable with the bases loaded.
Scott's postseason experience in 2008—including his nightmarish Game 5 in the ALCS—should serve him well as he enters his prime. It's one thing to want to pitch for a championship. It's quite another to have done it-and done it well.
EXTRA
* Scott pitched a pair of 19-strikeout one-hitters as a high school senior.
* Scott was the first lefthanded pitcher to be named Baseball America's High School Player of the Year since Doug Million in 1994.
* Scott allowed just 38 base runners during his entire senior year in high school.
* Scott was fifth in the majors in starts allowing one earned run or less in 2005.
* Scott's 8.41 strikeouts per nine innings in 2005 were 18th in major league history by a rookie.
* In 2006, Scott became the youngest pitcher in 20 years to get his team's Opening Day start.
* Scott traveled to the 2006 All-Star Game on Alex Rodriguez's private jet. He became the youngest pitcher in the Mid-Summer Classic since Ramon Martinez in 1990.
* Scott became Tampa Bay's all-time strikeout leader in August of 2006.
* In 2007, Scott became the youngest AL strikeout champion since Frank Tanana in 1975.
* In 2008, the Rays signed Scott to a four-year extension.
* Scott runs a 6.7 60-yard-dash.
* Scott can swing the stick—he batted .310 with three homers as a senior in high school.
Read more
Latest headlines