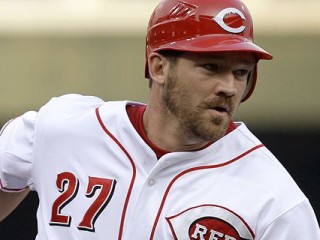 Scott Rolen biography
Date of birth : 1975-04-04
Date of death : -
Birthplace : Evansville, Indiana, U.S.
Nationality : American
Category : Sports
Last modified : 2010-11-10
Credited as : Baseball player MLB, third base with the Cincinnati Reds,
Scott Bruce Rolen was born on April 4, 1975, in Evansville, Indiana. His parents, Ed and Linda, were teachers in the Indiana school system—Ed a high school instructor and Linda a first grade teacher. Scott's older brother, Todd, followed in his parents' footsteps, as did older sister Kristie. Both became biology teachers.
The Rolens lived in Ft. Branch until Scott was three. Then they moved to Jasper, a town of 10,000 about an hour outside Evansville. Woodworking and farming were the town's primary trades, and Scott gained an appreciation for putting in a hard day's work at an early age. The Rolens believed in being the best at what you do—and being humble about it. Ed used to tell his kids, "If you do something well, you don't have to tell anyone. They'll know."
As a two-income family in rural Indiana, the Rolens had it better than most. Still, Ed and Linda sacrificed luxuries to support Scott in his sports career—which was evenly split between baseball and basketball. Scoot had hoops in his genes for sure. Ed was a high school basketball coach who had played in college for Evansville.
Scott's first love was baseball. After his first day of kindergarten, he told his mother that he'd prefer to stay home and play ball so he could make it to the major leagues.
With Jasper being equidistant from St. Louis and Cincinnati, summer vacations often ended up wrapped around homestands to ballparks in those citites. Scott rooted for both the Cardinals and Reds, but he did not have any particular baseball heroes.
Scott played point guard and shortstop with equal aplomb, always several levels ahead of others his age. By the time he enrolled at Jasper High School, he was already the best athlete in town. By his junior year, major colleges were scouting him for both sports, as were several major league teams. On the diamond for the Wildcats, he played all over the field and pitched. On the hardwood, he was equally verstaile, taking any of three positions. Whatever his coaches needed him to do, Scott performed brilliantly and without a complaint.
In his final basketball campaign, Scott was brilliant. The 6-4 swingman was third in the voting for Indiana's "Mr. Basketball." A number of programs recruited him heavily, including Kentucky, Georgia, Oklahoma State and Alabama.
As the winter snows melted, Scott was leaning toward taking a hoops scholarship from the Crimson Tide. But first there was a baseball season to be played. Having reached his full height, Scott moved to third base full-time. His coach, Terry Gobert, believed his teenage star had a brighter future at the hot corner. Gobert was also reluctant to have his best relief pitcher at a short, where his arm would endure more wear and tear.
Scott settled in quickly at thrid. His range was so great that Japser's shortstop could poisition himself close to second base, and the second baseman could cheat toward first. Scott made the whole infield better—a rare feat at this or any other age.
Scott was voted the top high school baseball player in Indiana that spring,making him the unprecedented king of two major sports simultaneously. Whereas college basketball had always seemed the logical next step, now baseball was firmly in the picture.
The 1993 baseball draft featured some extraordinary talent, including Alex Rodriguez, Darren Dreifort, Trot Nixon, Billy Wagner, Derrek Lee and Torii Hunter. All were selected in the first round before Scott, who was considered unsignable because of his background in education and his basketball ambitions. Local scout Scott Trcka knew the Rolens and argued otherwise. He was certain that Scott's parents—who understood the NBA was still a long shot—would support his decision if he chose baseball.
The Philadelphia Phillies, picking fourth, took pitcher Wayne Gomes of Old Dominion in the opening round. They grabbed Scott with their next selection. Thanks to a $250,000 signing bonus—and a lot of convincing from Trcka—Scott came to believe that baseball was a better option than basketball. In terms of college, Arbuckle told the teenager that if he turned out to be as good as the Phillies thought, he could buy his own school someday.
ON THE RISE
The team assigned Scott to Martinsville of the Appalachian League, where he hit .313 in 25 games. Among his teammates were two sons of famous fathers. Catcher Bobby Estalella's dad, Bobby, was a wartime star who was among a group of players that tried to break baseball's reserve clause by jumping to the Mexican League in 1946.
Scott also got know Charles Stingley. His dad, Darryl, had been a star wide receiver for the New England Patriots. His career was famously cut short when he was paralyzed during an NFL game.
That fall, Scott was thrilled to see his Phillies reach the World Series, where they battled the Toronto Blue Jays in six wild games. Happy to see himself as part of a winning organization, he hoped guys like Curt Schilling and Lenny Dykstra would still be around when he arrvied in the big leagues. Even the team's loss to Toronto failed to dampen his enthusiasm.
Scott played for Class-A Spartanburg the entire 1994 season, where he distinguished himself as the organization's top prospect. Manager Roy Majtyka, a former Atlanta Braves coach, compared his dedication to that of Chipper Jones and Dale Murphy.
While some players go their entire careers without being able to adjust their approach from pitch to pitch, Scott was doing this at 19. His agility around the third base bag—a byproduct of his basketball days—was also impressive. At the plate, Scott was mashing the ball, batting .294 with 14 homers and 72 RBIs. The youngster had put himself on the fast track to the big leagues.
Scott found himself playing for the Florida State League's Clearwater club in 1995. The team was loaded with Phillies prospects. Scott, Estalella, first baseman Dan Held and outfielder Wendell McGee all had terrific seasons. Only Held didn't receive a second-half promotion to Class-AA Reading. Scott was named the FSL's #1 prospect with a .290 average and 10 homers and 39 RBIs in 66 games. His manager, Dave Trembley, observed that he played "a lot older" than his 20 years.
At Reading, Scott replaced Rob Grable, who had enjoyed a great first half. Promoted to Class-AAA Scranton-Wilkes Barre, Grable began learning his way around the outfield. Indeed, Scott's rapid development was making third base an unpopular position in the organization. In 20 Double-A games, he hit .289 with three homers. A chipped hamate bone ended his season prematurely.
Scott started 1996 with Reading, but he was bumped up to Scranton-WIlkes Barre after hitting .361 in 61 games. He held it own at Class-AAA and was called up by the Phillies after the All All-Star break. He debuted on August 1, replacing Todd Zeile as Philadelphia's everyday third baseman. The team later traded the veteran to the Baltimore Orioles.
Scott was batting .254 with four homers when a pitch from Chicago's Steve Trachsel broke his arm in early September. The injury sidelined him for the rest of the year. The Phillies finished at 67-95, the worst record in the National League.
Scott was handed Philly's third base job by new manager Terry Francona in the spring of 1997. He rewarded the young skipper by ranking second on the Phils in RBIs during the exhibition schedule. When the regular campaign started, he continued his strong play. Scott was solid in the field and handled the bat like a veteran . By the end of the year, he was not only the club's best offensive and defensive performer, he was also a team leader.
Staring the year in the sixth slot, Scott moved into the three-hole in May. His lightning-quick bat was a line drive machine, and every so often he'd jack one out of the park. On the basepaths, he mixed aggressiveness with intelligence and finished fifth among NL runners in taking the extra base. Scott also demonstrated his toughness, playing for a month with what turned out to be a broken hand. The injury occurred during a tag play on Carl Everett. Scott's average sank 20 points, but he rebounded to finish with a .283 average, 21 home runs, 92 RBIs, 93 runs and 16 steals.
Scott was the unanimous choice for NL Rookie of the Year, finishing atop a stellar class that included Livan Hernandez, Andruw Jones, Matt Morris and Vladimir Guerrero. The first Philly to win the award in more than three decades, he was also probably the only newcomer who read Steinbeck in the clubhouse.
The Phillies wound up last again at 68-94, but it seemed like the nucleus of a good team was taking shape. First baseman Rico Brogna and catcher Mike Lieberthal—both in their first seasons as Philly starters—clubbed 20 homers apiece, while veteran Mickey Morandini had his best year at the plate. Staff ace Schilling rebounded from a shoulder injury to win 17, and closer Ricky Bottalico notched 30-plus saves for the second straight season.
Scott was the toast of the town. Comparisons to Mike Schmidt seemed to come on a daily basis. Peter Gammons called him "everybody's son" on a Baseball Tonight broadcast. The Phillies knew they had a gem, and early in March of 1998, Scott signed a four-year contract extension for $10 million. He demonstrated his commitment to the club by selling himself short. Scott wanted to buy his parents a home in Bradenton, Florida and put down permanent roots with one team. Philadelphia fans were ecstatic.
The Phillies, meanwhile, started the slow climb toward respectability. Morandini was dealt to the Cubs for centerfielder Doug Glanville, and five-tool prospect Bobby Abreu was acquired in a brilliant deal with the expansion Tampa Bay Devil Rays. Though the club lost more often than it won in '98, the Phillies stayed competitive throughout the year. A major blow was the loss of Bottalico, who injured his elbow and would never be an effective closer again. Nonetheless, Philly wound up third in the NL East with a 75-87 record.
Scott continued to build on his credentials, crashing 31 homers and driving in 110 runs. With Brogna and Abreu, he formed a formidable heart of the lineup. Scott showed great maturity in his second full season, working counts patiently to get on base and cutting loose in RBI situations. In the field, Scott shut down the third base line. He moved to his right better than most shortstops and gunned out runners from every imaginable position. Most important, he learned when to put a ball in his pocket instead of trying to make an impossible play. In turn, Scott won his first Gold Glove.
The only flaw in Scott's game after two-plus seasons was that pitchers could still bust him inside. He came to spring training in 1999 determined to turn on these pitches and drive them out of the ballpark. While he had a monster exhibition season, it did not translate to the regular campaign. Scott became too focused on the long ball. As often happens with a young hitter, he ended up with fewer home runs (26), and his other numbers were down, too. His lack of production was also partly the result of a bad back, which hampered him throughout the year and sent him to the bench in late August. He still managed 55 extra-base hits despite playing in just 112 games.
The Phillies, meanwhile, failed to take that next step, notching just 77 wins. Still, the offense was looking better, with Abreu, Glanville, Brogna and newcomer Ron Gant having big years. The pitching wasn't bad, either. Schilling was superb as always, Paul Byrd and mid-season pickup Robert Person were solid, and prospect Randy Wolf showed he was close to contributing. Former first-round pick Gomes was anointed the closer and held his own.
The Phillies began 2000 with visions of a winning season. When the injuries and losses began piling up, the team did a major housecleaning. Gomes, Byrd, Person and Brogna were hurt, and by the trade deadline, Schilling, Gant, Brogna and several other key contributors found themselves wearing new uniforms. The Phillies lost 97 games, and Francona was canned after the season.
Scott's year was marred by ankle and back problems. He was held out of day games after night games when playing on artificial turf, which limited him to just 128 games in all. Scott hit well in the clutch, but his overall numbers dropped again. The bright spots for Philly included the emergence of rookie Pat Burrell, who hit 18 homers in limited action, and the continued development of Abreu into an offensive force.
Heading into the 2001 campaign, Philadelphia'stop priority was to ink Scott to another extension that would keep him in town during his prime and see him manning third when the team opened its new ballpark in 2004. But Scott questioned the club's commitment to winning and was reluctant to negotiate. This rankled new manager Larry Bowa, who had never got along well with Scott. The stage was set for a season and a half of ugliness between the two.
Scott began the '01 year with a flourish, homering on Opening Day for the third straight time. Unfortunately, April and May were less kind, as his power dwindled and he failed to hit in the clutch. That June, during a series in Tampa Bay, Bowa blamed the club's sluggish start on Scott, and the two got into a heated argument. When the team returned to Veterans Stadium, the fans booed their star.
In August, senior advisor Dallas Green said Scott was only a "so-so" player and that his personality would prevent him from becoming a superstar. Furious at this slight, Scott banged out 10 hits in his next 15 at-bats, including three homers. He quietly vowed that he would not re-sign with the Phillies if conditions didn't change.
One thing that did change in '01 was the losing. The Philly rebuilding plan was finally bearing fruit. Marlon Anderson and Jimmy Rollins became the team's new DP combo, Travis Lee nailed down the first base job, and Burrell rolled in his first full season. The starting rotation was still a mess, with Person leading the staff with 13 wins. But the bullpen was magnificent, as castoff Jose Mesa saved 42 games. The Phillies went 86-76, finishing two games behind the Braves for first place in the East and just out of Wild Card contention.
Scott did his part. In a crucial September series against Atlanta, he rapped out the winning hit in three straight games. He also became the fifth player ever to hit two homers off Greg Maddux in the same game. The series took place after the September 11th attacks, and Scott was one of the players who was vocal in his opposition to resuming the season after just a few days. To the league's assertion that baseball was part of the fabric of the country, he replied that human beings, not baseball, were the fabric of the country.
Scott's back kept him out of a handful of games in 2001, as did a sore ankle later in the year, but his numbers were terrific nonetheless: 65 extra-base hits, 107 RBIs, 16 steals and a .289 average. He batted .350 with men in scoring position, led the team with 25 home runs (18 after the All-Star break) and won a second straight Gold Glove.
Over the winter, the Phillies offered Scott a seven-year extension worth $90 million. He turned it down. The team was shocked. Philadelphia went to the winter meetings in Boston intending to trade Scott, but other teams felt the asking price for a player one year away from free agency was too high.
On the first day of spring training, Scott told the press he was probably an idiot, and then spent the next 45 minutes listing every flaw in the Philadelphia organization. Four days later, while taking grounders, Scott was accosted by Bowa. They got into another heated discussion, after which the manager demanded GM Ed Wade trade him—all in front of three film crews.
Despite this unpleasant scene and constant trade rumors, Scott started the 2002 campaign on fire. In the first few months, he hit 17 home runs and remained steller at the hot croner. With two days left before the trade deadline, Scott finally escaped Philadelphia. St. Louis gave the Phillies a package they wanted, which included hurlers Mike Timlin and Bud Smith, plus infielder Placido Polanco, whose live bat and multi-position skills were ideal for their needs.
MAKING HIS MARK
The Cardinals heard about the deal while flying to play the Florida Marlins. The players were amazed that they got an impact player at such an opportune time, impending free agency or not. The common assumption around baseball was that once Scott was freed of the toxic environment created by Bowa in Philadelphia, he would take that next giant stop to superstardom. The Cardinals won their first contest with Scott in the lineup ... and then lost seven straight. Scott was even worse, collecting just six hits in his first 40 at-bats.
The Cards righted their ship later in August and cruised to the Central Division title with a 97-65 record. Scott turned things around, too. In fact, he was the big man down the stretch. In 55 games, he belted 14 homers and drove in 44 runs to finish with 31 round-trippers and 110 RBIs. His .561 slugging average with St. Louis was the best mark of his career. He also won his fourth Gold Glove.
Scott batted .429 with a homer in the first two games of the Division Series against the Arizona Dimaondbacks. He then injured his shoulder and had to sit out the third game. Even without him in the lineup, the Cards swept the series. St. Louis, however, ran out of steam in the NLCS against the San Francisco Giants. With Scott still sidelined, the Cards fell in five games.
The 2003 edition of the Cardinals featured a potent offense led by Albert Pujols, Jim Edmonds, Edgar Renteria and Scott. The starting staff was thin, but veteran Woody Williams had a career year, and Cal Eldred did a great job filling in for injured closer Jason Isringhausen. It was a dogfight all the way with the Cubs and Houston Astros. St. Louis finishedthird, three games out in the NL Central.
Scott continued to suffer with back problems, which contributed to a streaky year. When he disappeared in September, his slump probably cost the Cardinals the division. But he was great from April through August, posting 28 homers,104 RBIs and a .286 average. He also won his fifth Gold Glove.
Heading into 2004, the Cards had gaps in their outfield and at second base, plus a scary starting staff. Ever resourceful, manager Tony La Russa plugged the holes with veteran role players and got quality innings out of question marks like Cris Carpenter, Jason Marquis and Jeff Suppan. Scott began the season healthy and proceeded to tear up the National League from April through June.
As the NL's leading vote getter for the Mid-Summer Classic, Scott entered the break hitting .339 with 18 homers and 80 RBIs, tops in the big leagues. Teaming with Pujols and Edmonds, he helped the Cardinals run away in the NL Central. As the trade deadline appraoched, GM Walt Jocketty looked to position the club for the playoffs. His biggest move was the acquisition of Larry Walker from Colorado.
The addition of the three-time batting champ gave St. Louis one the most potent offenses the franchise had seen in decades. By early September, the Cards were 48 games over .500 and enjoyed an insurmountable lead in the division. The huge margin proved valuable for La Russa, especially when Scott bruised his left calf. Though the injury was not serious, it prevented the slugger from going full speed. Heading into the postseason, the club relished the chance to rest Scott.
The Cardinals finished the regular season with the best record in baseabll at 105-57. Scott also had a fantastic year. A lock for another Gold Glove, he set career highs in batting average (.314), home runs (34) and RBIs (124)—despite missing 20 games. On most teams, Scott would have been a shoe-in for MVP, but with the Cards' Murderers Row, he was just one of the guys.
St. Louis opened the postseason against the Dodgers. After two big victories at home, the club left for Los Angles one win from a sweep. After the Dodgers salvaged Game 3, St. Louis polished them off in Game 4. The good news for the Redbirds was the performance of their iffy pitching, as Williams, Morris and Suppan threw well. Scott, on the other hand, was a concern. He took an 0-fer in the series, going hitless in 12 at-bats. Questioned about his gimpy calf, Scott refused to offer any excuses for his poor hitting.
Next up for St. Louis were the red-hot Astros in the NLCS. With Houston's aces Roger Clemens and Roy Oswalt awaiting in Games 3 and 4, the Cards knew they had little margin for error. The team received a big lift in Game 1 from the top of the batting order. Tony Womack, Walker, Pujols, Scott and Edmonds scored seven runs and drove home eight in a 10-7 win. The following night, Scott finally broke out, homering twice in a 6-4 victory.
When the series shifted to Houston, the Astros bounced back. Behind Clemens, Oswalt and the surprisingly tough Brandon Backe, they won three in a row. While the St. Louis offense did little in Houston, Scott continued to show signs of life.
Facing elimination back home for Game 6, the Cardinals rolled again. But the pesky Astros rallied to tie the game in the ninth, forcing the contest into extra innings. The Cardinals gained an emotional victory on a two-run homer by Edmonds in the 12th.
With the season on the line for both teams in Game 7, St. Louis fell behind early 2-0 against Clemens. But the aging righty began to tire in the sixth. Pujols doubled home Roger Cedeno to tie the game. Then Scott stepped to the plate. With Edmonds on deck, Clemens chose to go after the righty. The decision turned out to be a bad one. Scott jumped on the first pitch he saw, lining it over the leftfield wall for a home run. St. Louis tacked on an insurance run in the eighth and advanced to into the World Series for the first time since 1987.
After a great NLCS—he hit .310 with three homers and six RBIs—Scott looked forward to the matchup against the Boston Red Sox, who had made history with a stunning comeback against the New York Yankees. The Cards had a golden opportunity to steal Game 1 at Fenway Park, but the middle of the lineup faltered in several clutch situations. That included Scott, who popped out with the bases loaded and one out in the eighth. St. Louis fell 11-9, and the team never recovered.
Curt Schilling, Pedro Martinez and Derek Lowe dominated the Cardinals over the next three games. St. Louis plated just three runs and was swept convincingly. Scott drew heavy criticism for the offense's disappearing act. For the series, he went hitless in 15 at-bats and collected just one RBI. Again, he made no excuses, even amid persistent questions about his health.
Scott and the Cardinals came into 2005 as the prohibitive favorites to repeat as league champs. They addressed their postseason deficiencies by acquiring Mark Mulder and replacing free agent Edgar Renteria with sparkplug David Eckstein, a veteran of the 2002 champion Anaheim Angels.
Scott looked forward to a big year. He started off on a decent pace, with five homers and 20 RBIs after 30 games. But just when he looked ready to go on a tear, he tore up his shoulder in a collision at first base with Hee Seop Choi of the Dodgers.
The injury landed Scott on the DL for a month. When he came back, he never regained his full range of motion. Playing in pain, Scott struggled through the All-Star break and finally called it a season in late July. He underwent reconstructive surgery in August, with a prognosis of full recovery in six months. As the Cardinals ran away with their division and rolled into the postseason, Scott assumed the unfamiliar role of spectator. It broke his heart. St. Louis swept the San Diego Padres inthe Division Series but ran into hot pitching in the NLCS against the Astros and exited the playoffs.
As a former basketball star, Scott knew a thing or two about rebounding. He came back strong in 2006, slugging 22 homers and driving in 95 runs. His average ended just a shade below .300, but his slugging was up over .500, right where the Cardinals wanted to see it. Scott's 48 doubles were the second-highest total of his career.
Scott was a rock for St. Louis during a season that saw the team struggle through numerous injuries. The Cards went several months without putting their best team on the field. Pujols, Edmonds and Eckstein all missed long stretches, and Isringhausen went out for the year in September.
Somehow the Cardinals stuck around in the NL Central. Adam Wainwright stepped into the ninth-inning role, and the team squeaked out another division crown with 87 victories. Dismissed as a pretender when the playoffs started, St. Louis soon showed that it was a formidable team. The starters were back on the field, and the bench players were brimming with confidence.
The Cardinals dumped the Padres again in the first round of the playoffs. Next they beat the New York Mets in a scintillating seven-game NLCS. Scott was not a big contributor in either series, but he caught fire against the Tigers in the Fall Classic. He batted .421 against the young Detroit hurlers and hit a solo home run to get the Cardinals started in Game 1. St. Louis cruised to victory in five games, and just like that Scott had his first championship.
The joy of 2006 turned to disappointment in 2007, as the Cardinals finished with a losing record for the first time since Scott joined them. His shoulder was a problem again. It acted up enough to hamper his swing and ultimately send him back to the DL. He eventually underwent season-ending surgery to remove scar tissue.
Also during the year, Scott's on-again, off-again relationship with La Russa soured. The two had butted heads on several occasions in the past. Scott never liked being held out of the lineup, and La Russa never liked when his authority was questioned.
By the winter of '07, it was time for a change of scenery. For a while, it looked like the Phillies might make St. Louis an offer, but a return to Philadelphia just didn't add up. In the end, the Blue Jays offered Troy Glaus in a swap of injury-plagued third sackers, and St. Louis pulled the trigger.
The 2008 season was another exercise in pain for Scott, who mangled the middle finger on his throwing hand during spring training and missed almost the entire month of April. Upon his return, Scott's shoulder continued to bother him. Three surgeries had failed to restore his power, so he adjusted his stance to get under the ball a bit more. The results were mixed. He ended up hitting 11 balls out of the park in 115 games and knocked in only 50 runs.
Despite Scott's time on the DL, t he Blue Jays benefited from his leadership. Scott showed his young teammates what hardwork and intensity were really about. Still, Toronto finished a distant fourth in the American League East. The Jays lacked a consistent run-producer—no one hit more than 20 homers or drove in more than 80 runs. A good young pitching staff kept them in enough ball games to win 86 times.
The 2009 edition of the Blue Jays had a little more punch at the plate—Aaron Hill and Adam Lind had career years—but outside of Roy Halladay there wasn't a dependable starter on the staff. By midseason, Toronto was far enough under .500 to become sellers. The deal everyone was waiting for—but never happened—was a Halladay trade.
For the '09 campaign, Scott had shifted his focus from home run hitting to simply driving the ball, and he kept his average well over .300 in the first half. With his production climbing, Scott drew interest from the Reds, who were pulling the plug on third base prospect Edwin Encarnacion and wanted a veteran presence to guide the passel of young players who were joining the big club. The deal went down on July 31, at the trading deadline.
The Reds were out of the running by this time. They were already looking toward 2010. But Scott had an immediate impact on the team. Cincy played solid ball the rest of the way and won 20 games in September. Scott's cumulative stats for the Jays and Reds were 11 homers, 67 RBIs and a .302 average.
Heading into 2010, the Reds picked up Orlando Cabrera to play beside Scott at shortstop. With Brandon Phillips and Joey Votto rounding out the infield, their inner defense was exceptional—not to mention the fact they accounted for four quality bats. The outfield situation was more jumbled. Jay Bruce, Drew Stubbs, Jonny Gomes, Chris Dickerson and Laynce Nix vied for the three starting spots. With questionable catching, inconsistent starting pitching and a leaky bullpen, Dusty Baker's Reds were expected to finish ahead of only the Pittsburgh Pirates in the NL Central.
But a funny thing happened on the way to fourth place. The Reds got quality starts from their pitchers, timely hits from their batting order, and terrific defense at every position. At the All-Star break, they were in first place. Votto was among the league leaders in almost every batting category, and Scott wasn't far behind. The experts had all but written him off as a power hitter, but in Cincy's cozy Great American Ball Park, he was clubbing homer after homer and driving in runs with a slugging average hovering around .550—despite an occasional yelp from his back. Although he wasn't stealing bases anymore, Scott was still an aggressive runner, setting the tone for the youngsters on the club.
In the All-Star Game, Scott came in for David Wright in the fifth inning and ignited the NL's game-winning rally with a single in the sixth and a scintillating dash for the third on a ground single by Matt Holliday. Scott came in on Brian McAnn's bases-clearing single three batters later.
As the Reds started the second half, there were still more doubters among the experts than believers. Could the vets keep leading the way? Would the kids survive a tension-filled pennant race? Would Scott stay healthy and productive? Reds fans were just happy to be asking these questions. It's been a very long time since the town was this jazzed about its baseball team.
SCOTT THE PLAYER
It is entirely possible that no third baseman in history has had Scott's range. Two of the best—Mike Schmidt and Brooks Robinson—have confirmed this. He moves to his left so well that his shortstop can cheat toward second, and almost nothing gets past him down the line. Scott surrounds the ball as it comes to him, enveloping it with his long, lean frame—then straightens up and fires perfect strikes to first. He throws on the move as well as any infielder in baseball.
At the plate, Scott has battled back trouble and inside fastballs for years. He seemed to have conquered both in St. Louis, partly due to playing on grass. After a year and half on the turf in Toronto, he was happy to get back to the natural stuff in Cincy.
Always a patient hitter, Scott has learned to take a walk when he gets deep in the count and has stopped chasing the high hard stuff. Anything from the belt down that's over the plate is likely to end up a line drive—especially since he sets himself a bit lower than in his prime. Scott covers the hitting zone magnificently. It is hard to say whether he can keep up his homer-a-week pace, but the Reds will gladly take a Gold Glover with a .500 slugging average.
Scott has always been a superb baserunner. He has excellent instincts, quick feet and makes good decisions.
What makes Scott special in the eyes of his coaches and managers is that he is a hard worker and committed learner. The game has always come easily to him, yet he takes nothing for granted. He fields hard grounders in practice and never wastes a swing in the cage. As good as he is, he's always looking for ways to get better.
Read more
Latest headlines