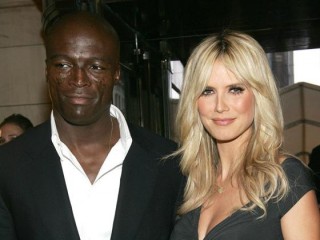 Seal biography
Date of birth : 1963-02-19
Date of death : -
Birthplace : Paddington, London, England
Nationality : English
Category : Arts and Entertainment
Last modified : 2011-10-25
Credited as : Heidi Klum, Kiss from a Rose, Batman Forever
Seal Henry Olusegun Olumide Adeola Samuel, known simply as Seal, is a British soul and R&B singer-songwriter, of Nigerian and Brazilian background.
A recipient of BRIT, MTV and Grammy Awards, Seal is known for his numerous international hits; perhaps best known is "Kiss from a Rose", which appeared in the soundtrack to the 1995 Batman film Batman Forever and won him three Grammy Awards. He is married to German model Heidi Klum.
Seal was born Seal Henry Olusegun Olumide Adeola Samuel on 19 February 1963 in Kilburn in North London, England to a Nigerian mother Adebisi Samuel and Brazilian father Francis Samuel. His name, Olusegun, means "God is victorious". He was raised in a district of the City of Westminster in inner London by his foster family. He received a two-year diploma, or associate's degree, in architecture and worked in various jobs in the London area.
Although there have long been rumours as to the cause of the scars on his face, they are in fact the result of a type of Lupus called Discoid lupus erythematosus – a condition that specifically affects the skin above the neck.
After a short time singing in local clubs and bars, in the 1980s, he joined Push, a British funk band, and toured with them in Japan. In Asia, he joined a blues band in Thailand for a while before separating from the group and journeying throughout India on his own. Seal returned to England, sleeping on the couch of friend Julian Bunster, then a model. He sometimes asked him "Do I sing well?"; to which he often met the response that he sang better than most current artists. His break came when he met the producer Adamski. He was given the lyrics of the song "Killer", which was a huge hit in 1990.
Seal first came to public attention as vocalist on the Adamski single "Killer" in 1990. The single eventually reached number one in 1990 in the UK. Seal subsequently signed to ZTT Records and released his début album (produced by Trevor Horn), self-titled Seal, in 1991. Two versions of the album are known to be in circulation: the original "premix" version and a second, more common version with an updated mix. This is attributed to the demand for a produced single rushing the final album edit, and as Seal puts it, his and producer Horn's "inability to let go."
Seal was positively received by critics. The singles "Crazy", "Future Love Paradise", and his own rendition of "Killer" performed well on the charts. In particular, "Crazy" became an international hit in 1991, reaching number seven on the Billboard Music Charts and number two in the UK.
In April 1992 Seal performed with the surviving members of the rock band Queen at the Freddie Mercury Tribute Concert. Seal performed on his own singing the 1986 hit "Who Wants To Live Forever" and joined the rest of the acts for the all star finale singing "We Are The Champions."
In 1992, Seal appeared on the Red Hot Organization's compilation CD Red Hot + Dance, contributing an exclusive track "Crazy (If I Was Trev Mix)." The album, featuring George Michael and Madonna among others, raised money and awareness in support of the AIDS epidemic by donating all proceeds to AIDS charities.
His second album, also self-titled Seal was released in 1994. A success, the album featured the singles "Prayer for the Dying" and "Newborn Friend", later receiving a Grammy nomination for Album of the Year. "Prayer for the Dying" became a minor pop hit in the U.S., peaking at #21 on the Billboard charts. A third single, "Kiss from a Rose", performed modestly when released but was later featured to much wider popularity when it was remixed for the soundtrack to Batman Forever. "Kiss from a Rose" won a Grammy Award for Record of the Year and Grammy Award for Song of the Year in 1996, becoming Seal's best performing single on the US market (it topped the Billboard Hot 100 in late August 1995).
In 1998, Seal released Human Being. The album was the product of a turbulent time in his life, including a split and later reconciliation with producer Horn as well as Seal's parting with ZTT Records and his signing with Warner Bros. Records in 1997. The record was panned upon its release. It received Gold record certification by the RIAA just two months after its release date. The album provided three singles, "Human Beings", "Latest Craze", and "Lost My Faith".
In 2001, fans awaited the arrival of a new album, announced as Togetherland. After a protracted post-production period the album was cancelled. The official word was that Seal simply didn't think it made the grade, although this conflicts with other reports that said the album was turned down by the label because producers felt the album wouldn't be commercially successful. Even so, one single was released from the album. "This Could Be Heaven" was released in the US and featured on The Family Man soundtrack. Since December 2006, Seal has indicated that he has plans to excerpt cuts from Togetherland and make them available for streaming download. Meanwhile, Seal co-wrote and provided vocals for the hit single "My Vision" from Jakatta in 2002. He also recorded a successful duet with French icon Mylène Farmer called "Les Mots" during that same period.
In 2003, Seal released his fourth album, which was again self-titled, except for Australia, where it was released under Seal IV. Although it didn't sell as well as either of his first two albums, this release brought him back into the public eye in the United States and continental Europe. Singles from the album included "Waiting For You", "Get It Together", and "Love's Divine" (released in 2004, and a big hit in several European countries).
In 2004, a greatest hits album entitled Seal: Best 1991–2004 was released, including a cover of the Bacharach / David classic "Walk on By" and a cover of Echo & the Bunnymen's song "Lips Like Sugar". An edition of the album was available which included an extra CD with acoustic versions of some of Seal's hits.
In June 2005, Seal recorded a special concert which was subsequently released in 2006, entitled One Night to Remember, as CD/DVD combination. The DVD includes a special "the making of" documentary in addition to the live performance. Recorded in a historic steel mill, the Altes Kesselhaus ("old boiler house"), in Düsseldorf, Germany, this performance includes a special version of Brahms' Lullaby which Seal sings in German and then in English for the exclusive audience. Unlike earlier recordings in which Seal is accompanied by his band, a full orchestra and choir of 52 musicians accompanies the singer.
System was released in the UK on 12 November 2007 and in the U.S. on 13 November 2007. Seal describes the album as more dance-oriented, apparently a return to the roots of his first album. On the track titled "Wedding Day", Seal sings a duet with his wife, model Heidi Klum. The album's first single, "Amazing", was released on 25 September 2007, and was nominated for the "Best Male Pop Vocal Performance" Grammy at the 2007 50th Annual Grammy Awards.
Seal also performed "Amazing" at the 2007 Victoria's Secret Fashion Show in December, as well as the duet "Wedding Day" with his wife. Other performers at the 2007 Victoria's Secret Fashion Show include the Spice Girls and will.i.am of The Black Eyed Peas. He appeared on the American Idol Season 7 Finale, singing with third-place contestant Syesha Mercado.
Seal's sixth studio album Soul was released on 11 November 2008, in the United States and 3 November 2008, internationally, and contains eleven soul classics produced by David Foster. The video for the first single, a cover of Sam Cooke's "A Change Is Gonna Come" is up on his official YouTube page. As well, he will be mentoring the top 9 on Deutschland sucht den Superstar and performing one of his songs from the album.
Seal coached the participants of Germany's TV show "Deutschland sucht den Superstar" (Popidol) in February/March 2009.
Seal's seventh studio album, Commitment was released on 20 September 2010 internationally and 28 September 2010 in the US. The first single "Secret" was released 10 August 2010 on iTunes U.S. and in the UK on 13 September 2010. This album was said to be inspired by his wife, Heidi.
Seal and wife Heidi Klum announced in June 2010 that they will be making a reality series on Lifetime entitled Love's Divine (after Seal's song of the same name.)
Seal was also a judge for the 10th annual Independent Music Awards to support independent artists' careers.
Seal first met German model Heidi Klum in 2003, shortly after she announced her pregnancy and end of relationship with then director of the French Renault Formula One team, Flavio Briatore.
Seal proposed to Klum on 23 Dec. 2004, in a quinzee he had built on a glacier in Whistler, British Columbia. On 10 May 2005, the couple married on a beach in Mexico near Seal's home on Mexico's Costa Careyes.
Every year Seal and Klum take the time to renew their vows on their anniversary with their close friends and family. About these renewals Seal says:
"Each year, Heidi and I get remarried. It's a great party, but for about an hour, we go off on our own down to a private beach. We sit there with the kids and read vows to each other as the sun sets. It's a very special moment to us."
Klum gave birth to Briatore's daughter, Helene "Leni" Boshoven Klum on 5 May 2004 in New York City with Seal at her side. According to Klum, Briatore is not involved in Leni's life, and Klum has stated emphatically that "Seal is Leni's father". Seal is her only father figure, and he has praised Briatore for keeping his distance and not disrupting Leni's life.
In late 2009, Seal officially adopted Leni, and her last name was changed to Samuel.The couple have three other children, Henry Günther Adeola Dashtu Samuel (born 12 September 2005), Johan Riley Fyodor Taiwo Samuel (born 22 November 2006) and Lou Sulola Samuel (born 9 October 2009).
In 12 February 2011, Heidi praises her husband Seal for his good parenting skills. "When I first met Seal he had a kindness and compassion that was so sincere I knew he'd be a good father," Klum said, according to The Independent. "But it wasn't until Leni was born and we had our three other children that I grasped what a great dad he is. "He has infinite amounts of love and patience for our kids," Klum added. "He puts me and the children first.", and remarks how lucky she is to have a husband like Seal.
In 2009, she officially adopted the surname of her husband, Seal, and is now legally known as Heidi Samuel.
Read more
Seal Picture Gallery
Latest headlines