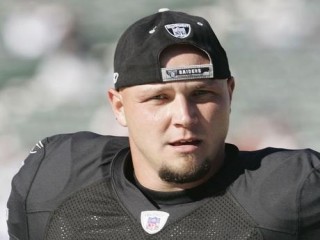 Sebastian Janikowski biography
Date of birth : 1978-03-03
Date of death : -
Birthplace : Walbrzych, Poland
Nationality : Polish
Category : Sports
Last modified : 2022-03-03
Credited as : Football player NFL, Sebastian Janikowski fsu, Sebastian Janikowski seahawks
A lot of athletes, either publicly or privately, make clear the fact that they do NOT want to be viewed as role models. Only Sebastian Janikowski consistently backs those words up with actions. The placekicker's problems with drugs, alcohol and authority have earned him the nickname "Polish Powderkeg" and put him at odds with the law on numerous occasions. Sebastian's saving grace is his explosive left leg, which some say is the best ever.
GROWING UP
Sebastian Janikowski
, the only child of Henryk and Halina Janikowski, was born on March 3, 1978, in Walbrzych, a small city in southwest Poland, close to the borders of what were Czechoslovakia and East Germany. Henryk was a professional soccer player, and his family lived the nomadic life of players-for-hire in Europe's most popular game. By the time Sebastian was seven, the Janikowskis had lived for stretches in Walbrzych, Mielec, Krakow and then Walbrzych again.
Henryk played with and against his country's top stars, including all-time great Zbigniew Boniek, who is considered Poland's greatest player. Henryk's career peaked in 1981, when he was one of the last player's cut from Poland's World Cup 82 squad. With age eroding his skills, he eventually moved by himself to the United States, in search of the Fountain of Youth for his declining soccer talents and a better way of life for the family he left behind.
He found neither. After several years of bouncing between club teams in the Northeast, Henryk called it quits. Though his visa had expired, he remained in the U.S. Three years later he divorced Halina and married an American woman.
Living without Henryk threw the lives of Sebastian and his mother into disarray. The elder Janikowski sent what money he could from America, but for the most part the two were forced to fend for themselves. They lived in a three-room apartment in Walbrzych. Sebastian admits this was when he first began to develop many of the habits that have gotten him in trouble today. To earn extra cash, he hustled suckers at a local pool hall, where getting his hands on a drink was never a problem.
When Sebastian didn't have a pool cue in his hands, he usually had a soccer ball at his feet. He spent hour upon hour at a nearby schoolyard honing his skills. If he received nothing else from his father, he inherited Henryk's affinity for soccer. Sebastian had a powerful left leg, tremendous speed and quickness, and a natural instinct for the sport. In 1993, at the age of 15, he earned a place on the Polish under-17 team.
But a year later Sebastian's life was sent reeling again by his father. Henryk discovered that his marriage made it possible for his son to join him legally in the United States. Of course, this meant that Sebastian would have to leave his mother in Poland. Knowing a better future awaited her son in America, Halina insisted that Sebastian board a plane for Kennedy Airport in New York. The emotional farewell still brings tears to Sebastian's eyes.
Adjusting to life in the States was doubly tough for the teenager. He spoke little to no English, which created an instant communication barrier. Then there was the strained relationship with his father. Their first meeting was awkward at best, neither knowing how to react to the other.
By now, Henryk had relocated to Orlando with his wife. Sebastian enrolled in the 10th grade at Orangewood Christian Academy, a bald-headed, Polish soccer player looking for his niche. He took a three-week night class to learn English, but taught himself just as much by watching television, reading and bantering with classmates. Fortunately, making friends had always come easy to him. Still, he often felt overwhelmed by his surroundings.
Sebastian's escape was the soccer field. He joined the Orlando Lions, an under-19 soccer club coached by Angelo Rossi. An Argentine expatriate, Rossi was also the coach at Seabreeze High School in Daytona Beach. Sebastian, now a well-muscled 215 pounds with thighs like tree trunks, amazed his coach with his elusiveness and magic left foot. Rossi convinced Henryk that his son would be better off at Seabreeze High, which had a high-profile soccer program. When his father was unwilling to move, Sebastian once again packed his bags, taking up residence with Rossi and his family.
Although Florida's transfer rules prohibited Sebastian from playing for Seabreeze High until his senior year, he continued to impress the local soccer community. A member of a club team, he earned a trip to Argentina with Rossi, where he was reportedly offered a two-year, $1.8 million contract to turn professional. Sebastian rejected the offer. Tired of life as a nomad, he hoped to forge a stronger bond with his father and harbored a secret desire to bring his mother to America when the time was right.
ON THE RISE
In the spring of 1996, Sebastian was preparing for his senior season of soccer at Seabreeze High when friends convinced him to try kicking a football. He showed up at practice one day dressed in a t-shirt, shorts and sneakers, then teed up a ball and boomed it down field. Football coach Kerry Kramer was as awed by the length of the kick as much as he was the shot-gun sound of Sebastian's foot against the pigskin.
Kramer wanted Sebastian on his team. With friends telling him that he stood to make a whole lot more money as an NFL placekicker, the teenager joined the Seabreeze football squad. Before long, he turned the gridiron into his own personal showcase. As word of the Polish phenom spread, fans lined up in droves to watch practices and pregame warm-ups.
Sebastian rarely disappointed. During the '96 campaign, he kicked four field goals of more than 50 yards, including a 60-yarder in a key late season win over arch-rival Palatka High School. The kick still ranks as the third best in Florida prep football history. In all, Sebastian made nine of 15 field goals, converted all 31 extra points he attempted and had only two kickoffs returned. USA Today named him to its All-American team.
With some pro scouts saying Sebastian was good enough to jump to the NFL, a massive recruiting war developed among several top college programs, including Florida, Miami, Michigan, Penn State and Tennessee. Some schools offered him the opportunity to play football and soccer.
Florida State was a late entry in the Janikowski sweepstakes. Seminoles' assistant Bill Sexton tried to get head coach Bobby Bowden to give him a scholarship, but the team already had a kicker in Bill Gramatica, the younger brother of Martin. When Sexton persisted, Bowden agreed to watch a tape of Sebastian. That was all he needed to see. Sebastian, who liked the idea of staying in the Sunshine State, committed to Florida State. In the summer of 1997, he beat out Gramatica, who immediately transferred to Southern Florida.
Janikowski provided Bowden's already powerful squad ranked in the Top 10 in the preseason polls with another potent weapon. The offense featured returning starter Thad Busby at quarterback, two solid running backs in Rock Preston and Travis Minor, and a talented receiving corp led by E.G. Green. On defense, end Andre Wadsworth and linebackers Daryl Bush and Sam Cowart were the top performers on a swarming unit.
The Seminoles were in the hunt for the national championship deep into the regular season, winning their first 10 games. But a 32-29 loss to Florida in November ended their title hopes. Florida State concluded the campaign with a blowout of Ohio State in the Sugar Bowl and finished No. 3 in the rankings.
Sebastian enjoyed a banner freshman year, converting 16 of 21 field goals and 37 of 39 PATs. Against Maryland in September, he nailed a 49-year field goal that landed in the fifth row of Doak Campbell Stadium. Against Miami, he hit the right upright on a kickoff, 70 yards away and about 18 feet above the ground. Sebastian later set a school record with a 56-yard field goal against Wake Forest. Yet his greatest contribution probably came on kickoffs, where he recorded 26 touchbacks and constantly put opponents in bad field position.
Off the field, Sebastian hit Tallahassee like a tropical storm. Known as the "Polish Powderkeg," his shaved head, iffy command of English, and party-first, study-later philosophy made him a campus icon. It also led to more than a few problems down his rocky road to the NFL. A sports management major, he spent too much time in frat houses and nightclubs and not enough in classrooms and the library. Throughout Sebastian's college career, his academic eligibility was always teetering on the edge.
The first of Sebastian's major off-the-field problems occurred in August of 1998, when he got into a fight outside of a Tallahassee bar. He was charged with failure to leave the premises and pleaded no contest to the misdemeanor offense, paying a $295 fine.
The timing of the incident was terrible. A lot of people were picking Florida State to win the national championship. The offense looked scary good. Peter Warrick and Laveranues Coles were the best receiving tandem in the country, Minor was back after a good freshman season and Chris Weinke once a hot prospect with the Toronto Blue Jays appeared ready to step in at quarterback. The defense was again fast and mean. Though coordinator Mickey Andrews was relying on five sophomore starters, he had every confidence that the unit could equal its dominance of 1997. The last thing the Seminoles needed was a lockerroom distraction. Coach Bowden, therefore, chose to handle the situation quietly, disciplining Sebastian by making him run extra sprints.
Florida State staggered from the gate with a loss in early September at N.C. State. To stay in contention for the national title, the Seminoles had to run the table, which they did in impressive fashion. Bowden's troops took their next 10 in a row, outscoring their opponents 355 to 107. Sebastian pulled his weight with a breakout campaign. He established an FSU and ACC record for field goals with 27 (in 32 attempts), including 10 of 13 from 40 yards or more and a long of 56 yards. He also converted 42 of 43 extra points, and a remarkable 47 of his 79 (59.5%) kickoffs went unreturned.
In Florida State's final game of the regular season, a satisfying 23-14 victory over Florida in Tallahassee, Sebastian drilled four field goals. He made headlines again the following day when he was charged with battery after a fight with a male cheerleader at a local bar. Though the state eventually decided not to prosecute the case, the incident cast a shadow over Sebastian and the Seminoles.
Again, Sebastian's timing could not have been worse. With the win over the Gators, Florida State thanks to the new Bowl Championship Series was poised to face Tennessee in the Fiesta Bowl for the national championship. His late-night brawl, however, gave the media a juicy side story in the weeks leading up to the game. Indeed, part of the match-up was billed as a showdown between kickers: the rough-and-tumble Polish Powderkeg vs. the Volunteers squeaky-clean Jeff Hall. As it turned out, neither had much impact on the outcome. With Tennessee's defense shutting down the Seminoles in key situations, the Vols claimed their first title since 1951 with a 23-16 win.
Sebastian's only consolation was a slew of post-season awards. He was honored as the nation's top kicker, winning the Lou Groza Award, and was named an All-American by the Football Writers of America.
Sebastian managed to keep his name out of the newspapers going into the 1999 campaign. For the second year in a row, the Seminoles were among the preseason favorites for the national championship. Warrick was a bona fide Heisman candidate, Weinke had a season of snaps under his belt and Minor had finished the previous year rushing for more than 100 yards in four of his last five games. The defense boasted an All-American in tackle Corey Simon, a fearsome linebacking crew led by Tommy Polley, and an experienced, hard-hitting secondary. Sebastian gave Florida State a special teams edge in every game it played.
The Seminoles opened the year on a roll, posting at least 40 points in their first five contests, all wins. The team's first major test came at home against Miami in October. Florida State passed with flying colors, registering a 31-21 victory. Sebastian chipped in with four PATs and a 38-yard field goal. Two weeks later he played an even bigger role in a nail-biter at Clemson. In a 17-14 comeback win, Sebastian kicked three field goals, including the difference-maker in the fourth quarter.
Florida State cruised the rest of the way, taking its last three games and earning a berth in the Sugar Bowl against Virginia Tech for the national championship a matchup of dynamite QBs Michael Vick and Chris Weinke in New Orleans. Sebastian celebrated with his second consecutive Groza Award, the first time that feat had been accomplished. He was also named to the Walter Camp, Football News and Football Writers of America All-America first teams.
Sebastian led the nation with 23 field goals in 30 attempts, and didn't miss from inside the 45. He maintained his kickoff superiority by nailing more than 65 percent of his 83 boots for touchbacks.
But in the weeks leading up to the championship game those numbers became secondary to a new spate of problems experienced by Sebastian. First, there were questions about whether he would be eligible to play. By now he had told Bowden and his teammates that he would leave college after the Sugar Bowl for the NFL. Never a particularly committed student, Sebastian had even less motivation to take his final exams, an FSU requirement for participating intercollegiately. Eventually he did complete his exams, although there was never any word on what grades he received.
Then, on New Year's Eve, Sebastian got caught breaking curfew, succumbing to the allure of Bourbon Street. But with an undefeated season one win away, Bowden decided not to bench his kicker. When asked about an apparent double-standard in dealing with Sebastian (Bowden had benched defensive end Roland Seymour for a similar offense) the FSU coach joked that Sebastian benefitted from the team's "international" rule.
As it turned out, the Seminoles didn't need a big effort from Sebastian to win the Sugar Bowl. They built a 28-14 halftime advantage, before Vick came back to regain the lead, 29-28 heading into the fourth quarter. From there Florida State seized control, powering to a 46-29 victory. The 12-0 Seminoles became the first team since 1950 to go wire-to-wire as #1 in the AP poll.
MAKING HIS MARK
With his sights trained on the riches of an NFL career, Sebastian did little to help his draft status in the weeks after the Sugar Bowl. Pro scouts didn't question his leg strength, accuracy or athletic ability. Though he carried more than 250 pounds on his 6-1 frame, he ran the 40-yard dash in 4.6 seconds and performed well in agility drills. In fact, Sebastian was projected by many as the best kicking prospect ever. But his maturity level and penchant for partying were real concerns.
Those issues were underscored in January, following a campus celebration of FSU's national championship. Sebastian was with several friends trying to get into an after-hours nightclub called The Grove. When they were denied entry, a member of the group refused to leave the area and was arrested for trespassing.
Sebastian was one of several people who approached the arresting officer (working off-duty at the time as a security officer at the club) about how much it would cost to let his pal go. According to reports, the kicker dropped three $100 bills onto the policeman's lap as he sat in his car. Sebastian was taken into custody for trying to bribe an officer. If convicted, he would face up to five years in prison and a $5,000 fine.
With this legal cloud hanging over his head the court date was set for June Sebastian's value in the NFL Draft dropped. Teams rarely use high picks on kickers at it is, and his mounting problems made him an unnecessary risk in the eyes of most organizations. Al Davis and the Oakland Raiders, however, were one franchise that never did things by the book. The Silver & Black also happened to be in desperate need of a new kicker. All eight of their losses in 1999 were by seven points or fewer, and they missed 13 field goals, including at least one in each of their six defeats. With this in mind, Oakland took a gamble on Sebastian, selecting him with the 17th selection in the first round.
At first, it appeared that the Raiders had made a shrewd move. When Sebastian's bribery case went to court in Tallahassee, a four-man, two-woman jury found him innocent. Sebastian testified on his own behalf, contending he intended only to pay his friend's ensuing fine. Though the arresting officer said he had no doubt the money was meant as a bribe, the jury needed less than an hour to come back with an acquittal.
Just a week later, however, Sebastian landed himself in even more serious trouble. In mid-June, Florida State University officers arrested him on charges of possession of GHB, also known as the "date-rape" drug. According to police reports, an undercover officer spotted Sebastian and two companions outside of a Tallahassee bar pouring out a clear liquid, which tests confirmed was GHB. Under federal immigration law, possession of a controlled substance is a crime of moral turpitude, and expulsion from the country is a possible penalty. Fortunately for Sebastian, it was subsequently determined that his five-year residency status shielded him from deportation for a first-time drug offense.
Still, the incident and the implications it raised about Sebastian's character opened him to widespread criticism. The media jumped all over him. ESPN The Magazine ran a short article on him with the headline, "Dumb and Dumbest." Fans in Oakland wondered about the wisdom of drafting a player who even by Raider standards was a loose cannon.
Sebastian apologized publicly and vowed to change his ways. The Raiders, meanwhile, stood behind him. They signed him to a six-year deal worth $5 million, then gave him a locker between veterans Rich Gannon and Bobby Hoying. Head coach Jon Gruden also assigned him a room in training camp with Shane Lechler, a fifth-round pick from Texas A&M and the team's leading candidate for the starting punting job. The message from management was clear: We want you on our club, but you have to learn how to be a professional.
Sebastian's teammates seemed to agree with the philosophy. They accepted his volatility, viewing him as the potential missing piece in their championship puzzle. The players also grew to like him a great deal. Sebastian was funny, outgoing and usually up for just about anything. He was a willing participant in locker room highjinx and earned instant respect on the field with his powerful left leg.
The Raiders were definitely a team on the rise. With Gruden at the helm, they had developed one of the league's most dangerous offenses. Gannon to Tim Brown was a combination nearly impossible to stop, and Tyrone Wheatley was finally living up to the potential that had made him a first-round draft choice of the New York Giants several years earlier. With the additions of veteran receiver Andre Rison and rookie Jerry Porter, Gruden had two more weapons. If Oakland had any weaknesses, they were on defense. Darrell Russell was a Pro Bowler, but he could also be an attitude problem. The secondary was headlined by Charles Woodson, the third-year cornerback from Michigan still finding his way in the NFL. Tragically missing was safety Eric Turner, who died from complications of abdominal cancer.
Through the first nine weeks of the 2000 campaign, Oakland looked like the best team in the league. Outside of a loss at home to the Denver Broncos, the Raiders were dominant, winning some games with their offense and others with their defense. Sebastian started the year slowly, missing seven of his first 13 field goal attempts. In a 34-28 overtime victory at San Francisco, he botched a pair of FGs late in the game, which drew the ire of Gruden, who complained that his rookie kicker was not focused enough on his job.
A week later Sebastian offered his first important contribution against the arch-rival Kansas City Chiefs. After going wide on two attempts in the first half, he calmly nailed a game-winning 43-yard field goal with 25 seconds remaining for a 17-14 victory. In the last weekend of October he accounted for all of Oakland's points in 15-13 win over San Diego that ran the team's record to 7-1.
Oakland finished the regular season at 12-4, claiming home-field advantage throughout the playoffs. After blowing out the Miami Dolphins in the divisional round, the Raiders hosted the Baltimore Ravens in the AFC Championship Game. The Raven defense proved too good, however, throttling Oakland's vaunted attack. The Raiders fell 16-3, and watched the Super Bowl from home.
For Sebastian, the loss marked the end of an up-and-down season. He was fifth in the AFC in scoring with 112 points, but converted only 22 of 32 FG attempts. Sebastian also missed two games because of cellulitis. The bacterial infection caused him to be hospitalized for five days for intensive antibiotic treatment.
Coming off his rookie campaign, Sebastian knew he had to improve his accuracy, particularly on field goals outside 40 yards. Though nearly automatic inside that range, he was agonizingly inconsistent on long attempts. His goal was to hit on 80 to 85 percent of all his kicks. Sebastian dieted, shedding some 15 pounds and resolving to get a handle on his drinking. One area where Sebastian and the Raiders were more than satisfied was kickoffs. The team was third in the AFC in coverage in 2000, due mostly to his booming left foot.
As a team, Oakland also searched for ways to get better. On offense, Jerry Rice and Charlie Garner were signed as free agents. For Gannon, the AFC's top-rated passer, this was almost an embarrassment of riches. Again, however, the performance of the defense would likely determine the squad's success. Oakland's most pressing concerns were rushing the passer and pass coverage. Indeed, opposing quarterbacks had riddled the team with 25 touchdown passes in 2000. While Trace Armstrong continued to defy Father Time with his fine play, Oakland needed Russell to regain his form as one of the league's best all-around lineman. To bolster the secondary, Oakland drafted Sebastian's old FSU teammate, safety Derrick Gibson. The club then took DeLawrence Grant, a quick defensive end from Oregon State.
The season could not have begun on a more promising note. In the opener at Kansas City, Sebastian booted four field goals, including one from 31 yards with 15 seconds left for a 27-24 victory. In the next four games, three of which Oakland won, he missed only one of eight attempts, and was perfect on every FG longer than 40 yards.
But Sebastian soon ran into more problems. In October he passed out at the Snowdrift Lounge, a club in one of San Francisco's seediest sections, and was taken to a nearby hospital after opening a cut on his face. The gash required five stitches. While the doorman at the Snowdrift reported that Sebastian might have overdosed on GHB, Gruden and the Raiders refused to comment on the incident. In the midst of its off-week, the team chose to keep the incident at quiet as possible.
Shrugging off the media storm caused by Sebastian's actions, Oakland surged to victories in six of its next eight games. Initially, the left-footer showed no ill-effects from his drunken accident, hitting on 10 of 11 attempts, including a 52-yarder at Seattle. But he and the Raiders slipped in their final three contests, losing to the Titans, Broncos and Jets. Sebastian, who suffered another bout of cellulitis in late December, appeared in only two of those contests, and had his worst day of the year against Tennessee, converting just one of four tries.
Though Oakland held on to first place in the AFC West, at 10-6 the club was forced to play in the Wild Card round. The Raiders handled the Jets, 10-3, at home, but dropped a controversial decision the next week in New England. The game's crucial play came when Woodson sacked quarterback Tom Brady, forcing a fumble recovered by Oakland. But the call was overruled because of an instant replay interpretation of the now famous "tuck" rule.
Sebastian recovered from his illness in time to play in both of Oakland's post-season games. In all, he booted three field goals and two PATs. His pair of FGs in the blizzard against the Patriots were particularly impressive, given the awful conditions.
Not including the Tennessee game (and the disappointing end to the season), Sebastian enjoyed a fine year. At 82 percent (23 for 28), he reached his target range for accuracy on field goal attempts. For the most part, however, his problems away from the field overshadowed his accomplishments. In response, Sebastian decided to devote himself to an aggressive off-season conditioning program designed to strengthen his legs and increase his endurance. He and the Raiders hoped the training regimen would also keep him on the straight and narrow.
It worked for a couple of months, until the spring of 2002, when Sebastian was pulled over for a drunk driving offense. Then in October he was flagged again, this time doing 86 mph down I-580 in Oakland. His blood-alcohol registered .20, more than twice California's legal limit. Sebastian pleaded no contest to DUI charges and was sentenced to three years probation. According to him, the arrest finally opened his eyes. He says he quit drinking cold turkey after the incident.
By then the Raiders were in the middle of a four-game losing streak. After a strong September, the team had inexplicably fallen on hard times. But just as quickly Oakland got back on track. The offense began firing on cylinders, especially Gannon, who was garnering support as the league MVP. The defense, on the other hand, was difficult to figure. Inexperience was partly to blame—the Raiders had two rookies in the starting lineup, middle linebacker Napoleon Harris and cornerback Phillip Buchanon. Also new to the unit was outside linebacker Bill Romanowski, though he was doing his best to make the defense gel.
The biggest change in the club came at the top, where Gruden was allowed to go to Tampa Bay in exchange for a slew of draft picks. Bill Callahan, who had spent the previous four years with Oakland—first as the tight ends coach, next as the offensive line coach and finally the offensive coordinator—was tabbed to fill Gruden's shoes. He knew the Raiders as well as anyone, and his more laid-back style seemed to be just what the team needed.
It certainly appeared to help Sebastian, who despite his DUI arrest was enjoying the best year of his career. In a huge victory on Monday Night Football in Denver that broke Oakland's losing streak, he booted two field goals. The Raiders then reeled off four more wins to put themselves in position to claim the AFC West crown. In those contests, Sebastian converted 10 of 12 field goals, including a pair of more than 50 yards. When Oakland won its last two games, against the Broncos and Chargers, the team not only took the division, but captured home-field advantage throughout the playoffs.
Sebastian had a lot to do with the resurgence of the Raiders. He made 26 of 33 field goals and topped the AFC with 128 points. His 22 touchbacks (on 97 kickoffs) was far and away the highest total in the NFL. For his efforts, Sebastian was named to the Pro Bowl.
In the AFC playoffs, Oakland barely had to rely on Sebastian. Against the Jets, the Raiders won going away, 30-10, seizing control of the contest in the second half. A week later, Oakland turned the Championship Game against Tennessee with a pair of turnovers just before intermission. In the resulting 41-24 victory, Sebastian converted both of his FG attempts and all five PATs. After two near misses, the Raiders were in the Super Bowl.
Against the NFC champion Tampa Bay Buccaneers, Sebastian opened the scoring with a 40-yard field goal. Jumping out to an early lead was just what the experts said the Raiders had to do against the stingy Bucs, who boasted the best defense in the NFL. Coached by Oakland's former boss, Gruden, the Bucs had surprised many by advancing this far despite an anemic offense. A week earlier they had recorded an upset in Philadelphia, shutting down Donovan McNabb and the high-flying Eagles.
Tampa Bay hoped to do the same against Oakland, which had the league's best offense. Given the convergence of such diverse forces, no one would have been shocked if the game came down to a crucial late field goal. Sebastian was ready.
As it played out, the Bucs raced to a huge margin of their own, scoring 34 unanswered points before the Raiders mounted a comeback. By then Sebastian was reduced to a spectator, as Oakland went for two-point conversions after every touchdown. The rally eventually stalled, and thanks to two interception returns for touchdowns in the fourth quarter, Tampa Bay rolled to a 48-21 blowout.
Oakland's disastrous performance in the Super Bowl proved a harbinger for the 2003 season. The Raiders seemed to get old overnight. In particular, Gannon and Tim Brown struggled—the quarterback lasted only seven games before getting hurt, and the receiver had his worst year since 1992. The running attack, meanwhile, was paced by Tyrone Wheatley, who gained all of 678 yards. The situation deteriorated so completely that team eventually picked up Rick Mirer off the recycling heap.
On defense, the Raiders weren't much better. Opponents averaged just under 370 yards a contest, and Oakland surrendered 379 points. (Only six teams gave up more.) Outside of Woodson, Harris and Eric Barton, no one was above average, though Buchanon showed flashes of his potential on the corner. Not surprisingly, Oakland finished at a dismal 4-12, and Callahan didn't keep his job.
Sebastian was one of the few bright spots on the roster. Steering clear of any major off-field problems—which is saying something for him—he enjoyed his most consistent season, hitting on 22 of 25 attempts and recording a career-long FG of 55 yards. The key to Sebastian's improved performance was his success from 40 to 49 yards. He made nine of 10 from that range, and his sole miss came on a block. The one area Sebastian saw a drop in production was on kickoffs, where he registered only seven touchbacks.
For the 2004 season, the Raiders turned to Norv Turner as their new head coach. To improve the defense, Turner tabbed Bill Belichik disciple Rob Ryan, who had served as the Patriots' linebackers coach for the previous four seasons. Ryan's efforts failed, as opponents again averaged 370 yards and nearly 28 points per game.
The offense also struggled, as Turner's system lacked punch without a dominant runner. The Raiders finished last in the league in rushing with just 1,295 yards. At quarterback, Kerry Collins replaced as Gannon the starter, but had only moderate success. The lack of a consistent running attack put more pressure on the former Pro Bowler, and he made far too many mistakes.
Sebastian, meanwhile, produced another good campaign. He hit 25 of 28 field goals, including 10 of 12 attempts of at least 40 yards. His season-long came in a loss against the Atlanta Falcons when he nailed a 52-yarder. Sebastian also beefed up his profciency on kickoffs, tallying 12 touchbacks, five more than the previous year. On a down note, Sebastian's streak of 39 consecutive field goals from within 45 yards ended in a loss to the Texans, when he pushed a 35-yarder to the right.
Still, he had arguably his best season as a pro. More important, Sebastian again controlled his emotions. His attitude adjustment, plus his stellar kicking, obviously impressed Al Davis, who offered him a five-year contract extension worth just under $11 million. Weighing the option of unrestricted free agency, Sebastian chose to stay loyal to the team that once used a first round draft pick on him, and in the process became the highest-paid kicker in NFL history.
At 5-11, the Raiders finished last in the AFC West in '04. Speculation swirled that Turner would get the pink slip, but Oakland retained him for at least one more season. The team's toughest decision concerns receiver Jerry Porter, who may bolt to greener pastures as a free agent. Pro Bowler Charles Woodson is also asking for more money.
Despite his strong campaign, Sebastian's future will likely remain uncertain in most people's eyes—primarily because of his previous alcohol problems and brushes with the law. If he keeps his nose clean, there's no reason he won't be a perennial Pro Bowler. But that's a big "if." Blame it on a childhood without a father or simply an inability to say "No." Either way, Sebastian has demonstrated poor decision-making skills time and again. It's up to him whether his college nickname, the Polish Powderkeg, is someday etched on a plaque in Canton or makes him the butt of a lot of bad jokes.
SEBASTIAN THE PLAYER
Sebastian is the poster boy for a new breed of NFL placekickers. He's big, strong and unafraid of contact. Whereas many kickers struggle to reach the end zone of kickoffs, he regularly powers the ball across the goal line. That makes him an enemy of all opposing offensive coordinators.
Sebastian credits his amazing power to strong legs and hips. His years of playing soccer obviously have also contributed to his prowess on the football field. It takes him just 1.1 seconds to get off a kick, which is two tenths faster than the average NFL kicker's approach. This puts tremendous pressure on his holder to place the ball quickly. It also means that Sebastian's kicks are much more difficult to block.
Granted, he's just a kicker, but Sebastian has proven he's a winner. He benefitted by playing on immensely talented teams in college, but also learned how to kick under pressure. In his short NFL career, he has already appeared in two Championship Games and one Super Bowl. Say what you want, but in the superstitious world of pro football, Sebastian is becoming the type of good luck charm head coaches crave.
Read more
Latest headlines