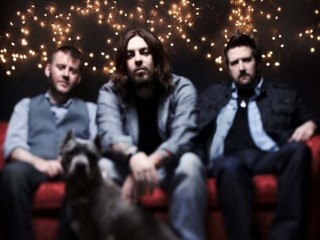 Seether (band) biography
Date of birth : -
Date of death : -
Birthplace : Pretoria, South Africa
Nationality : South African
Category : Arts and Entertainment
Last modified : 0000-00-00
Credited as : post-grunge/alternative metal, Shaun Morgan, Dale Stewart, Karma & Effect
Seether is a post-grunge/alternative metal band that was formed in 1999 in Pretoria, South Africa.
Current band members:
Shaun Morgan (lead vocals, lead and rhythm guitar)
Dale Stewart (bass, backing vocals)
John Humphrey (drums)
The band is currently signed to Wind-up Records and Musketeer Records. Originally named Saron Gas and signed to Musketeer Records in South Africa, the band changed its name with the 2002 release of Disclaimer, its second album and major label debut.
Albums released:
Fragile (2000) (as Saron Gas)
Disclaimer (2002)
Disclaimer II (2004)
Karma & Effect (2005)
Finding Beauty in Negative Spaces (2007)
Holding Onto Strings Better Left to Fray (2011)
Change isn't easy. But Seether vocalist, guitarist and songwriter Shaun Morgan understands that nothing worth accomplishing ever is. "When I was in rehab in 2006," he recalls, embracing a sense of humorous selfawareness that comes with hindsight, "I learned that the definition of insanity is doing the same thing over and over and expecting a different result." In other words: evolution is key not only to surviving but also thriving. It's a way of thinking that Morgan applies to both himself and to the way his band operates. In a career that's spanned nearly a decade, the power trio of Morgan, bassist Dale Stewart and drummer John Humphrey that is collectively known as Seether has toured the globe on the strength of five Gold and Platinum-selling albums: steadily growing a devoted fan base while continually pushing creative boundaries. Seether breaks new ground again with its fifth studio LP, Holding onto Strings Better Left to Fray, due out on Wind Up Records in May 2011. As fans and critics are about to hear, change is good.
Holding onto Strings Better Left to Fray further expands on the dynamic musical growth curve heard on Seether's 2007 release, Finding Beauty in Negative Spaces, while maintaining a sonic imprint that is undeniably Seether. There are many reasons to be excited. Not only does Seether branch out stylistically on the album's first single, "Country Song" – which blends a buoyant, aurally addictive hook with the band's signature searing guitar work – but the singer's striking new vocal approach is audible from the album's exhilarating lead track, "No Resolution." Morgan explains, "On this album, I didn't scream very much, because that's not what I wanted to do. For some of the songs, the sentiment behind the lyric wasn't angry, therefore to sing it in an angry way didn't make any sense to me. The gritty stuff is easy to do, but it also feels really great to convey emotionally, through my voice, what I'm trying to say, instead of just being a one trick pony." The result is a collection of compelling vocal performances that conjure an appealing blend of two of Morgan's chief influences, Kurt Cobain and Tool's Maynard James Keenan. It makes Strings an immensely satisfying listening experience. Looking back on Seether's career path, it's not surprising that the band has progressed to this juncture. Originally founded in Johannesburg, South Africa, by Morgan and Dale Stewart, Seether made its initial impact on U.S. hearts and eardrums with 2002's Disclaimer. The album's first single, "Fine Again" was a pensive ballad whose minor chord message of sustaining hope amidst turmoil resonated with fans worldwide. "Fine Again" was featured on the soundtrack to the popular video game Madden 2000, and Seether gained nationwide live exposure with a spot on that year's Ozzfest tour. After releasing the singles "Driven Under" and "Gasoline," Seether rerecorded the acoustic track "Broken" as an electric version featuring Evanescence vocalist Amy Lee. "Broken" became a massive international hit for the group. In 2004, Seether remixed and remastered Disclaimer, adding eight new songs and new cover art to create the two-disc set Disclaimer 2, which went Platinum. In 2005, Seether released Karma & Effect (the band's only album recorded with guitarist Pat Callahan), which debuted at #8 on the Billboard chart. "Karma & Effect is my favorite representation of us at radio," Morgan offers. "The singles we'd released previously were ballads, but this time, we chose "Remedy," "Truth" and "The Gift" as singles. Those songs, and their accompanying videos, were darker and more ominous, so we knew that fans coming to our shows wouldn't be surprised when the band was actually playing loud, heavy music." Morgan credits the album with solidifying Seether's identity as a hard rock act. At this point, the band was promoting itself at radio stations; performing brief, "un-plugged" sessions for fans. From that effort, a demand grew for recorded copies of those acoustic songs. "We decided that we would record a live, acoustic album during one night off ontour and see what happened," says Morgan. That set, recorded at a Philadelphia pub, became the live CD/DVD One Cold Night, released in 2006.
As a songwriter whose work has always been intimate and self-revelatory, Morgan continued to address his personal demons while also sharing his more optimistic, post-rehab attitude on 2007's Finding Beauty in Negative Spaces. Debuting at #9 on the Billboard 200 chart, Pop Matters referred to the album as "Seether's tour de force" and "their most direct and focused record yet." The singles "Fake It" and "Rise Above This" reached the top position on several Billboard charts, and "Breakdown" charted as a Top 10 hit. Finding Beauty was reissued in 2009, with a cover of George Michael's "Careless Whisper," which was a successful single release.
Recorded at Blackbird Studios in Nashville, Seether definitely had an all-star player on its team for Holding onto Strings Better Left to Fray in the form of producer Brendan O' Brien (Rage Against the Machine, AC/DC, Pearl Jam). "Brendan is one of the ultimate producers in the world," Morgan enthuses. "He really worked with us instead of with his own agenda. As far as producers go these days, that's not very common. He doesn't havean ego, he just cares about the project at hand and how we're going to make it the best album possible, because he's putting his name on it, too." Humphrey believes that O'Brien is the most effective producer the band has worked with to date. "Brendan has a great ear and he's also a great musician," says the drummer. "He can really articulate the changes he wants you to make to a song." Morgan also credits O'Brien for encouraging him to go with clear vocals. "I've wanted to sing clearer on albums before, and producers have said, 'No, do that gritty thing that you're known for.' Brendan was the first guy who said, 'Dude, sing the way you want to sing.'"
Seether fans identify the band with songs that are not only sonically heavy but which also carry a lyrical emotional heft. Rest assured that those qualities are still intact on Holding onto Strings Better Left to Fray. "Down" – providing a fantastic showcase for John Humphrey's Bonham-esque drumming – along with "Desire for Need" (on which Morgan falls back on the aggressive vocal delivery) prove that Seether have not strayed too far from what fans recognize as the band's aural identity. "Master of Disaster" also retains the original Seether imprint while introducing new musical elements, which the band set out to do with each song, "so people wouldn't know what to expect," Morgan interjects. "When we make a new album, it has to be superior to the previous one; otherwise we're wasting everyone's time. We had to be a little bit more experimental and creative, but by the same token we had to stick to our roots and the sound that people initially were drawn to. So, you walk that line, but you make it work."
Lyrically, Morgan is as upfront as he's ever been. "In our songs, I deal with a lot of personal issues and ghosts that follow me around. With each album, I tend to catch up a bit more on these ghosts and get rid of some of them." Morgan explains that this time out, it's all about the freedom found in just letting go. "I'm dealing with issues that I've been carrying with me for a long time, and understanding that those are detrimental to me and to those around me. Once you identify something that's toxic in your life, you have to ask why you're perpetuating it: clutching at a situation that's ultimately going to end up in heartbreak and tears. It's history, you need to let it go. Once you do that, it's such a weight off your chest. It sounds a little bit like hippie psychology, but if you focus on thinking positive things, then good things will start showing themselves to you."
Asked which tracks are favorites, Morgan talks about "Tonight," which almost didn't make it onto the album. "I hadn't even shown it to the band yet," he explains, "but one morning I woke up before dawn, in a really good mood, and completely changed the lyrics to positive lyrics. It just started coming together. Later that day in the studio, I asked Brendan to check it out. We only had two days left in the studio, but Brendan said, 'We've got to record that song right now.' I think it captures and summarizes the hopeful sentiment of the album." Stewart shares Morgan's enthusiasm. "Tonight" is almost nostalgic, yet optimistic sounding. It's a really strong song and I'm excited for it to possibly go to radio. I think it could be a big song for us."
Another favorite is "Roses" – also a clear choice for a single – that Morgan claims was influenced by the band Muse. "I love how it starts with the very ominous Phantom of the Opera piano, and then goes into something completely different, with constant movement," he says. The band is also proud of "Here and Now," a modern rocker infused with a classic pop feel that might fit easily within the discography of Cheap Trick. "We wanted to write songs that would stand the test of time rather than just be music 'of the now' – meaning what is popular in this particular two- or three-year cycle" Morgan explains. "Here and Now" also features the lyrics from which the album title was culled.
With the album due out in the spring, Shaun Morgan, Dale Stewart and John Humphrey are all immensely proud of and excited about what they've achieved with Holding onto Strings Better Left to Fray. "This album is a progression from Finding Beauty, which I thought was the best thing we'd done up to that point," says Stewart. "To make a record that's going to be even better is a little daunting, but I think this album shows that the band has matured in the way we write and think about music." "This album was a lot of fun to make," Humphrey adds. "It was very much a collaborative project where there were no egos." Morgan concludes "To still be able to record, sell albums and tour, when a lot of our peers have not been so lucky, is a gift. Ultimately, making this album has helped me through the next phase of my life. For anyone who has been with us this far and needs a new injection of Seether's music, this will hopefully feed their desire."
Read more
Latest headlines