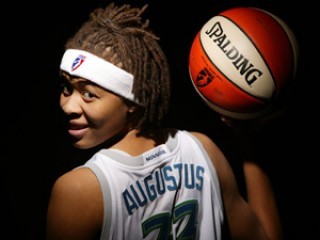 Seimone Augustus biography
Date of birth : 1984-04-30
Date of death : -
Birthplace : Baton Rouge, Louisiana, U.S.
Nationality : American
Category : Sports
Last modified : 2010-08-02
Credited as : Basketball player WNBA, played for Vanderbilt team,
Getting dubbed the "Next Jordan" is tough enough when you're a guy. But what's the pressure like if you're a girl? Seimone Augustus can answer that one. Proclaimed the Air-ess to Michael's throne before she graduated high school, she's been performing under lofty expectations for most of her life—though you would hardly know it from her laid-back Louisiana personality and infectious smile. But don't be fooled. Seimone has all the skills to match her royal pedigree and the same killer instinct that made MJ basketball's greatest champion.
GROWING UP
Seimone Augustus
was born on April 30, 1984 in Baton Rouge, Louisiana. An only child, she was doted on by her parents, Seymore and Kim. Both worked full-time jobs—Seymore as a maintenance technician for a local newspaper and Kim as a bank teller—but they found plenty of time to spend with their daughter.
Seymore had been a track star at hometown Capitol High School, and he continued to pursue sports in rec leagues as an adult. He gravitated toward basketball, and Seimone loved to tag along for his games. Hoops, by writ, became her favorite sport, too. She showed a natural inclination for basketball as soon as she could walk. After her third birthday, already mimicking her dad's patented power dribble, Seimone was good enough to join a league for five-year-old boys.
Never intimidated by older or more seasoned competition, Seimone continued to play up throughout her childhood. Over time, she seized the upperhand. Seimone matured at a fast pace emotionally and physically. By the fifth grade, Bitty Basketball was exactly that to her—she was dunking on the league's eight-foot rims.
Seymore could clearly see that his daughter had special skills. But what was equally amazing was her desire to maximize them. Seimone was told more than once by her father how he had wasted his talent as a teenager. She didn't want to suffer the same fate. Seymore, in turn, took an active role in her training, designing innovative drills that helped accelerate her development. Seimone dribbled the ball blindfolded, and sprinted around strategically placed chairs to improve her agility. She lifted weights, and learned to shoot with either hand by tying the other around her waist. Seymore also created unique training devices, including a bowling glove contraption that taught his daughter the proper follow-through after she released the ball.
The more Seymore threw at Seimone, the harder she worked. Father and daughter regularly played one-on-one behind their house, sometimes into the wee hours of the morning. Seimone simply couldn't get enough of basketball.
Seymore and Kim, equally devoted to their daughter's career, were bothered by the lack of girl's basketball teams in the area. They did something about it in 1997, starting an AAU squad. Seimone, of course, was the club's centerpiece. After years of competing against boys two or three years older than her, she was unstoppable against players the same age and gender.
By this point, Seimone had become a sensation statewide. The summer after sixth grade, she travelled to an AAU tournament in Florida, where Brian Creech of the Blue Star Elite camp got his first look at her. Blown away by Seimone's size and skills, he arranged an invitation for her to attend Blue Star the following year. At a gawky 5-10 and wearing her hair in pigtails, Seimone caused many campers, including future WNBA star Tamika Williams, to wonder out loud what she was doing there. Nicknamed "Puppy" by a counselor, she quickly proved she belonged. In the camp's one-on-one competition she beat two of the nation's top prospects, Nicole Kaczmarski and Nina Smith.
Seimone entered Capitol as a freshman in 1998, and immediately made an impact, both off the court and on it. In the classroom, she was a straight-A student whose shy, quiet demeanor was a refreshing departure for such a highly touted athlete. And while most of Seimone's classmates knew her as Louisiana's top prep hoops prospect, the teen also excelled in other sports. In volleyball, she was a brickwall as a middle blocker. In track, she ran the 400 and relay events.
Of course, Seimone was at her best on the hardwood. In her first season for Capitol head coach Alvin Stewart, she absolutely dominated, averaging 27.4 point, 14.5 rebounds, 11.8 assists, four blocks and four steals, and claiming honors as Louisiana's 4A Player of the Year. The Lady Lions surged to a record of 36-2, but lost in the state championship game.
ON THE RISE
As if life in the spotlight wasn't complicated enough, things got a lot tougher for Seimone heading into her sophomore year when Sports Illustrated for Women ran a feature on her. On the cover of the issue, the magazine posed the dreaded question: Is She the Next Michael Jordan? Suddenly, Seimone was a national celebrity. She coped amazingly well with the attention, relying heavily on her parents to help her remain grounded.
As Seimone began her second hoops season at Capitol, she focused on finishing the job in the state tournament. Once again, however, the Lady Lions came up short, this time in semis. Still, on the strength of her triple-double average (26 points, 15.1 rebounds and 12.4 assists), Seimone repeated as 4A Player of the Year.
Seimone's junior season was another one for the record books, as she finally led Capitol to the state title. In fact, the Lady Lions won their last 17 in a row on their way to the championship. Recognized nationally for her contributions, Seimone was named to both the Parade and McDonald's All-American teams, and was honored as the Gatorade Circle of Champions Player of the Year.
Seimone's summer was no less hectic. In her only appearance on the camp circuit, she wowed onlookers at the adidas Top 10 Girls. Later on, she also toured with Team USA for the Junior World Qualifying Trials.
Seimone entered her final high school campaign under enormous expectations. Though she had won the state title the year before, failing to do so again would draw sharp criticism. Meanwhile, coach Stewart was encouraging his star to take complete control on the floor. In years past, she had been noticeably unselfish at times. But with opponents now concentrating their entire gameplan on stopping her, he wanted her to increase her scoring rather than look to set up teammates.
Seimone did as instructed, upping her average to 28 points a game. The result was a perfect 35-0 record for Capitol and another 4A title. Seimone also filled out her personal trophy case quite nicely. Not only did she repeat as the national player of the year, but she was invited to play in all the major All-Star showcases. In the WBCA High School All-American contest, Seimone topped the Red team with 19 points in a 94-66 blowout and was honored as the game's MVP. In the first-ever McDonald's All-America tilt for women, she lit up New York's Madison Square Garden with 16 points and a game-high 12 boards in 24 minutes of action.
The recruiting battle over Seimone was as intense as women's college basketball had ever seen. LSU coach Sue Gunter begged her to stay in state, while Tennessee coach Pat Summit also applied the full-court press. Seimone was torn. The Lady Volunteers boasted the better program, and Summit was a coaching legend. But the thought of playing every home game in front of family and friends for the Lady Tigers was also tempting. After careful consideration, Seimone chose LSU.
Her announcement was celebrated by hoops fans across the state. LSU athletic director Skip Bertman called Seimone "the most important recruit in the history of our athletic program"—high praise considering in decades past the school had nabbed Pete Maravich and Shaquille O'Neal. The numbers supported Bertman's assertion. In the month after Seimone made her decision, LSU sold 1,300 season tickets, more than quadrupling the total from the previous year.
For Gunter, the addition of Seimone was the biggest step to date in her attempts to rebuild the program. The team, coming off an 18-12 campaign, had a solid nucleus of talent. Along the frontline, Aiysha Smith and Ke-Ke Tardy were good inside scorers, twin sisters Roneeka and Doneeka Hodges split time at two-guard and Temeka Johnson ran the club from the point. Gunter's primary job heading into the 2002-03 season was convincing Seimone to assert herself on offense.
In the preseason, the freshman deferred to her teammates nearly every time she touched the ball. Gunter continued to hammer home the point that she needed to look for her shot, but it wasn't until Johnson and the rest of the Lady Tigers echoed these thoughts that Seimone began to feel comfortable. In her college debut, she went for 27 points, keying an OT win over Arizona.
With Seimone settling in on offense, Gunter and assistant coach Pokey Chatman worked with their star freshman on her rebounding and defense. The Lady Tigers, meanwhile, were climbing up the rankings and generating plenty of excitement in their home state. In late February, LSU registered its first-ever women's hoops sellout, as 15,217 showed up for a battle against SEC rival Tennessee. Though the Lady Tigers fell 68-65, the program was clearly on the rise.
LSU exacted its revenge a few weeks later by beating the Lady Volunteers in the finals of the SEC Tournament. Johnson led the team with 24 points and nine rebounds, while Seimone chipped in with 12 points and eight boards. Onto the NCAA Tournament, the Lady Tigers earned the #1 seed in the West and breezed through their first two games, blowouts of Southwest Texas and UW-Green Bay. Louisiana Tech pushed them in the Sweet 16, but they prevailed 69-63. LSU's run ended in the next round, however, as Texas posted a surprisingly easy 78-60 win.
Despite the disappointing loss, Seimone and the Lady Tigers remained upbeat. The team had established itself as one of the country's most improved, while Seimone enjoyed one of the best frosh years in school history. Named Freshman of the Year by the U.S. Basketball Writers Association and The Basketball Times, she averaged 14.8 points and 5.5 rebounds, and her 54.9 field goal percentage was the second best ever by an LSU newcomer. She was also the SEC's top free throw shooter, connecting on 40 of 43 attempts in conference play.
MAKING HER MARK
Over the summer Seimone honed her game in the FIBA World Championships for Young Women in Croatia. The U.S. squad was loaded with talent, including Seimone's LSU teammate, Johnson. But American coach Jim Foster looked to Seimone to trigger his offense. Team USA raced through the draw, manhandling one opponent after another on the way to the title game. Seimone saved her best for last, scoring 18 points as the Americans beat Brazil for the gold.
Predictably, the pressure on Seimone intensified going into her sophomore season at LSU. With the Lady Tigers returning virtually the same team, many viewed them as contenders for the national title. But they started slowly, dropping two of their first three. Once Seimone assumed more of the offensive burden, however, LSU turned things around. In fact, they didn't lose again until they got into the meat of their conference schedule in January.
As the post-season approached, the Lady Tigers showed signs of putting it all together, this despite the loss of Gunter, who was hit by a case of acute bronchitis. Chatman was tabbed to replace her, and the team didn't skip a beat. Like Gunter, Chatman emphasized the need to run the offense through Seimone.
The Lady Tigers made it to the semis of the conference tourney, but were upended there by a hot-shooting Vanderbilt team. On the bright side, Seimone and Johnson both played great, and appeared to be heating up for the NCAA Tournament. The pair continued their fine play in the first round, setting the pace in a laugher over Austin Peay. They also starred in LSU's next victory over Maryland. Seimone poured in 26 points, while Johnson dished out 12 assists.
Seimone was even better in her team's next contest, a rematch with Texas. With the Longhorns helpless to stop her, she hit on 14 of 19 shots for a game-high 29 points. The Lady Tigers built a 13-point cushion at halftime, and then cruised to a 71-55 win.
Georgia suffered the same fate in Elite Eight, as Seimone put up her second 29-point game in a row in a tense 62-60 victory. Afterwards, Chatman couldn't stop raving about his sophomore, who sizzled despite constant double-teams. At 26.2 ppg, 5.0 rpg and 2.3 apg, Seimone was an easy choice as the West Regional's Most Outstanding Player.
LSU faced a familiar foe in Tennessee in the Final Four. This time around, however, the Lady Volunteers were the better team, claiming a 52-50 victory. Coach Summitt's strategy was obvious early, as UT perplexed Seimone with a variety of defensive schemes. She converted just seven of 21 shots from the field, and wound up with 16 points.
The goal for the Lady Tigers for the 2004-05 campaign was to improve on their Final Four appearance. With Johnson back for her senior season, Chatman in as the permanent coach and hotshot recruit Sylvia Fowles joining the starting lineup, LSU entered ranked in the Top 10, and had every reason to believe an NCAA championship was within their grasp.
LSU broke from the gate on fire, winning their first 13 in a row. Seimone, the top selection on the preseason All-American team, was sensational. Scoring more than 20 a night, she was rebounding and defending more effectively, too. Getting her teammates involved had never been a problem, but Seimone had now gained a better feel for when she should to take over a game.
That was clear in the post-season. Seimone dominated in the first two games of the SEC Tournament, going for 20 and 22 in victories over Alabama and Georgia. In the final against Tennessee, she lit it up again with 23 points. But the Lady Vols erased a six-point halftime deficit to post a 67-65 comeback win.
The loss to Tennessee strengthened LSU's resolve going into the NCAA Tournament. Seimone and her teammates blitzed through their first three games, drubbing Stetson, Arizona and Liberty by an average of 36 points. That set up a showdown with #1 seed Duke, which the Lady Tigers won in impressive fashion, 59-49. Seimone topped all scorers with 24 points. Fowles also had a big game, posting a double-double with 13 points and 11 rebounds.
The Lady Tigers briefly celebrated their return to the Final Four, and then got busy preparing for Baylor. The Lady Bears had just recorded an upset of their own, defeating #1 seed UNC. Their strategy—force Seimone into tough shots, and neutralize LSU's rebounding power—worked to perfection. Baylor out-boarded the Lady Tigers 35-34, Seimone struggled from the field (10 for 26, and the Lady Bears won by 11 points.
Seimone is no dummy. Even though she was the runway winner of the John R. Wooden Award as the nation's top player, she knows that her legacy won't be complete unless she captures a national title. A pair of Final Fours is nice, but it doesn't cut it for her. She may be the women's game next superstar, justifying all comparisons to Jordan. But like Mike, winning is the only thing that matters to Seimone. She's looking to finish the job at LSU, and then add a few more championship rings in the WNBA.
SEIMONE THE PLAYER
Seimone is one of those players best described by the old rhetorical question: What can't she do? On offense, she is an unstoppable scorer, featuring a variety of post moves, an excellent first step to the hoop and a terrific jump shot. She's constantly working to improve her range, too.
Seimone is learning to use her body more effectively under the boards. She's a good rebounder, but knows she can be better. More than anything, she probably needs to develop a more aggressive attitude when it comes to the glass.
The same is true on defense. When Seimone bears down, she can guard anyone. She has quick feet, long arms and terrific instincts. Sometimes, however, Seimone has to be reminded that defense win championships.
As coaches will tell you, Seimone doesn't get enough credit for her understanding of the game. She does lots of the little things—coming off picks correctly, reading defenders for back cuts, etc.—that don't get recorded in the boxscore, but make a huge difference on the floor.
Seimone has never been a vocal leader, but teammates naturally respond to her confidence and will to win. She has never played the game for stats. She only cares about the score at the end of the game.
EXTRAS
* Seimone finished fourth in the national Elks Hoop Shoot free throw contest three years in a row (1993 through 1995).
* Seimone ranked sixth her class (214 students) in her senior year at Capitol High School.
* Seimone's career numbers at Capitol were staggering: 3,600 points, 1,728 rebounds, 864 assists, 576 blocks and 432 steals.
* Seimone definitely has a flare for the dramatic. When she announced her intention to play at LSU, she showed up at her press conference wearing orange, the color of college hoops powerhouse Tennessee.
* Seimone set an LSU record for consecutive free throws made during her sophomore season, hitting on 42 in a row.
* Seimone received the Community Service Award at the 2001 NAACP Freedom Fund Banquet.
* Seimone was named the 2003 USA Basketball Female Athlete of the Year. Tim Duncan was the winner of the men's side.
* Seimone loves classic cars. She drives a 1995 Chevy Impala that she bought at a police auction, and like they do on one of her favorite shows, MTV's Pimp My Ride, she modified it, installing 20-inch Ice Metal chrome wheels, TV monitors in the headrests and a Pioneer DVD/stereo system in the dashboard. He dream is to restore a 1964 Impala.
* Outside of basketball, Seimone says her favorite sport is golf.
* Seimone says a funeral home is the strangest place she has ever played basketball.
* Seimone has unusually big feet. She wears a size 12 men's shoe.
* Seimone is a big music fan. Among her favorite artists are Erykah Badu, Master P and C-Murder. She also loves cartoons, including Cow and Chicken, Ed, Edd `n Eddy and Dexter's Laboratory.
* Seimone's mother, Kim, has kept all of her daughter's stats going back to middle school. She and Seimone's father have also been closely involved in her studies at LSU. One day during Seimone's junior year, they stayed on campus and accompanied her to every one of her classes.
* Seimone is a fashion design and merchandising major. She hopes to run her own clothing and apparel company some day. Seimone designed the dress she wore to her high school senior prom.
Read more
Latest headlines