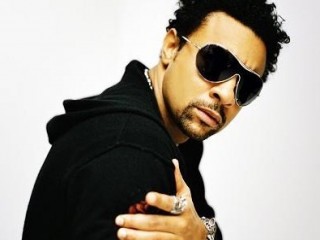 Shaggy biography
Date of birth : 1968-10-22
Date of death : -
Birthplace : Kingston, Jamaica
Nationality : Jamaican
Category : Arts and Entertainment
Last modified : 2012-01-31
Credited as : Reggae artist, rapper, Boombastic single
Orville Richard Burrell, better known by his stage name Shaggy, is a Jamaican-American reggae singer and rapper. He is perhaps best known for his 1995 single "Boombastic" and 2000 single "It Wasn't Me". He has been noted as having a baritone-range singing voice, and he is easily identifiable by his trademark slurred way of rapping and singing. He is said to have taken his nickname from his "shaggy" hair.
Shaggy earned his nickname from the animated Saturday morning show, Scooby Doo. Scooby's sidekick, "Shaggy," was the ever-hungry hippie on the show, and his friends thought it fitting for Burrell because of his unruly shock of hair. A cover of the reggae tune "Oh Carolina" in 1993 catapulted Shaggy to international fame, but subsequent success with the Grammy Award-winning album Boombastic in 1995 and multiplatinum Hot Shot in 2000--on which the hit single "It Wasn't Me" appears--established him as one of reggae's most popular artists.
Shaggy left his native Jamaica at age 18 to join his mother in the Flatbush section of Brooklyn, New York, where he soon found himself a place in the local New York reggae scene. While in high school, Shaggy would use his lunch break to recite lyrics and perform on the benches outside. Shaggy's recording career started at the age of 20, debuting with "Man A Mi Yard" and "Bullet Proof Buddy," followed by "Big Hood" and "Duppy Or Uglyman" for producer Lloyd "Spiderman" Campbell. But his musical career took a higher leap after he hooked up with New York's premier reggae radio DJ and producer, Sting (not to be confused with pop rock recording artist and former Police member). Shaggy cut "Mampie" with Sting, and the song rose to number one in the New York reggae charts along with his next single, "Big Up."
Shaggy's musical career was temporarily halted in 1988. After a difficult year trying to find work with a steady paycheck and wanting to escape the gun-to-your-head mentality of the streets of Brooklyn where the only work that could be found was illegal, Shaggy joined the United States Marines. He thought it was a way out of poverty and a vacation from the harsh streets of Brooklyn, but was misled and found himself in the middle of the Gulf War. He also found himself driving an armored HumVee tank through an Iraqi minefield.
When Shaggy returned from the Gulf War, he was stationed in Camp LeJeune, in North Carolina. While he had been in the Gulf, the New York street tunes he had first recorded made him a local star. Every weekend while he was on active duty, Shaggy made a pilgrimage, driving 18 hours to New York City to record his music. There, he would live the life of a star, but during the week, he was back on base with a mop and bucket, having misbehaved his way into various duties.
Success was right around the corner for Shaggy when in 1993 he released "Oh Carolina," a remake of an old Prince Buster classic. "Oh Carolina" became a surprise smash hit topping charts around the world. He became a world traveler and performed in a number of countries. He was also the first dancehall artist to perform in South Africa following the abolishment of apartheid. His 1993 debut album, Pure Pleasure, established Shaggy as one the most exciting new voices in the reggae movement. With the release of Boombastic in 1995, Shaggy's audience expanded across all formats.
The Grammy Award-winning album Boombastic derived its name from a Jamaican word meaning anything sensational. Since its release in July of 1995, it shattered barriers worldwide, taking reggae music to new heights on pop, rap, and R&B charts throughout the world and reaching platinum record sales in the United States. Boombastic took the 1995 Grammy Award for Best Reggae Album and dominated the top spot on Billboard's Reggae Album Chart, where it held the number-one slot for 30 consecutive weeks, making Boombastic the longest number-one reign in the chart's history. The title track of the album went platinum and emerged as one of 1995's biggest hits.
Shaggy's main critics are purists who question his brand of reggae music. But Shaggy replies, according to David Hiltbrand in TV Guide, "you have to bridge the gap to succeed in this game." Shaggy wants his music to be ecclectic and gets his reward from fans instead of critics. Shaggy also grew up listening to Jamaican radio where "anything goes." With that influence, Shaggy was exposed to all kinds of music. Plus, Shaggy sees music history as starting with reggae, and before that, with the drum and bass rhythms of African music. "If you want to live under the shadow of Bob Marley, be my ... guest, but I ain't doing that. I'm respecting that man's work, moving ... on and trying to do something, because it's a new generation we're working with right now," Shaggy told MTV.com.
After the slow-going 1997 release of Midnite Lover, his third album, Virgin stopped all support of the album, let sales drop, and let Shaggy go, a reaction Shaggy attributes to the fact that "most labels right now are not looking for career artists, in any genre," according to Mim Udovitch of Rolling Stone.
Shaggy wasn't throwing in the towel and spent much of three years concentrating on soundtracks, since he lacked a record deal. He contributed songs to soundtracks including Speed 2: Cruise Control, For Love of the Game, and "Luv Me Luv Me" with Janet Jackson for How Stella Got Her Groove Back. It was his contribution to this last soundtrack that got Shaggy noticed at MCA--and a new record contract. Even though he was looking for a contract with a small record company, Shaggy was impressed with the promotion he received at MCA and signed on.
Shaggy was being called a "has-been" when the unforeseen happened. After Hot Shot--Shaggy's 2000 release with MCA--stalled in the charts, a disc jockey in at KIKI-FM in Honolulu named Pablo Sato picked up the single "It Wasn't Me" on Napster. He began heavy rotation of the song, and it was an overnight hit in Hawaii. Before long, the deejay Tommy Austin from KKRZ in Portland was visiting Hawaii and noticed the reaction to the song, which he tried to duplicate in Oregon. It worked, and before long, audiences across the country were singing along--and buying the CD. Hot Shot suddenly shot up the Billboard chart to number three, along with "It Wasn't Me," which reached number one. The next popular single from the album was "Angel." Hot Shot had sold more than six million copies as of June 2001 and made Shaggy the first reggae artist to top the Billboard 200.
Shaggy soon had an appearance on NBC's Today Show and also played himself on the soap opera All My Children. He headlined at Walt Disney World Summer Jam Concert and Fox's Teenapalooza. Shaggy wants to continue making music, but he has hinted at a career in acting. He is also starting a label with MCA called Big Yard, which will feature reggae musicians. He said about the new label in an interview with MTV: "There are a lot of great acts in Jamaica ... [who] come out of there, and only do two or three songs. We need people to guide these young talents, to look at this as a career and not as a hustle." In 2001, the first two artists signed to Big Yard were RikRok and Ravyon, who toured with the Backstreet Boys.
Following the release of Clothes Drop, Shaggy began to increase his number of live performances. In March 2007, he performed the official song of the ICC Cricket World Cup 2007, entitled "The Game of Love and Unity", alongside Bajan entertainer Rupee and Trinidadian soca artiste Fay-Ann Lyons, at the opening ceremony of the tournament, held at The Greenfield Stadium, Trelawny, Jamaica. Later that year, he left Universal and released his latest album, Intoxication under his own label, Big Yard Records, with distribution rights by VP Records. In August 2007, he joined Cyndi Lauper live on stage in Singapore for the Sonnet Music Festival, where they performed "Girls Just Want To Have Fun" together.
In April 2008, Shaggy was chosen to record the official anthem for the Mascots (Trix and Flix) of the Euro 2008 football tournament held in Austria and Switzerland. The song, "Feel The Rush", topped charts in most of Europe. In June 2008, a live DVD of his concert material was released under the name "Shaggy - Live". In July 2008, he appeared on VH1's "I Love The New Millenium", talking about his video "It Wasn't Me".
In January 2010, "Rise Again", a track featuring Sean Paul, Sean Kingston, Alison Hinds, Shontelle Layne, Edwin Yearwood, Destra Garcia, David Rudder, KesDieffenthaller, Tessanne Chin, Etana & Belo, was released to support victims of the 2010 Haiti earthquake which struck on January 12. His collaboration with the Balkan group Sahara (consisting of the Romanian singer Costi Ioniţă and the Bulgarian singer Andrea) and French House DJ Bob Sinclar on a track entitled "I Wanna" was a commmercial success, released as a single in March 2010 throughout Europe. Shaggy later performed the track several times during Miami's Winter Music Conference in April 2010. In May 2010 he once again performed before Cricket Audiences at the ICC T20 World Championships, also providing between play performances.
In 2011 Shaggy released the official videos of For Your Eyez only along with hit singles Sweet Jamaica Ft Mr.Vegas and Josie Wales and Girlz Dem Luv We ft Mavado. In 2011, it was announced that Shaggy would release his first new album in four years. Preceded by the single "Champagne", featuring Sahara, the album was released digitally on January 19, 2011. Entitled Shaggy & Friends, the album features many collaborations, including songs with his long-time collaborators Rik Rok and Rayvon. A physical release of the album is expected on June 6, 2011. On 16 July 2011 he launched the album entitled Summer in Kingston which contains his single "Sugarcane". The album was launched at a free party in Kingston Jamaica. At the party Shaggy also released the video for sugarcane. The video was premiered globally on MTV.
Since its premiere the song has received heavy airplay on many radio stations across the world. Sugarcane went on to become the number 2 best selling reggae song on the Canadian iTunes chart and number 4 in the US. He has also collaborated with Apache Indian on his new album, Home Run, on a remix of Chokthere
Shaggy and the Egyptian star Tamer Hosny have made a song together called Smile. The music video was filmed in New York City and was released on January 7, 2012.
Studio albums:
1993: Pure Pleasure
1994: Original Doberman
1995: Boombastic
1997: Midnite Lover
2000: Hot Shot
2002: Lucky Day
2005: Clothes Drop
2007: Intoxication
2011: Shaggy & Friends
2011: Summer in Kingston
Read more
Latest headlines