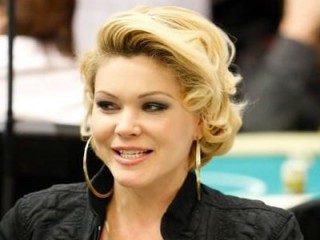 Shanna Moakler biography
Date of birth : 1975-03-28
Date of death : -
Birthplace : Providence, Rhode Island, U.S.
Nationality : American
Category : Arts and Entertainment
Last modified : 2022-03-28
Credited as : Actress and model, Miss USA 1995, E!'s Bridalplasty
Shanna Lynn Moakler
is an American model, actress, reality television star and a former beauty queen. She was the winner of the Miss New York USA pageant in 1995 and was originally the first runner-up at Miss USA 1995. She was later crowned Miss USA after Chelsi Smith won Miss Universe.
Moakler began modeling at age 15 and was later chosen as a Playmate of the Month for Playboy magazine in December 2001. She currently hosts E!'s Bridalplasty.
Moakler eventually branched out into an acting career, appearing as a regular for two seasons on the USA Network television series Pacific Blue in 1998, and in 2005 she starred as herself on the reality television series Meet the Barkers with her then husband Travis Barker, drummer in the rock band Blink-182. The series aired for two seasons on MTV. Moakler's private life has been much discussed in the media, including her relationship with rock singer Billy Idol, as well as her relationships with Olympic champion boxer Oscar de la Hoya and Hollywood actor Dennis Quaid.
Moakler currently serves as co-producer of the Miss California USA, Miss New Hampshire USA and Miss New York USA state pageants.
In 1995, Moakler was named Miss New York USA and represented New York in the Miss USA pageant, held that year in South Padre Island, Texas.Moakler finished second (to Miss Texas USA) in the preliminaries and in each of the interview and swimsuit divisions, with scores of 9.06, 9.62 and 9.61 respectively, and first in the evening gown competition, with a score of 9.86.Overall, Moakler was the first runner-up in the Miss USA Pageant.In May 1995, at the age of 20, Moakler received the 1995 Miss USA crown when the winner, Chelsi Smith, became Miss Universe.
Moakler enjoyed some aspects of her reign as Miss USA, such as celebrity pool tournaments. However, she has complained that the experience required her to "sign autographs at places like Bob's Home Furnishing Rentals." She was also forced to live with a pageant chaperone, who made sure she dressed and acted appropriately.
Moakler responded to the 2009 Miss USA gay marriage controversy by appearing in a public service announcement supporting efforts to overturn the result of California's Proposition 8. Following allegations that reigning Miss California USA Carrie Prejean had posed for risqué photos and violated terms of her contract, Donald Trump decided that there had been no breach and therefore declined to strip Prejean of her crown.Moakler then resigned as co-director for the pageant on May 13, 2009, stating "I cannot with a clear conscience move forward supporting and promoting the Miss Universe Organization when I no longer believe in it, or the contracts I signed committing myself as a youth." However, on November 13, 2009, it was announced that Moakler returned to the Miss California USA organization, around the same time Carrie Prejean was dethroned.
Moakler began her modeling career at the age of fifteen.She appeared in various publications, including such magazines as Cosmopolitan and Brentwood. She signed a contract with Playboy and in December 2001, was named Playmate of the Month. She has admitted that posing nude was "a little scary at first." Moakler's Playmate data sheet listed her measurements as: 34" bust, 24" waist, 34" hips, 5 feet 8 inches (1.73 m) tall and 117 pounds. She later appeared in a campaign for Cutty Sark that was photographed by David LaChapelle.
Moakler started her television career in 1996 with appearances on Lois & Clark: The New Adventures of Superman and Due South. Moakler then played Lisa in Friends 'Til the End, a 1997 NBC movie of the week starring Shannen Doherty. In 1998 she appeared on an episode of Timecop in the role of Allison Kendall.
Beginning in 1998, Moakler was a regular on the television drama Pacific Blue. The USA Network series featured a team of police officers who patrolled the beaches of Santa Monica, California on bicycles. In seasons four and five Moakler played Officer Monica Harper, described as the trouble-maker rookie. Moakler has admitted that, even equipped with a $5,000 Trek bike, she was somewhat accident-prone on the set, saying that when the cast had to "ride really close together for the camera" they would often "crash into each other like idiots and end up in a big ball of arms and legs."
Moakler was a celebrity contestant on Search Party, a game show on the E! network. The show filmed at exotic beach resort locations and required contestants to team up for competitions such as athletic events and scavenger hunts. Moakler appeared on three episodes in 1999 to 2000.
In 2003, Moakler appeared on Punk'd to help Ashton Kutcher and his crew set up her then-boyfriend Travis Barker. They punk'd Barker by having a waiter flirt excessively with Moakler while the couple were on a romantic date at a local restaurant. The episode originally aired on November 30, 2003.
In 2005, Moakler made a guest appearance as Mariska on the television program Joey, starring Matt LeBlanc and also made an appearance as Josie on the show Jake in Progress, featuring John Stamos. That same year, Moakler and her husband Barker starred in Meet the Barkers, a reality series for MTV that premiered April 6, 2005.
The series followed the couple throughout their daily activities. It covered the couple's wedding and their life as a family. The show continued for two seasons until February 2006.
Moakler and Barker appeared together in an episode of CSI: Crime Scene Investigation entitled "Poppin' Tags", which originally aired on April 13, 2006. She played a character named J-Lady, while Barker played a rapper involved in conflict with a rival rap artist.
Method Man also guest starred on the same episode.
Later that year, Moakler was featured on the third season of ABC's Dancing with the Stars, which premiered on September 12, 2006. She was eliminated in week two.
She guest starred on several more shows, such as HBO's Entourage, Telemundo's Mas Vale Tarde and as hostess for The CW's Crowned: The Mother of All Pageants. This particular show centered on mother and daughter pairs who competed for $100,000. On the 120th episode of NBC's Minute to Win It (aka The Last Beauty Standing) which aired just before the 2010 Miss Universe contest on August 23, 2010, Shanna was the Last Beauty Standing among 10 contestants and was the top winner with $100,000 for her charity .
In 1997, Moakler played Jaime in Poison Ivy: The New Seduction. The following year she appeared in the role of Cheryl Tangeray in Telling You. Moakler was then cast as an air-flight hostess during the final scene of the 1998 movie The Wedding Singer.
In 1999, she appeared as Tawny in the film Love Stinks. She also had roles in Critical Mass in 2000 and Pauly Shore Is Dead in 2003. Other film appearances included Seeing Other People in 2004 as Kasey and the part of Petra in Big Momma's House 2 which was released in 2006. She appeared as herself on VH1's I Love the New Millennium.
Moakler had a relationship with rock star Billy Idol in 1997. The couple appeared together in a scene of The Wedding Singer. Moakler has described Idol as a gentleman, but "not too sweet and sensitive."She also praised his intelligence and flair for history and philosophy.
Moakler started dating boxer Oscar de la Hoya in October 1997 and they moved in together in early 1998. Moakler and de la Hoya became engaged prior to the 1999 birth of their daughter, Atiana Cecilia de la Hoya (born March 29, 1999). Moakler has said "it wasn't a planned pregnancy, but it was understood if it happened it was beautiful and if it didn't that was fine too."
In September 2000, the relationship abruptly ended when Moakler, who was at home watching the Latin Grammy Awards on television, saw de la Hoya escorting another woman to the show. In December 2000, Moakler filed a $62.5 million palimony suit against her ex-fiancé, claiming he was an alcoholic, abusive to her and to their daughter, and that he used them "as props to promote his public image." The case was settled out of court in 2001 for an undisclosed amount.After the time of de la Hoya's split from Moakler, he had little contact with his daughter, although he continued to provide financial support.
Moakler began dating actor Dennis Quaid in 2001. They were together when she was approached by Playboy and they discussed it before she posed nude in the magazine.The relationship lasted for eight months.
Travis Barker, drummer for the bands Blink-182 and +44, and formerly of The Transplants and The Aquabats, proposed to Moakler in the elevator entrance to the Haunted Mansion ride at Disneyland. Barker paid off one of the ride operators so that the couple could have the space to themselves for a few minutes and then got down on one knee and proposed.
Moakler said yes, but she later surprised Barker with her own down-on-one-knee proposal and engagement ring for him. On October 30, 2004, they were married and have had two children together: a son Landon (born October 9, 2003) and a daughter Alabama (born December 24, 2005).
Barker filed for divorce from Moakler on August 8, 2006.
Eventually reports began to be circulated that Barker was seeing Paris Hilton. Tensions between Hilton and Moakler led to a confrontation at a Los Angeles nightclub (Hyde Lounge) in early October. Hilton and Moakler each accused the other of battery in separate complaints filed with the Los Angeles Police Department.
In November 2006, Moakler threw herself a "divorce party" in Las Vegas, complete with a divorce cake featuring a bloody groom and a blonde, knife-wielding bride. In response, Barker again posted a blog on his MySpace page, this time criticizing Moakler for throwing the party.
On April 1, 2009 representatives for both Barker and Moakler confirmed the couple had split. Eventually on April 21, 2009 representatives for Barker and Moakler confirmed the couple had split but would not exclude the possibility that the couple might reunite in the near future.
Read more
Latest headlines