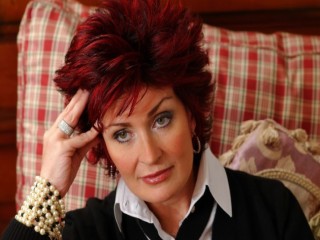 Sharon Osbourne biography
Date of birth : 1952-10-09
Date of death : -
Birthplace : Brixton, South London, England
Nationality : English
Category : Arts and Entertainment
Last modified : 2011-10-25
Credited as : The Osbournes, X Factor, The Talk
Sharon Rachel Osbourne is an English television host, author, music manager, businesswoman and promoter as well as the wife of heavy metal singer-songwriter Ozzy Osbourne.
She came into public prominence after appearing in The Osbournes, a reality television show that followed her family's daily routine. Osbourne later became a judge on the talent shows The X Factor and America's Got Talent. Her autobiography, Extreme, has sold in excess of two million copies.
After the success of The Osbournes and The X Factor, hosting her own chat shows and securing advertising contracts, Osbourne was ranked as the 25th richest woman in Britain on the 2009 Sunday Times Rich List.
Sharon and husband, Ozzy Osbourne, are currently ranked as the 724th richest people in Britain with an estimated joint wealth of £110 million.Their marriage has not been without its trouble or violence. During the early stages of their marriage, they were both fueled by alcohol and drugs and Sharon Osbourne was once arrested for drunk-driving.
The couple used to physically fight regularly and according to Sharon Osbourne they would "beat". She has described herself as "a beaten woman" when she was at the hands of husband Ozzy where he once knocked out her front teeth. She once retaliated by throwing a full bottle of scotch at his head. The most notorious incident arose in August 1989 when Ozzy was arrested for attempted murder after he had returned from a peace festival in Moscow and tried to strangle Sharon in a haze of alcohol and drugs. After the incident, he spent three months in rehabilitation as a result of his actions, after which time,
Sharon Osbourne said she regained her strength in their relationship and did not press charges.
Sharon Osbourne is credited with reviving her husband's heavy metal career by founding the summer Ozzfest tour.
She currently lives in California and is one of five co-hosts of the daytime series, The Talk, where she discusses controversial topics and contemporary issues. The Talk premiered on 18 October 2010. BBC announced she's expected to host a syndicated daytime version Who Wants To Be A Millionaire in 2012.
Sharon met future husband Ozzy Osbourne at the age of 18 while working for her father, Don Arden, who managed Black Sabbath. When Ozzy was fired from Black Sabbath in 1979, she took over his management from the Arden organisation and then started to date Ozzy. Sharon coordinated the recruitment of a technically gifted backing band (Randy Rhoads, Bob Daisley, and Lee Kerslake) for the recording of The Blizzard of Ozz and, by engaging proven songwriters, helped Ozzy launch what became a highly successful solo career. It was rumoured that Sharon employed some of her father's tactics where one promoter was kneed in the groin after failing to produce due payments, and that she single-handedly ruined a company's computer system after they sold illegal merchandise.
A series of high selling albums and world tours followed through the 1980s, eventually bringing about Ozzy's popularity. In 1996, Sharon created the Ozzfest summer touring festival. It went on to become a regular rock occasion and celebrated a 10th anniversary in 2006. By 2007, the ticket prices had reached £76 ($150) and Osbourne announced that the tickets would be free to allow more people the opportunity to attend the concert. Ozzfest grossed $20 million each year and is credited with launching the careers of Limp Bizkit, Otep and Slipknot.
Prior to the founding of Ozzfest, Sharon approached Lollapalooza, another rock festival, to request that Ozzy play at that year's festival, only to be rejected and told that Ozzy was "uncool" and too drugged up. It was then that she decided to launch her own festival. Controversy ensued when she pulled the plug on Iron Maiden's set three times in one performance. She also harrassed the singer, Bruce Dickinson and threw eggs at the band.
In light of her success managing Ozzy, Sharon branched out into managing other acts by creating Sharon Osbourne Management. The new company, with Sharon as its sole employee, managed artists such as Lita Ford, Coal Chamber, The Smashing Pumpkins,Motörhead, and Gary Moore. She co-managed a band called Cube, with Cud guitarist Mike Dunphy. Cube were signed to Polydor Records but had limited success. She has also turned down career guidance requests from Fred Durst, Guns N' Roses, and Courtney Love.
Osbourne gained celebrity status as one of the stars of MTV's reality show, The Osbournes, which followed her family's daily life and had a national audience. As the person who negotiated with MTV to screen the show, she is often credited with bringing about her husband's emergence from heavy metal icon into mainstream celebrity. The show began airing in early 2002, and when, in July 2002, Osbourne was diagnosed with cancer, she insisted that filming should continue. The final episode of the show aired in the US on 21 March 2005. MTV's British affiliate has been airing the show since 2003. The show brought MTV its highest ratings ever in both America and Britain.
The Osbournes' Beverly Hills home (made famous on the show) has since been sold and the Osbournes have taken up residence in another home in Beverly Hills. Her Beverly Hills home was later seen in The X Factor during series two. The show saw that Osbourne was responsible for the livelihood of 12 dogs and employs a dog walker named Cherie. From the mid 1990s until the end of The Osbournes in 2005, she was primarily based in Los Angeles with the rest of her family. Osbourne earned an estimated £11.5 million from The Osbournes.
In 2003 Osbourne became the host of her own television talk show, The Sharon Osbourne Show, which was syndicated to various US channels and also shown in the UK on Sky One. The show was meant to be a reflection of her personality and home life – similar to her reality show but with the inclusion of guest interviews and performances. During the episodes, she conducted some of her interviews on a giant bed.
However, the ratings were never successful and critics panned her inability to perform the basic tasks required of a talk show host, such as reading cue cards and conducting interviews. The show was cancelled in early 2004 after one season.
Osbourne was a judge and mentor on the UK's The X Factor every year, from 2004 through to 2007. In the first series she mentored the 16–24s and chose Roberta Howett, Cassie Compton and Tabby Callaghan to represent her in the live rounds of the show. The best placed of these was Tabby, who finished third overall. The final was contested between Simon Cowell's act Steve Brookstein and Louis Walsh's act G4, with Steve winning. Osbourne's outburst against Steve on the night of the final is widely credited with helping him to win, although according to her autobiography he was well ahead at all stages of the voting.
During an interview on Piers Morgan's Life Stories, broadcast on 22 February 2009, Osbourne admitted that the reason for her departure from The X Factor was her relationship with Dannii Minogue.
She stated "I didn't enjoy working with her at all and didn't fancy the prospect of spending six months sitting next to her."
In September 2010 Osbourne made a return to The X Factor at the Judges' Houses round of series 7 where she assisted Louis Walsh pick the 3 contestants that will continue to the live rounds in the Over 28s category.
Osbourne joined the judging panel on the second season of America's Got Talent, along with Piers Morgan and David Hasselhoff, replacing the singer Brandy.
The season premiered in the United States on 5 June 2007. In her first episode, Osbourne came into a conflict with Piers Morgan when she felt he judged a child contestant too harshly. She threatened to leave the show in the middle of filming, saying "I didn't sign up for this", but was talked out of it. The incident was shown on air.Osbourne has since stayed with the show for its third, fourth, fifth, and sixth seasons.
Sharon hosted the second season of Rock of Love: Charm School with co-hosts Riki Rachtman and Daniella Clarke on VH1. Sharon had a physical altercation on 13 December 2008 with contestant Megan Hauserman on the reunion special for the show after Megan made derogatory statements about Sharon's husband, Ozzy. Hauserman reportedly filed a report with the Los Angeles Police Department and has since filed a lawsuit against Osbourne, claiming battery, negligence and infliction of emotional distress.
In July 2008 Fox announced that the Osbourne family would be hosting a new variety show titled Osbournes: Reloaded (working title was Osbournes: Loud and Dangerous).
The show started filming at CBS Studios in Hollywood in December 2008 before a live audience. The show premiered in March 2009. Fremantle Media North America is producing the show. The show was cancelled after its premiere episode.
Sharon Osbourne cohosts The Talk, which is a talk show that premiered 18 October 2010. This decision came after CBS cancelled the soap opera As The World Turns. She, as well as Julie Chen, Sara Gilbert, are a panel of mothers. The show is similar to The View and seeks to address motherhood and other contemporary issues.
In July 2011 Osbourne and some of her fellow "The Talk" panelists were criticised for their conduct when discussing the story of Catherine Kieu. Osbourne described Kieu's cutting off of her husband's penis and then throwing it in the garbage disposal as "quite fabulous", also laughing about the crime along with a number of other panelists. On 19th July Osbourne discussed her behavior, stating she was "sorry that she offended people" and that she did "not condone genital mutilation".
Sharon Osbourne's first autobiography, Extreme (co-authored by Penelope Dening), was published in October 2005 and tells of her difficult childhood growing up with her father, Don Arden, and also documents the highs and lows of her marriage to husband Ozzy Osbourne, shedding light on areas of her life previously not commented on. Domestic violence, drug abuse, alcoholism, affairs, bribery, colon cancer, robberies, a plane crash, therapy, and cosmetic surgery are also documented in the autobiography.
Published by Time WarnerBooks, it went straight to Number 1 on the Sunday Times Bestseller List (UK) where it remained for 15 weeks and sold over 621,000 copies in hardback, becoming the biggest-selling autobiography since British records began, beating the previous record set by David Beckham's autobiography by 100,000 copies. "Both the heroic vulgarity and the love are vividly captured in this pungent and distinctive autobiography," opined the Sunday Times, whilst the Irish Times considered it to be "truly unputdownable".
In March 2006 it won Biography of the Year at the British Book Awards. The autobiography has proceeded to sell in excess of two million copies which has become the most successful female autobiography ever.
On the Sunday Times Rich List 2006, Osbourne was listed as the 44th richest woman in Britain and the 60th richest woman on the 2007 list. In the overall British list in 2006, Sharon and Ozzy Osbourne appeared together as the 554th richest people with a combined wealth of £100 million. They are currently ranked as the 700th richest people in Britain maintaining the previous wealth estimate of £100 million.
Read more
Latest headlines