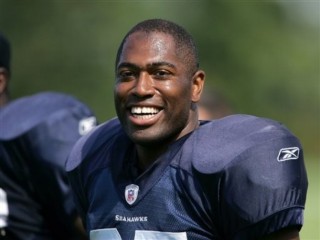 Shaun Alexander biography
Date of birth : 1977-08-30
Date of death : -
Birthplace : Florence, Kentucky, U.S.
Nationality : American
Category : Sports
Last modified : 2010-08-06
Credited as : Football player NFl, currently plays for the Seattle Seahawks ,
For the better part of five years, the only people clued in to Shaun Alexander were fantasy football owners. That finally changed in 2005, when the Seattle superstar smashed the NFL record for touchdowns, elevated the Seahawks to Super Bowl contender status, and won the league's MVP award. WHile this made Shaun easier for fans to find, tacklers are still trying to figure out how he does what he does. The flat-footed tailback has a curious way of vanishing behind his blockers and then somehow reappearing on the other side of the line. What really drives opponents crazy about Shaun, however, is that the harder you hit him, the wider he smiles.
GROWING UP
Shaun Alexander
was born on August 30, 1977, in Florence, Kentucky to Carol and Curtis Alexander. Shaun grew up in the shadow of his brother, Durran. A year older, Durran was the best athlete in the neighborhood, and just about the smartest kid in his class. When Shaun told a joke, people smiled; when Durran told a joke, people asked him to tell it again and again. After a while, Shaun—a good-natured, intelligent child—made peace with his situation and simply got used to playing second fiddle.
Shaun had a great relationship with Durran, and managed to thrive as the brother of Mr. Perfect. A superb student, Shaun did not miss a single day of elementary school or high school. No matter how much he had to do or think about, he always wanted to do more. He loaded his schedule with sports and clubs and special projects to keep from being bored. Church life also took up a good deal of his time. The Alexander family began going to church regularly around the time Shaun turned 10. He has been a deeply spiritual person ever since, and is extremely involved with the church on a national level.
By his 10th birthday, Shaun had found his gridiron calling, too. Initially, he was just happy to play football with Durran when he joined a local Pee Wee league, but after returning two kickoffs for TDs—and enjoying the attention he received for it—he decided to switch from defense to a position that would give him the best chance of seeing the end zone: running back.
Shaun's dad believed in rewarding good performances, plying his sons with ice cream and candy. The more they scored, the more junk food he bought them. Shaun still has a problem with sweets, which probably dates back to his early football success.
Shaun grew up a Cincinnati Bengals fan. A friend's father had season tickets, so he got to attend a number of games. His favorite player was Boomer Esiason. He went crazy when Ickey Woods did his famous shuffle and Larry Kinnebrew spun the ball in the end zone after touchdowns. He couldn't believe it when the Bengals reached the Super Bowl and almost beat the San Francisco 49ers in 1988.
In 1991, Shaun enrolled at Boone County High School. Durran was already on the football team, though his interest was turning more to schoolwork than sports. Shaun played JV ball as a freshman and was voted class president—as he would be each of his four years at Boone. He longed to suit up for Owen Hauck's varsity, which often drew 10,000 or more fans to their games. He made the team as a sophomore, and began the year as the back-up running back. By mid-season, he showed enough to become the school's featured runner. He rushed for more than 1,000 yards and scored 14 touchdowns.
Shaun was not a big kid, so he looked at some of the smaller backs in the NFL and tried to combine their styles. From Marcus Allen, he learned how to avoid the full impact of a hard tackle. From Barry Sanders, he learned how to stop, go, and make razor-sharp cuts. And from Emmitt Smith, he learned to hide behind his blockers until a hole opened up.
Shaun was nearly unstoppable as a junior in 1993. He ran for 2,396 yards, posted 42 touchdowns and led the team to the state semifinals. He also made Sports Iluustrated's "Faces in the Crowd." His best game came against Campbell County, as he scored seven touchdowns. It was payback for the previous season, when he got cracked under the chin and received a scar he still bears today.
After the season, the family got more good news. Durran was offered a scholarship to Notre Dame. An academic scholarship.
The 1994 season put Shaun on a whole new level. He finished his senior year with 3,166 yards and set a state record with 54 touchdowns. He was named Kentucky's "Mr. Foootball." In three varsity seasons, he amassed 6,657 rushing yards and 110 touchdowns—both in the Top 10 prep totals of all-time.
ON THE RISE
A number of colleges recruited Shaun, though many were scared off by his size and what they considered to be a lack of speed. Alabama coach Gene Stallings thought Shaun had the makings of an All-American, and loved his personality. The teenager accepted a scholarship to Tuscaloosa and agreed to red-shirt the 1995 season.
Shaun's intellect was sparked by his college classes, but his body took a beating in practice. He had never endured such physical brutality—in fact, he had not even practiced very hard in high school—and now secretly wondered how he would fare in actual game action. By the time he got a chance in 1996, Shaun had increased his strength dramatically, upping his bench press by 60 pounds to 310.
Shaun started the season as Alabama's third-string back, behind Curtis Alexander and Dennis Riddle. His first game was against Bowling Green, with his mom and dad in the stands. He got six carries and gained 19 yards in a 21-7 victory. Shaun's breakthourgh came against LSU. He went in midway through the first half and rewrote the record books with 291 yards and four touchdowns. That accounted for almost exactly half of his stats in '96, as he finished with 589 yards on just 77 carries (along with six touchdowns).
Despite the fact that he was still technically a reserve, from the LSU game on, Shaun could not go anywhere in Tuscaloosa without drawing a mob. To this day, when he returns to campus, he is besieged by autograph seekers.
Shaun sophomore year saw him back on the bench. He played in nine games for the Crimson Tide, running for 415 yards on 90 carries. It was a lost season for everyone. The school was on probation for a multitude of violations, and went 4-7. Even so, the stadium was packed every Saturday when the Tide took the field.
Finally, in 1998, Shaun was anointed the starting tailback. He ran for 1,178 yards and 13 touchdowns, and was an All-SEC pick. He recorded his best game against Vanderbilt, when he racked up 206 yards and three touchdowns.
Alabama has not had many Heisman Trophy candidates over the years, but Shaun was definitely on the radar heading into 1999. In fact, the school launched a Heisman campaign for him—the first time the it had ever done this for a player.
Shaun finished his senior year with an SEC-record 19 touchdowns and 1,383 rushing yards to become the school's all-time leader with 3,656. He was also named SEC Player of the Year, and received second team All-America honors. In all, Shaun scored 50 touchdowns for the Tide during his college career—nine in the air and 41 on the ground.
Alabama won the SEC championship, but lost in OT to Michigan in the Orange Bowl. Shan rumbled through the Wolverine defense for 161 yards and three touchdowns. The Tide finished the year ranked number three, and many experts believe they would have won the national championship if given the chance.
Shaun's great senior season—in fact, his whole 'Bama career—was just what the school needed. He singlehandedly revived a devastated program. Alabama, once the pride of Southern football, had become the shame of the South—a crooked program full of excesses, an ad for everything wrong with big-time college football. Shaun's performance, his honesty, and his smile restored the program to its previous luster. From probation to a #3 in just two seasons still ranks as one of the most impressive turnarounds in NCAA history.
As far as Alabama fans were concerned, Shaun was now a football God.
The talent evaluators at the NFL combine, however, were not among the converted. Though it was hard to ignore what Shaun had accomplished in college, it was just as hard to ignore the 4.65 he ran in the 40 when the scouts had their stopwatches out. Just as Heisman Trophy winner Ron Dayne was projected as an NFL backup, some predicted the same fate for Shaun.
In the hours before the draft, Shaun looked at the other backs available and figured he would be the third to go, after Jamal Lewis and Thomas Jones. He looked at the teams drafting backs, and figured that he would be a New York Giant. When they used their pick on Dayne instead, Shaun began hearing rumors that Cincinnati might be trading disgruntled Corey Dillon to the Kansas City Chiefs for their 21st pick, which they would then use to draft Shaun. A Bengal—man, what a stroke of luck that would be.
The dream evaporated, however, when Seattle took him at 19. The Seahawks were not in the market for a runner, as they had Ricky Watters, but when Shaun was still on the board, they simply could not pass.
Shaun knew little about Seattle. But if he was looking for a sign, he got it during the first party he attended after signing with the Seahawks. That's where he met his future wife, Valerie. She was the roommate of the girlfriend of the teammate hosting the party.
Valerie asked Shaun to come watch her sister run in a college track meet the next day. He agreed, but was worried about the commotion his presence would cause. If strolling around a mall in Tuscaloosa was impossible, he could not even imagine how bad it would be in the pros.
To Shaun's amazement, he was completely unrecognized and totally ignored. When he told Valerie he basically hadn't been out in public in three years, she did not understand. She thought he was trying to impress her. Not until they returned to Alabama as a couple did Valerie get it—Shaun was a rock star who required a police escort just to survive a walk across campus.
Shaun was slated to spend his rookie year learning from Watters, one of the NFL's top runners, and a well-known ironman. Coach Mike Holmgren used Shaun primarily as a short-yardage back. Third-and-one and fourth-and-one running is a combination of talent and raw emotion—an unwillingness to be stopped no matter when and how hard you're hit. Shaun excelled in this role, but he could not grow accustomed to the indifferent treatment he was getting from Holmgren. He was used to being the center of attention, the star.
Part of the problem was that Shaun just didn't seem to have the killer instinct. Watters was a bundle of anger when he played. Shaun smiled all the time, a trait NFL coaches don't normally trust. He was having too much fun in practice and during games. In hindsight, perhaps the Seahawks should have played him more often. After winning the AFC West in 1999, Seattle finished fourth at 6-10.
MAKING HIS MARK
Shaun began his second NFL season as a backup, but that didn't last long. Watters began to show his age, missing more than half the year with shoulder and ankle injuries. It took the Seahawks time to adjust to their new starter. Watters's forte was hitting holes quickly and powering through the line. Shaun preferred to glide along the line, analyze the play, wait for his blocks to set up and then either turn upfield, cut back or try to make it around the corner.
In a November game against the Oakland Raiders, Shaun gained 266 yards. Because the Seahawks did not sell out their games, his feat was blacked out in Seattle. The next day, he remained unknown in his home city.
Shaun finished the 2001 season with 1,318 yards in 12 starts. He led all non-kickers in the AFC with 96 points, and topped the NFL with 14 rushing touchdowns. The Seahawks improved to 9-7, but were edged by the Cleveland Browns for the last playoff spot.
After his breakthrough season, Shaun was approached by Fox Sports Northwest to host a half-hour show called "Shaun Alexander Live." The program often poked fun at Shaun's anonymity in Seattle. In one memorable segment, he posed as a waiter at the International House of Pancakes, which was running a Shaun Alexander Grand Slam Breakfast Special. Not only did Shaun take orders, there was a tent card on the table with his picture. No one noticed he was the waiter.
Shaun married Valerie in April of 2002, then began preparing for his first full season as a starter. The team started slowly and so did Shaun, gaining just over 100 yards total in the first three games. Injuries to both starting tackles stalled the offensive line, but Shaun refused to use this as an excuse. In the season's fourth game, against the Minnesota Vikings, Shaun ran wild, scoring five touchdowns in the first half. It marked the first time in NFL history anyone had accomplished this feat.
With the realignment of the divisions in the NFL, the Seahawks agreed to transfer to the NFC West, where they now had to contend with the St. Louis Rams and San Francisco 49ers. They finished 7-9, with Shaun going for 1,175 yards and leading the NFC with 16 rushing touchdowns. He also caught 59 passes.
The 2003 season brought Shaun and Valerie their first child, a daughter named Heaven. She was born on September 21, just before kickoff for a game with the Rams. Shaun attended the birth, cut the cord, then raced to the stadium, arriving in the second quarter to a standing ovation. The Seahwaks won, 24-23.
With young Matt Hasselbeck establishing himself as a quality QB, and the receiving duo of Koren Robinson and Darrell Jackson combining for more than 2,000 yards, the Seattle attack was more than just the Shaun Alexander show. The team started strong, winning five of its first six and finishing with a 10-6 record, good enough for a Wild Card berth. For Shaun, '03 was his best year yet. He ran for 1,435 yards, caught 42 passes, and hit paydirt 16 times.
Seattle's playoff game against the Green Bay Packers at frigid Lambeau Field was a barn-burner, with Shaun scoring three touchdowns, including one with 51 seconds left to tie the score 27-27. Green Bay missed a field goal to win, and the contest went into overtime. On Seattle's second possession in OT, Hasselbeck—who had been almost perfect all day—panicked under a Green Bay blitz and Al Harris picked off his pass and ran it in for the winning score.
During the off-season, Shaun met some friends of Herschel Walker's at a charity golf event. They told him about Walker's insane push-up and sit-up routines, and a light went on in Shaun's head. In no time, he had hired a personal trainer and was doing up to eight sets of 100 of each every day. His core strength dramatically improved, Shaun entered training camp in the summer of 2004 feeling like a completely different player.
And he was. Shaun had his finest season as a pro, topping the 100-yard mark seven times. In a three-game stretch at mid-season, he ran for 195, 160 and 176 yards, and scored three TDs in each contest.
In the final game of the season, against the Atlanta Falcons, Seattle eked out a 28-26 win to capture the NFC West title at 9-7. There was jubilation in the locker room, but not in front of Shaun's locker. Late in the game, with the ball on the 1-yard-line, Hasselbeck called his own number on a sneak and scored the ventual winning touchdown. Atlanta ate up the rest of the clock on a long touchdown drive, so Shaun never got the ball again.
That yard ended up costing Shaun a share of the NFL rushing title, as Curtis Martin ran for 153 yards to finish first, 1697 to 1696. Though he still led the NFC in yardage and was the NFL TD champ with 20, he was livid, claiming his team had "stabbed him in the back." Though he apologized the next day, a week later no one in Seattle was smiling. When Bobby Engram dropped a Hasselbeck pass in the end zone with a few seconds left against the Rams, the Seahawks completed an awful collapse, falling to St. Louis in the first round of the playoffs, 27-20.
Seattle sports fans are a funny breed. When a player of exceptional talent comes to town, they often are divided on whether to love him or hate him. For some reason, Shaun had engendered this kind of response, and with his ill-timed "back-stabbing" comments, things only heated up more.
Shaun's fans pointed at the numbers, which spoke for themselves. He was the only player in the league to score 15 TDs in four straight seasons, and had topped 1,000 yards every year he had been a starter. And not only was Shaun an elite-level NFL running back, he was also a good guy in the community. His foes criticized him for sliding under hits, pass-blocking indifferently, and failing to develop his receiving skills. Shaun would soon become a free agent, and fans were split over whether the team should offer him the big money it would take to re-sign him.
The Seahawks made Shaun their franchise player in 2005, and inked him to a $6.3 million deal, avoiding a possible holdout scenario. In return, Shaun asked that they write into his contract that they could not franchise him again for 2006—essentially guaranteeing that he would be an unrestricted free agent after the season at age 29. It turned out to be a brilliant move.
Seattle returned with the same basic cast of characters from '05, adding solid possession receivers Joe Jurevicius and Jerome Pathon to give Hasselbeck more reliable targets. With the Seahawks more dangerous in the passing game, this figured to open up more space for Shaun. Holmgren's overall goal was to tighten up the defense, win the division, and make up for the two recent shattering post-season losses.
Shaun certainly did his part. Through Thanksgiving, he was literally running away with the NFL rushing title, and had an outside shot to be the first player to score 30 touchdowns. Holmgren was calling great games, Hasselbeck was executing masterfully, fullback Mack Strong was blocking like a Mack Truck, and the defense was keeping the offense on the field for more than 35 minutes a game.
And suddenly, Shaun became the best known—and best loved!—athlete is Seattle. Ironically, Seahawk fans finally caught on to their great back just as his contract was running out. The days when Shaun could walk the streets unnoticed were gone.
But the focus for the team was still on 2005. Seattle finished strong, winning the NFC West with a 13-3 record that earned them a week of rest in the post-season. Shaun finished the year with 1,880 yards, and broke Priest Holmes's record with 28 rushing touchdowns. During the bye week, Shaun was named the NFL's Most Valuable Player, outdistancing Peyton Manning, Tom Brady, Tiki Barber and Carson Palmer, all of whom received first-place votes.
The Seahawks took on the Washington Redskins in their first playoff game, needing just two victories to reach the Super Bowl. Midway through the fourth quarter, Shaun got his bell rung and for a few minutes did not know where he was. Watching a player previously assumed to be indestructible being helped to the sidelines shook up everyone on the field, including several Washington players, who patted him on the back after he got to his feet.
Shaun regained his senses, but Holmgren decided to keep him out of the game. Maurice Morris did a good job in his place, the defense was superb once again, and the Seahawks survived, 20-10. It gave the team and the fans a huge boost to know they could win without the league MVP in their lineup, and by the time everyone was doing post-games, it was announced that Shaun would likely be ready for the NFC Championship against the Carolina Panthers.
Against Carolina, Shaun was solid, and that was all the Seahawks needed. Seattle stormed to an early lead after intercepting a pair of passes by Jake Delhomme. From there, Holmgren mixed his play calling well, not content to let his troops get complacent. Shaun ran for 132 yards and two scores, while Hasselbeck threw for more than 200 yards and a pair of TDs. The Seahawks cruised to a 34-14 victory and their first trip to the Super Bowl in franchise history.
Shaun is now the first name of the lips of nearly every football fan and prognosticator when the league's top running backs are discussed. He can add to his fame—and his bank account—with a big performance against the Pittsburgh Steelers in Super Bowl XL. By then, the Seattle faithful will be wondering why it took them so long to recognize one of the game's most explosive talents and charming personalities.
SHAUN THE PLAYER
Shaun understands what's happening on a football field as well as any back in the NFL. He anticipates blocks, analyzes defenses, and can sense a defensive trap developing before the ball is snapped. Shaun prides himself in having a response to anything he encounters, often in the blink of an eye.
This is one of the ways Shaun has been able to do something very difficult for featured backs in the NFL—avoid big hits. Until his concussion in the 2005 playoffs, he had never come off the field because of a hard tackle. Going back to college, he has instinctively known how to protect himself, by leaning, sliding, ducking, coiling—and sometimes by smashing the other guy before he gets his shot in.
Shaun's exceptional balance comes from the fact that he plants his feet when he runs instead of bouncing around on his toes, like other backs. This sometimes makes it seem as if he is plodding along when he is really moving fast. In a '05 game against the Arizona Cardinals, he took a handoff through the line on the left, then cut right and flat outran three defensive backs for an 88-yard score. There is no way to fake that kind of speed.
Shaun may never be much of a pass catcher, but he never really saw himself as the next Marshall Faulk. Tony Dorsett is probably a closer match. In recent seasons, Shaun has become a more enthusiastic pass blocker, and he is an absolute terror in third-and-short situations, harkening back to his rookie year.
EXTRA
* In 1994, Shaun had the ninth most rushing yards among the nation's prep players.
* Shaun was a Parade and USA Today All-American in high school. His nickname was "Mr. Touchdown."
* Shaun's 15 100-yard games at Alabama set a school record.
* Shaun had a teammate at Alabama named Shawn Alexander. He was a 6-3 defensive tackle.
* Shaun's second-place finish in the 2004 NFL rushing race was the closest since 1943, when Jack Hinkle lost to Bill Paschal, 572 yards to 571.
* In 2004, Shaun became the third Seahawk to lead the conference in rushing. Curt Warner and Chris Warren did it before him. In 2005, he was the first player in Seattle history to win the NFL crown.
* In 2005, Shaun became the first back in league history to score 15-plus TD's in five consecutive seasons.
* Shaun and Valerie had their second daughter, Trinity, in the summer of 2005.
* Shaun's favorite Bible verse is Psalms 37—the same as his number. He signs the psalm number with every autograph.
* Shaun eats spaghetti the night before every game.
* Shaun favorite movie is Coming to America. He has memorized all of Eddie Murphy's lines.
* Until recently, Shaun would tire out on long runs. He finally figured out why—he was holding his breath!
* Shaun graduated from Alabama with a degree in Marketing, and was on his way to a second degree in Advertising.
* After each season, Shaun hits the film room and analyzes every running play for the year.
* Shaun's charity, the Shaun Alexander Family Foundation, helps needy families in three states.
* In 2002, Shaun co-hosted a TV Christmas Special with long-snapper Jean-Phillipe Darche.
* Shaun was the lead-in speaker for Billy Graham's final sermon in Cincinnati, in front of 65,000 people at Paul Brown Stadium.
Read more
Latest headlines