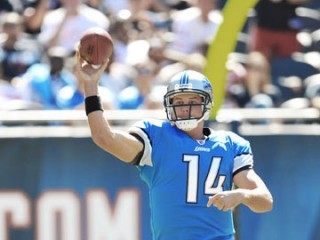 Shaun Hill biography
Date of birth : 1980-01-09
Date of death : -
Birthplace : Parsons, Kansas
Nationality : American
Category : Sports
Last modified : 2010-12-13
Credited as : Football player NFL, quarterback for the Detroit Lions, Pro Bowl/NFL Draft player
* Acquired by the Detroit Lions via trade from the San Francisco 49ers March 16, 2010.
* Signed by the 49ers as an unrestricted free agent June 2, 2006.
* Signed as an undrafted rookie free agent with the Minnesota Vikings April 25, 2002.
PRO:
As a proven, veteran quarterback, Hill adds valuable depth to the team's quarterback position. Has a 11-13 record as a starter (8-3 at home).
* Through his first 16 career starts (10-6), his career .625 winning pct. as a starter is the fourth-highest winning percentage among all undrafted quarterbacks since 1970 (min. 10 starts). All 16 starts at quarterback occurred while with the San Francisco 49ers (2006-09) and winning percentage (.625) is the third highest winning percentage in 49ers history.
* In his first NFL start, he set a record for the highest completion percentage in NFL history for a player making his first pass attempts.
* Originally entered the league as an undrafted rookie free agent in 2002 with Minnesota where he served primarily as the team's third quarterback from 2002-05.
* While with Minnesota, he worked with Lions Offense Coordinator Scott Linehan (2002-04) who served in the same role for the Vikings.
* Hill earned NFC Offensive Player of the Week for his performance vs. St. Louis (11/16/08), where he became the first 49ers quarterback to post a perfect QB rating in the first half.
* Loves to fish. Quarterback started reeling in fish inhabiting farm ponds in his home state of Missouri during high school. When he lived in Minnesota as a member of the Vikings, Shaun caught a 30-inch, 9-pound walleye on his first trip out. He was able to lure the fish using a leech for bait 40-feet deep. Also in his fishing repertoire is a 48-inch muskie.
* Shaun owns all of the weightlifting records for quarterbacks at Maryland - power clean (303 lbs), bench press (320 lbs), and squat (500 lbs).
* Has supported the Muscular Dystrophy Association.
* Hosts annual fundraising golf tournament at high school alma mater to benefit booster club.
* Hosts annual football camp in conjunction with the Parsons Police Football League.
* Being from Kansas, Hill grew up a big fan of the Kansas City Chiefs and enjoyed watching QB Joe Montana.
* Favorite TV shows: the Office, Entourage and Dexter. Favorite entertainers: Garth Brooks, George Strait and Alan Jackson. Favorite movie: Shawshank Redemption.
2010: Serves as the team's back-up quarterback. Has completed 215-of-351 passes (61.3 pct) on the year for 2,206 yards and 13 touchdowns.
* Came in during the third quarter in season opener at Chicago (9/12) after QB Matthew Stafford had to leave the game with a shoulder injury. Finished with 9 of 19 pass completions for 88 yards and an interception.
* Started in place of an injured Matthew Stafford and connected on 25 of 45 pass attempts for a career-high 335 yards, including a long of 75 on a screen pass to RB Jahvid Best for a touchdown vs. Philadelphia (9/19). The 75-yard pass was the longest of Hill's career.
* At Minnesota (9/26), Hill completed 67.4-percent of his passes (29-of-43) for 237 yards and a touchdown. His 5-yard touchdown pass to TE Tony Scheffler in the first quarter gave Detroit a 7-0 lead.
* At Green Bay (10/3), completed 34 of 54 for 331 yards and two touchdowns. Hill's 237 passing yards in the first half are the most he has thrown for in the first two quarters of a game in his career, and the 34 completions and 54 attempts were both career highs for in a game.
* Hill completed 21-of-32 passes for 227 yards and three touchdowns against St. Louis (10/10). His passing rating on the day was 117.6. His passer rating was the second highest of his career, second only to his 142.3 rating vs. St. Louis (11/16/08).
* The 117.6 rating was the highest by a Lions' quarterback since QB Jon Kitna registered 137.3 vs. Chicago (9/30/07). It was also the highest rating by a Lions quarterback with 30 passing attempts since QB Joey Harrington recorded a rating of 121.8 vs. Arizona (11/13/05).
* When Hill connected with WR Nate Burleson on a 26-yard touchdown pass in the third quarter against the Rams, it was Hill's third touchdown pass of the game, which is the most he's thrown for since joining the Lions and it ties his career high (3 vs. Tampa Bay 10/23/07).
* Left game in second quarter at the New York Giants (10/17) with broken arm. Threw one touchdown to Nate Burleson for a 14-yard score in the first quarter.
* Listed as inactive against Washington (10/31) after breaking forearm in game at the New York Giants (10/17).
* Listed as team's third quarterback against the New York Jets (11/7).
* Was 29-of-50 for 323 yards at Buffalo (11/14). Threw touchdown pass to Calvin Johnson 0:14 seconds left in the game to bring Lions within two points. Surpassed the 300-yard mark in passing which was Hill's fourth career 300-yard passing game and the third highest tally this season in his six starts.
* Threw for 289 yards passing and was 32-of-47 with two touchdowns at Dallas (11/21).
* Completed 27-of-46 passes for 285 yards against New England. Connected with Calvin Johnson for a 19-yard score at the end of the first quarter.
* Inactive against Chicago (12/5).
2009: Started the first six games of the season for the 49ers and was 87-of-155 for 943 yards, 5 touchdowns and 2 interceptions.
* Connected with TE Vernon Davis on 2 touchdown passes, including a 20-yard, go-ahead score midway through the 4th quarter, at Minnesota (9/27).
* Threw 2 touchdown passes and posted a 104.9 QB rating vs. St. Louis (10/4).
* Set a new career long with a 61-yard completion to WR Josh Morgan vs. Atlanta (10/11). Also rushed for a career-high 53 yards.
2008: Named starter midway through season and compiled a 5-3 record, completing 181-of-288 passes for 2,046 yards with 13 touchdowns and 8 interceptions for a QB rating of 87.5. Also added 24 carries for 115 yards and 2 touchdowns.
* Made first start of season at Arizona (11/10) and completed 19 of 40 passes for 217 yards with 2 touchdowns and 2 interceptions.
* Named NFC Offensive Player of the Week after recording a career-high 142.3 QB rating on 15 of 20 passes for 213 yards with 2 touchdowns vs. St. Louis (11/16). Also scored on a 3-yard rush in 2nd qtr. Became first 49ers starting quarterback to post a perfect QB rating of 158.3 in the first half. The previous best was Steve Young's 156.5 rating vs. NO (9/14/97).
* Registered a career-high 303 passing yards on 21 of 33 passing with 2 touchdowns and 1 interception for a QB rating of 100.9 at Dallas (11/23).
* Completed 28 of 39 passes for 285 yards with 2 touchdowns and 1 interception for a QB rating of 98.8 vs. NYJ (12/7). Connected on passes to 10 different receivers.
* Orchestrated a come-from-behind 17-16 victory at St. Louis (12/21) after completing 10-of-15 passes for 127 yards and 2 touchdowns in final qtr. of play. His 2 touchdown passes occurred with less than 5 minutes remaining in 4th qtr. Connected with WR Isaac Bruce for a 3-yd. TD to cap an 80-yd. drive, bringing the 49ers within 6 points of the Rams with 2:57 left. He then completed the longest pass of his career when he connected with WR Josh Morgan on a 48-yd. game-winning TD with 1:31 left in the 4th quarter.
* Rushed for a touchdown in 1st qtr. and threw for another in 4th qtr. to lead 49ers to victory vs. Washington (12/28). With the score tied at 24 and 1:09 left in the game, Hill marched the team downfield, connecting on 3 passes for 52 yards to set up a game-winning 39-yd. field goal.
2007: Elevated from third quarterback role to starter after QB Trent Dilfer suffered a concussion vs. Minnesota (12/9) and QB Alex Smith was placed on IR (shoulder).
* Saw first regular season action as a member of 49ers vs. Minnesota (12/9) and completed 22 of 27 passes for 181 yards and a touchdown after entering game in start of 3rd quarter when Dilfer suffered a concussion. The pass attempts marked first of his career, having only taken kneel downs in 2005 with Min. Completed 6-of 7-passes on his first offensive drive, which was capped by his first career touchdown pass, a 5-yard toss to WR Arnaz Battle.
* In his first NFL start, completed 21-of-28 passes for 197 yards and a touchdown for a 105.8 QB rating to go along with 5 carries for 12 yards, including his first career rushing touchdown in 20-13 victory vs. Cincinnati (12/15).
* Completed 11-of-24 passes for 123 yards and 3 touchdowns with 1 interception vs. TB (12/23) in a 21-19 victory. Left game for a play in 3rd qtr. due to back injury, but returned on very next play and threw a 5-yard touchdown pass to TE Vernon Davis.
2006: Served as third quarterback for all 16 games for roster spot in training camp.
2005: Served primarily as Minnesota third quarterback.
* Saw first action of season and knelt down in regular season finale vs. Chi. (1/1).
2004: Inactive for all 16 regular season games and both playoff games, dressing as Vikings 3rd QB.
2003: Served as 3rd QB for 15 games and as backup at Atlanta (10/5).
* Was allocated to NFL Europa's Amsterdam Admirals, where he was named NFL Europa Offensive Player of the Week twice, and led NFLE in passing yards with 2,256.
2002: Inactive for all 16 games as 3rd QB after being signed by Vikings as an undrafted free agent (4/25).
COLLEGE:
Two-year letterman for Maryland Terrapins, registering career passing totals of 3,158 yards and 19 touchdowns.
* Helped school earn first All-Atlantic Coast title since 1985 after guiding Maryland to a berth in the Orange Bowl and a 10th overall national ranking during senior season in 2001.
* Also earned second-team All-ACC honors in his senior season.
* Transferred to Maryland after starting college career at Hutchinson Community College in his native Kansas from 1998-99.
* Earned All-Jayhawk Conference honorable mention as a sophomore, and All-Jayhawk Conference choice and an NJCAA All-American honorable mention as a freshman.
PERSONAL:
As a three-year starter at quarterback and two-year starter at free safety at Parsons (Kan.) H.S., was a two-time All-Southeast Kansas first-team selection and an honorable mention all-state selection as a senior.
* Also lettered in basketball, baseball and track.
* Was a three-time All-SEK first-team choice in basketball, serving as team captain and earning all-state honors three times after guiding team to state tournament as a junior and senior.
* Also qualified for the state track meet as a senior.
* Born
Shaun Hill
(1/9/80) in Parsons, Kan.
Read more
Latest headlines