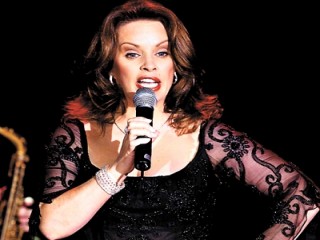 Sheena Easton biography
Date of birth : 1959-04-27
Date of death : -
Birthplace : Bellshill, Scotland
Nationality : Scottish
Category : Arts and Entertainment
Last modified : 2011-10-25
Credited as : Singer, Casino Legends Hall of Fame,
Sheena Easton is a Scottish recording artist. Easton became famous for being the focus of an episode in the British television programme The Big Time, which recorded her attempts to gain a record contract and her eventual signing with EMI Records.
Easton rose to fame in the early 1980s with the pop hits "9 to 5" — known as "Morning Train" in the United States — and "For Your Eyes Only", "Strut", "Sugar Walls", "U Got the Look" with Prince, and "The Lover in Me". She went on to become successful in the United States and Japan, working with prominent vocalists and producers, such as Prince, Christopher Neil, Kenny Rogers, Luis Miguel, L.A. Reid and Babyface, and Nile Rodgers.
Her first single, the disco-tinged soft-synth-pop tune "Modern Girl", was released in the UK before the show aired and reached #56. At the end of the show, Easton was still unsure of her future as a singer. The question was soon resolved when, after the show aired, her second single, "9 to 5", reached #3 on the UK Singles Chart in 1980. "Modern Girl" re-entered the chart subsequently and climbed into the top 10, and Easton found herself with two songs in the top 10 simultaneously. Sheena was voted Best British Female Singer by the Daily Mirror Pop & Rock Awards in 1980, "Best Newcomer" 1980 by Capital Radio, and "Best Female Singer" 1980 by the TV Times Readers Awards.
"9 to 5" was Easton's first single release in the United States, although it was renamed "Morning Train (Nine To Five)" for its release in the US and Canada to avoid confusion with Dolly Parton's hit movie title song "9 to 5". "Morning Train" became Easton's first and only #1 hit in the US and topped both the Billboard Hot 100 and Adult Contemporary charts in Billboard magazine. "Modern Girl" was released as the follow-up and peaked at #18, and before 1981 was over Sheena had a top 10 hit in both the US and UK with the Academy Award-nominated James Bond movie theme For Your Eyes Only. The song was nominated for an Academy Award in 1981 in the category Best Music (Original Song). Easton's US success culminated in her winning the Grammy Award for Best New Artist of 1981.
Easton's first three US albums, Sheena Easton (a.k.a. Take My Time), You Could Have Been With Me, and Madness, Money and Music, were all in the same Soft Rock/Adult Contemporary pop vein (although she made a grab for the new wave audience with "Machinery", from the latter album).
The title track from You Could Have Been With Me went Top 15 US, however, by the end of 1982, she saw her sales slumping.
In 1983, she released the album Best Kept Secret and its first single, the synthesized dance-pop tune "Telefone (Long Distance Love Affair)" became her fourth top 10 hit. The single "Telefone" was Grammy-nominated for "Best Female Pop/Rock Vocal Performance" 1983.
That year, she also had a top-10 hit in the US with "We've Got Tonight", a duet with Kenny Rogers a cover of the Bob Seger song also earning a #1 single on the country chart (also reaching the top 30 in the British charts). The follow-up to "Telefone", "Almost Over You", was a #4 AC chart hit and Top 30 pop hit, and later became a hit on the country charts for Lila McCann in 1998.
In 1983, Easton recorded a Spanish-language single, "Me Gustas Tal Como Eres" ("I Like You Just the Way You Are"), a duet with Mexican star Luis Miguel. The single earned her a second Grammy, this time for Best Mexican-American Performance. The track was taken from the album Todo Me Recuerda a Ti, which featured Spanish-language covers of seven previous Easton recordings and three new tracks. The disc went gold in many Spanish-speaking countries.
In 1987, she sang on Prince's #2 hit, "U Got the Look", and also appeared in the video. Prince and Sheena were Grammy nominated for "Best R&B Vocal, Duo or Group" in 1987. The two would later team again for "The Arms of Orion" written by Easton and featured on Prince's soundtrack to the movie Batman in 1989, reaching #36 in the US and #27 in the UK. They also co-wrote a song for Patti LaBelle's album that year titled "Love '89". In addition they co-wrote "La, La, La, He, He, Hee", which Prince recorded. Tabloid press linked the two romantically, which she has always denied.
In November 1987, Easton made her first dramatic acting appearance on the television program Miami Vice. She played a singer named Caitlin Davies whom Sonny Crockett was assigned to protect until her court appearance to render crucial testimony against certain corrupt music industry mavens.
In 1991, What Comes Naturally became the last of Easton's albums to chart in the United States, peaking at #90. The title song was also her last Top 40 single to date, reaching #19. It also became her first hit in Australia since the mid 1980s, peaking at number 4.
Another two singles "You Can Swing It" and "To Anyone" followed but failed to chart. Eastons 10th studio album, released in 1991 on MCA Records. The album includes her final US Top 40 hit to date, "What Comes Naturally" (US #19, UK #83, Australia #4.) remained on the pop chart for 10 weeks. Other singles released were "You Can Swing It" and, "To Anyone" both which failed to chart. The album charted at US #90. Easton has songwriting credits on three tracks.
In the late 1990s, Easton retained an album contract with MCA Japan and released 2 discs of new material. Freedom in 1997, a return to her trademark pop including a remake of her debut single "Modern Girl" and in 1999 Universal/Victor released the self-produced acoustic set, Home. Also around this time, a greatest hits collection featuring 12 MCA singles recorded from 1988-1995 charted in Japan at #98.
Easton adopted a boy (Jake) and girl (Skylar) between 1995 and 1996. Motherhood led her to curtail her appearances and focus on casino gigs, corporate shows and theatrical work. "Because I adopted my children, I could plan my timing," she told The Arizona Republic. "I knew exactly when they were coming along, so I knew when I had to change my life so it would be a stable life."
Easton continued acting in America, starring in Broadway revivals of Man Of La Mancha opposite Raul Julia in his last stage role, (1992) and Grease (1996). Between 1994 and 1996, she played several characters in Gargoyles the animated series, including Lady Finella, the Banshee, Molly and Robyn Canmore. In 1999, she voice-acted a part-demon character, Annah-of-the-Shadows, in the computer game Planescape: Torment. She lives in Las Vegas with her two children and often performs in various casinos' entertainment venues. She voiced the character of Fiona Canmore for a scripted but unfinished episode of the cancelled animated feature, Team Atlantis.
1999-2000 saw New York based One Way Records gain the rights to release all of Easton's EMI-America catalog. For the first time in the US, No Sound But a Heart was released. All Easton's EMI back catalogue was re-released with bonus tracks, incorporating b-sides and remixes. However, there was one notable exception to the re-release schedule, Easton's Spanish language album Todo Me Recuerda a Ti. In 2000, Easton co-starred with David Cassidy in At The Copa, a show in Las Vegas at The Rio Hotel for one year.
Easton also went back to Australia in 2001 for the Sydney Gay & Lesbian Mardi Gras and closed the celebration with songs from Fabulous. She also performed in (The Concert: Celebrating Women in Music,) Centennial Park, Australia, on 24 February 2001. In 2001, Easton began a successful run headlining at the Las Vegas Hilton.
In 2003, Easton contributed vocals to "If You're Happy", a cover for a Japanese disc called Cover Morning Musume-Hello Project. She also began to host Vegas Live, a talk show with Clint Holmes (later replaced by Brian McKnight).
On 31 October 2004, she was inducted into the Casino Legends Hall of Fame at the Tropicana Resort & Casino along with fellow Las Vegas icons Debbie Reynolds, Ben Vereen, Patti Page, Jack Jones and Tempest Storm.
In 2008 and 2009, Easton performed Perry the Teenage Girl and Happy Evil Love Song for the Phineas and Ferb television series.
Easton appeared in a celebration with Kenny Rogers at the MGM Grand in Foxwood, Connecticut, on 10 April 2010. The show was in honor of his 50-year music career. This special is set debut on 8 March 2011 on Great American Country.
Easton is a two-time Grammy Award winner one for "Best New Artist" of 1981 and a second "Best Mexican/American performance" in 1984 and has 13 gold albums, 5 platinum, and 1 Silver. She achieved 15 Top 40 hits on the US Billboard Hot 100 chart. She has sold over four million album copies in the United States alone and over 20 million copies worldwide. She has recorded 16 studio albums, released 23 US singles, and has a total of 45 singles in all to her credit.
Easton is the only artist in the history of the Billboard charts to have a Top 5 hit on each of Billboard's key charts: Adult Contemporary, Dance, Pop, Country and R&B. Sheena Easton achieve her five-way Billboard record were, in order of release: 1981 Pop and Adult Contemporary hit "Morning Train (9 to 5)"; the 1983 Dance hit "Telefone (Long Distance Love Affair)"; the 1983 Country hit "We've Got Tonight" (a duet with Kenny Rogers); and the infamous 1985 R&B hit "Sugar Walls."
In the United Kingdom, Easton has three UK Top 40 albums and eight UK Top 40 singles, with 1 platinum disc for her best of cd and one gold single for "9-5" and one silver single for "Modern Girl" on the UK singles and album charts to date. She is one of the few artists to have 2 singles in the UK top 10 simultaneously.
Sheena was voted Best British Female Singer by the Daily Mirror Pop & Rock Awards in 1980, "Best Newcomer" 1980 by Capital Radio, and "Best Female Singer" 1980 by the TV Times Readers Awards.
On 31 October 2004, she was inducted into the Casino Legends Hall of Fame at the Tropicana Resort & Casino along with fellow Las Vegas icons Debbie Reynolds, Ben Vereen, Patti Page, Jack Jones and Tempest Storm.
Easton has been married four times. The first was when she was still in Scotland to Sandi Easton at the age of 19. The marriage lasted just eight months. Sandi attributed the break-up to the launch of her career, but Sheena denies this claiming that the marriage was over before her career took off. There was much speculation about this after the Esther Rantzen 'The Big Time' BBC series which had featured her career. Sandi Easton died in 1998, aged 48.
Her second marriage in 1984 to Rob Light, a talent agent, ended after 18 months.[citation needed] Easton was granted US citizenship in 1992 and adopted her first child, Jake Rion Cousins Easton, in 1994. Two years later, she adopted again, this time a baby girl named Skylar. In the summer of 1997, she met producer Tim Delarm while filming an episode of ESPN Canon Photo Safari in Yellowstone National Park and later married Delarm in Las Vegas in July 1997. The marriage lasted one year. In 2001, she became engaged to John Minoli, a Beverly Hills plastic surgeon, and married him on 9 November 2002. They divorced in 2003.
Easton is a single mother to her two children, and currently resides in Henderson, Nevada. She reportedly made shrewd investments in Florida property that led to her appearance on the Sunday Times Rich List, but she denies such claims
Read more
Latest headlines